By Lambert Strether of Corrente.
Patient readers, I'm finishing up a post on AOC's Green New Deal (GND) proposal, considered as policy, so this Water Cooler will be a little bit light. If I'm not utterly consumed by the GND effort, I'll circle back and add more material here. –lambert UPDATE Nope. I have RL stuff to do. I'll make it up to you tomorrow, I swear!
Politics
"But what is government itself, but the greatest of all reflections on human nature?" –James Madison, Federalist 51
2020
"'The new straw poll': 2020 candidates race to build small-donor armies" [Politico]. "Online support is set to play a pivotal role in the Democratic primaries, after small-dollar donors using ActBlue, the Democratic online fundraising platform, financed the Democratic House takeover — and, before that, Sen. Bernie Sanders' underdog 2016 presidential campaign. Potential candidates have spent months building up grassroots digital supporters to fund their campaigns in 2019 and build relationships with voters before they get the chance to go to the polls in 2020." • I'm used to thinking of small donor fundraising as a sign of insurgency, as in the Howard Dean campaign, where these techniques were first tried ("the Dean Bat") or the Sanders campaign in the 2016 Democrat primary. But I'm not sure that's so, and not only because consultants and strategists have mastered the technique. For example, as Thomas Frank shows, the Democrat base is the 10%, and they have the discretionary income to donate small amounts regularly. If ActBlue is simply the expression of the class interests of the 10%, is that necessarily insurgent? I don't think so.
2019
Please forgive me for failing to break out of squeeing AOC fan-boy mode. But she's a really interesting politician!

The ease at which Alexandria Ocasio Cortez basic answers fluster reporters and dictates the terms of the public discourse on policies should show you just how little the Democrats have tried over the past 4 decades.

— Chad Vigorous (@PrettyBadLefty) January 7, 2019

AOC continues to be lucky in her enemies. Gateway Pundit is, as I understand, the crème de la crème of conservative Twitter:

EXCLUSIVE: Yorktown Elitist and Bronx Hoaxer Alexandria Ocasio-Cortez Went by "Sandy" Well into College at Boston U (VIDEO) https://t.co/NF32H00uqJ via @gatewaypundit @AOC pic.twitter.com/rIKqKJnRRy

— Jim Hoft (@gatewaypundit) January 7, 2019

So, "Sandy"? Like Hurricane Sandy? That's the scandal? The scandal they ginned up after losing their minds about a young lady doing a happy dance? Fine.
2016 Post-Mortem
"Democrats Faked Online Push to Outlaw Alcohol in Alabama Race" [New York Times]. "the Facebook page appeared to be the work of Baptist teetotalers who supported the Republican, Roy S. Moore, in the 2017 Alabama Senate race. "Pray for Roy Moore," one tweet exhorted. In fact, the Dry Alabama campaign, not previously reported, was the stealth creation of progressive Democrats who were out to defeat Mr. Moore — the second such secret effort to be unmasked." • The first false flag secret effort, you will recall, was the $100K effort by New Knowledge — also authors of a study for the Senate on RussiaRussiaRussia false flag secret efforts. If liberal Demorats want us to believe that everything they do is fake — most definitely including any current and future oppo efforts against Sanders — they are proceeding in exactly the right way.
Realignment and Legitimacy
"Man in the middle: DNC chair prepares for tough primary" [Associated Press]. "'I don't want to cast any blame because they are both friends of mine,' said Woody Kaplan, a prominent Democratic donor from Boston, referring to Wasserman Schultz and Perez. 'But he just had such a mess to dig out of.'" • That's about the most oblique criticism of Obama that I can imagine.

Normalization of the security state is now complete, for good or ill:

"Department of Floorland Security" pic.twitter.com/bGT0exsBiZ

— Ian Bogost (@ibogost) January 6, 2019
Stats Watch
Institute For Supply Management Non-Manufacturing Index, December 2018: "Moderation in business activity and sharp improvement in delivery times pulled down ISM's non-manufacturing composite in December, overshadowing one of the strongest months ever for new orders" [Econoday]. "The gain in export orders underscores that foreign demand for U.S. services is a major strength of U.S. trade, a fact often obscured by the nation's very large deficit in goods. This report is mixed as the welcome slowing in activity looks to be temporary given the great pace of new orders that keep pouring into ISM's sample." And: "Both services surveys are in expansion – and their intensity of growth are different again this month. Markit shows this sector's growth rate is basically unchanged whilst the ISM Services growth rate declined" [Econintersect]. And but: "This suggests slower expansion in December than in November" [Calculated Risk].
Factory Orders, November 2017: Delayed because of the government shutdown [Econoday].
Shipping: "Trucking Boom Ends, Next Phase in Cycle Starts" [Wolf Street]. "In December, orders for new Class-8 trucks — the heavy trucks that haul the products of the goods-based economy across the US — plunged by 43% from a year ago, to just 21,000 orders, the lowest since August 2017, and down by 60% from August 2018… Demand for transportation services continues to be strong, but just not as strong as it was. And trucking companies are adjusting. Their fear is overcapacity, which entails plunging freight rates, which is precisely what occurred during the transportation recession of 2015 and 2016."
Tech: "Why My Chinese Dad Switched From an iPhone to a Huawei" [New York Times]. "China's domestic brands have made huge strides in the years since 2012, creating new features and products that take into account what Chinese users want, for a small fraction of the price. Apple, meanwhile, has mostly failed to localize or reinvent itself, on the assumption that global cachet would be enough…. Apple also long resisted the rise of another important local feature: the dual SIM card system, a component that may sound boring but for Chinese people has become essential. In China, where many young people have never owned laptops, phones have become all-in-one devices — part television, part computer, part phone. Transitioning between two SIM cards on all other cell brands is a seamless process: one card for streaming and downloading at cheaper rates, the other one for making calls. Growing international tourism has also raised demand for phones that can accommodate a second, foreign SIM — and . The company finally gave in to the dual SIM card in the form of special models for China." • People who still mourn for headphone jacks and the MagSafe connector and ports and non-soldered RAM will recognize this tendency in Apple.
Rapture Index: Closes down 2 on Interest Rates ("The interest rates drop on 10-year bonds") and Israel ("Israel remains strangely peaceful"). [Rapture Ready]. Record High, October 10, 2016: 189. Current: 181. Testing the 180 floor again. Remember that bringing on the rapture is a good thing.
Water
"Florida health officials delayed notifying residents about tainted water, emails show" [Miami Herald (MR)]. "He gave them a couple of cases of water and told them to drink only bottled for the foreseeable future before he disappeared back into the night." • And it's all like that. A very ugly story. Another one—
"'Is this really happening?' Chemicals that tainted water on military bases spreading to other towns in Bucks, Montco" [The Inquirer (MR)]. "At meetings this month, residents learned new details about community health testing that revealed above-average levels of chemicals in their blood and were told that the Navy has not finalized its plan to treat the contaminated soil and water that could still threaten drinking water." • Have any readers seen any national aggregation of incidents like this?
Gaia
"The Fight Against Climate Change Could Heat Up in Colorado" [Westworld]. "In conversations with more than a dozen scientists, activists, lawmakers, state regulators and others, a clear picture emerges: Despite encouraging developments on several fronts, there remains a significant gap between the policy agenda that Democrats have put forward in this state and the scale and urgency of action that the climate crisis requires. Like much of the rest of the world, Colorado is nowhere near on track to achieve the overall emissions cuts that scientists say are necessary over the next decade and beyond. And every day that passes without action only makes the task ahead that much more difficult….. Colorado's multibillion-dollar oil and gas industry, the fourth-largest source of greenhouse emissions, packs a one-two climate-warming punch. Its drill sites, wells, tanks and pipelines are themselves major, direct emitters of hydrocarbons like methane. And the extracted fossil fuels, of course, are sent downstream in the supply chain to be burned in Colorado or elsewhere and released into the atmosphere as carbon dioxide."
"The spellbinding power of reading nature's "lost" words aloud" [Quartz]. • This is a very beautiful book.
Gunz
"Child walks home after being shot at north Houston park" [ABC]. •… •… •….
The Jackpot
I received the following in email over the transom, which I've lightly edited. Soeaking of parallel structures:
In the event of real collapse, like in Eastern Europe, what should people do? Has anyone in the NC community lived in Easter Europe in the 90's? Or Lebanon in the 1980's? I was thinking today what I would do if my Social Security stopped coming. What if the entire federal government ceased to function? I decided that I would organize a Committee for Community Preservation and seize control of the apartment complex in the name of the tenants.

The Committee would issue its own currency, which would be good for rent. We would pay the staff in the currency. We would form coalition with similar groups across the city and seize control of the local municipal power plant. We would then accept payment for electric bills in either USD or Committee Script, thus giving the currency real value. With control of the power plant it should not be too difficult to reach an arrangement with the local hospitals. We would also seize control of the local clinics and institute a single payer healthcare system. We would also need to organize Liberty Gardens on every balcony and garden we could recruit to manage the inevitable food shortages. The crucial thing is to set up some system of order before looting sets in. And it is not difficult to see how the looters would morph into "security" forces running check points at every major intersection.

The real point is that if I am having these thoughts, so are other people. I hope you will put out a call to anyone who has lived thru a collapse or failed state. It would be useful to have on the ground expertise.
I think "I am having these thoughts, so are other people" makes a lot of sense. Readers?
Class Warfare
"The government has no idea how many gig workers there are, and that's a problem" [MarketWatch]. "[S]o-called "side hustlers" or "gig workers" [are] essentially invisible in the eyes of the U.S. Bureau of Labor statistics. Though the agency is a key source of information about the labor market, it doesn't keep tabs on how much people make in what the government calls 'non-primary work.'… The BLS does not have an explicit definition for a gig worker, or a formal way of tracking them. It comes closest in a survey called the Contingent Worker Supplement, which studies "contingent workers" in temporary working arrangements that they don't expect to last more than a year. But prior to last month, the BLS had not released the Contingent Worker Supplement since 2005 due in large part to a lack of funding. The most recent report found that 5.9 million people or 3.8% of all workers are contingent workers."
And speaking again of parallel structures:
This Mexican town kicked out the politicians and declared autonomy. Now it's practically crime-free – and banning elections and political parties to keep it that way. pic.twitter.com/ySDsy7gX2F

— AJ+ (@ajplus) January 2, 2019
More fun with forklifts:
Crazy scenes as Yellow Vest protesters storm a government ministry in Paris with a forklift! #ActeVIII #yellowvest pic.twitter.com/eoCddYgkwy

— Yellow Vest UK (@UkVest) January 7, 2019
Fun, of course, is not the same as effective.
News of the Wired
"Must Writers Be Moral? Their Contracts May Require It" [New York Times]. "Over the past few years, Simon & Schuster, HarperCollins and Penguin Random House have added [morality] clauses to their standard book contracts. I've heard that Hachette Book Group is debating putting one in its trade book contracts, though the publisher wouldn't confirm it. These clauses release a company from the obligation to publish a book if, in the words of Penguin Random House, 'past or future conduct of the author inconsistent with the author's reputation at the time this agreement is executed comes to light and results in sustained, widespread public condemnation of the author that materially diminishes the sales potential of the work.'" • And I would bet that "sustained, widespread public condemnation" includes a moral panic on twitter along with the ensuing dogpile. Welcome to the Vampire's Castle!
"Road trip through post-apocalyptic California with a robot and a runaway in Simon Stålenhag's 'The Electric State'" [Los Angeles Times]. "Where his earlier art was steeped in his native Sweden, though, Stålenhag looked to the U.S. for "The Electric State." The book is dystopian '90s at its most bleak. It's the gloom of "Twin Peaks" and the detached alienation of Nirvana's "Nevermind" with a plot that reads like "The X-Files"-meets-"The Lawnmower Man." It's also a travel tale, taking readers from the Mojave Desert and up through the Sierra Nevada mountains before heading toward the Northern California coast." • Another beautiful book, and the article contains many images.
Peak tech meta?
Alexa in a toilet. The literal internet connected shitter has arrived. https://t.co/UtqXU5tf0r

— Internet of Shit (@internetofshit) January 6, 2019
* * *
Readers, feel free to contact me at lambert [UNDERSCORE] strether [DOT] corrente [AT] yahoo [DOT] com, with (a) links, and even better (b) sources I should curate regularly, (c) how to send me a check if you are allergic to PayPal, and (d) to find out how to send me images of plants. Vegetables are fine! Fungi are deemed to be honorary plants! If you want your handle to appear as a credit, please place it at the start of your mail in parentheses: (thus). Otherwise, I will anonymize by using your initials. See the previous Water Cooler (with plant) here. Today's plant (RT):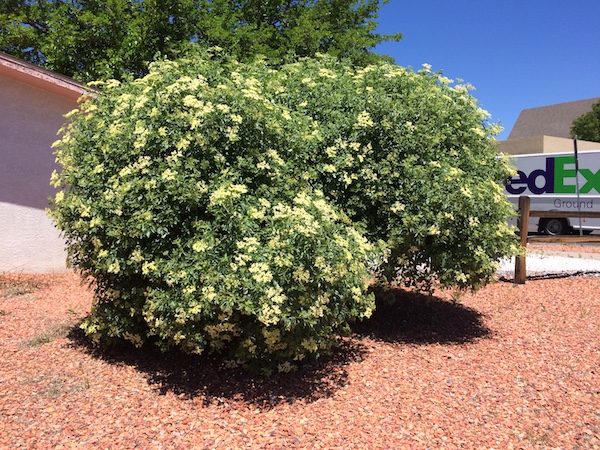 RT: "Attached is a photo of a Mexican Elderberry in full bloom. Just up the street from me in Albuquerque, NM." I can practically feel the sun beating down…
* * *
Readers
: Water Cooler is a standalone entity
not
covered by the annual NC fundraiser, now completed. So do feel free to make a contribution today or any day. Here is why:
Regular positive feedback both makes me feel good and lets me know I'm on the right track with coverage
. When I get no donations for five or ten days I get worried. More tangibly, a constant trickle of small donations helps me with expenses, and I factor that trickle in when setting fundraising goals. So if you see something you especially appreciate, do feel free to click below! (The hat is temporarily defunct, so I slapped in some old code.)
Or Subscribe to make a monthly payment!