Yves here. Replying on the work of the health care and IT experts writing at Health Care Renewal, we have been writing about how electronic health care records are a danger to sound medical practice. Among other things, they are designed for billing, not diagnosis or treatment, force doctors to waste time dealing with pages of mechanical drop-downs, and distract them from paying attention to patients. One of many examples over the years: the ECRI Institute puts health care information technology as the top risk in its 2014 Patient Safety Concerns for Large Health Care Organizations report. Note that this ranking was based on the collection and analysis of over 300,000 events since 2009.
By InformaticsMD. Originally published at Health Care Renewal
I'm certain when the information technology hyperenthusiasts and non-clinical management information systems "experts" and pundits get the technology all figured out, this burnout crisis will end.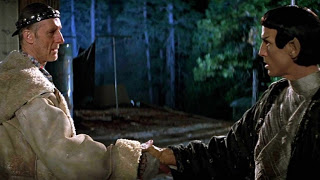 It will be about the same time as Zefram Cochrane invents the warp drive in Bozeman, Montana just prior to first contact by the Vulcans. That is in 2063 or so.
Experts declare physician burnout 'a public health crisis'
January 22, 2019
https://www.healio.com/psychiatry/practice-management/news/online/%7B7f2124e2-d72e-4e3e-be53-6fbe41986186%7D/experts-declare-physician-burnout-a-public-health-crisis

Experts from leading U.S. health organizations deemed physician burnout "a public health crisis" in a recent report.

"Physician burnout has received some attention in recent years, but not enough. As a result, it is both poorly understood and getting worse," Andrew R. Iliff, MA, JD, lead writer and program manager at Harvard Global Health Institute, told Healio Psychiatry.

"Like the blind man describing an elephant, people have described the challenges in front of them, including unhelpful electronic health records and a looming physician shortage," he continued. "We believe it is important to frame this as a systems problem, requiring systemic solutions in order to avoid further adding to ballooning health care costs and undermining the provision of care."

In their paper, experts from Harvard T.H. Chan School of Public Health, the Harvard Global Health Institute, the Massachusetts Medical Society and the Massachusetts Health and Hospital Association recommended ways to address the prevalence of burnout among physicians and other health care providers. Recommendations included:

appointing an executive-level chief wellness officer (CWO) at every major health care organization;
providing support for those experiencing burnout; and
improving the efficiency of EHRs.
More on that third Pavlovian, formulaic, hackneyed, health IT amateur-proffered bullet point in a moment.
… The usability of EHRs must be addressed through reform of certification standards by the federal government; improved interoperability; use of application programming interfaces by vendors; and increased physician engagement in the records' design, implementation and customization, according to the report.
"Certification" standards are useless towards the stated ends.  Interoperability via API's is not the major issue, either; fundamental operability and, ultimately, clinician burden is.
It is also far too late in the game for "physician engagement" to make any difference.   People in my specialty, myself included dating back to the 1990's – and me on this blog starting ca. 2004 – had been calling for clinician (and especially Medical Informatics) leadership (not merely "engagement") of health IT.
I note that the original title for my health IT academic site, still residing here, was "Preventing Medical Errors: Medical Informatics and Leadership of Clinical Computing."  The original ca. 1999 site is partially archived at http://www.ischool.drexel.edu/faculty/ssilverstein/informaticsmd/index_org.htm.
Little has changed, and the worst predictions I'd been making about the healthcare IT bubble/experiment (see query search https://hcrenewal.blogspot.com/search/label/Healthcare%20IT%20experiment) seem to be reaching unfortunate fruition.
Regarding the "efficiency" bullet point above:  quite seriously, from the perspective of this trained-by-the-pioneers Medical Informatics specialist, the "efficiency of EHRs" can only marginally be "improved."  This is due to both technical and political reasons.  The systems are far too complex, with far too many templates, widgets, options, "tricks", "gotchas" etc.  (with user manuals hundreds of pages long for each, that cause even my eyes to glaze over), too embedded, too protected by the industry, especially those involving legacy code, and too entrenched by politics – to name just some of the issues making major reform of the systems themselves impractical.
The situation should never have gotten this far, predicted as far back as 1969 by EHR pioneer Dr. Donald A.B. Lindberg (http://www.nlm.nih.gov/od/roster/lindberg.html), who wrote that an effect of the "over sell" even occurring then has been "the feeling that logic compels us to build total hospital information systems like military command-and-control systems … and other grotesque concepts too numerous to mention."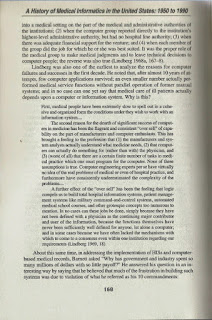 Lindberg in 1969.  From Collen, "A History of Medical Informatics in the United States: 1950 to 1990"
What is needed is a significant downgrading of required clinician (physician/nurse) interaction with these "command-and-control systems", including data entry, and the use of clericals to perform those functions.  See my August 2016 essay "More on uncoupling clinicians from EHR clerical oppression" at https://hcrenewal.blogspot.com/2016/08/more-on-uncoupling-clinicians-from-ehr_91.html
More generally, see my numerous posts on this issue at
https://hcrenewal.blogspot.com/search?q=oppression
One last quote from the Healio article:
… Burnout not only causes physicians suffering, it also can adversely impact patients. Prior research has shown that burnout may does increase the risk for medical errors.  [Fixed the academic equivocation – ed.]
Put more simply, physician and nurse burnout can kill you.
If a healthcare organization cannot afford the appropriate clerical help to avoid clinician burnout, then they cannot afford an EHR.
Finally:
Can I now say "I told you so?" without the health IT industry sockpuppets coming out of the woodwork? (http://hcrenewal.blogspot.com/2010/01/more-on-perversity-in-hit-world.html)