By Lambert Strether of Corrente.
Politics
"But what is government itself, but the greatest of all reflections on human nature?" –James Madison, Federalist 51
2020
These are all accounts I've followed since Ferguson days. I know the Twitter isn't representative, but Black Twitter is a thing, and in their milieus, these are all what we would call "thought leaders," if this were a TED talk:

Harris (1):

Bougie negroes can shrug off the damage done by a prosecutor b/c they aren't the ones going to prison.

— TheAngrySociologist (@SankofaBrown) January 22, 2019

Harris (2):

The future is brown girls in hoops passing laws that will inherently send other brown girls in hoops to prison.

— ella ? (@kuruchitx) January 18, 2019

Harris (3):

The Black equivalent of Hillary's stiff ass nae-nae.

Don't they know we are tired of the pandering??? https://t.co/BkFKCfWuVT

— ashley yates (@brownblaze) January 23, 2019




* * *

And speaking of Cardi B, "'Vote for Daddy Bernie, bitch': the political history of Cardi B" [Guardian]. • Oops.

And Harris (4):

Oh, great: "Fight for…." Always fighting, never winning! "Truth, decency, justice, and equality." And, no doubt, apple pie. And motherhood. (Oh wait, that's "young Mom" Gillibrand. My bad.)

UPDATE "Sen. Bernie Sanders changes his message to black voters: 'Racism is alive'" [WaPo]. "But this time Sanders has worked to forge more connections in [South Carolina] and the broader black community, and polling has consistently shown him with high favorable numbers among black voters. Since 2016, he has endorsed strikes and union drives by nonwhite workers in Los Angeles and Mississippi, and he lent his support to new, young black mayors in Birmingham, Ala., and Jackson, Miss." • I think WaPo has the Black Misleadership Class confused with the black electorate. For example: "'We all have records that we have to defend,' House Majority Whip James E. Clyburn (D-S.C.) said in a short interview near the state capitol. 'I have no idea what all this stuff is, but the fact is, [Harris] was an attorney general, and the law dictates what she had to do. She should not be held responsible for the law.'" • Start with this: Clyburn seems never to have heard of prosecutorial discretion. What garbage.

UPDATE "Pete Buttigieg Thinks All the 2020 Democrats Are Too Old" [Politico]. "'If you're my age or younger, you were in high school when the school shootings became widespread; you're going to be dealing with climate change for most of your adult life in specific, noticeable ways,' Buttigieg told me recently over a lunch of tempura fried chicken in New York. 'You're going to be dealing with the consequences of what they've done to the debt; you're on track to be the first generation ever to make less than your parents, unless something changes; and your generation furnished most of the troops for the post-9/11 wars. It just gives you a very different relationship to political decision makers and decision making." • Who's "they"? That 70-year-old Walmart greeter? Anyhow, Harris [x] black [x] woman, but Buttigieg [x] young [x] gay. I just can't make up my mind!

UPDATE Gillibrand:

.@jonfavs: Would you push to get rid of the filibuster so you could pass something like Medicare for All or a Green New Deal? @SenGillibrand: I'll think about it… if you don't have 60 votes yet, it just means you haven't done enough advocacy and you need to work a lot harder. pic.twitter.com/PpDhLUbkoN

— Pod Save America (@PodSaveAmerica) January 22, 2019

"Done enough advocacy." Wait. What's that sound I hear? Ka…. Ka-ching? Nah. Couldn't be. Anyhow, how can anybody Jon Favreau plays gotcha on become the Leader Of The Free World?

UPDATE A good question:

If Democrats don't plan to use power when they have it, why do they want it? The correct answer here is, "If the people vote us into power on a progressive agenda, we will do whatever it takes to deliver on that agenda."

— Stephanie Kelton (@StephanieKelton) January 23, 2019
2019
"Alexandria Ocasio-Cortez's Tax Hike Idea Is Not About Soaking the Rich" [Emmanuel Saez and Gabriel Zucman, New York Times]. "[The] root justification [for higher top marginal income tax rates] is not about collecting revenue. It is about regulating inequality and the market economy. It is also about safeguarding democracy against oligarchy. It has always been about that." • Indeed. (It's amusingly ironic that the party that still reveres Alzheimer's victim Reagan is trying to pin the label "crazy" on AOC; presumably the endorsement of Saez (and, implicitly, the Times editors who wrote the headline) is enough to refute that for liberal Democrats who, if and when they finally decide to put a dagger in AOC's back, will do on other, more subtle grounds.)

UPDATE "Alexandria Ocasio-Cortez's Green New Deal demands the courage of the Roosevelt era" [Ann Pettifor, New Statesman]. "Until we fully understand how the monetary system functions, a wealthy elite will continue to extract rent from publicly produced collateral. Economic inequality will continue to widen across the world, while public anger and discontent deepen…. Roosevelt had the understanding, political will and ballast to confront the interests of Wall Street. Any international movement for a Green New Deal will have to summon the same courage. Campaigners in countries across the world will have to discover, and then deploy, their latent power to subordinate global finance to the interests of society and the environment. Only then will we discover that another world really is possible."

UPDATE "Democrats' plan to neuter Medicare for All irks liberals" [Politico]. • No. It's liberals doing the neutering. It's the left that's irked. Still, kudos to Politico for being upfront with "neuter." Two paragraphs in: "Several likely 2020 Democratic presidential candidates are pushing plans for something short of universal health care, a move already creating friction within the party's empowered left wing, which has panned any attempt to water down the progressive dream of a single-payer system." • So now it's the "left wing" (a.k.a. "progressives," historically a rebranding of "liberal," for which conservatives poisoned the well. More: "'It's easy to say 'Medicare for All' [no, it isn't; Max Baucus had Margaret Flowers arrested for it] and make a good speech, but see no action [which I am trying to prevent],' said Sen. Sherrod Brown (D-Ohio), a potential 2020 candidate, who has a proposal that would give retiring police and firefighters access to Medicare before 65. 'I want to see action.'" • Attaboy, Sherrod. The complex eligibility requirements that liberals so love: (a) Be a cop (or a firefighter), because after all us ordinary shlubs aren't deserving, and (b) an age limit. But if 55, why not 54? Or 53? Possibly 52? Etc. NOTE * Maybe we could add another complex eligibility requirement? Like: (c) unless you're a cop that's whacked more than three (say) civilians? Just a thought, Sherrod. Or heck, (d) If you're one of the prisoners Kamala Harris got to fight California's forest fire for a dollar an hour and plus two dollars a day. Surely our great country can afford to be generous? Just spitballing, here!

"Momentum for earmarks grows with Dem majority" [The Hill]. "With Democrats back in control of the House after eight years of Republican control, there is strong support for reviving earmarks — the power to direct money on pet projects — which caused a major scandal in Congress during the George W. Bush years… Earmarks is a dirty word, so if the specially allocated funds return, they will be referred to as 'congressionally directed spending.' Support for bringing back earmarks is not unanimous, but it is growing in both parties as Republicans and Democrats alike say too much power has shifted to the presidency. 'When you discontinue earmarks, you're saying the administration can better spend the money in my district. They know best what we need,' said Rep. Emanuel Cleaver (D-Mo.)." • For some definition of "we."
2016 Post Mortem
"Why Ex-Churchgoers Flocked to Trump" [The American Conservative]. "Trump's improbable likeness to a mega-church preacher allowed him to capture the love of a huge swath of the electorate that previously tuned out or voted for Democrats. The people who came to Trump, especially early in the primaries, weren't really joining the GOP and they weren't primarily seeking policies. They didn't even necessarily believe Trump would bring back their jobs. Many of Trump's earliest and most dedicated supporters were seeking a deeper fulfillment. They came to Trump seeking what they had lost because they had lost church. When Trump caught so many political commentators off guard, we looked for an explanation amid the closing factories, but we should have been looking for the closing churches…. [E]very step down in church attendance brought a step up in Trump support, and vice versa. The most frequent attenders were half as likely to support Trump as were the least frequent attenders." • My first reaction is simply to reject this. Can readers comment?
Realignment and Legitimacy
"The Young Left's Anti-Capitalist Manifesto" [FiveThirtyEight]. "For a few years now, Democratic voters have shown they're primed for a leftward shift, and this rising group of activists and politicians wants to push them even further. At the heart of the young left's project is a discomfort with the free market capitalist system under which we live. It's a system deeply ingrained in many Americans' , though increasingly less so: 2016 was the first year since Gallup started tracking the question that it found Democrats had a more positive view of socialism than they did of capitalism."
Stats Watch
Richmond Fed Manufacturing Index, January 2019: "Many of the regional factory samples continue to show weakness, including last week's Empire State report and today's Richmond Fed report" [Econoday]. "Whatever weakness small sample reports like this have been picking up, definitive data on the factory sector have proved very strong at least in December as manufacturing production in last week's industrial production report surged an unexpected and very strong 1.1 percent. Another indication of strength came from last week's regional report from the Philly Fed. Yet when economic indications turn mixed as they are now, the signal is likely to be one of moderation for a factory sector faced with slowing in global markets and uncertainty and dislocations tied to tariffs." • The continuing scandal of small-sample surveys saying one thing, and data another. And but: "The important Richmond Fed subcategories growth well into contraction. This survey was weak compared to last month as the significant subcategories were worse than last month. I would expect slowing of the Federal Reserve's manufacturing index" [Econintersect]. And: "This was another weak regional manufacturing reading for January" [Calculated Risk].
MBA Mortgage Applications, week of January 18, 2018: "Purchase applications for home mortgages fell" [Econoday].
Architectural Billing: "Architecture billings slow, but close 2018 with growing demand" [American Institute of Architects]. "Architecture firm billings growth softened in December but remained positive for the fifteenth consecutive month… AIA's Architecture Billings Index (ABI) score for December was 50.4 compared to 54.7 in November. Despite the positive billings, a softening in growth was seen across several regions and sectors, as well as in project inquiries and design contracts."
Banks: "Fed said to probe Deutsche Bank over suspicious Danske cash" [American Banker]. "The Federal Reserve is examining how Deutsche Bank handled billions of dollars in suspicious transactions from Denmark's leading lender, according to people familiar with the matter, further intensifying what could be one of the biggest money-laundering scandals ever. The Fed's probe is in an early stage as it scrutinizes whether Deutsche Bank's U.S. operations adequately monitored funds from an Estonian branch of Danske Bank, according to two people briefed on the situation, who asked not to be named because the inquiry isn't public. Danske, which used correspondent banks such as Deutsche Bank to move money abroad, has admitted that much of about $230 billion that flowed through the tiny Estonian outpost may have been dirty."
Transportation: "Boeing's Flying Car Has Taken Off" [Bloomberg]. "A Boeing Co. flying car designed to whisk passengers over congested city streets and dodge skyscrapers completed its first test flight on Tuesday, offering a peek into the future of urban transportation the aerospace giant and others are seeking to reshape. The Chicago-based plane maker and arch rival Airbus SE are among a slew of companies racing to stake a claim on flying cars and parcel-hauling drones, which have the potential to be the next disruption to sweep the aerospace industry. Boeing's push was boosted by a 2017 acquisition of Aurora Flight Sciences, whose projects include a new flying taxi it is developing with Uber Technologies Inc… Future flights of the 30-feet-long and 28-feet-wide PAV prototype will test forward, wing-borne flight and the transition phase between vertical and forward-flight modes, according to the Boeing statement. The company will also continue testing to advance safety and reliability of the aircraft, it said." • Gee whiz. Mr. Countersuggestibility speaks: I'm not sure what problem flying taxis are trying to solve; the most obvious one would seem to be ferrying executives from the airport to their downtown hotels (without having to contact any smelly proles behind the wheel).
Concentration: "Why are glasses so expensive? The eyewear industry prefers to keep that blurry" [Los Angeles Times]. "Why are these things so damn expensive? The answer: Because no one is doing anything to prevent a near-monopolistic, $100-billion industry from shamelessly abusing its market power. Prescription eyewear represents perhaps the single biggest mass-market consumer ripoff to be found…. for years a single company, Luxottica, has controlled much of the eyewear market. If you wear designer glasses, there's a very good chance you're wearing Luxottica frames….. And Luxottica is even bigger after merging last fall with France's Essilor, the world's leading maker of prescription eyeglass lenses and contact lenses. Do you have Transitions lenses in your frames? You're an Essilor customer. The combined entity is called EssilorLuxottica." • No reason hospitals couldn't manufacture lenses as well as generics.
The Bezzle: "No Pay Stub? No Problem. Unconventional Mortgages Make a Comeback" [Wall Street Journal]. • Wait, what? Do those Big Short dudes have to go down to Florida again?
The Biosphere
"We need to rethink everything we know about global warming" [Science Daily] (original). "For a while now, the scientific community has known that global warming is caused by humanmade emissions in the form of greenhouse gases and global cooling by air pollution in the form of aerosols. However, new research published in Science by Hebrew University of Jerusalem Professor Daniel Rosenfeld shows that the degree to which aerosols cool the earth has been grossly underestimated, necessitating a recalculation of climate change models to more accurately predict the pace of global warming…. The fact that our planet is getting warmer even though aerosols are cooling it down at higher rates than previously thought brings us to a Catch-22 situation: Global efforts to improve air quality by developing cleaner fuels and burning less coal could end up harming our planet by reducing the number of aerosols in the atmosphere, and by doing so, diminishing aerosols' cooling ability to offset global warming."
"Expect more extreme hurricanes on the East Coast due to faster ice melts in Greenland, study says" [CBC]. "Ice is melting in an unexpected region of Greenland at a rate that is unprecedented in the past century… which could lead to rising sea levels and increasingly wild weather on the East Coast… Ice loss in Greenland's southeast and northwest regions has been well-documented as glaciers have been dissolving into the ocean, contributing to rising sea levels and threatening communities. The southwest region, on the other hand, doesn't have many glaciers and its ice sheet wasn't typically known to contribute to rising sea levels. But now, it may become a major contributor… What the study found was the ice loss data correlated with a weather phenomenon called the North Atlantic Oscillation, which affects air temperature. The "unusual melting" and accelerated ice loss is thanks to the combination of global warming and the oscillation." • More on the North Atlantic Oscillation.
"Averting Global Catastrophe: A New IIGG Blog Series" [Council on Forign Relations]. " In a recent poll of citizens in the United States, Australia, Canada, and the United Kingdom, more than half of those surveyed believed that there is a fifty percent or greater chance that humanity will go extinct in the next 100 years. How seriously should we take these concerns? Over the next few months, the Internationalist blog will take a closer look at global catastrophic risk. We will analyze specific dangers, including a large-scale nuclear exchange, a devastating global pandemic, a planetary collision with a large near-Earth object (NEO), a collapse of the biosphere, and the specter of the 'rise of the machines.'"
MMT
This 2018 thread came alive a year later. It's still true:
i'm not an MMTer, am sympathetic to some of their views, critical of others. but i get angry on their behalf by how much "mainstream" (liberalish) economists have embraced views of MMTers they used to ridicule, without acknowledging any debt or even tht their position has shifted

— Steve Randy Waldman (@interfluidity) December 31, 2017
One funeral at a time…
Guillotine Watch
Two cases of serial abuse:
Of Hollywood director Bryan Singer: 'Nobody Is Going to Believe You' [Alex French and Maximillian Potter, The Atlantic] The lead: "Over the past two decades, Bryan Singer's films—The Usual Suspects, Valkyrie, Superman Returns, four of the X-Men movies—have earned more than , putting him in the top tier of Hollywood directors." Then: "The portrait of Singer that emerges is of a troubled man who surrounded himself with vulnerable teenage boys, many of them estranged from their families. Their accounts suggest that Singer didn't act alone; he was aided by friends and associates who brought him young men. And he was abetted, in a less direct way, by an industry in which : Many of the sources we interviewed insisted, out of fear of damaging their own career, that we withhold their name, even as they expressed dismay at the behavior they'd witnessed." • (Apparently, Singer just won a Golden Globes Award). These cases are white male vs. young male. Apparently GQ passed on this story, but it seems well-researched to me. And simultaneously.
Of R&B singer R. Kelley: "I Believe I Can Lie" [Kimberlé Williams Crenshaw, The Baffler]. The lead: "Now that a Lifetime Documentary series has brought the sordid details of R&B singer R. Kelly's alleged sexual predation and abuse against underage girls and women to a mass audience, American culture faces still another moment of reckoning. Will we finally own up to the evasions and deferrals of justice enabled by ?" Then: Even in the age of #MeToo it remains unclear whether the outrage that propelled the toppling of industry giants like Harvey Weinstein and Matt Lauer who have been accused, for the most part, of abusing white women will generate the same outrage against men who have abused Black women. #TimesUp, #MuteRKelly and #SayHerName are all efforts to ensure that the lives of all Black women matter, regardless of what person or which entity it is that compromises their well-being. Bringing into our politics can be a route forward, but will come about only by repudiating the imbalanced notions of solidarity that are grounded in patriarchy, homophobia, transphobia, ." • These cases are black male vs. young black female. I read Crenshaw's twice, and readers will correct me, but my reaction is that Crenshaw, unlike Potter and French, studiously writes her away around R. Kelley's net worth : $150 million. (I can't find the music industry equivalent to Singer's box office revenues online, but 30 million Kelley records have sold.) It seems odd to me that Crenshaw's paradigm can't "follow the money" (unless "and the like" is doing a lot more work than any mere phrase should be called upon to do.) Slightly revising Stokely Carmicheal: ""If a ____ man wants to ____ me, that's his problem. If he's got the power to ____ me, that's my problem. ____ism is not a question of attitude; it's a question of power. ____ism gets its power from capitalism."
Class Warfare
"Parents, students celebrate return to routine as L.A. teachers end strike, head back to class" [Los Angeles Times]. "Teachers who formed picket lines outside schools starting Jan. 14 braved several days of rain in a fight for smaller class sizes, more support staff at schools and better pay. The resulting deal, which still needs to be reviewed by the Los Angeles County Office of Education and approved by the L.A. school board, includes a 6% raise for teachers. The agreement also calls for a reduction of one student per class next year in grades 4 through 12, one more the year after and two more the year after that. 'We have started down a real path to address class size,' United Teachers Los Angeles President Alex Caputo-Pearl said Tuesday. The agreement also includes a commitment to provide a full-time nurse in every school and a librarian in every middle and high school." • The end of the beginning, however, if ending the assault of squillionaire charter backers on public education is the goal.
"'Venture capital money kills more businesses than it helps,' says Basecamp CEO Jason Fried" [Recocde], "Fried told Recode's Kara Swisher that venture capital 'kills more businesses than it helps' because the pressure to grow crazy-fast means companies keep raising money to keep their growth rate up. That, in turn, means they rarely have the opportunity to learn how to spend money in a disciplined, sustainable way. 'If you have a bunch of money in the bank, you're encouraged to spend it because no one ever … Well, I shouldn't say no one, but hardly anyone ever goes for one round,' he said. 'It's round A, round B, it's like, you're going back to the drug dealer. Lots of businesses could be great $10 million, $20 million businesses, but they're not allowed to be,' he added. '[They've] got to be $200 million or $500 million or a billion … One of the reasons you get into entrepreneurship is to control your own destiny to some degree, to not have to go work for somebody else, to not have to collect a paycheck from somebody else. And so the thing is, when you go take money, you're working for someone else again, instantly.'" • It's almost as if the forices of production have come into contradiction with the relations of production, ha ha ha.
News of the Wired
"The OED maketh an exact man" [Michael Ullyot]. • If you really want to know the meaning of a word, the OED is better than Google.
"Particle physics may have reached the end of the line" [Backreaction]. "Since the late 1960s, when physicists hit on the "particle zoo" at nuclear energies, they always had a good reason to build a larger collider. That's because their theories of elementary matter were incomplete. But now, with the Higgs-boson found in 2012, their theory – the "standard model of particle physics" – is complete. It's done. There's nothing missing. All Pokemon caught. The Higgs was the last good prediction that particle physicists had. This prediction dates back to the 1960s and it was based on sound mathematics. In contrast to this, the current predictions for new particles at a larger collider – eg supersymmetric partner particles or dark matter particles – are not based on sound mathematics. These predictions are based on what is called an 'argument from naturalness' and those arguments are little more than wishful thinking dressed in equations." • Sounds like the physicists have finally solved their economics envy problem.
* * *
Readers, feel free to contact me at lambert [UNDERSCORE] strether [DOT] corrente [AT] yahoo [DOT] com, with (a) links, and even better (b) sources I should curate regularly, (c) how to send me a check if you are allergic to PayPal, and (d) to find out how to send me images of plants. Vegetables are fine! Fungi are deemed to be honorary plants! If you want your handle to appear as a credit, please place it at the start of your mail in parentheses: (thus). Otherwise, I will anonymize by using your initials. See the previous Water Cooler (with plant) here. Today's plant (TH):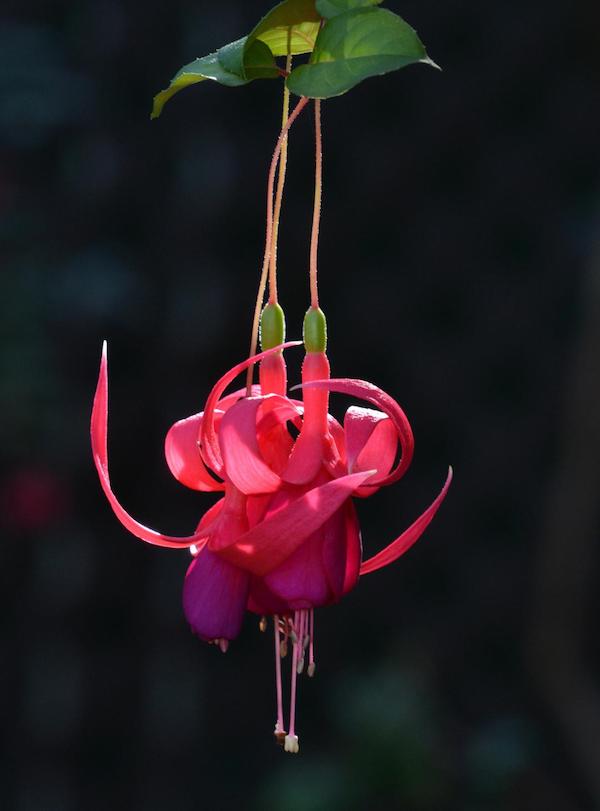 TH writes: "A Red Spider Fuchsia." Lovely!
* * *
Readers: Water Cooler is a standalone entity not covered by the annual NC fundraiser. So do feel free to make a contribution today or any day. Here is why: Regular positive feedback both makes me feel good and lets me know I'm on the right track with coverage. When I get no donations for five or ten days I get worried. More tangibly, a constant trickle of small donations helps me with expenses, and I factor that trickle in when setting fundraising goals. So if you see something you especially appreciate, do feel free to click below! (The hat is temporarily defunct, so I slapped in some old code.)
Or Subscribe to make a monthly payment!