Oceans Are Getting Louder, Posing Potential Threats to Marine Life New York Times (Robert M)
A Meteorite Hit the Moon During Total Lunar Eclipse New Scientist
Drone sighting disrupts major US airport BBC
The Matchmaker Who Flirts on Dating Apps for You524 The Cut. Resilc: "Just wait until AI can do it, then your robot can go out for you too."
Seafood processing water is a surprising source of nutrients TreeHugger. Resilc: "When do we see fish gutzNstuff kombucha at Whole Foods for $19.99 a pint?"
China?
Brexit
Right #Brexit class of 2019.

Wake up at the back there, Sir Ivan Rogers has just delivered another 11,000 word broadside.

I have read. Some highlights. 1/thread

— Peter Foster (@pmdfoster) January 22, 2019
Europe's mightiest river is drying up, most likely causing a recession in Germany. Yes, really. Busines Insider (Kevin W)
MasterCard Fined $648 Million for High EU Card Fees Bloomberg
Macron looks to labour reforms to placate gilets jaunes Financial Times
New Cold War
US man accused of spying in Russia may have had state secrets, says his lawyer Guardian. Resilc: "Just an innocent dishonorable discharged Marine, working as the security chief for an American firm that does business in Russia, carrying Russian secrets to a wedding….happens all the time.."

Ex-U.S. marine held in Russia for spying was misled, says lawyer Reuters. Resilc: "The old holiday photos on the thumb drive excuse……"
Syraqistan
Syria on agenda, Recep Tayyip Erdogan meets Vladimir Putin DW

Taliban Kill at Least 126 Afghan Police in Attack Near Kabul AntiWar.com. Resilc: "For sure I'd give up new infrastructure, Social Security and Medicare for helping the good people of Wardak. And used a USA USA Humvee as a weapon against us. Can't top that…"

'Strategic Threat' To Israel – Progressives Lose Fear Of Speaking Out On Palestine Moon of Alabama
Big Brother is Watching You Watch
Trump Transition
The Future of the Supreme Court in the Liberal Imagination Corey Robin, Jacobin
How Voting-Machine Lobbyists Undermine the Democratic Process New Yorker (furzy)
Mainstream Media Is Literally Making People Sick Caitlin Johnstone, Consortium News
The Young Left's Anti-Capitalist Manifesto FiveThirtyEight (resilc). Pull out the fainting couch!
Media: why is AOC so popular?

Ppl: her politics are popular

Media: social media?

Ppl: no, her politics of unafraid socialism

Media: it's cuz she young n hot

Ppl: s o c i a l i s m

Media: we may never know

— matthew miles goodrich (@mmilesgoodrich) January 22, 2019
Erin Brockovich to lead protest against PG&E bankruptcy at Capitol in Sacramento. Sacramento Bee. In case you hadn't worked it out:
Bankruptcy would turn wildfire claimants into unsecured creditors, along with bondholders holding billions in PG&E debt. It's unlikely that the fire survivors would get paid in full, legal experts say.
PG&E shares surge as company secures $5.5 billion in bankruptcy financing Reuters
New CalPERS CIO Orders Full Review of CalPERS Investment Activities Chief Investment Officer (Kevin W). Not consistent with Marcie Frost's much ballyhooed plan of getting the new PE scheme approved by March.
McKinsey & Company Is Again Accused of Misdeeds in Bankruptcy Case New York Times (Robert M)
The 10 most expensive cities to live in around the world in 2019 Business Insider
Climate Change, Financial Stability and Monetary Policy ScienceDirect (UserFriendly)
Guillotine Watch
The new elite's phoney crusade to save the world – without changing anything Guardian. Resilc: "Is this davos or the DNC meeting in the Hamptons?"

Record private jet flights into Davos as leaders arrive for climate talk Guardian (resilc)
After the Storm: Progress and the demented quest for historical purity The Baffler (Anthony L)
Antidote du jour. Martha r via Twitter: "This mother hen was found taking care of two small kittens in a snow storm!…"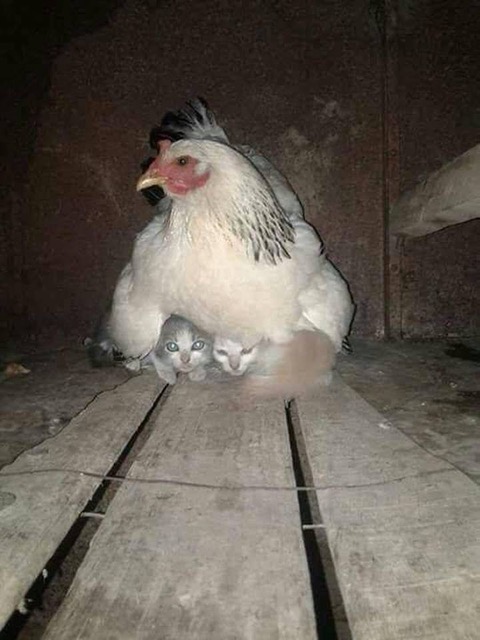 And a bonus from martha r:
Shoebill Storks are living Dinosaurs pic.twitter.com/oUbv8JwrnT

— Welcome To Nature (@welcomet0nature) January 20, 2019
See yesterday's Links and Antidote du Jour here.