By Roy Poses, MD, Clinical Associate Professor of Medicine at Brown University, and the President of FIRM – the Foundation for Integrity and Responsibility in Medicine. Originally published at Health Care Renewal
Mysteries still abound in the not so wonderful world of health care dysfunction, so, quick, the game's afoot…
Today's mysteries involve beneficial ownership.  Beneficial ownership questions are important to anti-corruption campaigners.  Beneficial ownership simply refers to "anyone who enjoys the benefits of ownership of a security or property, without being on the record as being the owner." (per Wikipedia). Concealing who really owns a company enables concealing sources of funds (as in money laundering), market power (when the owner also owns competitors), and sources of political influence, and enables those benefiting from the actions of the company to escape responsibility for their consequences.
A few months ago, a big question about the beneficial ownership of a local (to me) company suggested important local and national health care implications, and yet the case has remained anechoic.  The case has some mysterious aspects.
The  Mystery of the Ownership of Rhodes Technologies and Hence Rhodes Pharmaceuticals Solved
In September, the UK based Financial Times reported,
The billionaire Sackler family, which has been blamed for fuelling the US opioid addiction epidemic, owns a second drugmaker that churns out millions of addictive painkiller pills every year, the Financial Times can reveal.

The Sacklers are best known as the owners of Purdue Pharma, the privately held drugmaker that makes the now infamous opioid painkiller OxyContin, which has been described as 'heroin in a pill'.

However, an FT analysis of company registration documents has established that the family also owns Rhodes Pharma, a little-known Rhode Island-based drugmaker that is among the largest producers of off-patent generic opioids in the US.
Furthermore,
Rhodes Pharmaceuticals was set up in 2007, four months after Purdue pleaded guilty to federal criminal charges that it had mis-marketed OxyContin over the previous decade.

The little-known company now makes several opioid-based products containing highly-addictive drugs such as oxycodone, morphine and hydrocodone, according to a US Food and Drug Administration database. Many of its drugs are made in factories owned by Purdue.
The Mystery of the Mysteriousness of the Rhodes Companies and Facility
The FT report was noted by our local on-line news site, GoLocalProv, which tried to find out more about the company. It reported,
And tucked away in Coventry, Rhode Island, along a country road, is Rhodes Technology — surrounded by massive security. The company's website has been under -reconstruction for the past few years — all an effort to keep a low profile.

A 2005 version of the Rhodes Technologies' website GoLocal uncovered said, 'We have very broad capabilities in developing sophisticated chemicals and offer confidential production of high purity APIs and finished dosage forms of innovative pharmaceuticals, as well as marketing and sales services. A multi-million dollar investment in a new cGMP facility completed in 2002 added controlled substances to our manufacturing capabilities. Rhodes is a diversified, dependable firm well positioned for partnerships.'

The marketing arm of the Rhodes Technologies is Rhodes Pharmaceuticals and it self-describes itself as 'a privately held company headquartered in picturesque Rhode Island….developing and distributing quality pharmaceutical products since 2008.'

Emails and requests for an interview were not responded to by Rhodes Pharmaceuticals.
GoLocalProv article included a blurry picture of a large factory building apparently copied from an old website.  I could find no pictures or descriptions of the Rhodes facility on the web other than the picture below from Google Satellite: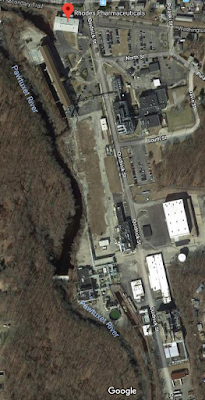 The satellite picture does suggest that the Rhodes facility is apparently massive.  However, I could find nothing, at least via web searching, to otherwise describe it.  Despite its size, I could find no coverage of the company, the facility, the buidling of the facility (which likely was quite a project), or anything else relevant in local media, or on the web.
The reasons to keep the ownership of this company mysterious are not hard to fathom.  But the reasons for the company itself to maintain such a "low profile," and for its facilities to be so well hidden, and to have such "massive security" (not otherwise described by GoLocalProv), are ongoing mysteries.
The Mystery of the Sackler Family's Opioid Market Power Partly Solved
It appears that the Sackler's previously secret ownership of Rhodes enabled them to conceal their market power. Per the FT,
Purdue Pharma has always insisted that its drug OxyContin cannot be considered a prime culprit in the crisis because it accounts for only 1.7 per cent of overall opioid prescriptions in the US.

However, Rhodes and Purdue combined accounted for 14.4m opioid prescriptions in 2016, according to figures seen by the FT, giving them a total share of 6 per cent of the US opioid market.

That puts the combined Rhodes-Purdue in seventh place among opioid makers by market share, behind Teva, the generic drugmaking giant, and well ahead of other pharma groups that have been named in lawsuits, such as Johnson & Johnson and Endo.

'This further debunks the Sackler family's whole claim that they are not responsible for the crisis,' said Andrew Kolodny, a professor at Brandeis University who is one of the foremost experts on the US addiction epidemic.

He added: 'They have always said, 'Why is everyone picking on us, we're only 2 per cent of prescriptions?' A spokesperson for the family declined to comment.
A second GoLocalProv article also revealed that
The billionaire family whose company is being sued by states and cities across the country for their role in creating the opioid crisis is now launching a new recently patented antidote for the drug known as 'heroine in a pill.'

Both oxycodone and the new drug will be produced side-by-side at the Rhodes Technologies plant — an affiliate company of Purdue Pharma — in Coventry, Rhode Island.
To corroborate that,
The U.S. Patent and Trademakr [sic] Office information shows the Rhodes Technologies' plant in Coventry, RI is assigned the patent for the new drug. Rhodes Technologies is the subsidiary of Purdue Pharma owned by the Sackler family.

Calls and emails to Rhodes Technologies and its affiliated marketing company Rhodes Pharma have not been responded to.
Note that the "new drug" that is considered an "antidote" to oxycodone is simply a minor modification of an old drug, buprenorphine, already used to treat opioid addiction.  Per Stat News,
The patent concerns a new formulation of buprenorphine, one of the medications shown to help people with opioid addiction. It is already approved by the Food and Drug Administration in tablet and film form, but the patent describes a wafer that could dissolve even faster than existing forms when put under the tongue.

The patent says that the faster the treatment dissolves, the less risk there is for diversion.
So now we know more about the power of the Sackler family in the opioid market.
The Mystery of Accountability for Deceptive Marketing of Opioids Partly Solved
Purdue Pharma has a long and sorry history of deceptive marketing of its narcotics, and has been accused of being a major driver of the ongoing opioid (narcotic) epidemic.  The case has recently been very well covered in the media.  (Our latest discussion is here, our discussion of Purdue Pharma's first legal troubles, which were fairly anechoic at the time, is here, and all our Purdue Pharma related posts are here.)
It appears that the Sackler's concealed ownership of Rhodes Technologies/ Pharma also put them in a position to generate more financial conflicts of interest among physicians which could be used to enable more deceptive marketing.  A search of the ProPublica "Dollars for Docs" data base revealed that Rhodes paid $1.43M to physicians from August, 2013, to December, 2016.  They paid the most, $121K, to a single physician in Saint Charles, MO.
Admittedly, their contribution to physicians' conflicts of interest was modest compared to that of the Sackler's better known Purdue Pharma, $27.9M over the same time period, but it should not be overlooked.
So we now know a bit more about the extent Sackler family owned opioid manufacturers enlisted physicians to market their products, at times deceptively.
The Mystery of the Sackler Family's Political Influence
This is admittedly speculation, but it is possible that Rhodes Technologies/ Pharma was also used as a vehicle for political influence to affect policy making relevant to the Sackler's interests.  Purdue Pharma certainly has a track record of such influence.
For example, we noted here that Purdue Pharma donated money to the Washington Legal Foundation in support of its efforts to weaken enforcement of laws that could have penalized the company's misbehavior.   In particular, the Washington Legal Foundation challenged the responsible corporate officer doctrine that allowed legal action against corporate executives for company wrong-doing that occurred on their watches.  Perhaps corporate leaders were worried that its executives could again face penalties, given the Purdue Pharma executives had previously pled guilty to misbranding Oxycontin (look here).  Purdue Pharma had also worked with the Washington Legal Foundation to push against guidelines from the Centers for Disease Control that would have potentially reduced opioid prescribing.
Furthermore, we noted here that Rudolf Giuliani, now President Donald Trump's lawyer, and previously and probably currently highly influential in the Trump regime, formerly represented Purdue Pharma and had helped mitigate the company's punishment for past mischief, an interesting example of the revolving door from the pharmaceutical industry to government.
So I think it is reasonable to say that whether Sackler-owned Rhodes Technologies/ Pharma was also used as a tool to conceal political influence remains a mystery.
Summary
So we now know that the Sackler Family, owner of Purdue Pharma, also owns a generic pharmaceutical company that manufacturers an important portion of the narcotics sold in the US.  Thus the share of the opioid market held by the Sackler family is likely four times larger than was previously apparent .  The Sackler's generic drug company is now known to have paid physicians a small but important amount to assist in its marketing of opioids.  It is also possible that the generic company also has been used to increase the family's influence over politics and policy that increased opioid sales and hence its responsibility for the opioid epidemic.  Thus, it is likely that the Sackler family's responsibility for the ongoing opioid epidemic is larger than was previously appreciated.
Why the Sackler's may have concealed their ownership of the company seems obvious.  Why the company and its physical plant were so secretive is not so clear.
It is unknown whether the family owns similar companies that have not been discovered.  It is unknown whether big pharmaceutical and other big health care corporations similarly have concealed beneficial ownership of other companies that could be used to conceal all manners of mischief.
Anti-corruption campaigner have pushed to reveal the beneficial ownership of all corporate entities.  (Look here for the relevant report from Transparency International.) They have made little headway, so far.  The case of the mysteries surrounding Rhodes Technologies/ Pharma should be another impetus to support this campaign.
True health care reform requires all sorts of transparency, now particularly including transparency about corporate beneficial ownership.