By Lambert Strether of Corrente.
Patient readers, this is a bit short. I am having a complexified day. –lambert
Trade
"U.S. trade team 'soldiering on' in China ahead of high-stakes Xi meeting" [Roll Call]. "U.S. officials on the ground in China for high-stakes trade talks are "soldiering on" and will get facetime with Chinese President Xi Jinping, something a top aide to President Donald Trump calls a positive sign as a key deadline approaches…. The talks come ahead of a March 1 deadline for an agreement. If none is reached, U.S. tariffs on $200 billion in Chinese goods are set to balloon from 10 percent to 25 percent. But Trump on Tuesday signaled he might be willing to extend that deadline."
Politics
"But what is government itself, but the greatest of all reflections on human nature?" –James Madison, Federalist 51
2020
Biden: "Exclusive: Biden almost certain to enter 2020 race" [The Hill]. "'It's pretty clear he's jumping in,' said one source with direct knowledge of the would-be campaign's moves, adding that Biden is '95 percent there.' …'Here are the facts: He's coming off a great midterm,' said Robert Wolf, the Democratic mega-donor who confirmed he spoke to Biden on a 25-minute call on Wednesday. 'He has been the most popular surrogate during the midterms and one of the only surrogates that can play in all 50 states, and that has given him a lot of confidence that he can do well in a national election,' Wolf said. 'He can campaign everywhere and that's certainly what many people would say is an incredible strength for him.'" • I tend to think Biden will jump in, because that's about the stupidest thing the liberal Democrat establishment can possibly allow to happen.

Booker: "Booker will 'be looking to women first' when selecting VP running mate" [CNN]. "'If you got the nomination, would you commit to choosing a woman as your vice president?' MSNBC's Rachel Maddow asked Booker during an interview on 'The Rachel Maddow Show.' 'We have such a great field of leaders. I think that you will rarely see a Democratic ticket anymore without gender diversity, race diversity. I think it's something that we should have. So I'm not going to box myself in. But should I become it, you know I'll be looking to women first,' Booker responded." • Dance, Cory, dance! Nevertheless, Booker reminds me of Jarred in The Big Short: "'How come you don't hate this guy? He's everything you taught us not to trust.' 'I can't hate him. . Would I buy a car from him? No.'"

Harris: "Black Critics of Harris and Booker Say They're Not 'Bots'" [The Intercept]. • Joy Reid doing the Joy Reid thing.

Harris: "Kamala Harris Is Accused of Lying About Listening to Tupac. Here's What Happened." [New York Times]. "'What does Kamala Harris listen to?' asked D.J. Envy, another one of the show's hosts. Before Ms. Harris answered the question, Charlamagne tha God interjected, asking her to say what she listened to while she smoked in college. Everyone laughed, before D.J. Envy appeared to return to his original question. 'Was it Snoop?' he asked. 'Oh yeah, definitely Snoop,' Ms. Harris said. 'Tupac for sure.' Chaos ensued. The viral tweet pointed out that Snoop Dogg and Tupac did not debut until Ms. Harris had left college. Then music blogs and conservative outlets begin to write up the exchange. However, several of them omitted the fact that D.J. Envy had asked Ms. Harris more generally about her music opinions, a key portion in the exchange that makes it unclear whose question Ms. Harris was responding to." • The headline, at the very best, oversells the story. Surely this was not Harris's first radio interview?

Schultz: "Howard Schultz's CNN town hall revealed the emptiness of elite centrism" [Vox]. "The CNN town hall from former Starbucks CEO and potential 2020 candidate Howard Schultz on Tuesday was revelatory…. His policy answers were exercises in vacuity, less showcases for a potential president and more giant televised sucking sounds." • When you've lost Vox…

"How long can Joe Biden, Bernie Sanders and Beto O'Rourke afford to wait ahead of the Iowa caucuses?" [Des Moines Register]. "Former Vice President Joe Biden, Vermont Sen. Bernie Sanders and former Texas Congressman Beto O'Rourke led the field in a December Iowa Poll, but none has formally announced their intentions yet. 'I think those are the big three that everyone's waiting for,' said Jeremy Dumkrieger, chairman of the Woodbury County Democrats… Enthusiasm building around the Democrats already running risks leaving behind candidates who are still flirting with potential runs." Enthusiasm building? Really? Am I too cynical, here?

UPDATE "Democrats demand detailed plans for defeating Trump in 2020" [McClatchy]. " But in a sprawling presidential field in which the contenders generally agree on policy, painting a clear picture of how they would beat Trump will be necessary to lock down critical endorsements and to help voters unpack what "electability" means in their own minds. In practice, that could mean anything from offering memorable pushback to a Trump policy, to sketching out a path to victory in the general election, according to national Democrats and early-state activists. But one thing that's clear: the candidates will, eventually, have to talk about Trump on the trail." • Surely tying Trump to Russia is a winning strategy? I just can't understand why none of the candidates are hammering on it!
2019
"Why Pelosi, Schumer and Hoyer Must Apologize to Rep. Omar" [John Halle]. "Congresswoman Omar stated an obvious and uncontroversial truth and has nothing to apologize for." • A Kinsley Gaffe, as I said.

UPDATE "The Democrats' total capitulation on the border" [The Week]. "Details of the deal are still trickling in but it seems clear that after House Speaker Nancy Pelosi pledged not to give Trump even a "dollar" for his wall, Democrats agreed to hand him $1.375 billion to build a 55-mile long barrier in the Rio Grande Valley. They're trying to spin this as mere 'pedestrian fencing.' Trump, who is never shy of staring a gift horse in the mouth, is saying it's not enough. But it's pretty clear that Democrats gave in." • Wall bad, smart wall good, fence OK, bollards OK…

UPDATE It's all about the benjamins. 🎶

After fuelling a smear campaign against Ilhan Omar for her (glib although correct) remarks on AIPAC and pro-Israel lobbying, the Forward is now fundraising off it. Pretty gross. pic.twitter.com/DGc3bBG462

— Michael Bueckert (@mbueckert) February 13, 2019

UPDATE Neera Tanden natsec apparatchik says "neocon" is an anti-semitic trope:

CAP's natsec VP has some interesting opinions pic.twitter.com/sFRnnSvy5V

— Matt Bruenig (@MattBruenig) February 13, 2019

"Serious professional mistake." Yes, some consider Abrams's methods unsound.

UPDATE Logrolling in our time, and there's plenty more where this came from:

Agree. Elliott Abrams is a devoted public servant who has contributed much of his professional life to our country. It's time to build bridges in America and not tear people down. https://t.co/ncI9Bo31jn

— Nicholas Burns (@RNicholasBurns) February 14, 2019

Elliott Abrams is the kindest, warmest, bravest, most wonderful human being I've ever known in my life.

UPDATE Sanders proxy weighs in:

Folks, Elliott Abrams is a confessed liar who was complicit in mass murder. Ilhan Omar is a refugee who survived the sort of violence backed by Abrams. If you have to think for even a second about who deserves your support, please consider quitting foreign policy.

— Matt Duss (@mattduss) February 14, 2019

I care about Omar on policy, not identity (I mean, Condaleeza Rice ticks at least one of Omar's idpol boxes, but the thought of what Rice would have to say on Abrams makes me shudder.)
Realignment and Legitimacy
"Democrats Move To Staunch Attrition" [New York Jewish Week]. " Ann Lewis, former political director of the Democratic National Committee and co-chair of the new group, [the Democratic Majority for Israel (DMI),] told us on Tuesday that "what was missing in recent years was a partisan, pro-Israel Democratic organization that could work at the grassroots and grass-top level by being active, smart and effective" in supporting candidates who value the Washington-Jerusalem bond…. She asserted that DMI is "independent in every way," though several prominent Jewish Democrats said it was an open secret that the group was conceived and initiated by AIPAC, the official pro-Israel lobby. Several of the DMI's board members, including its president, Democratic pollster Mark Mellman, and co-chairs Todd Richman and Lewis, have long been associated with AIPAC." • Grifters gotta rebrand, I guess.

"Howard Dean to lead new Democratic voter data exchange" [CBS]. "In an interview with The Associated Press, Dean confirmed that he's signed on to lead a planned data exchange hammered out by DNC officials, state party leaders and Democratic consultants. The agreement still requires the expected approval from state party leaders gathering Wednesday in Washington, but it would end more than 18 months of internal party wrangling that has dogged DNC Chairman Tom Perez amid fights over money and control. The arrangement would allow the national party, state parties and independent political action groups on the left to share voter data in real time during campaigns. That means, for example, that a field worker for a congressional campaign in Iowa and another for an independent political action committee knocking on doors in Florida could update a master voter file essentially as they work." • "Allow"? Or require?

"Why Does the Democratic Party Refuse to Address Poverty?" [The Nation]. • I know! I know! [raises hand] Because the Democrats are the party of credentialed professionals, who tend not to be poor! Appalling DNC shenanigans.

"Chuck Schumer's general counsel, once a Goldman Sachs lobbyist, won't disclose the names of 95% of his former clients" [Boing Boing]. "Mark Patterson is Chuck Schumer's general counsel; he used to be a lobbyist for Goldman Sachs, and he had 20 important clients, 19 of whom he has declined to name on his financial disclosure statements. Schumer has foot-dragged and fumbled his way through two years during which he was supposed to be putting an end to the revolving door between lobbying and government oversight. Patterson's opacity doesn't bode well for the future of the fight to get money out of politics." • It's all about the benjamins. 🎶

UPDATE "The Utterly Bizarre Life of Lyndon LaRouche" [The Intercept]. Fascinating article about a genuinely crazy albeit high-functioning person, especially if you care about the post-SDS, pre-DSA left. Here's a tidbit: "Things were looking good for LaRouche until 1986, when the federal government launched a series of cases against his organization that eventually resulted in prison time for the cult leader and several of his associates. The case, which was led by none other than a federal prosecutor named Robert Mueller, revolved around various sorts of fraud, from unlicensed credit card transactions to soliciting loans from his followers." • Who knew?
Stats Watch
Retail Sales, December 2018: "[A]n unexpectedly weak verdict for December holiday sales. Retail sales fell… for the sharpest monthly decline of the expansion, since September 2009 and the last recession" [Econoday]. "Aside from autos, the only other major component that was not in the minus column was building materials…. These results may reflect consumer edginess going into the government shutdown but they contrast very starkly with strength in the labor market." • So maybe the strength in the labor market picture is just wrong; that's certainly what rising auto loan defaults would suggest, since people need to drive to work, and the loan on the car gets paid first. If possible. And: "Retail sales was significantly slower according to US Census headline data. There is almost no year-over-year growth when one inflation adjusts the data" [Econintersect].
Business Inventories, November 2018: "Business inventories edged… lower [Econoday]. "In a special warning, growth in year-on-year total inventories, which trailed growth in year-on-year sales through last year, is now ahead of sales… The signs of global slowing that had eluded the U.S. may now be appearing, first in consumer spending and secondly in inventories."
Producer Price Index (Final Demand), January 2019: "Inflation headlines are subdued, whether at the consumer level as in Wednesday's CPI report or at the producer level in today's PPI-FD report" [Econoday]. "Producer prices are watched for signs of early inflation pressure and, due to energy and its central place in the price chain, the indications are perhaps a little on the disinflationary side." And: "Energy prices decline was the major reason for the decline" [Econintersect].
Jobless Claims, week of February 9, 2019: "Initial claims are moving higher to indicate possible moderation in labor market strength" [Econoday]. "Prior swelling from Federal employees and related contractors may be inflating the readings in this report but they do, nevertheless, hint at month-to-month slowing for labor data. Still, levels remain historically lower and the overall message is positive." And: "This was higher than the consensus forecast" [Calculated Risk].
Shipping: "LA area Port Traffic in January; Imports Up YoY, Exports Down" [Calculated Risk]. "Usually imports peak in the July to October period as retailers import goods for the Christmas holiday, and then decline sharply and bottom in February or March depending on the timing of the Chinese New Year (February 5th this year). In general imports have been increasing, and exports have mostly moved sideways over the last 8 years."
Retail: "Update on plans for New York City headquarters" (press release) [Amazon]. "After much thought and deliberation, we've decided not to move forward with our plans to build a headquarters for Amazon in Long Island City, Queens … There are currently over 5,000 Amazon employees in Brooklyn, Manhattan, and Staten Island, and we plan to continue growing these teams…. We do not intend to reopen the HQ2 search at this time. We will proceed as planned in Northern Virginia and Nashville, and we will continue to hire and grow across our 17 corporate offices and tech hubs in the U.S. and Canada." • Weird. So if there was an actual business requirement for the Queens HQ, why not re-open the search?
Retail: "Amazon says it will not build a headquarters in New York after mounting opposition" [CNBC]. "Local and state leaders had voiced significant opposition after New York City and state had offered the company performance-based incentives amounting to nearly $3 billion. These leaders were not privy to the details of the deal until after Amazon had made its decision. Cuomo said the deal would still bring in $27 billion in revenue in exchange for the incentive package and called the opposition to Amazon 'governmental malpractice.'" • So Bezos won't be able to take selfies from his taxpayer-subsidized helipad. That's a shame.
Retail: "Amazon Pulls Out of Planned New York City Headquarters" [New York Times]. "State Sen. Michael Gianaris, a vocal critic who was chosen for a state board with the power to veto the deal, said the decision revealed Amazon's unwillingness to work with the Queens community it had wanted to join. 'Like a petulant child, Amazon insists on getting its way or takes its ball and leaves,' said Mr. Gianaris, a Democrat, whose neighborhood includes Long Island City. 'The only thing that happened here is that a community that was going to be profoundly affected by their presence started asking questions.' 'Even by their own words,' he added pointing to their statement, 'Amazon admits they will grow their presence in New York without their promised subsidies. So what was all this really about?'" • The view of the city from the helipad?
Tech: The Internet of Sh*t:
Why am I awakened by a freezing house in 14 degree weather? Furnace is working. Vents are well maintained.

Oh, I see why.

The goddamn @ecobee server for the networked thermostat is down. And what could go wrong, in depending on the internet to keep the child warm? pic.twitter.com/bMRdkRjlnP

— Kevin Slavin (@slavin_fpo) February 1, 2019
Sounds like more California design. In California, if the heat goes out, you don't typically lose your pipes.
The Biosphere
"Inside the Push to Legalize Magic Mushrooms for Depression and PTSD" [Wired]. "[P]sychedelic drug use.. may legally exempt him under the federal Right To Try Act for terminally ill patients, signed by President Trump last May." • A rare bit of sanity, since you can't patent mushrooms. I don't think. More: "They cite a small but growing body of research suggesting psychedelic drugs can, in fact, be medically beneficial with low potential for addiction or abuse. Some small studies suggest that psilocybin can alleviate obsessive-compulsive disorder, treatment-resistant depression, end-of-life anxiety, addiction, cluster headaches, and, yes, relieve pain. There's also growing evidence that ingesting the drug can promote optimism and prosocial and mystical worldviews, and nurture well-being. In just a few years, pockets of psilocybin-legal jurisdictions could appear, following the similar path that medical marijuana took to mainstream acceptance." • See Michael Pollan's wonderful Botany of Desire for why plants, if listened to, might be smarter than the entire pharmaceutical industry.
Police State Watch
"Police Are Outsourcing Policy To A Secretive Private Company" [The Appeal (DK)]. "Lexipol [is] a California-based company that says it provides policies for approximately 3,400 police, fire, and correctional agencies in 35 states. It has grown rapidly over the last 15 years and saturated California, where its clients include more than 90 percent of law enforcement agencies. It's impossible to know just how far Lexipol's reach has spread as the company declines to provide a list of clients, saying that it is proprietary information. But according to an analysis published last year in the Texas Law Review, 'although there are other private, nonprofit, and government entities that draft police policies, Lexipol is now a dominant force in police policymaking across the country.' As a result, a large portion of American police policy is now being drafted by a little-known private company with no public oversight." • I wonder where they stand on civil forfeiture and law enforcement for profit generally.
Our Famously Free Press
"Union: Los Angeles Times management wants 'unfettered' control over staffers' book projects" [WaPo]. ""If we have a book idea related to our work, even if fictional, the company wants unfettered power to claim control over whether it gets written, who owns the copyright and what we might get paid for it,' [the Newspaper Guild letter] continues. 'The company also wants to claim the film rights to such books even if the company grants permission for the book to be written, on unpaid leave, for an outside publisher.' The company's proposal comes amid negotiations over the first newsroom collective-bargaining agreement in the history of the Los Angeles Times."
Health Care
"Americans Cross Border Into Mexico To Buy Insulin At A Fraction Of U.S. Cost" [Kaiser Health News]. "On one trip to the pharmacy last year, Fenner was told that a three-month supply of insulin would cost her $3,700. That same supply would cost only about $600 in Mexico. The U.S. government estimates that close to 1 million people in California alone cross to Mexico annually for health care, including to buy prescription drugs. And between 150,000 and 320,000 Americans list health care as a reason for traveling abroad each year. Cost savings is the most commonly cited reason."
"Private health insurance exists in Europe and Canada. Here's how it works." [Sarak Kliff, Vox]. "When you look out at the rest of the world — at the dozens of countries that run universal health care systems — you find that every universal health plan relies, in some form or another, on private insurance." • "In some form or antoher" is doing a lot of work, there.
"In Medicare For All Battle, Insurers Tout Democratic Allies" [Forbes]. "All Democrats running or talking about running for President have talked about Medicare expansion beyond those who are 65 years of age and older but the role of Medicare Advantage and private insurers among presidential candidates is less clear… There were some notable names of Democrats who didn't sign the letters supporting Medicare Advantage. Senators who didn't sign the Jan. 31 letter supporting Medicare Advantage included Democrats Cory Booker or New Jersey; Sherrod Brown of Ohio; Kirsten Gillibrand of New York, Kamala Harris of California, Bernie Sanders of Vermont and Elizabeth Warren of Massachusetts."
Guillotine Watch
"Whose facade is it, anyway?" [Curbed]. "In a routine that defined 2017, T spent a bright, warm May morning at a chemotherapy treatment at the Lewis Cancer and Research Pavilion, then came home to recuperate on the couch next to her living room windows. Outside, a woman was bouncing around on the sidewalk in front of the colorful trio of homes. Laughing and shouting art direction to her photographer across the street, she was an arm's length from T's seafoam green shutters and thin window glass. When we came by for dinner that evening, T told us about the photoshoot, the commotion, and how, eventually, she'd pulled herself up and peered out the front door to give this girl and her friend 'a look,' which seemed to scare them off. The three of us giggled over it. A couple weeks later, a family friend sent us an Instagram post. Travel blogger Michelle Halpern—a 30-something "matcha-obsessed Libra" with roughly 30,000 Instagram followers as of August 2017—was caught mid-skip just outside T's living room on Rainbow Row, mugging to the camera." • Read the whole thing. It's insufferable.
Class Warfare
"The case of the reviewer who said cite me or I won't recommend acceptance of your work" [Retraction Watch]. "A case was recently brought to the journal's attention regarding a reviewer who had requested a large number of citations to their own papers as part of their review. After investigation of their most recent reviews, we found that in every review this reviewer requested an average of 35 citations be added, approximately 90% of which were to their own papers and the remainder to papers that both cited them extensively and mentioned them by name in the title. The reviewer's phrasing strongly suggested that inclusion of these citations would influence their recommendation to the editor to accept or reject the paper." • Maybe this should have gone under Guillotine Watch, too.
News of the Wired
"Marvin Gaye's Lost Album Gets Release Date Decades After Being Shelved" [Vibe]. "Motown is set to debut a previously unreleased Marvin Gaye album next month, days ahead of what would have been the late soul legend's 80th birthday. You're the Man, an album that Gaye recorded more than four decades ago, will officially be released on March 29…. The 'socially conscious' project was originally recorded as a follow-up to Gaye's 1971 platinum LP, What's Going On. Gaye decided to shelve the album because the lead single didn't do as well as he expected, and his political views didn't mesh with that of Motown label boss, Berry Gordy."
Urban planning (1):
Before and after: The dramatic transformation of a shabby West Oakland Victorian https://t.co/JG94jyxVvW pic.twitter.com/bIHoWNrDiA

— SFGate (@SFGate) February 10, 2019
I'll say it's dramatic.
Urban planning (2):
Clever animation by @otucis shows a big intersection could be simplified and made more human-friendly. pic.twitter.com/I0hAuJldkh

— Simon Kuestenmacher (@simongerman600) February 10, 2019
Snow is good for detecting traffic patterns.
Fun with cranes:
Slight contact but I don't think anyone noticed. pic.twitter.com/ESs9UkpDYX

— Vince (@Captain_Cunto) February 7, 2019
Make up your own metaphors!
* * *
Readers, feel free to contact me at lambert [UNDERSCORE] strether [DOT] corrente [AT] yahoo [DOT] com, with (a) links, and even better (b) sources I should curate regularly, (c) how to send me a check if you are allergic to PayPal, and (d) to find out how to send me images of plants. Vegetables are fine! Fungi are deemed to be honorary plants! If you want your handle to appear as a credit, please place it at the start of your mail in parentheses: (thus). Otherwise, I will anonymize by using your initials. See the previous Water Cooler (with plant) here. Today's plant (via):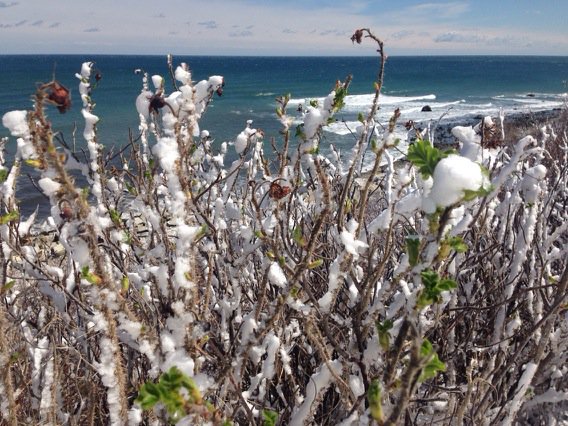 I had a terrible time finding a rose for Valentine's day, because images of gaudy, monocultural, commercially-grown roses dominated everything. Finally, I found these New England Beach roses, covered in ice (and since beach roses are tough, they'll come back in the spring). And a Valentine's Day reminder: Much of politics seems to suggest that there is too much love in the world. That's not true!
* * *
Readers: Water Cooler is a standalone entity not covered by the annual NC fundraiser. So do feel free to make a contribution today or any day. Here is why: Regular positive feedback both makes me feel good and lets me know I'm on the right track with coverage. When I get no donations for five or ten days I get worried. More tangibly, a constant trickle of small donations helps me with expenses, and I factor that trickle in when setting fundraising goals. So if you see something you especially appreciate, do feel free to click below! (The hat is temporarily defunct, so I slapped in some old code.)
Or Subscribe to make a monthly payment!