By Lambert Strether of Corrente.
Politics
"But what is government itself, but the greatest of all reflections on human nature?" –James Madison, Federalist 51
"They had one weapon left and both knew it: treachery." –Frank Herbert, Dune
2020
Sanders (1), lol:

Welcome to the race, @BernieSanders. I'm looking forward to a primary focused on policy debates and defeating Trump, not on personal attacks that undermine our party to Trump's benefit. #2020Election https://t.co/BcpGkJhidx

— David Brock (@davidbrockdc) February 19, 2019

Let's have a good clean fight here. No holding, no low punches, no biting, gouging or rabbit punches.

Sanders (2): "How the Revolution Could Devour Bernie" [The American Conservative]. "But the modern Democratic Party is like a parade marching leftward so rapidly that it is hard for anyone, even Bernie Sanders, to keep up for long." • Bizarrely reproduces most of the conventional (and wrong) wisdom against Sanders, and ends with this even more bizarre pronouncement. The editor of the American Conservative has apparently never heard the maxim "Know your enemy." Or perhaps he thinks he does.

Sanders (3): "Bernie Sanders Just Released His Tax Returns. Read Them In Full" [Document Cloud (MR)]. • Impressive timing.

Sanders (4): "Bernie Sanders to sign 'affirmation' he will run as a Democrat in 2020" [CNN]. "Sen. Bernie Sanders plans to sign a party pledge affirming that he will run for president as a Democrat in 2020 and serve as one if elected, senior campaign adviser Jeff Weaver told CNN on Wednesday. The Democratic National Committee said on Tuesday that it planned to meet in the coming week with the presidential primary campaigns and distribute a form to the candidates, who under bylaws agreed on last August will be required 'to affirm in writing' that they 'are a member of the Democratic Party, will accept the Democratic nomination' and 'will run and serve as a member of the Democratic Party.'" • When I mentioned how the liberal Democrats punched the left in the mouth at the last DNC meeting, I forgot the loyalty oath part. Of course, Bernie is a Democrat ("Paris is worth a mass"). I'd like to see the text of the affirmation, though. 10-to-1 they screwed it up, because that's what they do.

Sanders (5) "Bernie Sanders announces 2020 presidential campaign" [WSWS (JB)]. "There has been no shortage of experiences with 'progressive' and 'pro-worker' Democrats, and they always end in disaster. The Democratic Party is the graveyard of all progressive social movements. Sanders is once again seeking to lead the working class and young people into a political dead end." • Past performance is no guarantee of future results. More seriously, you go to the race with the horse you have, not the unicorn you want. There are plenty of good results imaginable from a Sanders run, beyond even basic reforms. The Democrats in from the start of abolition were a "graveyard of social movements." Ultimately, they split.

Sanders (6): "Daily Kos Democratic Presidential Primary Straw Poll: February 19" [Daily Kos (JF)]. The results:

• These results seem remarkable to me, since Kos purged his Sanders supporters in 2016. JF comments: "If I read the DNC rules correctly, Sanders wins the nomination with these numbers. Any candidates with less than 15% receives no delegates and they are re-tabulated in proportion to the remaining percentages, ie.. 73% to Sanders, 27% to Harris. Obviously this is an oversimplification and needs to play out state by state, but the DNC is in real trouble if this plays out on a large scale. They need like a 45% to 35% Sanders lead over Harris to introduce the 15% super delegates on the second vote and sway it over." And on that same 15% threshold–

Harris (1): "#InvisiblePrimary: Visible — The Difficulties in Harris Locking Down California" [Frontloading HQ (JF)]. "If one is in the Harris campaign, then, California is absolutely part of a path of least resistance to a similar delegate advantage (assuming there are also victories — actual or relative to expectations — in the early states). But that sort of 80-100 delegate advantage in California alone is unlikely. In the past, it has required the winning candidate to approach or exceed 60 percent of the vote statewide in a contest with a significantly winnowed field. Now, strange things — atypical to past nomination cycles — may occur with a less winnowed field and a 15 percent threshold stretched across the allocation of statewide and congressional district delegates." • JF comments: "Something to think about here is the [DNC] 15% threshold. Let say you get 4 candidates that take 10% each of the vote. A 30% to 30% tie between the remaining two actually is a 50% allocation each of the delegates. Also the district strategy is interesting, although I haven't done the math. 75% of the delegates will be apportioned by district results, 25% at large. I wonder if that could result in an overall disproportionate allocation to statewide results. Harris doesn't need a large percentage of the vote, she just needs a larger percentage than Sanders and a diluted field to take the majority of delegates." Thanks for the arithmetic!

Harris (2): "Harris hires ex-Clinton aide Ruiz and several other women of color" [Politico]. "We value diverse backgrounds and experiences because they give our campaign vibrancy and fresh perspectives about the many challenges all Americans are facing,' campaign manager Juan Rodriguez said. 'Sen. Harris has a history of elevating and amplifying all voices to ensure that nothing is seen through only one narrow point of view.'" • The "pursuit of identity politics" part seems clear enough, but are these staffers also "pot-smoking joy seekers"? That's a litmus test for me.

"Who's Running for President in 2020? [New York Times (Furzy Mouse)]. • With handy chart. What a prospect we have before us!

"Everyone's Running — And That Could Be Dangerous For The Democrats" [FiveThirtyEight]. "As should be pretty intuitive, larger fields are correlated with more prolonged nomination processes in which both voters and party elites have a harder time reaching consensus. Below is a table comparing the number of candidates in each past cycle against the share of the overall popular vote the nominee eventually received. I've also included a more subjective measure of whether party elites were able to get their way. I consider the party to have decided — that is, for party elites to have gotten their preferred choice — if there was a clear front-runner in endorsements in advance of the Iowa caucuses and that candidate won the nomination. And I consider the elites to have failed if a factional candidate who lacked broad support from the party establishment won. "
Obama Legacy
"The Obama Presidential Library That Isn't" [New York Times (DG)] "The four-building, 19-acre 'working center for citizenship,' set to be built in a public park on the South Side of Chicago, will include a 235-foot-high 'museum tower,' a two-story event space, an athletic center, a recording studio, a winter garden, even a sledding hill. But the center, which will cost an estimated $500 million, will also differ from the complexes built by Barack Obama's predecessors in another way: It won't actually be a presidential library. In a break with precedent, there will be no research library on site, and none of Mr. Obama's official presidential records. Instead, the Obama Foundation will pay to digitize the roughly 30 million pages of unclassified paper records from the administration so they can be made available online…. Some scholars are alarmed by the decision. ',' said David Garrow, a Pulitzer Prize-winning historian and the author of "Rising Star," a nearly 1,500-page biography of Mr. Obama." • That's not a bug… Remarkably, or not, the Times, very late to this story, manages to erase all the local opposition (NC, 2015) to Obama's Stately Pleasure Dome. DG comments: "President Rhetoric rhetorically promised an archive and delivered a large Holiday Inn. Now the NY Times is shocked, shocked, I tell you, to discover the same." • That's hardly fair. What Holiday Inn has a sledding hill?
Realignment and Legitimacy
"How migration of millennials and seniors has shifted since the Great Recession [Brookings Institution (MR)]. "Recently released migration data from the U.S. Census Bureau's 5 year American Community Survey identify major metropolitan areas that attract age groups dominated by millennials and baby boomers for the period 2012-2017 compared to earlier periods. They show that the top regional magnets for young adults (ages 25-34) do not overlap with those that are attracting seniors (ages 55 and older) and for both groups, the recent magnets differ from those prior to the Great Recession." • The big sort continues…

"The Red Menace Is Real" [Jacobin (MR)]. "Had Trump passed some version of universal health care, he would have probably secured a second term, increased the GOP's domination of Congress, and left the Democrats wandering the political desert for a generation in the political realignment that followed. But because Trump has no real ideology, save getting nondescript 'wins' and lining his own pockets, he embraced the establishment wing of the Right and proceeded to govern as a stock-standard, if more extreme, Republican. Over the past two years he's hemorrhaged supporters betrayed and disappointed by his embrace of radical neoliberalism, his approval rating has dwindled to historic lows, and his support has calcified where it was always going to go: the GOP base of Evangelicals, the wealthy, and the upper middle class. All of which is why Trump is terrified of Bernie Sanders's presidential run and the democratic-socialist movement he represents." • I'm not a telepath, so I don't know if Trump is terrified, or even capable of terror. But yes, The Republic really dodged a bullet.
Stats Watch
Durable Goods Orders, December 2018: "The 1.2 percent headline rise in December durable goods masks weakness for business investment" [Econoday]. "New orders for core capital goods sank an unexpected 0.7 percent that falls well below Econoday's consensus range. Magnifying what may be an emerging pivot lower for capital goods is a sharp downward revision to November…. The factory sector was the economy's star performer in 2018 and, on the surface at least, ended the year in strength especially for autos. But the weakness in business investment, and its negative implications for future productivity, point to hesitance among businesses which is consistent perhaps with easing indications for business confidence." • Not good in a capitalist economy, but my impression is that capital goods are sporty.
Philadelphia Fed Business Outlook Survey, February 2019: "The Philadelphia Fed's manufacturing survey was really the first to take off following President Trump's 2016 victory. But indications among anecdotal surveys, whether those tracking businesses or consumers, have been sinking from two year highs and they now include the Philadelphia Fed" [Econoday]. "Though one month of data is only one month of data, this report does fit in with the other regional manufacturing reports that have been showing consistent weakness since late last year."
Purchasing Managers Composite (Flash), February 2019: "Is there trouble appearing in manufacturing? The PMI manufacturing flash for February slowed" [Econoday]. "However large the service sector is, manufacturing and its exposure to global demand is considered the leading sector for indications on general economic conditions and the move lower for this report's headline, together with the negative showings for capital goods orders in this morning's durable goods report along with the contraction posted in the Philadelphia Fed, may heighten concerns among Federal Reserve policy makers for the risk of visible slowing in the first-quarter economy."
Leading Indicators, January 2019: "Economic data, outside the jobs market, have been softening as has the index of leading economic indicators" [Econoday]. "The turn lower does point to slowing growth for the first-half economy."
Jobless Claims, week of February 2016: "Claims pivoted higher early in the year largely on the effects of the government shutdown. With those effects now having waned, claims data are pointing to continued and unusually strong demand for labor" [Econoday].
Existing Home Sales, January 2019: "The biggest disappointment of the 2018 economy was the nation's housing sector and the first definitive indication on 2019 is not favorable" [Econoday]. "The yearly median price gain of 2.8 percent marks the slowest annual result since 2012, which is no surprise given clear slumps underway in Case-Shiller and FHFA price data. Trouble in housing has only been a minor theme in the Fed's economic assessment though more reports like today's could raise their level of concern."
Retail: "County Officials, Activists Say Amazon Executives Have Failed to Engage with Arlington Community" [ArlNow (MR)]. "But activists opposed to the project argue that , when Amazon's arrival threatens so many low- and middle-income people in the area. Expert opinions are split on just how much the company's 25,000 highly paid workers will drive up rent prices in the county, but the changes to the housing market will almost certainly force some people to leave their homes." • They can't? Really?
Retail: "The Times Editorial Board Completes Amazon's Tag Team" [Hmm Daily]. "We are in the midst of a capital tantrum, in which people and corporations come completely unhinged at even the mildest suggestion that they should slow down their unchecked looting of the economy. So Jeff Bezos flipped out at the prospect of having to negotiate a slightly less predatory deal, and the Times joined him in flipping out." • This is a fun piece.
The Bezzle: "Elon Musk: Tesla will have all its self-driving car features by the end of the year" [CNBC]. Musk: "I think we will be feature complete — full self-driving — this year. Meaning the car will be able to find you in a parking lot, pick you up and take you all the way to your destination without an intervention, this year. I would say I am of certain of that. That is not a question mark." • Big if true.
Concentration: "Antitrust as Allocator of Coordination Rights" (PDF) [Sanjukta Paul, SSRN]. "Indeed, because antitrust has effectively established a state monopoly on the allocation of coordination rights, we ought to view coordination rights as a public resource, to be allocated and regulated in the public interest rather than only for the pursuit of private interests."
Tech: "Zuckerberg to meet UK culture secretary amid 'digital gangster' report" [Yahoo Finance]. "'The British public have legitimate concerns about their safety and security online and, as a responsible government, we are taking action,' said [Department for Digital, Culture, Media & Sport (DCMS)] Secretary of State Jeremy Wright in a statement sent to Yahoo Finance UK…. The meeting is part of a series Wright and Digital Minister Margot James are conducting this week. They will be also meeting with executives from Twitter (TWTR), Apple (AAPL), Google (GOOG), Youtube, Snap (SNAP), and Tinder (MTCH) on the West Coast of the US." • Hard to think this isn't Brexit related…
The Biosphere
"Lawns Are an Ecological Disaster" [Gizmodo]. From 2018, still germane. "Influential native gardening writer Sara Stein perhaps summed up the absurdity best: 'Continual amputation is a critical part of lawn care. Cutting grass regularly—preventing it from reaching up and flowering — forces it to sprout still more blades, more rhizomes, more roots, to become an ever more impenetrable mat until it is what its owner has worked so hard or paid so much to have: the perfect lawn, the perfect sealant through which nothing else can grow—and the perfect antithesis of an ecological system.'" • Plus cutting the lawn is work. Why do it? One thing you can also do to help out the index is fight fight with your local zoning board and/or homeowner's association to disfavor lawns with respect with property values, and favor gardens.
"China and India lead in greening of the world through land-use management" [Nature]. "Satellite data show increasing leaf area of vegetation due to direct factors (human land-use management) and indirect factors (such as climate change, CO2 fertilization, nitrogen deposition and recovery from natural disturbances). Among these, climate change and CO2 fertilization effects seem to be the dominant drivers. However, recent satellite data (2000–2017) reveal a greening pattern that is strikingly prominent in China and India and overlaps with croplands world-wide. China alone accounts for 25% of the global net increase in leaf area with only 6.6% of global vegetated area. The greening in China is from forests (42%) and croplands (32%), but in India is mostly from croplands (82%) with minor contribution from forests (4.4%). China is engineering ambitious programmes to conserve and expand forests with the goal of mitigating land degradation, air pollution and climate change. Food production in China and India has increased by over 35% since 2000 mostly owing to an increase in harvested area through multiple cropping facilitated by fertilizer use and surface- and/or groundwater irrigation. Our results indicate that the direct factor is a key driver of the 'Greening Earth', accounting for over a third, and probably more, of the observed net increase in green leaf area." • Let's get with the program!
"World's biggest terrestrial carbon sinks are found in young forests" [Science Daily]. "More than half of the carbon sink in the world's forests is in areas where the trees are relatively young — under 140 years old — rather than in tropical rainforests, research at the University of Birmingham shows. These trees have typically 'regrown' on land previously used for agriculture, or cleared by fire or harvest and it is their young age that is one of the main drivers of this carbon uptake…. this age-driven carbon uptake was primarily situated not in the tropics, but in the middle and high latitude forests." • Like second-growth New England forests.
"What is permafrost and why might it be the climate change time bomb?" [South China Morning Post (J-LS)]. "According to Nature and the Harvard Review the amount of carbon sequestered in permafrost is four times that of the carbon already released into the atmosphere from modern human activity…. Some organisations, such as the International Permafrost Association, regularly report on the status of these areas and take initiatives to restore some of the green areas in the Tibetan Plateau. However, there are no clear policies from the local governments or the international community as to how these areas can be preserved to prevent permafrost melting." • This well worth a read, with excellent graphics. I always think of permafrost as being in the Arctic, but it turns out that the Tibetan plateau is very important, too.
"The $32 Trillion Pushing Fossil Fuel CEOs to Act on Climate Change" [Bloomberg]. "Behind Glencore Plc's decision to limit coal investment is a little-known, but powerful group of investors. Glencore made its decision after facing pressure from a shareholder network known as Climate Action 100+, which has the backing of more than 300 investors managing $32 trillion. The group was founded a little over a year ago, but has already extracted reforms from oil heavyweights, like BP Plc and Royal Dutch Shell Plc. While skeptics may regard Glencore's changes as minimal (the company still stands to reap billions from its huge coal business), the announcement still shows the influence that investors hold at being able to push even the most reticent companies to respond to their demands." • $32 trillion seems like real money, to me, but I don't know how much money like that is floating about.
Centrist brutally pw0ned:
I hope there's a way to stave off the complete collapse of our ecosystem that isn't too expensive https://t.co/y0V8FFdiTs

— Will?Menaker (@willmenaker) February 12, 2019
A neat thread on apples:
Today I want to discuss a way to fix carbon that could feed us well, & save the honey bees. We'll go down the silk road to Kazakhstan & find the wild ancestor of Apples living in an endangered Garden of Eden & come back w the possibility of changing our world. You coming? 1/? pic.twitter.com/N7Ane76AjG

— Jordan Fink (@BuildSoil) January 4, 2019
#fieldwork
I have urged that #fieldwork involves a lot of listening. But sometimes speaking is needed too:
I had the HONOR of hosting/participating in a few events w/ @es_snipes for Bernie campaign. She was always so nervous & then got up & blew everyone away. It wasn't ever about fearlessness. It's overcoming a great amount of fear for the greater good that is so impressive. ✊? pic.twitter.com/YIqSXCsTgc

— Kendrick Sampson (@kendrick38) December 30, 2017
Some people are terrified of public speaking. So was Erica Garner. But "I will face my fear. I will permit it to pass over me and through me." Public speaking is a very useful skill to have.
MMT
"The surprise cult of Modern Monetary Theory" [New Statesman]. "Put simply, MMTers believe that most people mistakenly view the economy backwards. Instead of taxing in order to fund spending, states spend first and tax later. Central to this analysis is that sovereign currency is a creation of the state. Rather than "finding" the money to "pay" for universal healthcare, governments can electronically create money out of nothing. When inflation begins to rise, the state can employ its fiscal lever, taxing excess money out of the economy." • Mainstreaming continues…
Class Warfare
"Is It Good to Cooperate? Testing the Theory of Morality-as-Cooperation in 60 Societies" [Current Anthopology]. From the abstract:
The theory of "morality-as-cooperation" argues that morality consists of a collection of biological and cultural solutions to the problems of cooperation recurrent in human social life. Morality-as-cooperation draws on the theory of non-zero-sum games to identify distinct problems of cooperation and their solutions, and it predicts that specific forms of cooperative behavior—including [1] helping kin, [2] helping your group, [3] reciprocating, [4] being brave, [5] deferring to superiors, [6] dividing disputed resources, and [7] respecting prior possession—will be considered morally good wherever they arise, in all cultures. To test these predictions, we investigate the moral valence of these seven cooperative behaviors in the ethnographic records of 60 societies. We find that the moral valence of these behaviors is uniformly positive, and the majority of these cooperative morals are observed in the majority of cultures, with equal frequency across all regions of the world. We conclude that these seven cooperative behaviors are plausible candidates for universal moral rules, and that morality-as-cooperation could provide the unified theory of morality that anthropology has hitherto lacked.
From the University of Chicago (!). I think "group" (rule 2) and "superiors" (rule 5) are doing a lot of work, there. But extremely interesting!
"W.Va. teachers end strike after charter school measure expires" [WaPo]. "West Virginia teachers plan to head back to the classroom Thursday after a two-day strike that succeeded in killing a measure to bring charter schools and private school vouchers to the state in the latest showdown between teachers' unions and charter school backers." • Excellent. Somebody should ask charter-lovin' Cory Booker what he thinks of this.
"Researchers spy signs of slavery from space" [Science]. "Doreen Boyd remembers the first time she saw a hint of slavery from space. A satellite image from 2017 of Rajasthan state in India showed a brown oval that looked like a dusty high school track. But it was nothing so innocuous: She knew it was a brick kiln, one of tens of thousands across South Asia that are often run on forced labor. Boyd, director of the data program at the Rights Lab at the University of Nottingham in the United Kingdom, realized such imagery could help her tally the kilns, enabling organizations on the ground to target slaveholders at the sites. "You can't see slavery directly, but you can infer it," she says… Some 40.3 million people are held in bondage today, according to the latest estimates from the Inter-national Labor Organization, headquartered in Geneva, Switzerland. But finding them is hard. Boyd estimates, however, that one-third of all slavery is visible from space, whether in the scars of kilns or illegal mines or the outlines of transient fish processing camps."
"Wages 2018" [Economic Policy Institute]. Same old, same old:
This has seriously hurt American workers–Between 1948 & 1979, worker productivity & compensation per hour rose in tandem with both essentially doubling.

But since 1979, productivity has risen six times as fast as hourly compensation, which has languishedhttps://t.co/UTkjrvYhr0 pic.twitter.com/U9etfJU7ru

— Steven Greenhouse (@greenhousenyt) February 21, 2019
The Red Menace Is Real Jacobin (MR).
News of the Wired
Crapification:
Guy at the Genius Bar informs me there are basically three parts in my MBPro now: a battery, a display, and a giant amorphous "logic board" with everything integrated. The coming breakdown of our international supply chains is gonna be so fun.

— Matthew Green (@matthew_d_green) February 16, 2019
My Mac repair guy hates the latest laptop, for this reason. Looks like the old-fashioned PC, put together from off-the-shelf parts, is a lot more Jackpot-ready. True, chips may be hard to make, but old chips can always be harvested. Make sure your children know how to use a soldering iron!
* * *
Readers, feel free to contact me at lambert [UNDERSCORE] strether [DOT] corrente [AT] yahoo [DOT] com, with (a) links, and even better (b) sources I should curate regularly, (c) how to send me a check if you are allergic to PayPal, and (d) to find out how to send me images of plants. Vegetables are fine! Fungi are deemed to be honorary plants! If you want your handle to appear as a credit, please place it at the start of your mail in parentheses: (thus). Otherwise, I will anonymize by using your initials. See the previous Water Cooler (with plant) here. Today's plants, from an anonymized email account in an unknown location: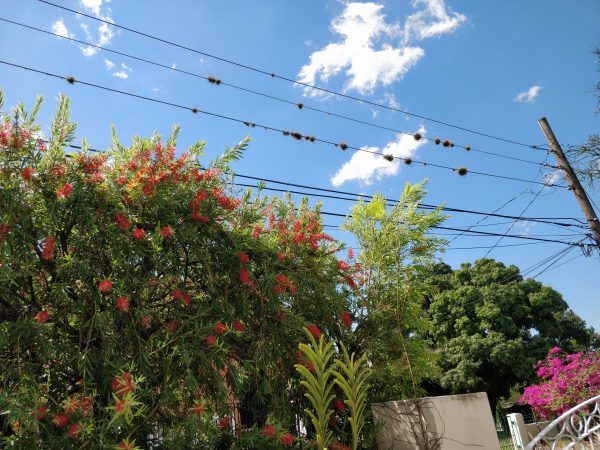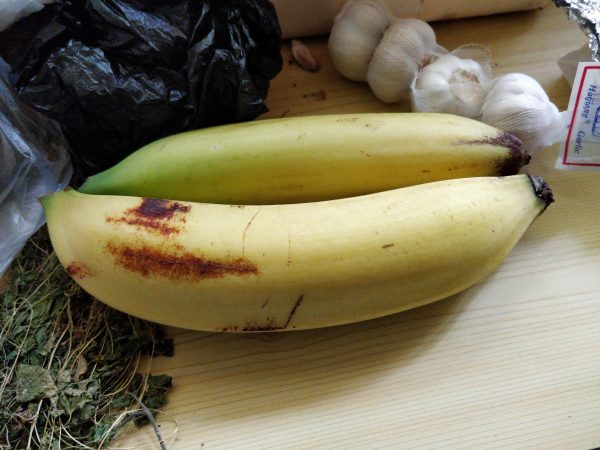 Mr./Mrs./Ms. Email Account writes:
Dear Mr. Strether,

It's funny that you posted today about the worsening insect problem. I have a terrible flu (actually likely dengue) and was heading to my doctor this am when I noticed our outside tree was filled with swarming bees.

One thing I appreciate about living somewhere no one usually cares about is that a lot of the effects of industrialization are confined to the cities (of which we barely have 1). Several lots in residential areas, especially have flowing flora, once you get out of the undeniably minimal 'modern' areas, you're greeted with often unfettered plant growth, +/- a crossing herd of goats/cows.

Aside from the mosquitoes, of which we have more than our fair share our insect population seems to be withstanding erosion fairly well. I assume this is because, as you alluded, we still have a lot of untainted farmers who physically tend to their lots with their hands and machettes, and tend to stay away from non-natural pesticides.

I will try to inquire further but certainly my parents, and the few farmers I have come into contact with mix their own insecticides. At most we will add a touch of soapy water, but we try to use natural insecticides like from the Neem plant as well. Of course that means we do have occassional problems with pest overgrowth, but we much prefer this balance to the derth about a decade ago when we had tried pre-made sprays.

Sadly I was a little too sick and my camera too poor to capture the bees this am, but enclosed is the tree the especially seem to like, as well as a plantain we recently took off the tree after using only the 'natural' spray we use and compost.
More accounts of insect populations from parts of the world that are not the Global North would be much appreciated!
Also, if any NC readers have access to the "online Web of Science database" (which is subscription only), we might be able to pose queries that the Bayo-Wyckhuys review study did not.
* * *
Readers: Water Cooler is a standalone entity not covered by the annual NC fundraiser. So do feel free to make a contribution today or any day. Here is why: Regular positive feedback both makes me feel good and lets me know I'm on the right track with coverage. When I get no donations for five or ten days I get worried. More tangibly, a constant trickle of small donations helps me with expenses, and I factor that trickle in when setting fundraising goals. So if you see something you especially appreciate, do feel free to click below! (The hat is temporarily defunct, so I slapped in some old code.)
Or Subscribe to make a monthly payment!