By Lambert Strether of Corrente
2016
"Where the country sits today on the question of stay the course vs. change is similar to where it was around this time in 2007" [Cook Political Report]. And we all know what happened then….
Gallup: Record number of voters identify as "independent" without, in fact, being genuinely persuadable by candidates [WaPo].
Why Warren won't run: Failure to make a Sherman statement or not, she's 65, so it's now or never, she's not building a campaign team, and she's doubling down on her causes rather than broadening her policy portfolio [Politico].
Axelrod to Hillary: "Be that person," that is, the post-caucus 2008 Hillary Clinton [Politico].
Jebbie's "government in waiting" of "thousands" of political operatives "rich in the critical experience needed to run the federal government day to day" [Washington Examiner]. Oh, man. I actually remember the Bush administration. Was this Drucker dude at the Examiner in high school then?
Jebbie has last name problems [NBC]. Or, the fancy way to say it, "dynastic" problems.
"If Jeb Bush and his team are starting up their opposition research unit, Walker is the first one they should target" [WaPo]. Walker, unlike Jebbie, is popular with the base. And credit due, he's been out there stomping Democrats effectively.
The Hill
Obama "America's College Promise" proposal to offer free tuition to 9 million at two-year community colleges [Politico]. Of course, this is Obama, so it's crap all the way down. First, why not tuition free K-16, like the Germans? Second, why propose this now, when it can't pass? Third, it's originally a Republican plan, so we're running the RomneyCare -> ObamaCare play again. Finally, why limit this to community colleges? Real universities too good for working people? Oh, and it's also only for "responsible students" [WaPo]. So that translates to a million hoops to jump through, plus some walking around money for more administrators to monitor the hoops.
States expected to pick up 25% of costs for community college plan [Talking Points Memo]. Ooh, a poison pill!
I haven't seen the phrase "the dominant liberal faction" in quite some time (topic: the House on Dodd-Frank) [Politico]. House aide:
"A lot of moderates don't feel like they can speak up in Caucus without getting shouted down by the far left."
Cheese with that?
Charlie Hebdo
Dual hostage crisis ends; Charlie Hebdo suspects, the Kouachis brothers, killed [France24].
Bios of the chief suspects [Independent]. "Chérif was first radicalised, said Ollivier, by the US-led invasion of Iraq. He was especially outraged by the images of mistreatment at Abu Graib prison." Mission accomplished….
"That the Kouachis had been able to build up a store of weapons in their apartment half an hour's drive from the centre of Paris is startling, given that Chérif Kouachi is believed to have been on a security watch list" [Globe and Mail]. Lots of good detail here, including talks with the neighbors.
Hezbollah leader: Islamic extremists ("takfiris") have insulted Islam and the Prophet Muhammad more than cartoonists [AP].
"The fact of the matter is that racist and Islamophobic attitudes are a huge problem in the everyday lives of Europe's Muslim population" [Matt Yglesias, Vox]. And about to become a bigger one, free speech or no.
"[I]t is self-evident that if a writer who specialized in overtly anti-black or anti-Semitic screeds had been murdered for their ideas, there would be no widespread calls to republish their trash in 'solidarity' with their free speech rights" [Glenn Greenwald, The Intercept].
AP pulls their copy of "Piss Christ" [Washington Examiner]. It's worth asking if all the free speech bloviation going on in the Beltway would be going on for blasphemy against the Christian faith. I'm guessing no.
Big PEGIDA (Patriotic Europeans Against the Islamization of the West) march in Dresden on Monday [Time].
Cologne Cathedral to turn off its lights to protest a PEGIDA march [Guardian].
NYPD Soft Coup
Cop: "Why We're So Mad at de Blasio" [New York Times]. It's all about respect. So it's about the money.
Black Injustice Tipping Point
Ugly, ugly detail on the Tamir Rice shooting [New York Times].
Classic FOX [Talking Points Memo].
"That's my question about these guys because if we know they were speaking unaccented French and they had, you know, ski masks on, do we even know what color they were," [Fox News anchor Shannon Bream] said. "What the tone of their skin was. I mean what if they didn't look like typical bad guys?"
Shaking my head…
How Selma gets LBJ's role wrong [New York Review of Books].
Corruption
Dartmouth College accuses 64 students of cheating in a sports ethics class last semester [Bloomberg].
Class Warfare
"The majority of the country's most financially secure citizens (54 percent at the very top, and 57 percent just below) believe the 'poor have it easy because they can get government benefits without doing anything in return'" [WaPo].
Even if what "the country's most financially secure citizens" believe were true — they should try it, sometime — not "doing anything in return" isn't affirmatively harmful to the country; the money is just a dead loss. By contrast, the bailouts, "government benefits" that were the largest upward transfer of wealth in world history, and which directly benefited precisely "the country's most financially secure citizens," were and are affirmatively harmful, if for no other reason than that they retroactively legitimized system-wide criminal behavior in the form of accounting control fraud.
"While 63 percent of the most financially secure Americans were likely voters in the 2014 election, just 20 percent of the least financially secure were" [WaPo].
University of Chicago Obama Presidential Library pitch proposes to seize 20 acres of public parkland, but that's not displacing South Side residents, no siree [DNA Info].
Stats Watch
Percentage of workers in government lowest since 1960 [Business Insider].
Gallup US Payroll to Population, December 2014: virtually unchanged from November, as opposed to dropping steeply, as it did in 2013 and 2014 [Bloomberg]. Workforce participation rate dips. Underemployment unchanged, but lower than in past years.
Jobless claims, week of January 3, 2015: Initial jobless claims fell 4,000 [Bloomberg]. "The average is trending about 10,000 lower than the month-ago comparison."
Employment situation, December 2014:  he unemployment rate decreased to 5.6 percent from 5.8 percent in November, beating expectations. Average hourly earnings slipped 0.2 percent [Bloomberg].
News of the Wired
* * *
Readers, feel free to contact me with (a) links, and even better (b) sources I should curate regularly, and (c) to find out how to send me images of plants. Vegetables are fine! Fungi are deemed to be honorary plants! See the previous Water Cooler (with plant) here. And here's today's plant (RS):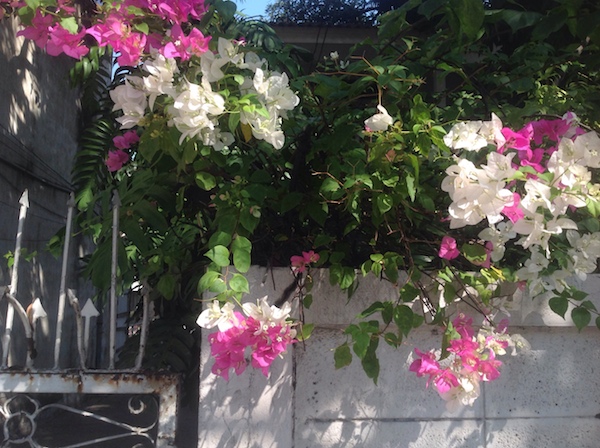 Something tropical…
If you enjoy Water Cooler, please consider tipping and click the hat:
Talk amongst yourselves!