When Alexandria Ocasio-Cortez and Michael Bloomberg agree on something, it's worth taking seriously. Particularly if it involves New York City.
Both New York City pols objected to the corporate welfare plan for Amazon, in the form of nearly $3 billion in subsidies, detailed in the Financial Times chart below, for installing one of two "second headquarters" in Long Island City, with the claim that it would "create" 25,000 jobs. Amazon had claimed that the reason it needed an additional "headquarters" was that it was unable to hire enough qualified people in Seattle. Huh? Are we really to believe that a company of the stature of Amazon is so provincial that is only hires locally for its head office?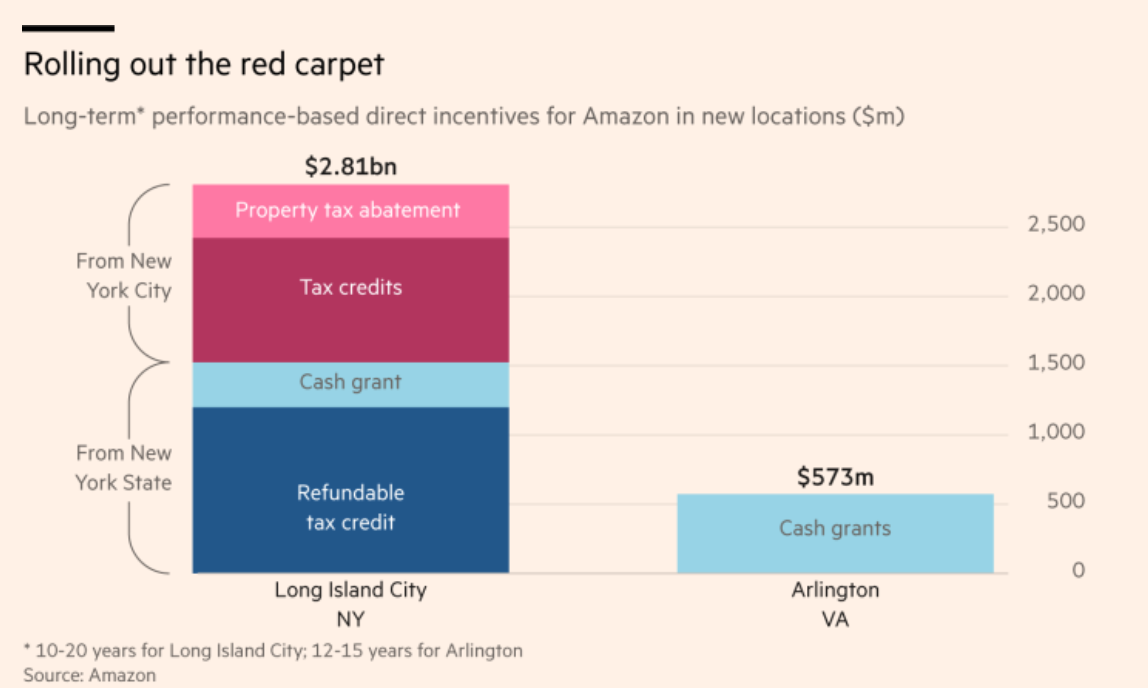 In fact, the reason for Amazon's showy search may not just have been to get subsidies for headcount additions, and data about the cities wooing for its affection. Amazon's relationship with Seattle has become strained. Amazon had fiercely opposed a local tax on large companies to fund housing for the homeless and got it reversed a mere month after it had taken effect. By contrast, after the tax was scuppered, Microsoft pledged $500 million to fund affordable housing for the low and middle income in the Puget Sound area, and encouraged other companies to make similar efforts.
In any event, Amazon abruptly announced its decision to withdraw from the deal after getting roughed up at two City Council meetings and enduring the indignity of having to contend with ankle-biters like protestors and union leaders. Even though some press outlets claim that Amazon believed the opposition to its development plan was increasing, Lambert, who follows various grass roots activist efforts intensively on Twitter, didn't see any evidence of that, and from my further removed, I hadn't detected any either. In fact, Amazon seemed to be winning over, or at least reducing the hostility, of some critics. From the New York Times:
Some unions supported the deal, and even those opposed had appeared willing to work with Amazon if the company agreed to not work against the unionization of its employees in New York. An Amazon representative, during one council hearing, pointedly said the company would not agree to such terms.
Amazon did not cover itself in glory with how it exited the deal. It blindsided its big sponsors, Andrew Cuomo and Bill de Blasio, who despite their considerable personal antipathy joined forces on this initiative. In a blog post on the Amazon site, the company falsely claimed that 70% of New Yorkers favored the deal. The highest level of backing found in two polls was 56%, and that fell to 46% when respondents were asked if they supported it in light of the subsidies. I would love to see how the survey questions were designed, because the results are completely at odds with my teeny survey, which included Queens residents, some of them in tony Forest Hills and thus well away from any immediate effect. All opposed the scheme, due to the reduction of affordable housing in Queens and the magnitude of the subsidies.
This is also a key point often missed in polling and political analysis that was key here:
There was a also a pretty big enthusiasm gap between the people who wanted it (mild) and those who didn't (that extremely spicy buffalo wing sauce).

— Will O. (@whoiswillo) February 14, 2019
Amazon also said it wasn't going to revive its plans for a second (actually third) headquarters in another city, and would still hire more people in New York. From the New York Times:
[State senator] Mr. [Michael] Gianaris said the collapse of the deal in Queens revealed the company's unwillingness to work with the community it had wanted to join.

"Like a petulant child, Amazon insists on getting its way or takes its ball and leaves," said Mr. Gianaris, whose district includes Long Island City. "The only thing that happened here is that a community that was going to be profoundly affected by their presence started asking questions.

"Even by their own words," he added, pointing to the company's statement on the pullout, "Amazon admits they will grow their presence in New York without their promised subsidies. So what was all this really about?"
Gianaris was allegedly one of the reasons for Amazon's unhappiness. He represents Long Island City and had originally favored the deal, but turned against it once the magnitude of the subsidies became public. After the Democratic party regained control of the state Senate, they put Gianaris on a committee that had the authority to veto the state portion of the pact, which presumably would have been fatal. The Registerin Amazon throws toys out of pram, ditches plans for New York HQ2 after big trouble in Big Apple, pointed out that Gianars' appointment to the committee was apparently the result of a backlash over the efforts to circumvent normal review processes:
The deal also bypassed normal planning procedures and removed veto power from the city council: something that sparked Gianaris' election to a state board that did have veto power.
Gianaris was outraged by Amazon's high-handedness (one wonders what went on behind the scenes) and independent parties opined that Amazon had grossly mismanaged the politics. From Bloomberg:
At a contentious City Council meeting on Tuesday, Amazon's public policy director Brian Huseman touted the deal's benefits for the city, but also said that Amazon wants to invest in a "community that wants us." And state Senator Michael Gianaris, who had been appointed to a committee that would have had veto power over the deal, called the $3 billion in incentives "extortion."

"They think they can sit there in Seattle and dictate terms and hope that governments bend to their will," Gianaris said in a Feb. 8 interview on Bloomberg TV. "Well, it's not going to work."

Amazon "did an extremely poor job of preparing local officials and bringing them into the fold," said Tom Stringer, who works on corporate relocations as a managing director at BDO Consulting.
Recall that Amazon had taken the odd step of having officials leak to the Washington Post last week that they were having doubts about the deal. The use of what amounts to a house organ, rather than going to the New York Times or a major financial press outlet says Amazon wanted this to be a one-way, tightly controlled message, as in a negotiating input. I read this as "Cuomo, De Blasio, stop the demands or get us more incentives," neither of which would work. And if that is actually what Amazon meant to say, no wonder Gianaris, who was already a critic, went ballistic.
It didn't help that the state and city announced the massive subsidies when both are also contending with large budget deficits. For instance, New York City just announced "congestion charges" on taxis and ride sharing services that are anything but, since they are in effect 24 hours a day. One of my doormen who works late, complained that his nightly ride home (bus service is too infrequent when he gets off duty for him to rely upon) has gone from $8 to $10 due to the charge. Similarly, Amazon was grilled at the City Council over its contract to provide face recognition technology to ICE.
Many stories took note of the apparent petulance of Amazon's sudden move. For instance, from the Financial Times:
Amazon's decision to walk away from Long Island City suggests a tin ear to the public mood. So, too, does its decision not to reopen the HQ2 search. Had it announced on Thursday that it was moving the 25,000 jobs to a city that needed them more, it might have avoided the questions it stirred up about what the point of the original campus search was anyway.
.
Other possibly relevant factors:
Bezos runs into limits of his bullying? Bezos is a particularly nasty boss. The press in the US and abroad has run many stories on the oppressive, backbreaking conditions in Amazon warehouses. In fact, Bezos is an equal opportunity abuser; we wrote about how Whole Foods employees were reduced to tears and quitting as a result of numerous new procedures Bezos put in place, virtually none of which seemed designed to improve customer service or even profits. As we wrote a year ago:
But first to Bezos' general pattern of employee mistreatment.

It's bad enough that Bezos engages in the worst sort of class warfare and treats warehouse workers worse than the ASPCA would allow livery drivers to use horses. Not only do horses at least get fed an adequate ration, while Amazon warehouse workers regularly earn less than a local living wage, but even after pressure to end literal sweatshop conditions (no air conditioning so inside temperatures could hit 100 degrees; Amazon preferred to have ambulances at ready for the inevitable heatstroke victims rather than pay to cool air), Amazon warehouse workers are, thanks to intensive monitoring, pressed to work at such a brutal pace that most can't handle it physically and quit by the six month mark. For instance, from a 2017 Gizmodo story, Reminder: Amazon Treats Its Employees Like Shit:

Amazon, like most tech companies, is skilled at getting stories about whatever bullshit it decides to feed the press. Amazon would very much prefer to have reporters writing some drivel about a discount code than reminding people that its tens of thousands of engineers and warehouse workers are fucking miserable. How do I know they're miserable? Because (as the testimony below demonstrates) they've told every writer who's bothered to ask for years.

Gawker, May 2014 – "I Do Not Know One Person Who Is Happy at Amazon"

….

The New York Times, August 2015- "Inside Amazon: Wrestling Big Ideas in a Bruising Workplace"

….. 

The Huffington Post, October 2015 – "The Life and Death of an Amazon Warehouse Temp"

For a good overview of the how Amazon goes about making its warehouse workers' lives hell, see Salon's Worse than Wal-Mart: Amazon's sick brutality and secret history of ruthlessly intimidating workers.

Mind you, Amazon's institutionalized sadism isn't limited to its sweatshops. Amazon is also cruel to its office workers. The New York Times story that Gizmodo selected, based on over 100 employee interviews, included:

Bo Olson…lasted less than two years in a book marketing role and said that his enduring image was watching people weep in the office, a sight other workers described as well. "You walk out of a conference room and you'll see a grown man covering his face," he said. "Nearly every person I worked with, I saw cry at their desk."

While that paragraph was the most widely quoted from that story, some reporters reacted strongly to other bits. For instance, from The Verge:

Perhaps worst of all is Amazon's apparent approach when its employees need help. The Times has uncovered several cases where workers who were sick, grieving, or otherwise encumbered by the realities of life were pushed out of the company. A woman who had a miscarriage was told to travel on a business trip the day after both her twins were stillborn. Another woman recovering from breast cancer was given poor performance rankings and was warned that she was in danger of losing her job.

The Business Insider story on Amazon, 'Seeing someone cry at work is becoming normal': Employees say Whole Foods is using 'scorecards' to punish them, is another window on how Bezos thinks whipping his workers is the best way to get results from them.
Back to the current post. The ineptness of the New York City campaign shows. Amazon seems to have assumed that if it had the governor and mayor in its pocket, all it had to do was show up for photo ops. The New York Times points out Amazon didn't even hire a native to grease the wheels:
Still, the company did not hire a single New Yorker as an employee to represent it in discussions with local groups. Its main representatives traveled between Washington and Manhattan, and only one had moved into an apartment to work with community members and foster support.
So one reason for Amazon's sudden change of heart is he couldn't stomach the idea of not being able to push around New York City the way he bullied Seattle into dropping its homeless tax. At best, he'd have to curry favor, feign interest in the concerns of locals, and make occasional gestures. Bezos may have seen that as a price too high.
Amazon fears inflatable rats? A more specific concern is that locating Amazon in Long Island City would have subjected Amazon to an ongoing unionization push, which given the shift in the zetigeist, the giant retailer was at risk of eventually losing. Better to stick to places where those fights aren't so imminent.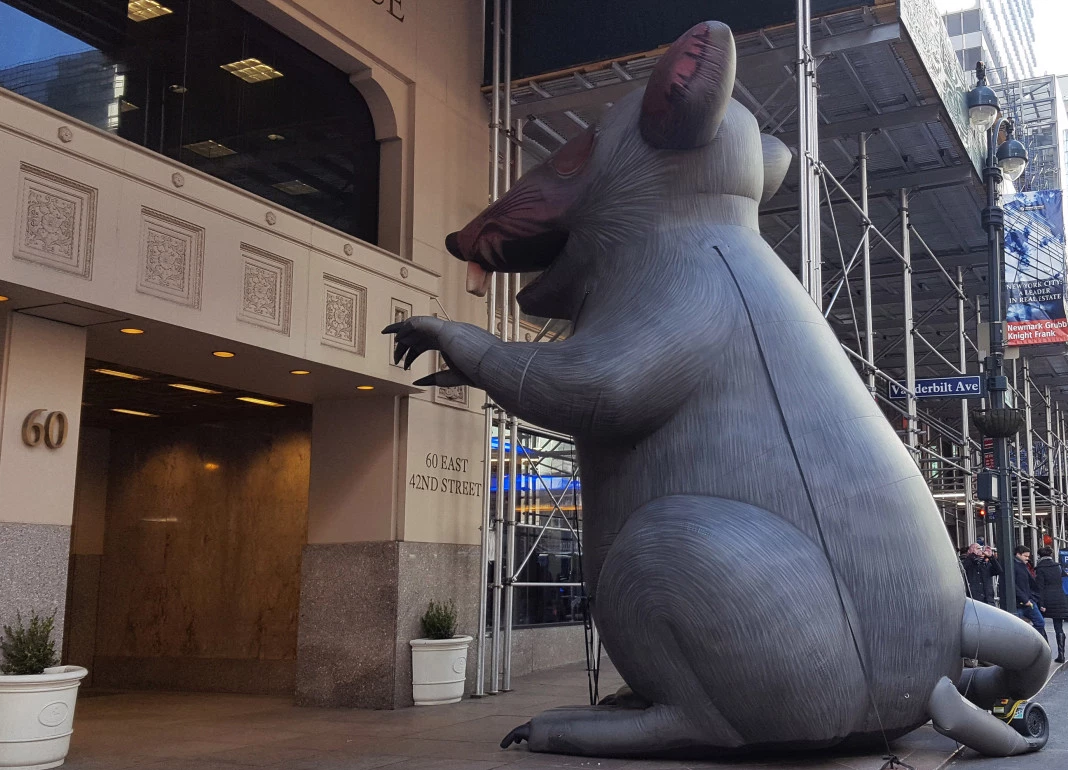 Or again, having to walk past an inflatable rat every time he visited New York might have taken the fun out of Bezos' city-funded private helipad.
Bezos suffering from diminished capacity? Anyone on Wall Street will tell you that senior rainmakers and deal-doers become completely unproductive for at least a year and often two when they are going through a divorce. It's hard to think that a CEO is much different. The fact of the Bezos dick pix incident, both the sending of the image and his bizarre effort to depict himself as victim, suggests he is already off his stride. It's not going to get better as his divorce progresses. Even couples I know without kids who separated for no-fault reasons (for instance, one getting an overseas assignment when the protracted absence became untenable for the partner) and wanted the split to be friendly found it still got contentious. I can't think of a single divorce that didn't get ugly when kids were involved.
And the impression I have is that Amazon, like AIG under Greensberg, runs like a French court: the CEO making a vast number of decisions personally for a company of that scale. Even though Amazon has names CEOS of its major business lines, it's not clear how much Bezos has backed away from his famed micromanaging.
In the meantime, enjoy the schadenfreude. The Wall Street Journal and Bloomberg report that speculators who snapped up real estate near the aborted headquarters are licking their wounds. From the Journal:
Amazon.com Inc.'s announcement that it is ditching plans for a corporate headquarters in New York City stunned real-estate speculators, developers and renters who had rushed into the Long Island City neighborhood to be near the new HQ2…

Open houses for Long Island City condos were overflowing. Brokers said customers made offers via text messages on units, site unseen. Developers with office space in Long Island jockeyed to attract the thousands of workers that were expected, and local residents cheered the promise that new restaurants, fashion boutiques and other new stores would flood the retail-starved neighborhood.
Amazon.com Inc.'s decision to drop its expansion plans in the Long Island City neighborhood of Queens plunged local real estate brokers into despair — just months after the euphoria that followed the company's announcement that it would open offices there and bring thousands of jobs. But not just despair. Also anger.

"I think those local politicians, their careers are over," said Eric Benaim, chief executive officer of Modern Spaces, a Long Island City brokerage, who distributed pins and posters supporting the Amazon deal. "They're responsible for losing 25,000 jobs."
It's not clear that this real estate industry desire for vengeance will get all that far. While developers are used to owning New York pols (I recall Steve Ross of The Related Companies, which was way less powerful in the 1980s than it has become, was able to get Senator Al D'Amato on the phone on short notice), I haven't seen the names of any of the real estate heavyweights associated with Amazon headquarters plays, so it's not clear that the Long Island City roadkiill can do that much damage. And by contrast, AOC continues to get traction. The driver of one of the two cabs I took yesterday, unprompted, brought up her Congressional hearing clip on campaign finance and said how impressed he was by it.
Plus:
I just remembered that there were a bunch of tech insiders who bought lots of property in queens before Amazon announced lmaoooooooooooo

— Lev Novak (@LevNovak) February 14, 2019
Enjoy this win. Maybe this is a sign that we've hit Peak Amazon.