By Jerri-Lynn Scofield, who has worked as a securities lawyer and a derivatives trader. She is currently writing a book about textile artisans.
Wow. 16 million hits as of Friday and counting. Leave it to Representative Alexandria Ocasio-Cortez (AOC) to show how to turn a campaign finance primer into a viral video.  Certainly the first time a congressional hearing on strengthening ethics rules for the executive branch reached such a huge audience.
This is a must-watch clip. I hesitate to add much commentary, as anything I write will likely not add all that much, and might instead only distract from the original.
Nonetheless, full speed ahead, damn the torpedoes! I will hazard adding some commentary.
I only ask that you watch the clip first. It'll only take five minutes of your time. Just something to ponder on what I hope for many readers is a lazy, relaxing Sunday. Please watch it, as my commentary will assume you've done so.
How to Explain What's At Stake with a Complex Subject 
I've spent many, many years thinking about how business influences public policy – and trying to get people to understand some of the details of how that's done, in a variety of contexts.
Here, AOC breaks down one aspect of the problem, and clearly and succinctly explains what's the deal, in terms that've obviously resounded with people and led them to share her primer with their friends.
Quip, then Clear, Simple Statement. She opens with a self deprecating aside – perhaps a bit too self-deprecating, as she doesn't pause long enough to elicit many chuckles. Am I imagining a  sense of "What's she up to?" emanating from the (sparse) crowd in that quick initial establishing shot of the hearing chamber?
And then explains what she's up to:
Let's play a lightning round game.

I'm gonna be the bad guy, which I'm sure half the room would agree with anyway, and I want to get away with as much bad things as possible, really to enrich myself and advance my interests, even if that means putting my interests ahead of the American people.

I've enlisted all of you as my co-conspirators, so you're going help me legally get away with all of this."
Framing. Turning this into a lightning round taps into popular culture. Most TV viewers know what a lightning round is, certainly far more than regularly watch congressional hearings on C-Span.
And using the Q & A format requires those summoned to testify at the hearing to affirm each of her points. This reminded me a bit of the call and response technique that some preachers employ.
By structuring this exercise in a lightning round format, each witness can only answer yes or no, allowing little room to obfuscate – I'm looking at you, Bradley A. Smith, chairman of the Institute for Free Speech (IFS). (Here's a link to the Washington Post op-ed AOC refers to: Those payments to women were unseemly. That doesn't mean they were illegal.)
AOC has no time for any waffling, "Okay green light for hush money, I can do all sorts of terrible things, It's totally legal now for me to pay people off…" She's not just working from a great script – but is quick on her feet as well. Nice!
Simple Language, Complex Points
The language is simple, and sounds like the way ordinary people speak – "bad guy,"   Followed later by "super bad guy."
"Totally."
"Okay great."
"Fabulous."
"Okay, so, awesome."
I think it's easier for her to do this, because she's not a lawyer.  Even when she's discussing questions of legality, she doesn't slip into legalese — "super legal" isn't the sort of phrase that would trip easily from the tongues of most lawyers– even recovering ones, or those who got sidetracked into politics.
Repetition of One Point: This is All Legal
AOC channels Michael Kinsley's observation, "The scandal isn't what's illegal, the scandal is what's legal." I hesitate to repeat that saying here, as for political junkies, it's been been heard all too many times before.
AOC fleshes out the details of a message many Americans understand: the system is broken, and under the current laws, no one's going to jail for doing any of this stuff. Instead, this is standard operating procedure in Washington. And that's the case even though as this May headline for report by the Pew Research Centre's headline makes clear: Most Americans want to limit campaign spending, say big donors have greater political influence.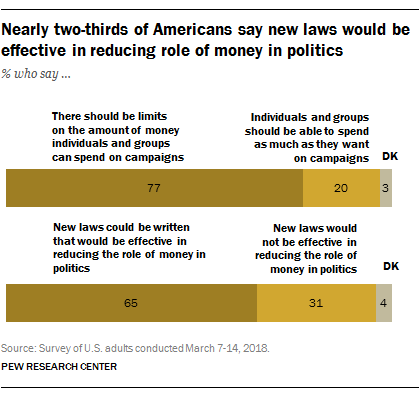 Those interested in details know much of what AOC exposes already; this viral video takes that message to several million more who haven't bothered to parse specifics.
No wonder Trump singled out the dangers of socialism in his State of the Union address: he's not the only one who's rattled.
She closed by zeroing in on what a president can get away with. The subject of the hearing is strengthening ethics rules that apply to the President, so it's logical for her to go here. This is not some virtue-signalling cooked up by Resistance types to preach to the converted about the well-publicized flaws and failings of Trump:
It's already super legal, as we've seen, for me to be a pretty bad guy. So it's even easier for the president of the United States to be one, I would assume.
To which she gets assent.
Rebuttal?
One point critics of AOC like to emphasize is that she occasionally garbles information, makes mistakes, and gets details wrong.
See, for example, the response the IFS  posted  on its website attempting to discredit AOC for skewering their chairman Smith during the hearing, AOC Doesn't Let the Facts Get in the Way of a Good Story.
Although I see the as a good college try, after a careful read, I think the IFS does anything but.
The IFS response attempts to play gotcha on AOC's discussion of a payoff to cover up a skeleton in the candidate's closet, by inserting the issue of whether that is a campaign or personal expense (and therefore, what type of funds could be used).
But Smith wrote in his WaPo op-end about the Trump payments to women:
Yes, those payments were unseemly, but unseemliness doesn't make something illegal. At the very least, the law is murky about whether paying hush money to a mistress is a "campaign expense" or a personal expense. In such circumstances, we would not usually expect prosecutors to charge the individuals with a "knowing and willful" violation, leading to criminal charges and possible jail time. A civil fine would be the normal response.
Yes, saying "it's totally legal for me now to pay people off" in certain ways may be stretching the point.  But not breaking it.
Similarly, the IFS quibbles over how dependent political candidates are on large corporate donations:
 "Special interest" money does not dominate campaign coffers, even of the candidates you don't like. This ties in to Ocasio-Cortez's earlier assertion that a campaign could be entirely funded by corporate PAC donations. That's true in the abstract – there's nothing in the law to stop a candidate from trying – but completely divorced from the reality of how campaigns are funded. Notably, Ocasio-Cortez did not name any examples of this sort of campaign, because there aren't any.
Her lightning round is clearly a hypothetical – and that AOC can't  list any examples isn't really to the point. A campaign doesn't have to be 100% funded by any single type or combination of corporate PAC donations for corporations and their executives to have immense influence. If you doubt that, IFS, please take a look at this major study by Thomas Ferguson, Paul Jorgensen, and Jie Chen, Big Money—Not Political Tribalism—Drives US Elections, and please get back to me. Their study shows the irrelevance of corporate PACs to the realities of corporate domination of political finance.
Congressional Hearings Can Be Riveting
I'm old enough to remember when the Senate Watergate hearings were broadcast on public television. Those were the days! They began in May 1973, finished in November and especially during the summer, when I turned twelve years old and there was no school to attend, I was riveted.
That was a different time, and a different country . To broadcast hearings gavel-to-gavel was unusual, to say the least. Most hearings were not broadcast, and never reached a national audience. Nor was there any C-Span either.
Here AOC takes the occasion of a sparsely attended hearing to take a message to millions of Americans:
We have a system that is fundamentally broken. We have these influences existing in this body, which means that these influences are here in this committee shaping the questions that are being asked of you all right now.
Last Wednesday, this lightning round, then on Thursday, she introduced the Green New Deal. Not a bad week's work.
I can't want to see what comes next.