A devastating article by Ben Carlson shows that endowments have underperformed similar-risk stock-bond portfolios using Vanguard funds.
This finding is damming because endowments, particularly college and university endowments, have long been held up as the ne plus ultra of professional investment. In particular, endowments, most famously Yale University, were held out as being particularly adept at investing in high risk, high fee alternative investments like private equity and hedge funds. Harvard Business School professor Josh Lerner presented this slide at a 2015 workshop at CalPERS on private equity: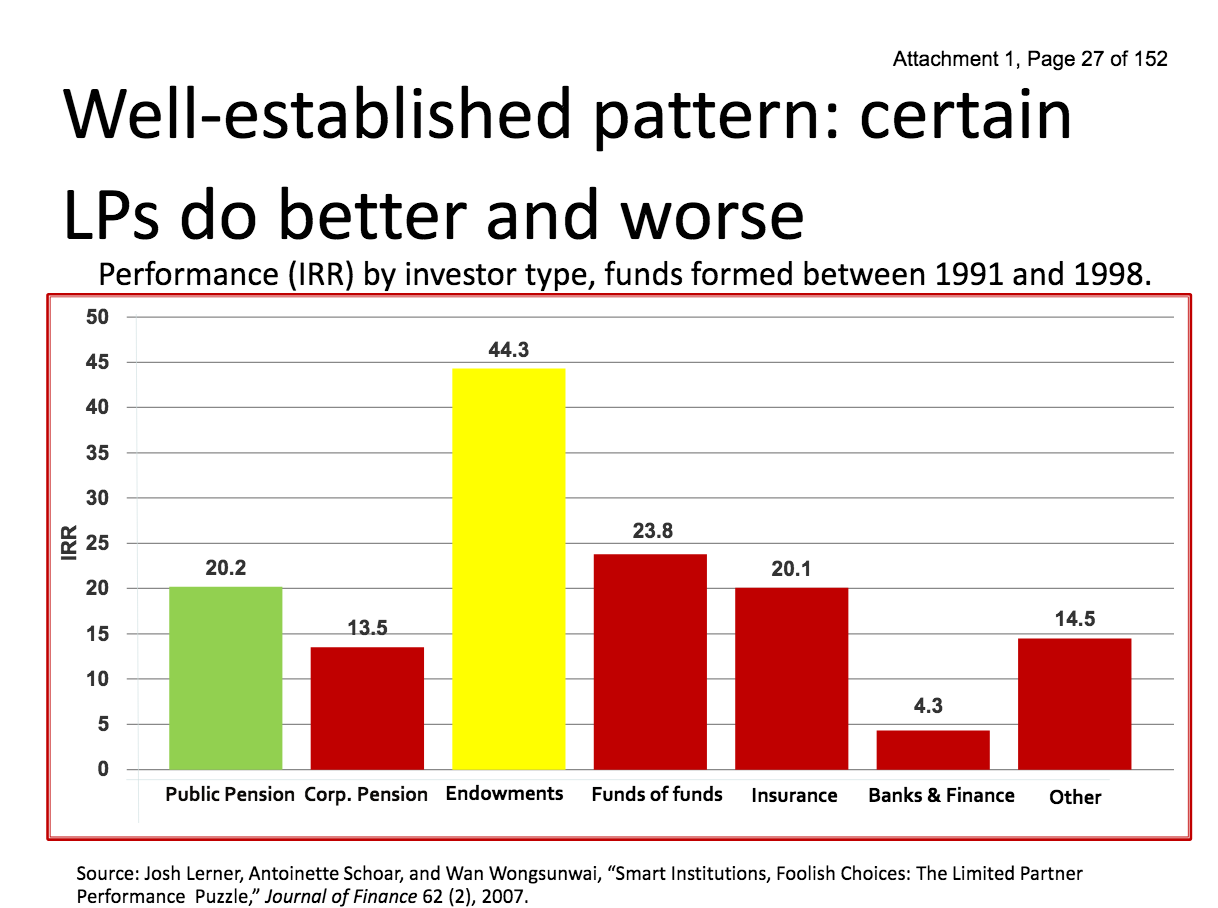 As a result, part of Lerner's talk was on how CalPERS could aspire to operate more like these endowments when it grew up.
But now these supposed stars have feet of clay. They have been caught out with underwhelming results.
Carlson highlights the latest issue of the NACUBO-TIAA Study of Endowments, which covers over 800 higher education endowments collectively managing over $600 billion. Carlson stresses that this survey serves as a benchmark well beyond the education endowment world because these institutions are seen as "best of breed".
Carlson show how their results stacked up against various stock/bond mixes from Vanguard: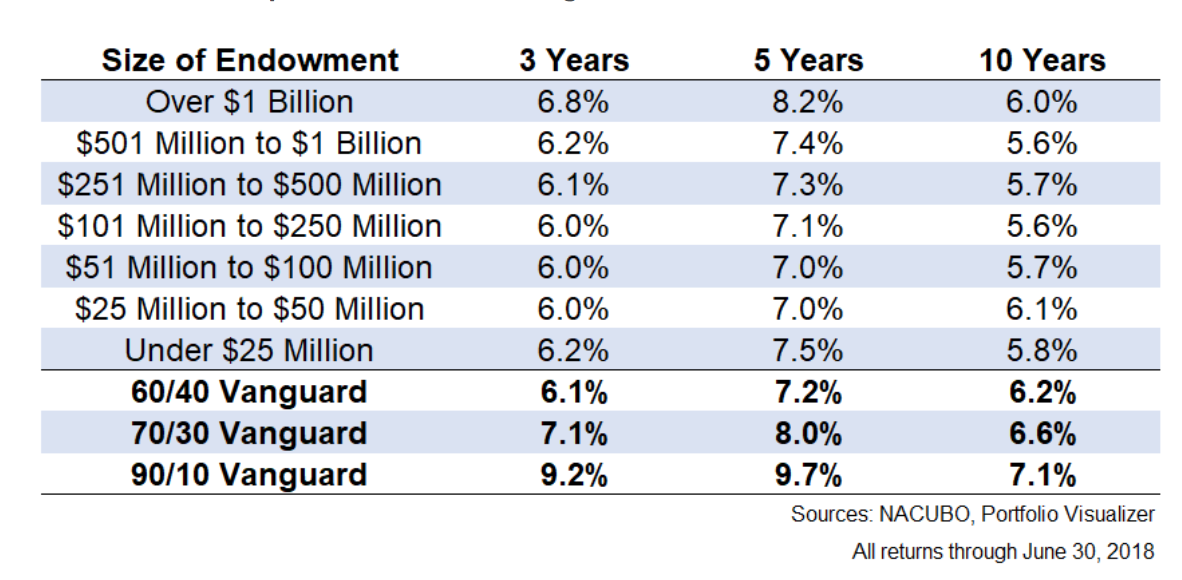 This comparison is more damning than you might appreciate at a first look because the endowments are taking far more risk than the prototypical 60/40 stock/bond mix suggested for retail investors:

To help make a comparison, Carlson treated the endowments' bond + cash allocation as tantamount to the bond portion in a simple stock/bond mix. No group approaches 60/40. The smallest cohort is 29% bonds + cash, and the over $1 billion funds have only 11% bonds + cash, making them most comparable to a Vanguard 90/10 mix.
And please don't try the argument that hedge funds are lower risk that stocks. For starters, the SEC filings of fund managers that are public and offer hedge funds like KKR and Blackstone say otherwise. Second, since 2007, experts have admitted that hedge funds do not offer "alpha," meaning manager outperformance. No alpha means no justification for paying those fat fees. Nor have hedge funds done much to mitigate risk; since 2012, their performance has correlated with equities.
Carlson makes a different argument, that the hidden leverage and lack of liquidity makes the risk even higher that it appears:
Alternatives are illiquid. Investors rarely know what the underlying holdings are. Private equity and venture capital are illiquid, levered equity positions. Hedge funds also utilize leverage. In my mind, that makes these positions far riskier than a diversified low-cost stock market index fund. Even if the volatility looks lower in these funds from their reported numbers, it's masked by the inherent illiquidity.
It's hard to believe how close the return numbers are between the large funds and the small funds. In the past, the funds with the most money tended to outperform their smaller brethren…..the best performing group over the past 10 years was the $25 to $50 million endowments, not the ones managing more than $1 billion.
The fact that the long-term return numbers for these funds are all so similar is striking when you consider how different their asset allocations are (not to mention the differences in managers or funds in those asset classes). The biggest endowments have dozens of staff members who specialize in specific asset classes or strategies. Some of these people are paid millions of dollars a year. They travel all around the globe meeting with money managers and performing due diligence on investment opportunities. They have enormous committees and boards filled with highly connected and educated people. And yet the little college endowments — with far fewer people, in far simpler investment strategies, using much smaller budgets and making much less money than the giant endowments — did just as well….
 My guesstimate is 60-70% of these funds really have no clue how their private investments are performing because these funds are so difficult to track and they won't know how this experiment will turn out for many, many years. I think the majority of them will be sorry.
The illiquidity premium was assumed to be a foregone conclusion by any institutional investors. It's time to reassess this idea.
The "illiquidity premium" is the idea that investors get more return for investing in illiquid investments. In fact, some finance pros have taken a strong form of this argument, claiming that the only opportunity to get a performance premium was via assuming illiquidity risk.
But the fallacy is that this gets the classic risk-return tradeoff backwards. Investors should demand higher expected returns when they take on more risk. Taking on more risk, like illiquidity risk, does not produce higher returns. Otherwise, everyone who invested in a restaurant would do well.
In fact, investors are playing with their benchmarks to hide the fact that too much money is chasing illiquid investments, to the degree that they aren't producing enough return to justify the additional risk. Recall that we've criticized CalPERS for lowering its private risk premium. The CalPERS benchmark, consistent with what virtually all private equity investors used, was a stock index plus 300 basis points (3%) for the illiquidity and leverage risks of private equity.1
One additional point: the smallest endowments doing almost as well the bigger boys even though they are taking on vastly less risk. They have nearly three times as much in bonds and cash and have on average less than 1/5 as much allocated to levered, illiquid, high fee alternative investments. This points to a bubble in alternative investments, that investors are throwing so much cash at these strategies that they've so bid up prices as to lower returns. And valuations have gotten more strained in the last two years. This will not end well.
_____
1 Note you can still play games via the index selection. It should come as no surprise that most investors used the S&P 500 index, which historically had been flattering because bigger companies tended to grow more slowly that much smaller private equity portfolio companies. But as the S&P 500 has done particularly well in recent years, investors switched to other indexes to make relative results look better.