Dear patient readers,
Your humble blogger is STILL not fully over That Bug. So forgive me for having less to say than usual.
Birdwatching Incidental Comics (blckdgrd)
What will climate feel like in 60 years? Fitzlab
China and India Lead the Way in Greening Earth Observatory
Famed WW2 Aircraft Carrier Torpedoed in 1942 Found Miles Deep in Pacific Ocean – Gizmodo (Chuck L)
Pentagon Fears Climate Crisis, w/ Billions in Damage to US Bases & Societal Upheaval Juan Cole (resilc)
Storm wreaks havoc in Northern California, while Southland preps for days of wet weather Los Angeles Times (David L)
Google Translate is a manifestation of Wittgenstein's theory of language Quartz (David L)
Most Online 'Terms of Service' Are Incomprehensible To Adults, Study Finds Vice. That's a feature, not a bug. Recall Greenspan said he couldn't parse a credit card agreement.
'Smart' restaurants challenge for elderly Korea Herald
Blockchain and Trust Bruce Schneier. Important.
Exposure to Glyphosate-Based Herbicides and Risk for Non-Hodgkin Lymphoma: A Meta-Analysis and Supporting Evidence Science Direct. PlutoniumKun:
Overall, in accordance with evidence from experimental animal and mechanistic studies, our current meta-analysis of human epidemiological studies suggests a compelling link between exposures to GBHs and increased risk for NHL.
China?
Inside China's crackdown on young Marxists Financial Times

Trump Considers 60-Day Extension for China Tariff Deadline Bloomberg

How the fear of losing 'face' can help more Chinese tourists behave better abroad South China Morning Post (furzy)
LATEST: Industrial production across the 19-nation euro area is falling at the fastest pace since the financial crisis https://t.co/FDEsjorQV3

— Bloomberg (@business) February 13, 2019
Europe revamps copyright rules to help creative industries face tech giants Politico
Brexit
Bank of America says no going back on its $400m plans for Brexit move Financial Times

So a DIT traffic light-coded progress report got leaked. Finally businesses have a chance to know what to prepare for. It is deeply disappointing that the only reason they can prepare for Brexit-day is that documents are leaked (short thread) https://t.co/SbzIjIePIP

— Holger Hestermeyer (@hhesterm) February 13, 2019
López Obrador Vows 'Poverty' for Mexican Government Consortiumnews (UserFriendly). As expected. In a post on him, we pointed out that he is fiscally orthodox.
Venezuela
Millions Flowed From Venezuelan Oil Firm to Small Bulgarian Bank New York Times
New Cold War
WHY THE DNC WAS NOT HACKED BY THE RUSSIANS Sic Semper Tyrannis (Kevin W)
Syraqistan
Big Brother is Watching You Watch
'Facilitating Saudi Patriarchy:' Apple and Google Blasted for Carrying App Where Saudi Men Track Wives Fortune (J-LS)

The Stolen Equifax Data Has Never Been Found, Experts Suspect a Spy Scheme CNBC
Imperial Collapse Watch
The Deep Hurt: Lessons From American Coups Counterpunch (resilc)

Eugene V. Debs and the Endurance of Socialism New Yorker (resilc)
Trump Transition
Manafort Judge Finds His Lies Violated Mueller Plea Deal Bloomberg

Immigrant Rights Groups Trash Border Deal: "Immigrant Families Will Pay the Price" Intercept. $1 billion when Trump wanted $5 is way less than the normal bargaining "meet more or less in the middle" so headlines about how terrible the deal is for immigrants actually help Trump.
Ruth Bader Ginsburg Isn't Looking to Retire Yet, But Is Another Supreme Court Justice Ready to Go? New Yorker
FCC Chairman Warns of 'Regulatory Intervention' as He Criticizes Carriers' Anti-Robocall Plans The Hill
House approves motion condemning anti-Semitism The Hill (UserFriendly)
Its cool that Nancy Pelosi didn't say anything about a state full of Democrats doing blackface but shes super concerned about Omar's comments

— Wes (@ZhouChauster) February 11, 2019
Ilhan Omar, AIPAC, and Denial LobeLog (resilc)
Omar, Trump envoy Elliott Abrams clash in fiery exchange The Hill (UserFriendly). Some discussion in comments in Water Cooler, and good to see this get traction.
Ilhan Omar Smacks Down Elliott Abrams In Front Of Everybody Caitlin Johnstone (J-LS)
California to scale back $77 billion high-speed rail project: governor Reuters. EM:
This is good news – in years to come that useless-by-itself stretch between Merced and Bakersfield will become California's version of Japan's "bridge to nowhere" make-work boondoggles. But I'm sure a lot of high-priced consultants did very well for themselves!
Under the Boot The Baffler (Anthony L)
Fake News
Does Washington Know the Difference Between Dissent and Disinformation? Matt Taibbl, Rolling Stone (Bill B)
Google Workers Lost a Leader, But the Fight Will Continue Medium
Google Will Spend $13 Billion On US Real Estate In 2019 CNBC
The Personal Toll of Whistle-Blowing New Yorker (Adrien)
Bond Funds Are "Potential Source of Financial Instability," after Years of Global QE and Low Interest Rates: Fitch Wolf Richter
Guillotine Watch
CNN Howard Schultz town hall: a campaign based on 3 wrong ideas Vox. UserFriendly: "Wowzers Baghdad Bob sure changed his tune."
Class Warfare
We are all peasants now: The student-loan crisis is destroying the middle class Condemned to DEBT

How Wall Street Bought Up America's Homes Atlantic (UserFriendly)
Antidote du jour. Kimberly R: "Greetings! My brother gave me a camera for Christmas, and these birds have become my subjects for learning how to use it. Taken on our deck, North Lake Tahoe."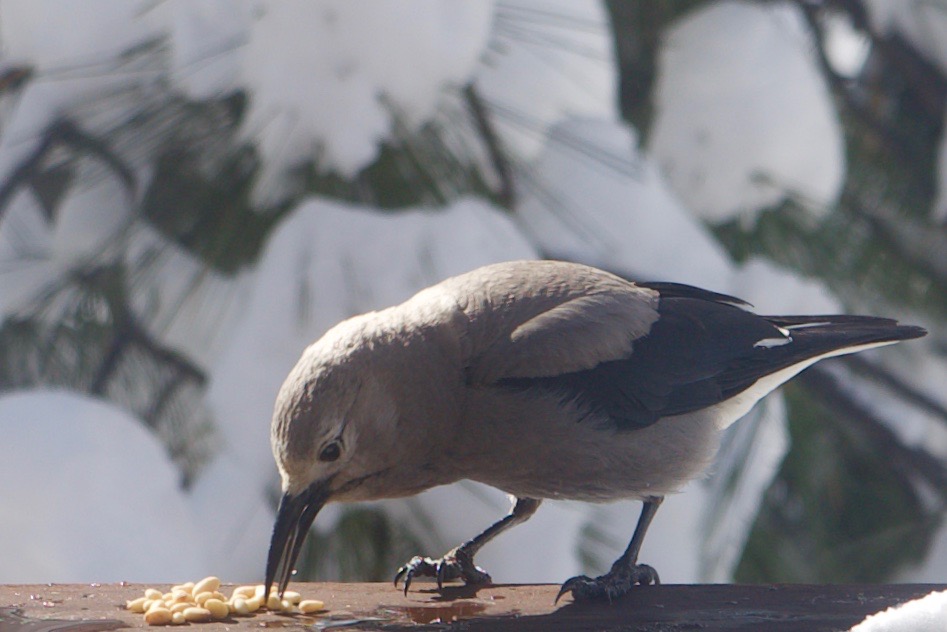 And a bonus from martha r:
Turtle's shell looks like a fireworks display.

By: Fargioneorazio pic.twitter.com/wpp5PhXG5Y

— Welcome To Nature (@welcomet0nature) January 18, 2019
See yesterdays Links and Antidote du Jour here.