Five Things That Stand Out from This Week's "Arctic Midwest" Weather Underground
Michiganders answered call, cut gas usage 10 percent after emergency plea Mlive
Popularity of brief Uber, Lyft rides on campus raises environmental concerns Daily Bruin
The Green New Deal Must Put Utilities Under Public Control In These Times
Goldman could withhold Blankfein pay over 1MDB FT
Facebook Fights Multibillion-Dollar Privacy Class Action Courthouse News
Venezuela
Jair Bolsonaro's son a growing risk to Brazil's government Deutsche Welle
Mexican president unleashes labor unrest at border plants AP
Brexit
Brexit: Theresa May 'determined' to leave EU in March BBC. "The EU remains publicly opposed to changing the backstop." Typically, governments don't try to retrade treaties that are already out for ratification; that could convey the impression that they were unserious in their previous negotiations.

Parliamentary progress of legislation introduced to implement Brexit (chart) Institute for Government

"Oh, that's an implementation detail" is the sort of thing you hear when a project is doomed. Important thread (Richard Smith):

We need to talk about the European Union (Withdrawal Agreement Implementation) Bill.

Behind the scenes a constitutional outrage is brewing quietly.

THREAD

— Paul Daly (@pauldalyesq) February 2, 2019

Irish police find weapons hidden in wood near border Deutsche Welle

A hard Border would bring destructive clarity to the North Irish Times

Fool Britannia NYRB
Everything's going according to plan:
Tories and Billionaires need the homeless sleeping out freezing, they need people dead in tents, that's how they build their penthouses, it's by design that's the system pic.twitter.com/dMa1uqeFne

— ARTIST TAXI DRIVER (@chunkymark) February 1, 2019
China?
Sending a message?

Not a surprise the propaganda piece starts with xi at the police command center, all signs point to 2019 being an especially nasty, brutish year in struggle to maintain social order https://t.co/KiZVuWWvd7

— Bill Bishop (@niubi) February 2, 2019

The video is worth clicking through for the visuals; Mandarin speakers in the commentariat may wish to translate.
Syraqistan
It's Time to Trust the Taliban Foreign Policy (!).

As Trump mulls Afghanistan pullout, latest watchdog report paints grim picture of progress there Navy Times
New Cold War
Is the collusion theory dead? The Hill

Russia pulls out of cold war-era missile treaty FT. Tit for tat.
Trump Transition
Experts hated this Trump health-care policy. So far, they're wrong. WaPo. Association health plans.

Trump is Right: The Intelligence Community Needs to 'Go Back to School' Scott Ritter, The American Conservative
Democrats in Disarray
Sherrod Brown: Medicare for all not 'practical' The Hill

Cory Booker Apologizes To Wall Street Bankers For The Mean Things He's Going To Have To Say About Them The Onion
Tulsi Gabbard kicks off presidential campaign at Honolulu rally CBS. Gabbard: "[I] will end the regime change wars that have taken far too many lives and undermined our security by strengthening terrorist groups like al Qaeda."
Russia's propaganda machine discovers 2020 Democratic candidate Tulsi Gabbard NBC. Mark Ames: "Holy sh*t, this NBC piece actually cites New Knowledge—who were just busted by NYTimes planting fake Russian bots on behalf of Democratic Party operatives—as experts who caught Russian bots working for Tulsi. These sleazebags aren't even trying."
Why All Anti-Interventionists Will Necessarily Be Smeared As Russian Assets Caitlin Johnstone
Sports Desk
1 big thing: The coming sports boom Axios

Few sports are doing enough to protect athletes from brain damage Economist
Big Brother Is Watching You Watch
How Ring & Rekognition Set the Stage for Consumer Generated Mass Surveillance Washington Journal of Law, Technology & Arts. Jeff Xizos…

How sex censorship killed the internet we love Violet Blue, Engadget
Imperial Collapse Watch
Some F-35s Could Become Unflyable by 2026 Popular Mechanics
A 5th grader's boredom while visiting her mom's job led to $70,000 for the elderly in need CNN (Martha R). Heart-tugging individual story; revolting systemic failure.
Updated employment multipliers for the U.S. economy Economic Policy Institute (TW).
Class Warfare
McKinsey & Company: Capital's Willing Executioners Anonymous, Current Affairs

What if the poor people of all races formed a political alliance? Times-Picayune. William Barber: "The poor in the South hold the key. These states are not red states. They are unorganized and undermobilized states. If you change the South, you change the country."

Who Needs Assistants When You Have Robots? Jeff Koons Lays Off Dozens in a Move Toward a Decentralized, Automated Studio Practice ArtNet
Common e-cigarette chemical flavorings may impair lung function Harvard School of Public Health
Judges jailed for taking bribes from private juvie prisons to send kids to jail Boing Boing. Interestingly, Luzerne County, a swing district.
Antidote du jour (JU):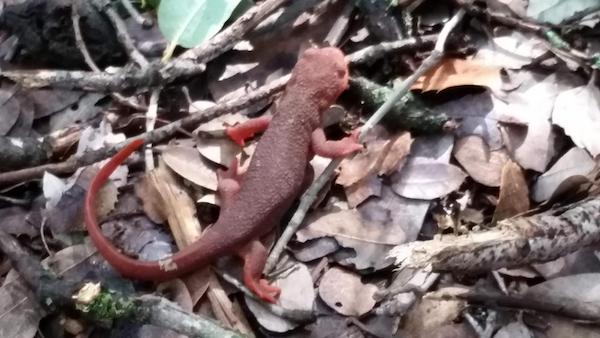 Sierra newt.
Bonus antidote (BB):
See yesterday's Links and Antidote du Jour here.