Yves here. The "Take One Leave One" idea is an improved stopgap for helping the homeless. And I suspect most people will give more when they feel they are giving something concrete, like a meal or some clothes. But the article is correct to stress the need for larger-scale solutions.
By Stefan Simanowitz, who works for Amnesty International. Originally published at openDemocracy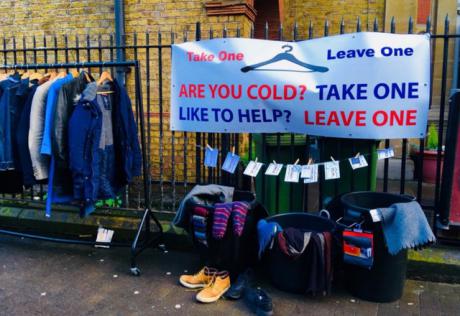 Image: Take One, Leave One
At some point today, you probably walked past one of the 5,000 people who slept rough last night and temperatures across the UK plummet, the situation facing rough sleepers becomes more desperate than ever.
In October, research revealed that 449 homeless people had died over the previous year on the country's streets. Since then, an average of three homeless people have died every week.
According to Crisis, there are currently 236,000 people across England, Scotland, and Wales who are experiencing the worst forms of homelessness: this includes people living on the streets, in cars and tents, in shelters, or in unsuitable temporary accommodation.
Their situation is a result of government policy which has led to the housing shortage, the lack of homelessness prevention schemes and a woefully inadequate benefits system.
This week, as Arctic winds bring snow and sub-zero temperatures to British shores, a new community-led initiative was launched in London to try and help rough sleepers.
On bitterly cold Tuesday morning, a clothes rail was set up outside the Holy Redeemer church on London's bustling Exmouth Market beneath a sign that read: "If you are cold, take one. If you can help, leave one." By the afternoon, the rail was filled with warm clothes – jackets, coats, hats, gloves, blankets and scarves – and homeless people were stopping by to take whatever they needed. "Actions like these make me feel hope" one woman tweeted alongside before and after photos of the rail.
As well as the clothes rail, a string of 'pledge cards' offer homeless people free food, drinks and other services. The pledge cards are either bought by locals from shops at a discounted price or donated by shopkeepers . More than a dozen businesses on the street have got involved and almost 100 meals and hot drinks were donated in the first day alone, in the form of pledges.
"This is a brilliantly simple idea and one we are excited to be a part of," said Ellie Pamphilon who runs a barbershop on the street and has donated several haircuts and beard trims. "After their cut and blow-dry, our customers can buy a discounted pledge card to give a homeless person a haircut that they hang by the Take One Leave One Rail."
If the pledge scheme takes off, it could give a much-needed boost to the local economy and could even be a model that could help struggling high streets across the country. There are also possibilities for the pledging principle to spill beyond the high street, with one person already offering to pledge a dinner for rough sleepers in their home and another looking into pledging rooms in local hotels.
The Take One Leave One initiative is not new. Similar clothes rails have been set up in other parts of the UK and around the world, and part of its beauty is that it can be replicated in any street. It is hoped the initiative will encourage others across the UK to be inspired and set up a clothes rail wherever they are. Those more ambitious could ask local shop keepers to get involved in a pledge scheme.
By doing so, they will not only help to ensure homeless people are warm and fed this winter, but will also help break down the barriers that too often make rough sleepers feel invisible in the communities in which they live.
Whilst Take One, Leave One may offer some respite for rough sleepers in the coming weeks, initiatives such as this can only have a small, short-term impact. What is needed is government action. In Finland, homelessness was eliminated through its "housing first" policy which offers people who need them permanent places to call home.
Last year, Crisis set out a plan to end homelessness within 10 years and called on all political parties to commit to working towards this goal. After all, ending homelessness is not a utopian dream. All that is needed the will to act.
To find out more about the project, check them out on Twitter and Facebook 
To order a banner & pledge cards contact mail@adlephigraphics.com.