By Lambert Strether of Corrente.
Trade
"Imports drop to annual lows with tariff hike on hold" [Supply Chain Dive]. "U.S. ports this month are expected to see their lowest import numbers since about a year ago, as trade hits its annual slowdown between peak seasons and the tariff hike is on hold… It looks now the trade war with China will end with a whimper in the next month or so, causing parties on all sides to lick their wounds and move on. The next politically motivated trade war may be met with less seriousness and a delayed reaction."
"No date has been scheduled yet for a Mar-a-Lago summit but the White House economic adviser is reiterating his bullish stance on the prospects of a China deal" [Politico]. And meanwhile: "U.S. Trade Representative Robert Lighthizer will meet with New Democrats this week in an attempt to woo a critical bloc of lawmakers to support the new NAFTA deal."
Politics
"But what is government itself, but the greatest of all reflections on human nature?" –James Madison, Federalist 51
"They had one weapon left and both knew it: treachery." –Frank Herbert, Dune
2020
Biden: "Joe Biden's not so secret weapon: Barack Obama" [CNN]. "Voters like Biden not because they don't know or don't understand his left-right ideology (though he does better with moderate Democrats than liberals). Democrats like Biden because he was the vice president to the most popular Democrat in the country, Barack Obama. Biden's best chance of winning is not to run from his record. It's merely to focus on his most recent record. Biden should point voters to his time as Obama's number two. It's far from a guarantee that it will work, though it really could help ameliorate the potential flaws of his past record in the Senate.

Obama is still a rock star to Democrats throughout the nation. His favorable rating stood at an astounding 97% among Democrats in a CNN poll taken last year." • I don't see how Biden leverages this; it would take Obama endorsing him, which seems unlikely.

Biden: "As Possible Rivals Pass On 2020 Race, Biden May See A Path Clearing" [NPR]. ""It's not that Joe Biden can't reach across the entire Democratic spectrum, because he can. He's liked and respected by all elements within the Democratic Party. I think it is about his agenda and his outlook," [pollster Peter] Hart said. "If his outlook is the head that's turning behind or back, versus the forward-looking outlook, I think he's going to have a hard time. Because this is about tomorrow — it's not going to be about yesterday."

Gillibrand:

Pfizer exec Sally Susman to host presidential fundraiser for Democrat Kirsten Gillibrand#MedicareForAll https://t.co/yJiRI2mobc

— Central NJ DSA Medicare for All (@dsacnjm4a) March 9, 2019

That's nice.

Harris: "Crime lab scandal rocked Kamala Harris' term as San Francisco district attorney" [Mercury News]. "A review of the case, based on court records and interviews with key players, presents a portrait of Harris scrambling to manage a crisis that her staff saw coming but for which she was unprepared. It also shows how Harris, after six years as district attorney, had failed to put in place written guidelines for ensuring that defendants were informed about potentially tainted evidence and testimony that could lead to unfair convictions."

Sanders (1):

Here's the thing about the 2020 race: DC pundits claim voters aren't as excited about @BernieSanders as they were in 2016. But in the places where actual voters are starting to make choices—like tonight in Council Bluffs IA—it looks like they're more excited about @BernieSanders. pic.twitter.com/DEIbwzl1Uf

— John Nichols (@NicholsUprising) March 8, 2019

Sanders (2):

Bernie packed the venue on a … Friday night! ✊ #Bernie2020 #BernieinIowa pic.twitter.com/Fz70iJ1glf

— Latinos for Bernie (@Latinos4Bernie) March 9, 2019

Sanders is now moving on to New Hampshire. Waiting for South Carolina…

"Dems pick Milwaukee for 2020 convention over Miami, Houston" [Associated Press]. "'This choice is a statement of our values,' [Democratic National Committee Chairman Tom Perez] said in a statement. 'The Democratic Party is the party of working people, and Milwaukee is a city of working people." • Like every city, you nimrod.

"The Case for Reparations" [David Brooks, New York Times]. "We're a nation coming apart at the seams, a nation in which each tribe has its own narrative and the narratives are generally resentment narratives. The African-American experience is somehow at the core of this fragmentation — the original sin that hardens the heart, separates Americans from one another and serves as model and fuel for other injustices. The need now is to consolidate all the different narratives and make them reconciliation and possibility narratives, in which all feel known. That requires direct action, a concrete gesture of respect that makes possible the beginning of a new chapter in our common life. Reparations are a drastic policy and hard to execute, but the very act of talking about and designing them heals a wound and opens a new story." • We live in a very strange world; a world where it's possible that David Brooks writes in good faith (though of course it's also possible that he's tossing an apple of discord into Democratic ranks; reparations polls extremely badly).
2019
"Bill Nye Turned Up at Alexandria Ocasio-Cortez's Talk at SXSW and Dug Into Climate Change" [Gizmodo]. "'Courage begets courage,' [AOC] said. "The first person who stands up has to encounter the most amount of fear and discomfort. But once that person stands up, it becomes immensely easier for the second person and the third and the fourth.'"
2016 Post Mortem
"The anti-Bernie Sanders campaign being pushed by former Clinton staffers, explained" [Vox]. "'I think we are all just scarred by 2016 at large and would like to prevent that again,' one former Clinton staffer said of the attacks against Sanders. These former Clinton aides aren't tearing apart Sanders's current policy agenda (probably because most major Democratic candidates have essentially adopted it). They're just saying, here's a bunch of dirt we had and we would like Sanders to have to deal with if he's going to run again." • Ah, the ol' ego-mego. More, which even Vox sees: "But in the machinations of the Sanders-Clinton rivalry, in which both camps purport each others' teams engaged in nefarious tactics to ultimately deny Democrats the White House, one statistic is often forgotten: as best as we can tell, more Sanders primary supporters voted for Clinton in the general election than Clinton supporters voted for Barack Obama in 2008. And while Clinton's aides say they are trying to even the playing field in 2020, this relitigation of 2016 is doing more to reopen past wounds than heal them." • If the liberal Democrats who ran the Clinton campaign want to be seen as acting in good faith, they would already have called for a post mortem of the 2016 campaign, and published it. They never have.
Realignment and Legitimacy
"Who Gets to Vote?" [Governing]. "Broad voter purges appeared to be the next step in a decade-long campaign to make voting more difficult. Expressing concerns about security, a majority of states have taken steps in recent years that restrict voting in one way or another, including photo identification requirements, cutbacks to early voting and policies designed to make it more difficult for students to vote where they attend college. But something else is happening in response. This year, hundreds of pieces of legislation are up for consideration in more than 30 states that seek to expand voting rights. Already, New York has passed a package of bills that would move the state, long considered one of the least voter-friendly in the nation, into the modern era. All over the country, both ballot measures and legislation are being promoted to make voting and registration easier and closer to universal. It's not happening everywhere; there's still a partisan divide on many voting issues. But politicians from both parties, in various states, have come around to the idea that it's time to make voting easier. Differences in approaches to voting rights aren't just partisan. They're also historical and tend to swing like a pendulum."

"Meet the most insidious #Resistance grifters" [The Outline]. "Sensing weakness, these grifters have taken advantage of that desperation and are profiting off of liberal misery and hope. This group includes everyone from laughable con artists to social-media conspiracy theorists to conservatives on the reinvention circuit. Here are the ones to know." • Get out the brain bleach!
Stats Watch'
Retail Sales, January 2019: "For retail sales, no period has more seasonal extremes than the busy days of December vs the quiet days of January. This and weather make adjustment difficult and are likely part of the explanation for the extreme volatility of the December and January retail sales reports" [Econoday]. "For the first-quarter GDP outlook, today's report is positive as it shows acceleration. For the Federal Reserve, the report is right in line with their move toward caution, waiting to see how events are unfolding." And: "The increase in January was slightly above expectations, however sales in November and December were revised down significantly" [Calculated Press]. And: "There was a significant downward adjustment of last month's already poor data. The real test of strength is the rolling averages which declined" [Econintersect].
Business Inventories, December 2018: Inventories rose as-expected in December but, against a drop in sales, point to an unwanted build [Econoday]. "Inventory growth is always a positive for immediate GDP but overhang points to the need for inventory liquidation which would be a negative, not only for future GDP, but for employment growth as well."
Leading Indicators: "December 2018 Leading Index Review: Growth Forecasts Generally Slowing" [Econintersect]. "Leading Indicators Conclusion: most are forecasting modest to average growth seen since the Great Recession – and none indicating a recession over the next six months."
The Bezzle: "Facebook's So-Called Pivot to Privacy Is a Diversion" [Slate]. "In his writing, it seems when Zuckerberg thinks about privacy, he thinks about encryption. He talks about people "interact[ing] privately" with a "shift to private, encrypted services" where "[p]eople's private communications should be secure." But privacy is not the same as encryption. Encryption is about making data impossible for an outsider to read and understand. Privacy is a far broader concept, covering not only the flow of information among individuals and groups, but also personal, intellectual, and sexual autonomy, and the trust necessary for social interaction. In practice, privacy is about limiting data collection, placing restrictions on who can access and manipulate user data, and minimizing or barring data from flowing to third parties. Zuckerberg mentions none of that in his essay. When he talks about encrypting the messages users send to prevent "anyone—including [Facebook]—from seeing what people share on our services," he neglects to mention that Facebook will still be able to collect the metadata from these messages, like who individual users message and when."
Manufacturing: "Boeing's stock takes a hit as more Max 8 planes are grounded" [Associated Press]. "Safety experts cautioned, however, against drawing too many parallels between the two disasters. 'I do hope though that people will wait for the first results of the investigation instead of jumping to conclusions based on the very little facts that we know so far,' said Harro Ranter, founder of the Aviation Safety Network, which compiles information about accidents worldwide."
Mr. Market: "Airline stocks pare early losses after second deadly crash involving Boeing's 737 Max" [MarketWatch]. "Airline stocks pared their early losses Monday, as Boeing Co. shares rebounded from their worst levels… The 737 is the best-selling airliner ever, and the Max is a newer version that Boeing says has a more fuel-efficient engine. The aircraft is a key part of Boeing's effort to compete with rival Airbus."
Rapture Index: Closes down one on volcanoes. "The lack of activity has downgraded this category" [Rapture Ready]. Record High, October 10, 2016: 189. Current: 176. Now well under the 180 floor. Notice also that "Israel remains strangely peaceful"; no red heifer yet, apparently (from 2018). Remember that bringing on the rapture is a good thing.
The Biosphere
"Why Bhutan Is All Alone in the Carbon-Neutral Nation Club" [Bloomberg]. "There's a tiny nation nestled in the Himalaya mountains with so many trees — and so little pollution — that it actually gobbles up more carbon dioxide from the atmosphere than it produces. Alas for the fight against global climate change, most of the world's countries aren't like Bhutan." And: "6. Is anyone enforcing the [carbon-neutral] rules? Not really. There is some oversight built into in the Paris Agreement that holds countries accountable if their climate plans aren't ambitious enough, but nothing is enforceable by law at a global level. Some countries and U.S. states — like Sweden, Hawaii, and California — have enshrined their commitments into legislation, making pledges harder to break. (When pledges aren't enforceable, they're easy to dodge when it becomes politically expedient.) So far, scientists, protesters, NGOs and investors have been the main source of pressure on countries to change and make sure their promises are kept." • Something globalization would have been good for. Well done, 1%.
"Investors call on soy trade companies to eliminate deforestation" [Supply Chain Dive]. "Fifty-seven investors with $6.3 trillion in assets sent a letter to companies involved in the soy trade, asking them to eliminate "deforestation within their entire soybean supply chain, and will seek evidence of this on multiple levels." The investors are worried climate and deforestation risk could harm the companies they've invested in. The investor names and total number of companies are not being disclosed, but they include 'the largest publicly traded companies in the soy trade,' said Julie Nash, the director of food and capital markets at Ceres, an organization that works with investors to find engagement opportunities and help facilitate action." • Interesting!
"Denver Suburb Fights Colorado Over Oil and Gas" [Associated Press]. "A group called the Wildgrass Oil and Gas Committee says the wells are dangerously close to their homes, although they would be beyond the 500-foot setback required by the Colorado Oil and Gas Conservation Commission, which regulates the industry. They say that state laws are forcing residents who own the mineral rights under their property to lease or sell them to Extraction through a process called forced pooling. It allows the oil and gas commissioners to require all the owners of nearby minerals to sell or lease them to an energy company in exchange for a share of the profits. Created a century ago, forced pooling was designed to prevent the proliferation of oil derricks. Landowners were scrambling to drill their own wells to keep a neighbor's well from grabbing their oil. Forced pooling allowed a single well to gather the oil, and the income was distributed among the owners." • Somebody should ask Hickenlooper about this.
"Wetland carbon storage controlled by millennial-scale variation in relative sea-level rise" [Nature]. "Coastal wetlands (mangrove, tidal marsh and seagrass) sustain the highest rates of carbon sequestration per unit area of all natural systems, primarily because of their comparatively high productivity and preservation of organic carbon within sedimentary substrates. Climate change and associated relative sea-level rise (RSLR) have been proposed to increase the rate of organic-carbon burial in coastal wetlands in the first half of the twenty-first century, but these carbon–climate feedback effects have been modelled to diminish over time as wetlands are increasingly submerged and carbon stores become compromised by erosion. Here we show that tidal marshes on coastlines that experienced rapid RSLR over the past few millennia (in the late Holocene, from about 4,200 years ago to the present) have on average 1.7 to 3.7 times higher soil carbon concentrations within 20 centimetres of the surface than those subject to a long period of sea-level stability." • So I guess that negative feedback is good news?
"Highest Sea Level Rises in U.S. are in Texas and Louisiana, Annual Report Finds" [Weather Underground]. "Texas and Louisiana have the highest rates of sea level rise in the U.S., with Grand Isle, Louisiana (7.75 mm or 0.305 inches per year) topping the list, according to the annual sea level "report card" from researchers at William & Mary's Virginia Institute of Marine Science. Rockport, Texas (south of Galveston) had the highest acceleration rate (0.240 mm/year2), due to rising seas combined with subsiding land (caused by such things as natural geological processes, ground water pumping, and oil industry activity)." • Perhaps we should force all oil company executives to live wherever their business activities create the greatest impact on climate. Sadly, there's no golf course in Grand Isle, although there is a Migratory Bird Festival. Perhaps a change of location would help change perspective.
A helpful thread on metrics:
When it comes to what climate goals we should be aiming for, there are a lot of "magic numbers" floating around – 2 degrees, 12 years, 350ppm, net zero emissions, and more. Here's a short thread explaining the scientific basis–or lack thereof–for each.

— Katharine Hayhoe (@KHayhoe) March 10, 2019
Farming with animal traction na ga happen:
The more I run numbers the more appalled I get by suggestions of demechanization vice removal of fossil fuels.

Around 1910, roughly 10 million farm horses helped feed 92,228,496 people per the census.

There's maybe 20k draft horses in the US now. Some are too old/young to work.

— ?Comrade Shepherd? (@NeolithicSheep) March 11, 2019
Our Famously Free Press
"Decline in readers, ads leads hundreds of newspapers to fold" [Associated Press]. "'It felt like an old friend died," Sanders said. 'I sat and I cried, I really did. Because being the editor of the Daily Guide was all I wanted for a really long time.'" • Yes. The newspaper business is (was?) a wonderful place to be as a social entity (besides as a business entity, a firm). And the collapse of local newspapers is one reason, dear readers, we depend on your reports, as well as those from the many blogs that are still standing (but are hard to find).
"On Monday night police launched attack on our 1st Amendment. Here's how you can respond." [Sacramento Bee]. "After they "kettled" marchers on a highway overpass where they could no longer leave, police began arresting them for failure to disperse. They detained Pastor Shane Harris and Pastor Les Simmons, restraining their hands behind their backs in plastic zip ties. They did the same to Sacramento Bee reporter Dale Kasler, who was handcuffed and led away as Bee reporter Sam Stanton shouted that Kasler was on assignment. A police officer with a baton shoved Bee photographer Hector Amezcua to the ground, damaging the equipment he was using to do a live broadcast of the march. All of this took place as news cameras rolled and livestreams broadcast the march to the world." • We've had our differences with the Bee over CalPERS, but they are doing the right thing here. Kudos.
Health Care
"Policies designed for drugs won't work for AI" [Nature]. "We can already glean how technologies are changing health-care systems. In late 2017, Babylon Health in London launched a smartphone app that provides physician consultations. The Royal College of General Practitioners criticized Babylon for "cherry-picking patients, leaving traditional GP services to deal with the most complex patients, without sufficient resources to do so". Radiation oncologist Anthony Zietman at Massachusetts General Hospital in Boston has described how the costs of proton-beam therapy distort US health-care markets and channel funds from other areas, such as conventional radiotherapy. My colleagues at King's College London have found that investment in surgical robotics draws funds from other treatments and centralizes care in large teaching hospitals, requiring many patients to travel longer distances or forego care."
"Cancer Patients Are Getting Robotic Surgery. There's No Evidence It's Better." [New York Times]. "[T]he Food and Drug Administration has warned that there is no evidence cancer patients receiving robotic procedures live longer than those who have traditional procedures. And some research shows that patients with cervical cancer fare worse." • No information on proft in this story. Seems odd not to follow the money.
"Capuano's Trip Through the Revolving Door: From Medicare-for-All Supporter to Health Industry Lobbying Firm" [Sludge]. "Former Rep. Mike Capuano joined lobbying firm Foley & Lardner on March 6, six months after losing the 2018 Democratic primary for Massachusetts' 7th Congressional District to now-Rep. Ayanna Pressley. During his time in office, Capuano was an outspoken proponent of prospective universal health care programs, including Medicare for All. But his new position at Foley will put him squarely within an organization that has taken a large amount of cash from clients opposing those efforts." • Eesh. I wasn't happy that Pressley took down Capuano, on grounds of policy. Now I am happy. Best to get the Quislings out of the way…
Detailed thread from on how to dispute hospital bills:
I'm counseling a friend on how to challenge a hospital bill. Up to 80% of hospital bills have errors – ALWAYS dispute (whether it's an emergency procedure or planned pregnancy).

Some recommended steps: ?

— Nikita S (@singareddynm) March 9, 2019
Great, but there shouldn't be bills. The entire apparatus should be blown away.
Black Injustice Tipping Point
"The New Black Codes: Racialized Wealth Extraction, Economic Justice, and Excessive Fines Schemes in Timbs v. Indiana" [Law and Political Economy]. "To the extent that our eighteenth-century Constitution sets out economic rights at all, they pertain to protecting those with wealth from having it confiscated by the government…. What the Constitution does not forbid, apparently, is the systematic extraction of wealth from certain social groups lacking political power. Interestingly, both Justice Ginsburg and Justice Thomas in his concurrence discuss the practice of wealth extraction from African Americans after the abolition of slavery. Slavery itself, of course, was a massive, nationwide machine for wealth extraction, and a successful one. As Justices Ginsburg and Thomas further point out, the Black Codes passed in the South following the Civil War were an effort to build a similar machine. Using vague, elastic crimes such as "vagrancy" and draconian financial penalties for their commission, planters and state and local governments sought to recapture the fruits of black labor." • Exactly, but exactly, as "law enforcement for profit" operated in Ferguson, in our own day.
Class Warfare
"How to Use Grievances to Organize" [Labor Notes]. "The difference between a truly democratic union and one that follows a servicing model is stark when it comes to grievance handling. In a strong democratic union there may not even be many grievances; members organize to convince supervisors to stop violating the contract without having to use the formal procedure…. In the servicing model, the member is not encouraged to get involved but to turn the grievance over to the "expert." Even in unions that seek member mobilization, the service model of grievance handling prevails: members may be mobilized to act for certain grievance issues, but they take no leadership role—no responsibility or initiative." • I wonder which model the unions driving CalPERS use…
"Disney heiress: Jesus Christ himself doesn't deserve this much money" [MarketWatch]. "'If your CEO salary is at the 700, 600, 500 times your median worker's pay, there is nobody on Earth … Jesus Christ himself isn't worth 500 times his median worker's pay.' That's how [Abigail Disney] responded when asked during a CNBC interview on Thursday whether Disney CEO Bob Iger is overpaid." • Well, no, but Jesus Christ would not have been in any case. Luke 4:5-8: "5 Then the devil led Him up to . 6 'I will give You authority over all these kingdoms and all their glory,' he said. 'For it has been relinquished to me, and I can give it to anyone I wish. 7 So if You worship me, it will all be Yours.' 8 But Jesus replied, 'It is written: 'Worship the Lord your God and serve Him only.'" So Disney's implied offer is rather misses the point….
News of the Wired
"Correcting the Record on the First Emoji Set" [Emojipedia]. "Until now, Japanese phone carrier Docomo has most often been widely credited as the originator of what we know as emoji today. It turns out, that might not be the case, and today we are correcting the record. SoftBank, the carrier that partnered with Apple to bring the iPhone to Japan in 2008, released a phone with support for 90 distinct emoji characters in 1997." • I have never been sure whether to applaud emojis, or deplore them. Do they compete with literacy? Or supplement it? Or even serve as an on-ramp to it?
"Browser Tabs Are Ruining Your Brain" [Medium]. "A messy browser is like a messy home: distracting, unnecessary, and after a certain point, probably unhealthy. A couple tools and coping mechanisms can take you far, freeing up the mental space you waste searching through a trillion tabs so you can focus instead on the task at hand — and maybe even leave work early as a result." • Marie Kondo-like hectoring aside, some of the extensions listed here might be useful; I end up with a squillion tabs, but I dispose of them all in the course of writing a piece, so perhaps it's not as stressful as keeping a set of tabs open over time.
* * *
Readers, feel free to contact me at lambert [UNDERSCORE] strether [DOT] corrente [AT] yahoo [DOT] com, with (a) links, and even better (b) sources I should curate regularly, (c) how to send me a check if you are allergic to PayPal, and (d) to find out how to send me images of plants. Vegetables are fine! Fungi are deemed to be honorary plants! If you want your handle to appear as a credit, please place it at the start of your mail in parentheses: (thus). Otherwise, I will anonymize by using your initials. See the previous Water Cooler (with plant) here. Today's plant (SM):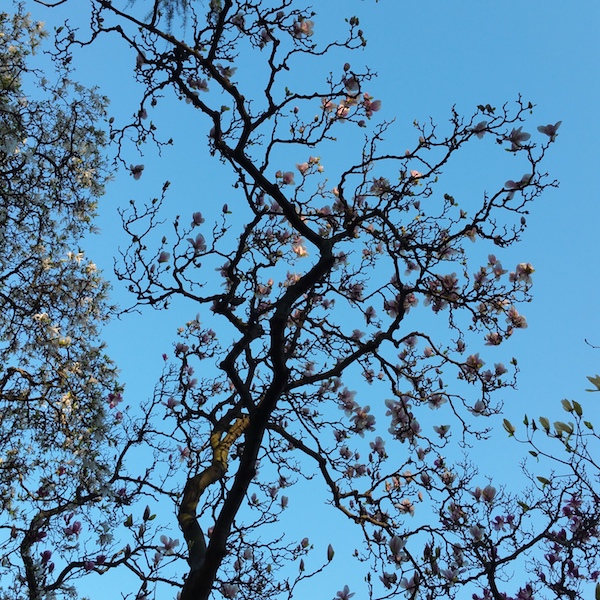 SM writes: "This one is from 2016, from the family's ritual visit to the Brooklyn Botanic Garden, when the magnolia starts to bloom. It's just around the corner!" Like a Japanese print!
* * *
Readers: Water Cooler is a standalone entity not covered by the annual NC fundraiser. So do feel free to make a contribution today or any day. Here is why: Regular positive feedback both makes me feel good and lets me know I'm on the right track with coverage. When I get no donations for five or ten days I get worried. More tangibly, a constant trickle of small donations helps me with expenses, and I factor that trickle in when setting fundraising goals. So if you see something you especially appreciate, do feel free to click below! (The hat is temporarily defunct, so I slapped in some old code.)
Or Subscribe to make a monthly payment!