By Lambert Strether of Corrente.
Trade
"Trump says he's talking about leaving tariffs on China for 'substantial period of time'" [MarketWatch]. "President Donald Trump on Wednesday, ahead of a trip to Ohio, told reporters on the South Lawn that he would leave tariffs on China for a 'substantial period of time.' 'We are not talking about removing them, we are talking about leaving them,' he said. 'We have to make sure that if we do the deal with China, that China lives by the deal,' he said. Trump said the deal 'is coming along nicely.'"
Politics
"But what is government itself, but the greatest of all reflections on human nature?" –James Madison, Federalist 51
"They had one weapon left and both knew it: treachery." –Frank Herbert, Dune
2020
Biden (1): "Joe Biden is about to ruin his reputation" [Ryan Cooper, The Week]. "The most immediate problem for Biden personally is that he has #MeToo written all over him. As my colleague Matthew Walther writes, there are already vast compilations of footage of him being far too handsy with women in public settings. Setting personal history aside, Biden's actual policy record is probably almost as big of a potential problem. The Democratic Party has shifted markedly to the left over the last decade, as the consequences of the party's policy record from the mid-1970s to 2008 have become clear…. This turn is to a great extent a response to Biden's very career, because he was personally involved in almost every bad policy decision of the last 40 years." • Ouch!

Biden (2): "Everybody's Chum" [Nathan Robinson, Current Affairs]. "Joe Biden is widely considered a likable man. Genial Uncle Joe, he of Onion stardom and buddy cop fan-fiction. But in Washington, being too friendly can result in indefensible actions. You might be a perfectly nice person, but if those you spend time around are a group of segregationists, then your niceness is hurting people. Sometimes, being friends with one group means throwing another group under the bus. If you are determined never to say anything mean about anyone, and then you are asked to give Strom Thurmond's eulogy, then you will end up fabricating history…. You can be everybody in Washington's best buddy, or you can move the country toward justice, but you cannot do both. This is because there are powerful political figures standing in the way of justice, and the steps you need to take are going to alienate them."

Gravel: "Mike Gravel's Viral 2020 Campaign Is the Brainchild of a New York Teen" [Splinter News]. "That in and of itself is… weird, and kind of cool, but the story gets stranger. Gravel's account is being run by a 'group of students' in Westchester, New York who, as one of them told Splinter in an interview, convinced the former senator to think about running again." • An example of their work:


Mike Gravel 2020 starter pack pic.twitter.com/E8OIJD2AD4

— Mike Gravel (@MikeGravel) March 20, 2019

More: "[High school David Oks] said the exploratory committee sure is real, and Gravel is on board with it. (Gravel said the same thing to a Politico reporter on Tuesday night.) Oks, a high school senior who has previously run for mayor of his small New York town, told Splinter that he and several friends are avid listeners of the Chapo Trap House podcast, which mentioned Gravel in a recent episode. About a week ago, he and a couple friends reached out to Gravel and asked if he would consider making another run for president. Their pitch was clear. "My friends and I were encouraging him to consider running for president with the idea being that he would not try to contest any primaries, he would just try to get into the Democratic debates," he said." • I think this is brilliant and I am here for the Gravel campaign. Gravelmentum!

Klobuchar: "Klobuchar's 'senator next door' strategy collides with Betomania" [Politico]. "At every stop in Iowa last weekend, Minnesota Sen. Amy Klobuchar reminded voters that she's from 'just up the river' and likes 'to go south, to Iowa, for the winter,' even riffing on the title of her book, 'The Senator Next Door.'… Klobuchar and O'Rourke both headlined canvass launches here for a state Senate special election candidate, but only O'Rourke's crowd was so large that it spilled out of the Black Hawk County headquarters into a parking lot, where the Texan spoke from a truck bed. Klobuchar attracted a standing room-only group of her own, but they stayed comfortably inside. It's part of a long shift in Iowa's long famous living room-to-living room politics; voters are still vetting candidates in person — but the introductions are online." • I rather like the picture of O'Rourke swerving into the centrist lane and creating mayhem, before crashing out himself.

O'Rourke (1): "The Privilege of Being Beto" [Lisa Lerner, New York Times]. "Robby Mook, Mrs. Clinton's campaign manager in 2016, said that Mr. O'Rourke stands apart as a politician who can 'drive his own news,' independent of Mr. Trump, alluding to his history of social media-ready flourishes on the campaign trail. 'It's not just a matter of being authentic,' Mr. Mook said. 'It's authentically taking on Trump and challenging political norms.'"• In the photo, Beto is, of course, sweating.

O'Rourke (2): "Medicare for America, Beto O'Rourke's favorite health care plan, explained" [Sarah Kliff, Vox]. "In his early days as a presidential candidate, Beto O'Rourke has walked away from supporting single-payer Medicare-for-all* and into the arms of another health care plan: Medicare for America. That plan, introduced last year by Reps. Rosa DeLauro (D-CT) and Jan Schakowsky (D-IL), was founded on the previous work of the Center for American Progress and Yale professor Jacob Hacker**. It is the Democratic establishment's alternative to the single-payer approach favored by Sen. Bernie Sanders (I-VT) and the democratic socialist left." • As I've been saying, O'Rourke is a darker figure than we think. NOTES * Mushy though that "support" was. ** Hacker was absolutely instrumental in the liberal Democrat "public option" bait-and-switch operation in 2009, that (designedly) sucked all the oxygen away from single payer. Unsurprisingly, liberals are running the same play again.

Sanders (1): "Sanders names women to majority of top campaign posts" [The Hill]. "Sen. Bernie Sanders's (I-Vt.) campaign announced a senior 2020 campaign team that includes 10 women among the 15 most prominent roles." • And centrist Twitter loses its mind…

Sanders (2): "Unlike Some People, Bernie Hasn't 'Evolved'" [Jacobin]. "In 1993, twenty years after his involvement with the Liberty Union Party, Bernie brought his first single-payer bill to Congress. 'Our system is not in need of band-aids or patchwork or such concepts as managed competition. We are in need of a new system," he said as he introduced it. Some called him crazy, but he was on a mission. 'The American people believe that healthcare must be a right of all citizens and not just the privilege of the wealthy.' His message stayed consistent for the next two decades."

Trump: "What Do We Know About Trump's Re-election Chances So Far?" [FiveThirtyEight]. Discussion. Nate Silver: "If you incepted Trump's brain and made him stop doing dumbass shit, he'd be a favorite for re-election, but I'm not sure the actual Trump is." • "Incept" seems to be a synonym for "ingest," so I'm not sure exactly what Silver is saying here.
Health Care
"Democrats on the take: New DCCC Chair is a best friend of health insurers" [Tarbell]. "Here's a headline you can bet my former colleagues in the health insurance business were thrilled to see last week: "DCCC chief: Medicare for All price tag 'a little scary.'… [Of those] House Democrats who received campaign contributions from the political action committees of all five of the biggest for-profit health insurers—Aetna, Anthem, Cigna, Humana and UnitedHealth Group. [DCCC head Cheri Bustos was those] PACs' favorite Democrat in Congress." • Ka-ching.
Realignment and Legitimacy
"Unlikely Journeys" [The Baffler] Democrat campaign memoirs. "A candidate's book may be PR, but so is everything else they touch—their debate one-liners, their Twitter clapbacks, their policy platforms, even their voting histories and signature accomplishments. Anyone who runs for president has almost of necessity lived their entire life as a kind of public-relations campaign, sandblasting their biographies and forsaking their freedom of choice, so that one day, if only for a few sweet years, they might have the kind of Jovian power of which any normal person lacks the temerity to so much as dream. Of such a person it makes no sense to ask the question, "Who are they, really, on the inside?" By the time they hit the campaign trail, there is no longer an 'inside.'"

"Opinion: We Confronted Chelsea Clinton At The Christchurch Vigil. Here's Why." [Buzzfeed]. "We were shocked when Clinton arrived at the vigil, given that she had not yet apologized to Rep. Omar for the public vilification against her. We thought it was inappropriate for her to show up to a vigil for a community she had so recently stoked hatred against. We were not alone in feeling uncomfortable — many students were dismayed to see her there."
Stats Watch
MBA Mortgage Applications, week of March 15, 2019: Rose on top of last week's "surge. till, year-on-year the index is up only 1 percent" [Econoday]. "[I]n a continuing sign that rising housing demand is lopsided toward high-end buyers, the average loan size is up for a third straight week." And: "Rates would have to fall further for a significant increase in refinance activity" [Calculated Risk].
Manufacturing: "Exclusive: Lion Air pilots scoured handbook in minutes before crash – sources" [Reuters]. This is interesting: "The U.S. Transportation Department's inspector-general now plans to audit the FAA's certification of the Boeing 737 MAX, while European and Canadian regulators say they want to make up their own minds whether a promised software upgrade is adequate." • Good.
Manufacturing: "Capt. Sullenberger on the FAA and Boeing: 'Our credibility as leaders in aviation is being damaged'" [Chesley 'Sully' Sullenberger, MarketWatch]. "For too many years, the FAA has not been provided budgets sufficient to ensure appropriate oversight of a rapidly growing global aviation industry. Staffing has not been adequate for FAA employees to oversee much of the critically important work of validating and approving aircraft certification. Instead, much of the work has been outsourced by designating aircraft manufacturer employees to do the work on behalf of the FAA. This, of course, has created [gasp], when employees working for the company whose products must be certified to meet safety standards are the ones doing much of the work of certifying them. There simply are not nearly enough FAA employees to do this important work in-house." • Thank you, neoliberalism!
The Bezzle: "Inside Airbnb's 'Guerrilla War' Against Local Governments" [WIRED]. "Similar dramas are playing out around the country. From Nashville to New Orleans to Honolulu, Airbnb is battling local officials over requests to collect occupancy taxes and ensure that the properties listed on its site comply with zoning and safety rules. In the past five months alone, the company has spent nearly $1 million to overturn regulations in San Diego and has sued Boston, Miami, and Palm Beach County over local ordinances that require Airbnb to collect taxes or remove illegal listings. Elsewhere, Airbnb has fought city officials over regulations aimed at preventing homes from being transformed into de facto hotels and requests from tax authorities for more specific data about hosts and visits. Airbnb is engaged in 'a city-by-city, block-by-block guerrilla war' against local governments, says Ulrik Binzer, CEO of Host Compliance, which helps cities draft and enforce rules for short-term rentals, sometimes putting it at odds with hosting platforms. 'They need to essentially fight every one of these battles like it is the most important battle they have.'" • I don't understand why Airbnb's reputation isn't the same as Uber's; they have the same business model and they're run by crooks.
The Bezzle: "The lawyers who took on Big Tobacco are aiming at Realtors and their 6% fee" [MarketWatch]. "The suit was filed in Chicago on behalf of anyone who sold a home through one of 20 of the largest listing services in the country over the past five years. It charges that the mighty Washington-based lobby National Association of Realtors, as well as the four largest national real estate brokerages, and the Multiple Listing Services they use, have conspired to require anyone selling a home to pay the commission of the broker representing their buyer 'at an inflated amount,' in violation of federal antitrust law." • The economic rent is too damn high!
Tech: "Optimize What?" [Commune]. One paragraph: "Back on campus, the AI and machine learning takeover of industry is fully reflected in course enrollment numbers. At Huang Engineering Center, just a few hundred feet from where Boyd lectures on optimization, Andrew Ng teaches CS 230: Deep Learning, a course that enrolled eight hundred students in the 2017-18 year, and yet is the smaller of Ng's two courses. Ng is something of a celebrity in machine learning, a Twitter hype man for AI. In a scene that has become all too typical, he walks onstage to deliver the first lecture of the course, . For most of the quarter, the lectures are doled out by a graduate student, who does a commendable job given the circumstances." • Ng probably breeds llamas or crafts didgeridoos in his spare time.
Tech: "DeepMind and Google: the battle to control artificial intelligence" [1843]. "But human intelligence is limited by the size of the skull that houses the brain. Its power is restricted by the puny amount of energy that the body is able to provide. Because [Artificial General Intelligence] will run on computers, it will suffer none of these constraints. Its intelligence will be limited only by the number of processors available. AGI may start by monitoring nuclear reactions. But soon enough it will discover new sources of energy by digesting more physics papers in a second than a human could in a thousand lifetimes. Human-level intelligence, coupled with the speed and scalability of computers, will make problems that currently appear insoluble disappear." • With singularity loons doing the programming. What could go wrong?
Concentration: "Google hit with €1.5bn fine from EU over advertising" [BBC]. "Google has been hit with a €1.49bn (£1.28bn) fine from the EU for blocking rival online search advertisers. It is the third EU fine for the search and advertising giant in two years. The case accuses Google of abusing its market dominance by restricting third-party rivals from displaying search ads between 2006 and 2016. In response, Google changed its AdSense contracts with large third parties, giving them more leeway to display competing search ads…. 'Google has cemented its dominance in online search adverts and shielded itself from competitive pressure by imposing anti-competitive contractual restrictions on third-party websites. This is illegal under EU anti-trust rules,' said EC commissioner Margrethe Vestager."
The Biosphere
"Forget Tesla, It's China's E-Buses That Are Denting Oil Demand" [Bloomberg]. "By the end of this year, a cumulative 270,000 barrels a day of diesel demand will have been displaced by electric buses, most of it in China, according to a report published Tuesday by BloombergNEF. That's more than three times the displacement by all the world's passenger electric vehicles (a market where Tesla has a share of about 12 percent.)."
"Antibiotics set to flood Florida's troubled orange orchards" [Nature]. "Public-health researchers worry that the spraying plan might spur resistance in some human pathogens. It's a reasonable concern; a fungicide used to control a tulip blight in the Netherlands, for example, has triggered a rise in treatment-resistant aspergillosis in people with compromised immune systems…. Growers are willing to try anything, however. Citrus greening (also known as huanglongbing, caused by the bacterium Candidatus Liberibacter asiaticus), has crippled the Florida citrus industry: almost half the acreage that was in production before the disease arrived has been abandoned and, by some estimates, 90% of the state's citrus trees are infected. "The level of desperation is high," says Rick Dantzler, chief operating officer of Florida's Citrus Research and Development Foundation (CRDF) in Lake Alfred." • Monoculture fighting to hold on…
"This is how climate change takes a toll on the heart" [Anthropocene]. n = 27,310. "A team of German researchers has found evidence that heat-induced heart attacks are increasing, suggesting that climate change poses a risk to cardiovascular health…. Schneider's team found that the heat-related heart attack risk during 2001-2014 was especially prominent among people with pre-existing cardiovascular disease, diabetes, or high cholesterol. The prevalence of these biological risk factors has increased in the population over time, illustrating that the health effects of climate change don't occur in isolation. Climate change can be a health risk in itself, but can also exacerbate other public health problems…. Health risks from extreme heat are often portrayed as mainly affecting people living in stifling cities. But the researchers found that people in rural areas around Augsburg were at greater risk of heat-induced heart attack than those in the city itself. Lower socioeconomic status and a higher prevalence of pre-existing chronic diseases in the rural population could contribute to the greater vulnerability to heat-induced heart attack among rural residents, the researchers say. The findings add heft to an emerging body of research suggesting 'that people living in non-urban areas could have similar or even higher heat-related mortality risks' compared to city dwellers, they write."
Health Care
"Care of acute conditions and chronic diseases in Canada and the United States: Rapid systematic review and meta-analysis" [Journal of Public Health Research]. A meta-analysis. From the abstract: "This study tested the hypothesis that socioeconomically vulnerable Canadians with diverse acute conditions or chronic diseases have health care access and survival advantages over their counterparts in the USA. … In aggregate and controlling for specific conditions or diseases and typically 4 to 9 comorbid factors or biomarkers, Canadians' chances of receiving better health care were estimated to be 36% greater than their American counterparts… Contrary to prevalent political rhetoric, three studies observed that Americans experience more than twice the risk of long waits for breast or colon cancer care or of dying while they wait for an organ transplant." • Who knew…
Testimony:
Everyone complains about government healthcare being so terrible. After serving 10 years in the US Navy I can say…….you'd love it of you had it. No copays, no premiums, no out of pocket max etc…..just get taken care of for any and all medical issues

— therealshakdiesel (@shakdaddy3) March 19, 2019
#MedicareForAll is too centrist… Go for the full NHS?
Because everybody loves their private health insurance plan:
New survey finds that among adults who were insured all year, 29% were underinsured in 2018, up from 23% in 2014. People in employer plans saw the biggest erosion in coverage. https://t.co/RC6CBxZuIx pic.twitter.com/dE3sDywMyS

— Commonwealth Fund (@commonwealthfnd) February 7, 2019
Black Injustice Tipping Point
"Fearing for His Life" [The Verge]. ">Ramsey Orta filmed the killing of Eric Garner. The video traveled far, but it wouldn't get justice for his dead friend. Instead, the NYPD would exact their revenge through targeted harassment and eventually imprisonment—Orta's punishment for daring to show the world police brutality." Concluding: "I am 10 minutes from [a prison visit with Orta] when [Orta's girlfriend] Deja calls me. As soon as I'd left, Orta was given a ticket for his braided hair, which was apparently not in regulation. This meant a possible 30 more days in solitary. 'They're mad when he talks to journalists,' she says. But of course I hadn't told anyone at the prison that I was a journalist. 'Look in a mirror. They know why you're there.'" • Disgusting, and also could have been filed under "Police State Watch."
"Petrochemical Giants Are Slowly Killing Black Louisiana Communities" [Portside]. "While researching the proposal [for a new plastics plant], environmentalists discovered that a 2014 'comprehensive plan' produced by the St. James Parish government had designated the Welcome and St. James portion of 5th District as an 'industrial' and 'residential/future industrial' on map detailing future land-use. About 1,500 people live in the area, and over 90 percent are Black, according to census data. The fact that a longtime residential community tracing its roots back to freed slaves would be labeled "industrial" set off alarm bells among residents and environmentalists. 'I could have sworn we were here first,' Stephanie Cooper, a local schoolteacher, told the council." • So much is right out in the open, if you know where to look.
Class Warfare
"Cedric Johnson and the Other Sixties' Nostalgia" [New Politics]. "The table below shows the prison population for 2016. What we see is a wildly disproportionate representation of blacks, Latinos, and other people of color composing together almost 70% of the prison population. … That black middle-class professionals and politicians played a contradictory and even reactionary role in demanding or developing these policies, as Johnson argues, is undeniable—although it is most certainly a subordinate role in terms of federal and state policy and practice. Indeed, whether in the old ghetto or today's leafy black neighborhoods, the black middle class and petty bourgeoisie have always played a contradictory role in the long struggle for black freedom. None of this refutes the existence of both underlying structures of racial inequality or the practice of racism in the criminal "justice" system as countless studies have shown…. The escalation of incarceration is not simply a matter of controlling the "surplus population," as Johnson argues. It is, as I stated above, a class project, but one with racist assumptions and practices. Those who are sentenced to prison are not primarily from the "surplus population." In fact, nearly two-thirds of the prison population were employed prior to incarceration. 49% of all prisoners were employed full-time and another 16% in part-time work before entering prison, while another 8% were students, retired, or permanently disabled according to a study by the National Center for Education Statistics."
"Judge: Baystate Franklin hospital engaged in union busting" [Daily Hampshire Gazette]. "While former Baystate Franklin Medical Center President Cindy Russo was named in the complaint, and her involvement in the matter was central to the overall case, she was not found directly guilty of any of the charges. Russo left the hospital in January 2018 after a year and a half at the post; she said at the time it was the 'right personal decision for me to explore other health care leadership opportunities.'" • "Other leadership opportunities" is almost as good as "spend more time with my family."
News of the Wired
News you can use:
"Teen Unvaccinated For Chickenpox Sues Kentucky Health Department After Being Banned From School Extracurriculars" [Newsweek]. The Right To Infect™
* * *
Readers, feel free to contact me at lambert [UNDERSCORE] strether [DOT] corrente [AT] yahoo [DOT] com, with (a) links, and even better (b) sources I should curate regularly, (c) how to send me a check if you are allergic to PayPal, and (d) to find out how to send me images of plants. Vegetables are fine! Fungi are deemed to be honorary plants! If you want your handle to appear as a credit, please place it at the start of your mail in parentheses: (thus). Otherwise, I will anonymize by using your initials. See the previous Water Cooler (with plant) here. Today's plant (LP):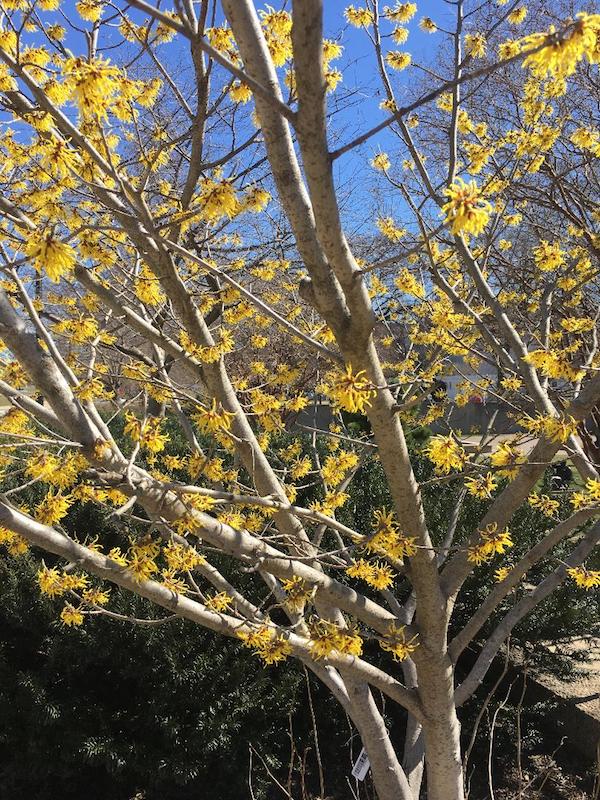 LP writes: "Witch-hazel now blooming in Washington, DC." Always be sure to look up at the sky! Even in mud season!
* * *
Thanks to JB in the Netherlands for their contribution; my mail mail thanking them keeps bouncing.
Readers: Water Cooler is a standalone entity not covered by the annual NC fundraiser. So do feel free to make a contribution today or any day. Here is why: Regular positive feedback both makes me feel good and lets me know I'm on the right track with coverage. When I get no donations for five or ten days I get worried. More tangibly, a constant trickle of small donations helps me with expenses, and I factor that trickle in when setting fundraising goals. So if you see something you especially appreciate, do feel free to click below! (The hat is temporarily defunct, so I slapped in some old code.)
Or Subscribe to make a monthly payment!