By Lambert Strether of Corrente.
My day has been slightly less dynamic than yesterday (which I seem to have confused with today, always a bad sign). I will toss out some business- and biosphere-related red meat for your delectation now, finish my post on the 737 debacle, and return to add material on domestic politics. –lambert
Trade
"U.S. heavy equipment makers feeling pain from tariffs, disputes: report" [Reuters]. "U.S. makers of bulldozers and other heavy equipment are raising prices, losing sales and in some cases beginning to trim workers in response to the Trump administration's protracted trade disputes with various countries, according to a new report [from the Association of Equipment Manufacturers]…. Scott Hazelton, a co-author of the report, said tariffs will increase the cost of producing off-road equipment in the U.S. between 6 percent to 7 percent over the period…. The study notes heavy equipment makers are particularly exposed to higher steel prices. Accounting for all steel used – both directly by these manufacturers and the parts they buy from others – the material represents 18.5 percent of the cost of a farm machine and 25.8 percent for mining machines."
Politics
"But what is government itself, but the greatest of all reflections on human nature?" –James Madison, Federalist 51
"They had one weapon left and both knew it: treachery." –Frank Herbert, Dune
2020
Biden:

Joe Biden says that he stopped his driver on the way to tonight's state Democratic dinner to give a homeless woman "whatever was in my pocket" — stops sparking applause by saying "no, no, no, it's not about me."

— Alex Thomas (@AlexThomasDC) March 16, 2019

French aristocrats would just throw a few coins out their coach windows to the peasants, so clearly Biden is an improvement.

Buttigieg: "Buttigieg says campaign gained enough donors to be on debate stage" [The Hill]. "Buttigieg, who is exploring a White House bid but has not officially announced a campaign, announced Saturday that his team had received more than 76,000 individual donations, passing the 65,000 individual threshold set by the Democratic National Committee (DNC)."

O'Rourke (1): "Iowa Democrats dig beneath the Beto O'Rourke hype" [Financial Times]. "[W]hile he captivates many with his soaring rhetoric — drawing comparisons to Barack Obama — Mr O'Rourke has started to face the kind of scrutiny that was absent in his Senate race. During his three days in Iowa, he faced questions about why he was not coming up with detailed policies." • More: "Asked about the crisis in Venezuela, he said he would not order military intervention, saying Washington's policy in Latin America over the decades had helped sparked the flow of migrants to the US. 'I do not believe that military intervention will make things better in Venezuela or anywhere in the western hemisphere,' he said, adding that the US had overthrown governments such as Guatemala's. 'We are still seeing asylum seekers and refugees leaving Guatemala more than a half century since then.'" • Good for O'Rourke, unless he changes his mind, as he did with #MedicareForAll, which, amazingly, the FT fails to mention.

O'Rourke (2): "Despite crowds, Beto campaign gets a rocky rollout" [Politico]. "'For all the fanfare, the band was playing a pretty flat tune,' Dave Nagle, a former congressman and Iowa state Democratic Party chairman, said after watching O'Rourke address a large rally from the bed of a red Ford Ranger in Waterloo, Iowa. 'There's just no substance to it.'" • Oops. O'Rourke isn't going to get a second chance to introduce himself…

O'Rourke (3): "Beto O'Rourke's early campaign: Upbeat sentiments absent many specifics" [WaPo]. "[O'Rourke's] operating without a campaign manager and with an often-exhausted skeleton staff, driving himself from Iowa to New Hampshire in a rented minivan and appearing at dozens of hastily organized events." • That's odd. Doesn't he have any money?

O'Rourke (4): A squeeing fan boi:

.@BetoORourke appears to be absorbing information like a sponge on the campaign trail. He hears and processes everything, forgets nothing. Reminds me in that way, even apart from the charisma, of my brilliant former student, someone you may have heard of: President @BarackObama

— Laurence Tribe (@tribelaw) March 18, 2019

You're never gonna be on the Supreme Court, Larry, not even if it's packed.

Sanders (1): "Bernie Sanders Holding Weekend Rallies in SD, LA, SF" [NBC Los Angeles]. • With itinerary.

Sanders (2): "Sanders campaign: Announces national staff hires [WisPolitics]. Includes Briahna Joy Gray (The Intercept, National Press Secretary), and David Sirota (Senior Communications Adviser & Speechwriter). Both of those are interesting, but I think this is the critical appointment:

Claire Sandberg, National Organizing Director

laire Sandberg joins Bernie 2020 as National Organizing Director. In 2016 she was the Bernie campaign's Distributed Organizing Director. The Bernie 2016 distributed program empowered volunteers to make over 85 million phone calls, send 10 million peer to peer text messages, and host over 80,000 individual events.

If I'm right, and Sanders is building a third stratefic asset, independent canvassing, to go along with his strategic assets of an independent media operation and an independent list, Sandberg would be in charge of that. California, here we come!

Sanders (3): "Bernie Sanders' Staff Forms First-Ever Union For Presidential Campaign Workers" [HuffPo]. "Sen. Bernie Sanders' presidential campaign has become the first major party presidential campaign to unionize. The campaign announced Friday that it had voluntarily recognized a bargaining unit organized with the United Food and Commercial Workers…. Other Democratic contenders have been mostly silent, with none but Castro saying they would support a union when McClatchy polled candidates and likely candidates in late January." • Notably, the Sanders campaign did not recognize the Campaign Workers Guild, composed of former Sanders staffers, which kicked off the unionization drive within the industry.

Warren: "My Housing Plan for America" [Team Warren, Medium]. "My bill makes historic federal investments to increase housing supply. It invests $500 billion over the next ten years to build, preserve, and rehab units that will be affordable to lower-income families. A big chunk of that investment leverages private dollars so that taxpayers get the most bang for their buck. By building millions of new units, my plan will reduce the cost of rent for everyone. An independent analysis from Mark Zandi, the Chief Economist at Moody's Analytics, found that my plan would reduce rental costs by 10% over the next ten years. And because my plan invests in housing construction and rehabilitation, the Moody's analysis also finds that it would create 1.5 million new jobs." • Not sure about the "leveraging private dollars" part. That said, give credit: Warren's in there punching on policy; this is a real bill, with a companion bill introduced in the House.
Stats Watch
Factory Orders, January 2019: "Factory orders slowed into year-end and didn't show any momentum in January" [Econoday]. "But there is good news in today's report, actually a repeat of good news in last week's advance report on the durables side of this report. Capital goods orders (nondefense ex-aircraft), which are themselves an advance barometer for business investment, snapped out of the doldrums." • Important under capitalism! But: "The data in this series is noisy so I would rely on the unadjusted 3 month rolling averages which declined" [Econintersect].
Banking: "Excluded by banks, minorities in California became their own lenders" [Los Angeles Times]. "In Cambodia, "tontine" is the name given to a rotating savings and credit association, or ROSCA, an ancient practice that has different versions all over the world. The general concept is that by contributing to a monthly pool that pays a lump sum to a single member, people can make and receive loans as well as earn interest on savings…. In Los Angeles, diverse neighborhoods probably wouldn't exist today without ROSCAs, which are most often run by women. When banks wouldn't lend to minorities, the kye helped Koreatown business owners cluster in central Los Angeles. The hui helped finance Chinatown, and tanomoshis helped start some of Little Tokyo's early businesses. There are also Latino tandas or cundinas, Filipino paluwagans and Ethiopian ekubs, and in South Los Angeles, family investment teams were formed after the L.A. riots to help black people buy property." • Let's encourage them!
Finance: "Canada's Biggest Pension Fund Mulls Opening First China Office" [Bloomberg]. "Canada Pension Plan Investment Board, which manages around C$368.5 billion ($277 billion), is considering opening its first office in China as it seeks greater exposure to the world's second-largest economy…… 'As we're also growing our portfolio in China, which is around 10 percent of our total fund, it makes a lot of sense for us to consider expanding our footprint there,' said Kim, adding that one of the firm's key investment themes is China's rising middle class and its burgeoning consumer consumption story." • Mr. Counter-suggestible says they're going in just when it's time to get out, but if he were any good at investing that would be the business he's in. Readers? Sensible move for a pension fund?
The Bezzle: "SEC says it's 'stunning' that Elon Musk never complied with order to get tweets approved" [Los Angeles Times]. "The U.S. Securities and Exchange Commission said it's "stunning" that Elon Musk didn't seek pre-approval of any of his tweets about Tesla Inc. in the months since he was ordered by a judge to do so…. The agency on Monday reiterated its request that the judge find Musk in contempt of court, saying it has learned that Tesla's chief executive "had not sought pre-approval for a single one of the numerous tweets about Tesla he published in the months since the court-ordered pre-approval policy went into effect." The agency emphasized that Tesla production forecasts have long been significant to market participants who follow the company." • It's simple. Elites have impunity.
Tech: "Facebook says service hindered by lack of local news" [Associated Press]. • After Facebook killed hundreds of news rooms with their bogus "pivot to video." Chutzpah!
Tech: "Electronic Arts took a huge gamble by paying the world's most popular gamer $1 million to play its new game for a day. Here's why it was worth every penny" [Business Insider]. "The most popular new game of 2019 arrived as a complete surprise; Electronic Arts released 'Apex Legends' on the same day it was announced, February 4th, with no advance marketing….. Skipping the pre-release ad blitz was a gamble, but the makers of 'Apex Legends; had a secret weapon: EA and developer Respawn Entertainment partnered with a group of popular professional gamers to help promote 'Apex Legends' directly to their massive online followings during the first two days of the launch." • Even if generations don't have political agency, culture still matters; and gaming is something I confess I know nothing about (and at some point that's going to be bad).
Tech: "With streaming move, Google eyes future of gaming" [Phys.org]. "Google is looking to transform internet-age game play, with an expected launch of a streaming service which uses the tech giant's power in the internet cloud. Video games are following television and music into the cloud, with console-quality play on its way to being a streaming service as easy to access as Netflix or Spotify." • The Cloud is about the least Jackpot-ready technology I can imagine.
UPDATE Mr. Market: "How Investors Should Navigate Globalization's Decline" [Barron's]. "'[R]eshoring' by U.S. companies is on the rise. More jobs were gained through reshoring than lost to offshoring in 2016, for the first time since 1970, says the nonprofit Reshoring Initiative. In 2017, employers announced decisions to bring a record 82,250 jobs back, up from just 3,221 in 2010. Preliminary numbers for 2018 show that reshoring announcements slowed last year, to 53,420—possibly a result of 'uncertainty from the trade wars, dysfunction in Washington, and the dollar being up a little bit,' says the nonprofit's founder, Harry Moser. But he calls the trend powerful and persistent. 'It's not just a trickle here or there.' … A manufacturing boom benefits local economies, which opens other investment opportunities. 'Therefore,' [Robert Horrocks, chief investment officer for Matthews Asia] asserts, 'the best way of investing is to invest in local businesses with a strong competitive moat that can feed off the increased purchasing power from the new industrial workforce.'" • Assuming it's not all robots.
UPDATE Supply Chain: "The Software That Shapes Workers' Lives" [The New Yorker]. "Could [Supply Chain Management (S.C.M.)] software include a "workers'-rights" component—a counterpart to PP/DS, incorporating data on working conditions? Technically, it's possible. sap could begin asking for input about worker welfare. But a component like that would be at cross-purposes with almost every other function of the system. On some level, it might even undermine the purpose of having a system in the first place. Supply chains create efficiency in part through the distribution of responsibility. If a supervisor at a toy factory objects to the production plan she's received, her boss can wield, in his defense, a PP/DS plan sent to him by someone else, who worked with data produced by yet another person. It will turn out that no one in particular is responsible for the pressures placed on the factory. They flow from the system—a system designed to be flexible in some ways and rigid in others."
Rapture Index: Closes up one on global turmoil. No kidding. "The Killers in New Zealand has updated this category" [Rapture Ready]. Record High, October 10, 2016: 189. Current: 177. Returning to 180? Remember that bringing on the rapture is a good thing.
The Biosphere
"Houston chemical fire: Huge flames seen engulfing plant in Deer Park" [BBC]. "The fire has been burning since Monday in the Houston area and could continue for another 48 hours, officials say. The tanks contain the chemicals naphtha and xylene which are used in gasoline and solvents…. A total of eight tanks have caught fire with blazes at two brought under control by emergency services."
"Timetable for Deer Park fire indefinite after blaze intensifies overnight" [Houston Chronicle]. "Most of the chemicals identified in the fire are used in the production of gasoline, and short-term exposure to their fumes can cause dizziness, fatigue or headaches…. Air quality readings are still well below hazardous levels as of 2:30 a.m., the company said. No injuries have been reported." • And for a look at air quality–
Many videos of Houston's Deer Park Chemical fire. Thread:
A man who lives near the Medical Center captured video this morning of a giant plume of smoke spreading across Houston from a petrochemical fire in Deer Park overnight. Message us your photos and videos. https://t.co/xL2zylZbEG (Guy Casey) pic.twitter.com/spzFC67GTI

— Houston Chronicle (@HoustonChron) March 18, 2019
No way breathing that stuff is good, no matter what the air quality readings say.
* * *
Tectonics in the tropics trigger Earth's ice ages [Science Daily]. "Each of the last three major ice ages were preceded by tropical 'arc-continent collisions' — tectonic pileups that occurred near the Earth's equator, in which oceanic plates rode up over continental plates, exposing tens of thousands of kilometers of oceanic rock to a tropical environment. …[T]he heat and humidity of the tropics likely triggered a chemical reaction between the rocks and the atmosphere. Specifically, the rocks' calcium and magnesium reacted with atmospheric carbon dioxide, pulling the gas out of the atmosphere and permanently sequestering it in the form of carbonates such as limestone. Over time… this weathering process, occurring over millions of square kilometers, could pull enough carbon dioxide out of the atmosphere to cool temperatures globally and ultimately set off an ice age. ',' says Oliver Jagoutz, an associate professor in MIT's Department of Earth, Atmospheric, and Planetary Sciences. 'This could occur over 1-5 million square kilometers, which sounds like a lot. But in reality, it's a very thin strip of Earth, sitting in the right location, that can change the global climate.'" • Fascinating! No way to speed it up, I suppose…
"Superbugs have colonized the International Space Station—but there's a silver lining" [Phys.org]. "'Spaceflight can turn harmless bacteria into potential pathogens,' says senior study author Prof. Elisabeth Grohmann of Beuth University of Applied Sciences Berlin. 'Just as stress hormones leave astronauts vulnerable to infection, the bacteria they carry become hardier—developing thick protective coatings and resistance to antibiotics—and more vigorous, multiplying and metabolizing faster.'" The scientists developed an effective silver anti-microbial coating, but: "Nevertheless, all bacterial isolates were able to form immunity-evading slimy coatings, and most were resistant to at least three antibiotics. They were also able to share the genes responsible." • Probably all over the Nostromo….
"Iowa's Real Population" [Chris Jones, University of Iowa]. Iowa hogs, dairy cattle, beef cattle, laying chickens, and turkeys "generate the waste equivalent to that produced by about 134 million people, which would place Iowa as the 10th most populous country in the world, right below Russia and right above Mexico… Managing the waste from these animals is possibly our state's most challenging environmental problem." • A issue for the candidates criss-crossing Iowa right now.
"How PG&E Ignored California Fire Risks in Favor of Profits" [New York Times]. "The commission's safety and enforcement division found in 2012 that PG&E's gas and transmission revenues exceeded what it was authorized to collect by $224 million in the decade leading up to the explosion. But capital spending fell $93 million short of its authorized budget between 1997 and 2000. PG&E also spent millions less on operations and maintenance than it was supposed to. 'There was very much a focus on the bottom line over everything: 'What are the earnings we can report this quarter?' said Mike Florio, a utilities commissioner from 2011 through 2016. "And things really got squeezed on the maintenance side." • And the same for the grid. California holds a primary too, I am told.
"'It's Probably Over for Us': Record Flooding Pummels Midwest When Farmers Can Least Afford It" [New York Times]. "Farms filing for Chapter 12 bankruptcy protection rose by 19 percent last year across the Midwest, the highest level in a decade, according to data compiled by the American Farm Bureau. Now, many of those farmers have lost their livestock and livelihoods…. Farm experts said it was too early to quantify the full economic toll of the floods, but Steve Wellman, director of the Nebraska Department of Agriculture, said the disaster could cost the state's livestock sector $400 million. Farm groups said it would take months or years to recover, and that residents across the region would need emergency federal aid." • Nebraska flooding finally makes "the news." Intuitively… Maybe we should just pay them all to take care of prairie grasses, which would help solve our greenhouse gas probems?
Police State Watch
"Puzzling number of men tied to Ferguson protests have died" [Associated Press]. "Two young men were found dead inside torched cars. Three others died of apparent suicides. Another collapsed on a bus, his death ruled an overdose. Six deaths, all involving men with connections to protests in Ferguson, Missouri, drew attention on social media and speculation in the activist community that something sinister was at play." • I dunno. Torched cars twice?
"Jury deadlocks on 3 counts against cop who shot at autistic man, acquits on misdemeanor" [Miami Herald]. "Testifying in his own defense, North Miami Police Officer Jonathon Aledda insisted he honestly mistook an autistic man holding a silver toy truck for a gunman holding another man hostage. The soft-spoken officer said he had no choice but to fire three bullets, accidentally hitting Charles Kinsey, the sup"posed hostage. One sole juror did not believe Aledda," leading to a mistrial. More: "After the decision, in the hallway outside the fourth-floor courtroom, jury foreperson Mario Alberto Lopez walked up to Aledda and shook his hand. 'My apologies for not being able to clear you today,' Lopez told him. The foreperson, with three other jurors, stuck around with Aledda and his supporters." • Seems legit.
Health Care
"Health systems consider returning to financing derivatives as a result of 2017 tax law" [Modern Health Care]. "Advance refunding—issuing a tax-exempt bond to refund an existing one—used to be a not-for-profit hospital's screwdriver, a tried and true instrument for managing debt found in just about every chief financial officer's toolbox. Since the Tax Cuts and Jobs Act disallowed that strategy at the beginning of 2018—a change many are still working to reverse—financial advisers, bankers and lawyers predict this year some not-for-profit health systems will consider a portfolio of alternative maneuvers they may not have thought about before. That would include so-called Cinderella bonds, multistep derivatives and plain old vanilla swaps." • Shouldn't all this simply be done away with?
Guillotine Watch
"We Asked 20 Elite-College Admissions Deans About the Bribery Scandal. Here's What They Said." [Chronicle of Higher Education]. Lol: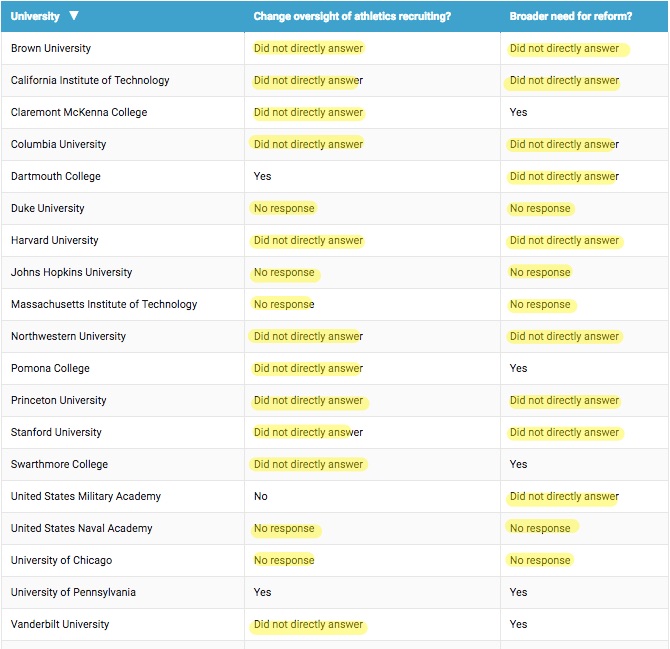 It's almost like the professional class doesn't see a reason it should be accountable for anything!
"Wells Fargo CEO Tim Sloan got a pay raise to $18.4 million as problems mount, shares tumble" [CNBC]. "Sloan, 58, took over the fourth-biggest U.S. bank in October 2016. Charged with cleaning up the fake-accounts scandal that claimed his predecessor, Sloan has struggled to satisfy regulators' demands to overhaul the sprawling institution. Last year, thanks to 'widespread consumer abuses,' the Federal Reserve capped the bank's asset growth after the bank found more problems with customer dealings." • Can't we just kill it with fire?
Class Warfare
"University of Akron offers buy-out to 47 percent of faculty" [Cleveland Plain-Dealer]. "The University of Akron offered a buy-out to about 47 percent of faculty on Monday in an effort to balance its budget. Taking a 'voluntary separation or retirement' offer would pay a faculty member 100 percent of 2019-20 base pay, split into two installments. … The offer is to full-time permanent (non-visiting) faculty who are not in what the university calls a 'Strategic Investment Area.' No law school, polymer science, or engineering faculty can take the offer." • "Strategic Investment Area." Sounds like an MBA came up with that one.
Not to be outdone:
Every time I think the University of Illinois can't sink any lower they prove me wrong. They're now seeking job applications for a **completely unpaid** adjunct lecturer position. Master's degree required.https://t.co/40z8XhQ2Vf pic.twitter.com/yhWDbilp8Q

— Patrick (@al_pastor_tacos) March 19, 2019
"Chapter 3 – The Road of Social Development and Solidarity with the Poor" [Grassroots Economics Organization]. "The idea – spread so widely by neoliberalism – that the wealth possessed by each person is the amount they have been able to generate with their own labor, their business, and their individual initiative is completely erroneous. The truth is quite different: our standard of living, the social class of which we form part, the opportunities which life offers us, fundamentally depend on the quantity and type of donations which we have received in our infancy and youth. It is crucial to recognize that the flow of donations is in all probability the most decisive element in the social distribution of wealth." • This seems to me to rephrase Graeber's idea of "everyday communism," but "donations" are a sharper analytical tool because you can see them as flows (though, say, the social reproduction of labor).
"NYC Brokers Say Pied-a-Terre Tax Is 'Class Warfare' on the Rich" [Bloomberg]. "'The very rich really hate taxes," said Barry Hersh, a New York University real estate professor and former property developer. 'It will have a psychological effect and will be a lower number of sales. But is it 1 percent less, or 2 percent? I don't know.'" • Good. Rich people who buy condos they don't live in are destroying street retail in Manhattan. Soak them.
"the history and politics of white identity" [pandemonium]. "Identity politics is one of the defining – and one of the most divisive – issues of our age. And no identity is more contested or fought over than white identity…. The political context of the emergence of white identity is that of the rise of populism, of politicians such as Donald Trump in America and of Victor Orban and Matteo Salvini in Europe, of growing hostility to immigration and of the rise of nativism…. In much of the debate around these changes, the politics of identity is seen primarily a politics of the left, the politics of minority and oppressed groups. White identity is viewed as a latecomer on the scene, an attempt by whites to replicate the success of minority groups. I want to turn this perception on its head. The origins of the politics of identity lie not on the left but on the reactionary right. Radical forms of identity politics were the ones late on the scene. Now, contemporary white identity is reclaiming its original reactionary heritage." • Very interesting.
News of the Wired
"June's Memorial Service" [Caitlin Johnstone, Medium]. "About a week later, everyone who knew her received a very simple invitation to her afternoon memorial service in the mail, with the address to a local community center. On it, in large print, were the instructions: 'PLEASE WEAR WHATEVER YOU WANT TO WEAR AND BRING WHATEVER YOU WANT TO BRING.'" • Unexpectedly touching. And not such a bad idea, either.
No:
This company wants to put billboards in space pic.twitter.com/vew2Tl9bNq

— NowThis (@nowthisnews) March 18, 2019
* * *
Readers, feel free to contact me at lambert [UNDERSCORE] strether [DOT] corrente [AT] yahoo [DOT] com, with (a) links, and even better (b) sources I should curate regularly, (c) how to send me a check if you are allergic to PayPal, and (d) to find out how to send me images of plants. Vegetables are fine! Fungi are deemed to be honorary plants! If you want your handle to appear as a credit, please place it at the start of your mail in parentheses: (thus). Otherwise, I will anonymize by using your initials. See the previous Water Cooler (with plant) here. Today's plant (LO):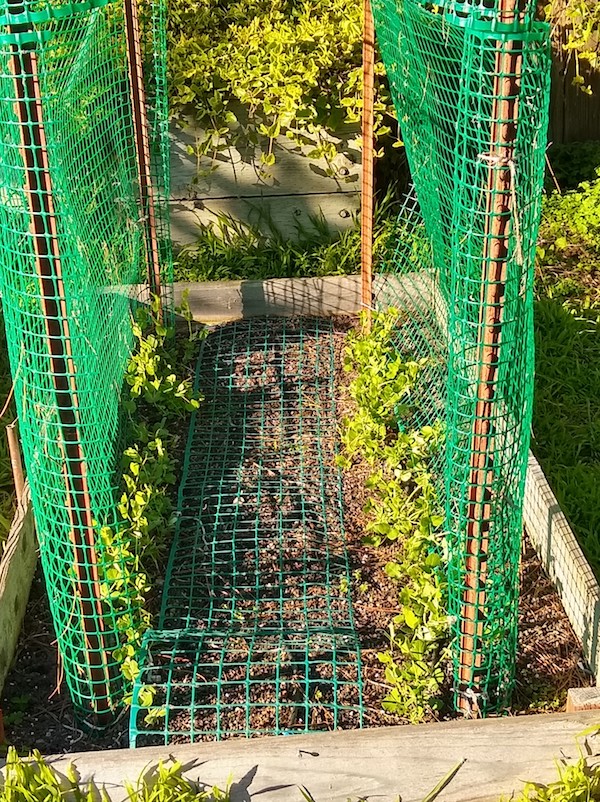 LO writes: "Snap peas: my current favorite vegetable for home gardening, as delicious as they are easy to grow here in coastal California. Plant around the first of the year in a furrow scratched into untilled soil! Eat peas in vast quantity starting in April." Very encouraging!
* * *
Readers: Water Cooler is a standalone entity not covered by the annual NC fundraiser. So do feel free to make a contribution today or any day. Here is why: Regular positive feedback both makes me feel good and lets me know I'm on the right track with coverage. When I get no donations for five or ten days I get worried. More tangibly, a constant trickle of small donations helps me with expenses, and I factor that trickle in when setting fundraising goals. So if you see something you especially appreciate, do feel free to click below! (The hat is temporarily defunct, so I slapped in some old code.)
Or Subscribe to make a monthly payment!