By Lambert Strether of Corrente.
Trade
UPDATE "A data point seen as the bellweather for global trade just tanked — and 'the floor is not yet in sight'" [Business Insider]. "South Korean exports, widely viewed as a 'canary in the coal mine' for the world economy, slumped 4.9% year-on-year to $28 billion in the first 20 days of March…. South Korea's export data is one of the first major economic indicators released each month. Even 20-day export volumes can indicate whether demand is flagging in China and Japan — two of the country's largest trading partners — and highlight trends in global trade."
"China's Boeing Threat Has More Bite Than Bark" [Bloomberg]. "[N]ow, with Boeing on the defensive, China's calculation of its political interests may be shifting. China was the first country to ground the company's 737 Max jet after the plane's second fatal crash in just five months, and now it's reportedly considering excluding the aircraft from a proposal to ramp up purchases of American goods."
Politics
"But what is government itself, but the greatest of all reflections on human nature?" –James Madison, Federalist 51
"They had one weapon left and both knew it: treachery." –Frank Herbert, Dune
2020
Biden: "Scoop: Biden advisers debate Stacey Abrams as out-of-the-gate VP choice" [Axios]. "Close advisers to former Vice President Joe Biden are debating the idea of packaging his presidential campaign announcement with a pledge to choose Stacey Abrams as his vice president…. Biden's position on the issue couldn't be learned — we were just told about the advisers' debate…. Abrams met Biden in Washington last week to discuss her next political steps, the Atlanta Journal-Constitution reported. Biden requested the lunchtime meeting, per AP." • Well, I guess now we know why Abrams abandoned Georgia and started taking checks from Neera Tanden in the Beltway.

Gravel (1): Gravel has form:

Good lord, Gravel absolutely dragged Obama, Clinton, and Biden on Iraq pic.twitter.com/voTtrzBvhb

— Carl "Gravel Guy" Beijer (@CarlBeijer) March 20, 2019

Gravel (2):

While I respect Bernie, I disagree with him strongly on this. John McCain was a war hawk who sent American youth to fight and die and never met a problem he didn't think could be solved through invasion or intervention. The real heroes are those who fought for PEACE.#GravelGang https://t.co/a3l6700Vo4

— Mike Gravel (@MikeGravel) March 21, 2019

I don't know how long the Gravel account will run, but for now, the highschoolers (!?) running it are doing just fine.

Gravel (3):

Politicians aren't there to peddle inspirational quotes.

Politicians aren't there to be your cool roommate.

Politicians are there to enact policy. Look at the policies they back.#Gravel2020#GravelGang https://t.co/llADkGReaI

— Mike Gravel (@MikeGravel) March 21, 2019

As above.

Gravel (4): "88-Year-Old Mike Gravel Is the Latest Teen Sensation" [Rolling Stone]. "[Columbia University freshman Henry Williams] says Gravel is interested in running. 'Over several conversations he articulated what he wanted to put out there and that he was interested in starting an exploratory committee,' Williams says. 'The senator has all these issues he wants to get into the public debate,' Williams adds. 'That's the premise of the campaign and of getting his name out there as something that could raise these issues and that could get him on the debate stage. We asked him whether he would be all right with us taking over his social media and testing the waters. We worked with him on a series of policy issues that were important to him, and wanted to phrase those in a way that would get traction on Twitter.'" •

Lambert here: Gravel, like Sanders, is a consequence of the Democrat "Third Way" having blighted an entire generation of politicians. As Benjamin Studebaker writes: "The vast majority of would-be young Bernies will still be under 35 in 2020 and won't be legally allowed to run for president…. Ocasio-Cortez is young by American political standards but she's older than the vast majority of young people I know who might one day be interested in running for stuff. The people in their 40s who support Bernie never received the kind of grassroots support Bernie received when they were younger, and consequently they never had the opportunity to build a resume for the presidency. As a result, the overwhelming majority of Democratic politicians in their 40s and 50s are centrists who came of age politically in the 90s and 00s. • So, the old codgers who were right all along are the only candidates left standing. Thanks, Bill! Thanks, Hillary! Thanks, Obama!

Harris: "Why did Kamala Harris let Herbalife off the hook?" [Yahoo News]. "Harris declined to investigate Herbalife, the nutritional supplement company that has been accused of fraudulent marketing practices. Documents exclusively obtained by Yahoo News show that in 2015, prosecutors in the San Diego office of the California attorney general sent Harris a lengthy memorandum that argued for an investigation into Herbalife and requested resources in order to undertake such an investigation. Similar investigations into Herbalife were already taking place elsewhere. About three weeks after the San Diego letter was sent, , the powerful Washington lobbyist whose ex-husband Tony's firm, then called the Podesta Group, had worked for Herbalife since 2013. Heather Podesta's own lobbying firm, Heather Podesta and Partners, would soon be hired by Herbalife, too. Harris did not pursue an investigation…" • Poor optics, at the very least. Couldn't the Podestas have laundered the money better?

O'Rourke (1): "Beto O'Rourke's campaign received 128,000 'unique contributions' in the first 24 hours. Bernie Sanders had 225,000 donors." [Texas Tribune]. "After a campaign stop here, O'Rourke told reporters that he received 'more than 128,000 unique contributions' in the first 24 hours, with an average donation size of $47. O'Rourke's campaign later corrected the average donation size, saying it was actually $48. By comparison, Sanders' campaign said its first-day haul came from over 225,000 individual donors for an average contribution size of $27. While , the measure is generally regarded as different from the number of individual donors." • So if one person donated ten times, that would be ten "unique contributions," I assume. It took O'Rourke's campaign a whole news cycle to come up with that?

O'Rourke (2): I suppose this is what a frenzied crowd looks like in Iowa:

Thanks to everyone who joined us for a town hall in Conway this afternoon including Ms. Murdough's AP Government class from Kennett High School. pic.twitter.com/6WnOsIu94l

— Beto O'Rourke (@BetoORourke) March 20, 2019

Seriously, who's the staffer who picked this photo? I'd like to have a word with them.

Sanders (1): "Bernie Sanders Is Hiring a Former Hillary Clinton Staffer As Research Chief" [New York Magazine]. "Bernie Sanders is preparing for the coming onslaught of attacks by hiring someone who knows the material best. The Vermont senator's campaign is bringing on [Tyson Brody, Clinton's deputy research director in 2016] who helped pull together the former secretary of State's opposition-research book on Sanders in 2016, according to Democrats familiar with the decision." • Hopefully, Brody isn't a mole.

Sanders (2): "The Atlantic's Attack On New Speechwriter For Bernie Sanders Completely Unravels" [Kevin Gosztola, Medium]. • Apparently, having a "Twitter attack dog" is a bad thing.

Trump (1): "Trump could be left off some states' ballots in 2020 if these bills become law" [WaPo]. "In refusing to release his tax returns, President Trump bucked decades of tradition and set off a Democrat hunt to obtain them. Now several statehouses are looking at making their release a condition of the 2020 presidential election: Show us your tax returns, or you can't be on the ballot." • The tax returns talking point is and always has been the most vacuous ever; the rich have accountants, after all. But that doesn't prevent our Democrats from pushing it.

Trump (2): "Trump goes to Ohio to tout jobs and then attacks McCain at length" [Los Angeles Times]. "President Trump flew to Ohio on Wednesday to claim credit for keeping a government tank plant open, but distracted from his economic message with his harshest, lengthiest attack yet on Sen. John McCain, seven months after his death." • Same pattern of Trump not being able to let go as in 2016 with the Khan family; with Trump always righting himself as part of the pattern, when poll numbers dropped.

Yang: "Andrew Yang's Basic Income is Stealth Welfare Reform" [Benjamin Studebaker]. "It has become increasingly clear, however, that Yang thinks he is a real presidential candidate and that his UBI is for now, not later. The thing is, UBI is traditionally marketed as a post-work policy. The point of UBI has always been to give every citizen a large enough basic income to give them a real choice about whether or not they take a job. This levels the playing field between employers and employees, forcing employers to offer people more substantial inducements to get them to work. But it's increasingly clear that this is not what his UBI is for. Its purpose is more sinister–it is a vehicle for legitimating benefits cuts for the poorest and most vulnerable people in our society…. Yang's UBI pays less than $6 per hour with a 52-week year. This is lower than the already inadequate federal minimum wage. It cannot realistically liberate significant numbers of people from work, or achieve the objective of dramatically increasing the bargaining power of workers vis-a-vis their employers. This is no longer a post-work policy." • Beware of Silicon Valley squillionaires with bright ideas…
New Cold War
"CNN Poll: Support for impeachment falls among Democrats" [CNN]. " In December, 80% of self-identified Democrats said they were in favor of impeachment — that now stands at 68%, a 12-point dip. Among independents and Republicans, support for impeachment has fallen 3 points over the same time. [Among] Democrats with college degrees, support for impeachment fell 17 points from 79% in December to 62% now."

"As Russia collusion fades, Ukrainian plot to help Clinton emerges" [John Solomon, The Hill]. "Ukraine's top prosecutor divulged in an interview aired Wednesday on Hill.TV that he has opened an investigation into whether his country's law enforcement apparatus intentionally leaked financial records during the 2016 U.S. presidential campaign about then-Trump campaign chairman Paul Manafort in an effort to sway the election in favor of Hillary Clinton. The leak of the so-called black ledger files to U.S. media prompted Manafort's resignation from the Trump campaign and gave rise to one of the key allegations in the Russia collusion probe that has dogged Trump for the last two and a half years. Ukraine Prosecutor General Yurii Lutsenko's probe was prompted by a Ukrainian parliamentarian's release of a tape recording purporting to quote a top law enforcement official as saying his agency leaked the Manafort financial records to help Clinton's campaign." • Big if true.
Realignment and Legitimacy
"To the White Men Running to Be the Democratic Presidential Candidate: Can You Not?" [Alexis Grennell, Daily Beast]. "There's no substantive reason to run this time around with Warren in the field, but instead of helping his ideological twin become the first female president, he's centering himself. 'Not us, but me, seems more accurate." • Since Warren doesn't support #MedicareCareForAll, I guess Warren and Sanders are not identical twins, but fratern– Well, I can hardly use the word "fraternal." Dizygotic. Better character assassins, please.

"'Replacement Theory,' a Racist, Sexist Doctrine, Spreads in Far-Right Circles" [New York Times]. "Before the massacre of 50 people in New Zealand mosques last week, the suspect released a document called 'The Great Replacement.' The first sentence was: 'It's the birthrates.' He repeated it three times. If the phrase about replacement sounded familiar, perhaps that was because it echoed what white supremacists bearing tiki torches shouted in Charlottesville, Va., in 2017: 'You will not replace us.' It is also the slogan of the neo-Nazi group Identity Evropa. Behind the idea is a racist conspiracy theory known as 'the replacement theory,' which was popularized by a right-wing French philosopher. An extension of colonialist theory, it is predicated on the notion that white women are not having enough children and that falling birthrates will lead to white people around the world being replaced by nonwhite people." • More on this thread, which is extremely ugly:

Replacement theory is really important to understand as it is one of the central pillars of White Nationalism. Unfortunately, this @nytimes piece by @NellieBowles fails to identify a central factor of replacement theory: who is responsible. THREADhttps://t.co/6O2ldfhhB2

— V. Judah Khaykin (@VKhaykin) March 20, 2019

Lambert here: I don't know why liberal Democrats who for years have been relying on "changing demographics" — the "coalition of the ascendant" or "the Obama Coalition" — to bring them to power didn't expect some sort of reaction; "Replacement Theory" is "the coalition of the ascendant" seen through the fun house mirror of reactionary politics. At this point, allow me to remark that it would be super-helpful if the liberal Democrats who still maintain a death grip on the party apparatus who run the party would address not only the opioid epidemic, and not only deaths of despair, but falling life expectancy generally, before some less-stupid-than-usual lizard-brained reactionary frames these tens of thousands of excess deaths as "genocide," and manages to form a militant tendency. Sanders-style universal concrete material benefits would help here, of course, but liberal Democrats are fighting him and them tooth and nail….

"I Support Strong Women of Color Unless They Are Politically to My Left" [McSweeney's Internet Tendency]. "Again, my problem is not with their skin tone or sex. I love that stuff about them. It's their hearts and minds and choices and beliefs I don't like. And isn't that what Martin Luther King Jr. once said — 'Judge not by the color of their skin but by the content of their character'? I know he also talked about the dangers of the "white moderate," but I have to assume he was talking about an entirely different white person — probably Bernie Sanders."

"Why Democratic 'disarray' is not a disaster" [Brookings Institution]. "[T]he discussion Rep. Omar's remarks triggered will actually be good for the party, not just in Congress but in the 2020 elections as well. Although few political pundits understood why that could be the case, if you have worked in a company or in a non-profit organization to improve the performance of teams, you will instantly recognize the importance and potential power of the storm that seemingly burst out of nowhere among House Democrats. It showed the world that the Democratic caucus, now incorporating 40 new members of widely different backgrounds, ages and political perspectives had passed through "forming," the first stage of psychologist Bruce Tuckman's four stages of group development, and had entered the second stage, "storming." Tuckman's critical insight was that all four phases: 'forming, storming, norming,' and 'performing,' were necessary for every team to go through in order to grow, face up to challenges, tackle problems, find solutions, work together, and deliver results." • What MBA wrote this tripe? To call a political party a "team" is a category error, pure and simple. And at some point in 2016, the Clinton campaign dragged the Norms Fairy out behind the barn and had Tailgunner Joe stitch it up. So although performativity performing is still possible, it won't be along this simple-minded linear progression.

"Nevada Dems revamp caucuses after 2016 clashes" [Politico]. "Rather than assigning some pledged delegates during county or state conventions after the caucus, the party confirmed that it will allocate them on Caucus Day based on the caucus-level results. In 2016, Sanders supporters, angered over Hillary Clinton's delegate victory and alleged deceit in the caucus process, protested at the state party's convention, forcing the Paris Las Vegas hotel to shut down the event." • Oddly, they'll still have chairs in the meeting rooms.
Stats Watch
Leading Indicators, February 2019: Rose modestly [Econoday]. "This index began to stall in the fourth quarter and the readings so far in the first quarter have been subdued, all pointing to generally flat conditions ahead for the economy which are in line with Federal Reserve projections, updated at yesterday's FOMC, for moderating rates of growth this year."
Jobless Claims, March 16, 2019: "today's separate data on initial jobless claims are hinting at a bounce back from February's plunge in payroll growth" [Econoday]. "In contrast to February's abrupt drop in payroll growth in the employment report, jobless claims data have been comparatively stable even during January's government shutdown. And today's data point squarely to steady and strong demand for labor and should raise expectations for a significant rebound in March payroll growth. There are no special factors in today's report."
Philadelphia Fed Business Outlook Survey, March 2019: "Arguably the most important reading of all in any report, even beyond whatever the headline may be, is new orders and they have been very flat the last two months in this report" [Econoday]. "Nevertheless, unfilled orders have continued to build… New orders are the life blood of business and a lack thereof puts this report in the uncertain category and in line with other regional reports, including last week's Empire State, that have been pointing to uneven conditions so far this year for a factory sector, subject as it is to changing conditions in the global economy, that ended an otherwise strong 2018 in a clear slump."
Quarterly Services Survey, Q4 2018: "Information sector revenue for the fourth quarter of 2018 rose" [Econoday].
UPDATE Finance: "Wall Street's Latest Love Affair With Risky Repackaged Debt" [New York Times]. "Just as they did in much of 2007 and 2008, before the markets exploded in a crisis of epic proportions, investors in the debt market, which is even larger than the equity market, are feverishly chasing higher yields and are too eagerly buying up the risky securities that will deliver those yields without demanding the proper premium for the risks being taken. A decade ago, the high-yield investment du jour pushed by Wall Street was mortgage-backed securities — home mortgages that had been packaged up and sold as 'safe' investments all over the world. Nowadays bankers and traders are pushing another form of supposedly 'safe' investment, the 'collateralized loan obligation,' or C.L.O." • I'm not seeing that CLOs are levered, though. Readers?
UPDATE Finance: "Revolut Is Testing the Limits of Finance" [Bloomberg]. "Racing to build what he calls the Uber of financial services, Nikolay Storonsky believes in keeping his foot on the accelerator…. Storonsky is getting a taste of the scrutiny that lies ahead as he tries to upend the world of banking with Revolut, his 3-1/2 year-old startup. The U.K.'s financial regulator is examining why the digital bank last summer temporarily turned off a system designed to automatically block suspicious transactions… Storonsky has drawn analogies between Revolut and Uber Technologies Inc. and he's blogged admiringly of Airbnb Inc., both known for their whatever-it-takes ethos and their willingness to bend or ignore inconvenient regulations. A neon sign on one wall of Revolut's office exhorts employees to "Get Shit Done!," a reflection of Storonsky's belief that the future of retail finance is a winner-take-all race." • What could go wrong?
The Bezzle: "Tesla accuses self-driving startup Zoox and former employees of trade secret theft" [The Verge]. "[Scott Turner, Sydney Cooper, Christian Dement, and Craigh Emigh] allegedly made off with information related to what Tesla calls its 'WARP' system, a proprietary software platform the company built to collectively manage things like manufacturing, warehousing, inventory, distribution, and transportation. 'These materials and knowhow were developed by Tesla over many years, and at great expense,' the company's lawyers write. (WARP was described by multiple former employees to CNBC last year as 'seemingly never complete,' which made it hard to keep track of budgets.)" • Crime makes you stupid; these bozos stole crappy software (surely not unknown at Tesla)!
UPDATE Tech: "SK Innovation breaks ground on $1.67B battery plant, bringing 2,000 jobs to Georgia" [Atlanta Business Chronicle]. "SK Innovation and Georgia officials kicked off construction Tuesday of a massive factory that will supply batteries for electric vehicles in Jackson County, Georgia. It is the largest economic development deal in Georgia in more than decade ago, and will generate 2,000 jobs over the next few years. The company, part of a South Korean conglomerate known as SK Group, said the $1.67 billion factory will be built in two phases and should reach its full jobs potential by 2025."
Tech: "A third of tech companies are in favour of breaking up Big Tech" [Verdict]. "Blind, which conducts polls to show the inside opinion of employees, put the issue to tech workers, asking them to respond to the question "Should Amazon, Facebook and Google be broken up?" A total of 6,082 answered the survey question regarding breaking up Big Tech and although 63.94% of respondents answered no, a significant number of people, 36.06%, answered yes."
Tech: "Facebook Stored Hundreds of Millions of User Passwords in Plain Text for Years" [Krebs on Security]. "Hundreds of millions of Facebook users had their account passwords stored in plain text and searchable by thousands of Facebook employees — in some cases going back to 2012, KrebsOnSecurity has learned…. Facebook is probing a series of security failures in which employees built applications that logged unencrypted password data for Facebook users and stored it in plain text on internal company servers." • Again, crime makes you stupid.
Tech: "Google may rank sites for queries that don't appear on the page at all" [Unlike Kinds]. "We thought we understood how Google's reading between the lines worked, until recently we noticed that an article published on this site about how Uber's code texts don't keep your account safe was being returned for the queries 2109085405 and 4843218317. These numbers never appeared in the article. Not even close." • From the original paper on the Google pagerank algorithm: "[T]he World Wide Web is hypertext and provides considerable auxiliary information on top of the text of the web pages, such as link structure and link text. In this paper, we take advantage of the link structure of the Web to produce a global 'importance' ranking of every web page. This ranking, called PageRank, helps search engines and users quickly make sense of the vast heterogeneity of the World Wide Web." Read the whole post; it looks like whatever Google search is today, it's nothing like PageRank. Maybe that's why it sucks?
Concentration: "Disney Closes $71.3 Billion Fox Deal, Creating Global Content Powerhouse" [Hollywood Reporter]. "The Walt Disney Co. has closed its $71.3 billion acquisition of large parts of 21st Century Fox, expanding its global reach and content portfolio ahead of the planned launch of its own video streaming service…. Using fiscal-year 2017 data, Disney said in a regulatory filing that the new assets could quickly add about $19.3 billion in annual revenue and $1.6 billion in net income. In that fiscal year, Disney reported $55.1 billion in revenue and $9.4 billion in net income. Disney has promised $2 billion in cost savings from the Fox takeover, with some in the industry expecting between 4,000 and 10,000 layoffs."
The Biosphere
"On a Remote Island, a Lost Part of the World Is Found" [State of the Planet]. "Anjouan stands alone—the only island in the world formed by volcanism that also contains an intact chunk of continent. 'This is contrary to plate tectonics,' said Class. 'Quartzite bodies do not belong on volcanic islands.'…. It now seemed like a pretty good bet that they had a whole mountain of quartzite, and their work was just beginning." • Geology mavens?
"Danish billionaires plan to rewild large swath of Scottish Highlands" [Guardian]. "[Adviser] Tim Kirkwood said that Anders and Anne Holch Povlsen, who own more than 80,000 hectares (200,000 acres) across Sutherland and the Grampian mountains wanted to become pioneers of rewilding by reversing years of mismanagement by previous lairds… In a report for the Scottish government, the Scottish Land Commission said the heavy concentration of land ownership in a small number of hands, including private owners, charities and government agencies, constitutes a monopoly, which undermined the public interest." • Deathbed conversion?
Health Care
"Kentucky governor says he exposed his children to chickenpox rather than getting vaccine" [CNN]. "Kentucky Gov. Matt Bevin said he made sure all his nine children were exposed to chickenpox and caught the disease instead of giving them a vaccine. 'They had it as children. They were miserable for a few days, and they all turned out fine,' Bevin said…. 'This is America,' he said. 'The federal government should not be forcing this upon people. They just shouldn't.'" • I support The Right To Infect™!
Alrighty then:
The black plague disappeared without a vaccine, just saying…#antivax

— Calder Robinson (@CalderRobinson) February 10, 2019
The 420
"Socialize drugs" [The Week]. "But if 'war' is our policy model for dealing with drugs, what should replace it? Here's a sensible, moderate proposal: full socialism for drugs. Recreational drugs should be legalized, but only sold through a restrictive government monopoly." • I hate the idea of corporate marketing weasels getting involved, so yes, scoring drugs should be about as exciting as going to the Post Office to buy stamps.
Gunz
We are ruled by the Harkonnens:
During active shooter drill, four teachers at a time were taken into a room, told to crouch down and were shot execution style with some sort of projectiles – resulting in injuries to the extent that welts appeared, and blood was drawn.

— Indiana State Teachers Association (@ISTAmembers) March 20, 2019
"Iowa House approves bill to let kids hunt with handguns" [Bleeding Heartland]. "Children supervised by a responsible adult would be able to hunt deer with a 'pistol or revolver' under a bill the Iowa House approved on March 20, mostly along party lines. House members rejected a Democratic effort to restore language that had gained bipartisan support in committee and would have required minors to complete a hunter education course before using such weapons for hunting." • Why stop there?
MMT
"A Beginner's Guide to MMT" [Bloomberg]. "his state of confusion isn't good because Modern Monetary Theory, once confined to blogs and a handful of colleges including the University of Missouri at Kansas City, suddenly matters. In the U.S., the left wing of the Democratic Party is citing MMT to make the case for massive federal government spending on a Green New Deal to wean the U.S. off fossil fuels and fund Medicare for All. It's virtually certain that MMT will be dragged into the debates of the 2020 presidential race. So the time is right for a semi-deep dive into Modern Monetary Theory—what it is, where it comes from, its pros and its cons." • I don't have time to evaluate this article; perhaps readers will. However, we should remember that MMT, as late as five years ago, was unknown to the mainstream. Change can and does happen!

News of the Wired
Fun with Google:
EVERYBODY google "florida man" followed by your birthday (florida man august 22) and tell me what you get. mine is Florida Man tries to attack neighbor with tractor

— swervin merv (@g_pratimaaa) March 19, 2019
This has gone meta, and now all the top hits are all about the tweet, not the search. And I don't know if I want Google to know my birthday….
* * *
Readers, feel free to contact me at lambert [UNDERSCORE] strether [DOT] corrente [AT] yahoo [DOT] com, with (a) links, and even better (b) sources I should curate regularly, (c) how to send me a check if you are allergic to PayPal, and (d) to find out how to send me images of plants. Vegetables are fine! Fungi are deemed to be honorary plants! If you want your handle to appear as a credit, please place it at the start of your mail in parentheses: (thus). Otherwise, I will anonymize by using your initials. See the previous Water Cooler (with plant) here. Today's plant (LO):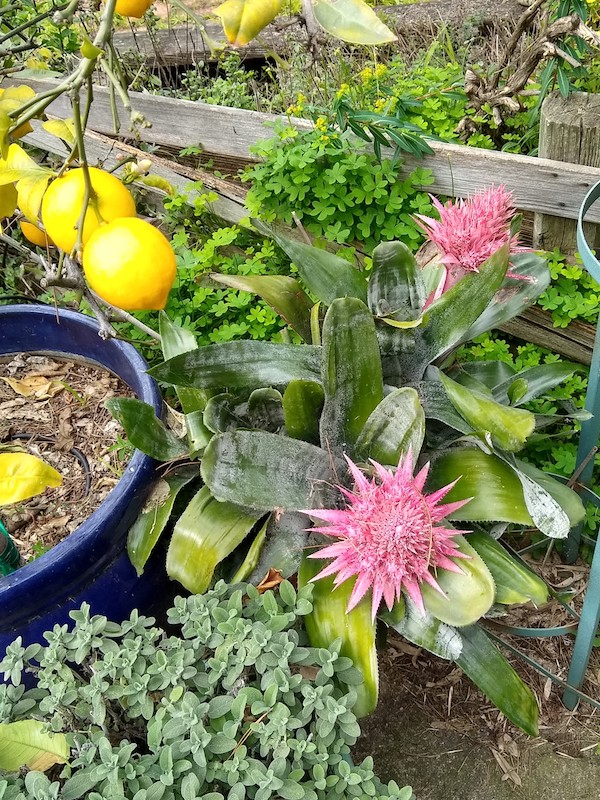 LO writes: "Bromeliad: the plant equivalent of a big old carp or catfish that lives in a quiet hole in a stream and just\ grows bigger year after year. This one passed at least a decade on a partially shaded step at my neighbor's, until it broke open the terra cotta pot she had it in. She whacked off a chunk and gave it to me. I repotted it and it spent a couple of years thinking over the situation, then seems to have finally said "why not" and started flowering. Buddying up nicely with the dwarf Meyer lemon tree that is giving it afternoon shade." Feed me….
* * *
Readers: Water Cooler is a standalone entity not covered by the annual NC fundraiser. So do feel free to make a contribution today or any day. Here is why: Regular positive feedback both makes me feel good and lets me know I'm on the right track with coverage. When I get no donations for five or ten days I get worried. More tangibly, a constant trickle of small donations helps me with expenses, and I factor that trickle in when setting fundraising goals. So if you see something you especially appreciate, do feel free to click below! (The hat is temporarily defunct, so I slapped in some old code.)
Or Subscribe to make a monthly payment!