By Lambert Strether of Corrente.
Politics
"But what is government itself, but the greatest of all reflections on human nature?" –James Madison, Federalist 51
"They had one weapon left and both knew it: treachery." –Frank Herbert, Dune
2020
O'Rourke: "Beto O'Rourke is running for president. Now about that environmental record …" [Grist]. "When he traveled to parts of Texas dependant on fossil fuel extraction during his Senate campaign, O'Rourke promoted fracking as fundamental to national security. In the heart of the Permian Basin, for instance, he told the Midland Reporter-Telegram that he didn't want the United States to be dependent on other countries for energy but that fracking should be done 'in a responsible, safe way that does not jeopardize the environment.' At a debate with Cruz, he called the decision between renewables and fossil fuels 'a false choice.'" • That last is what Obama believed — "all of the above" — so how could it be wrong?

Sanders: "'Now is the time to complete what we began': Bernie Sanders fires up crowd at San Francisco rally" [Mercury-News]. "In an issue-packed speech that ranged from a call to arms against climate change to Sanders' trademark denunciations of Wall Street banks, he poked fun at the perception of his plans as being on the far-left fringe. 'Want to hear some radical ideas?' he asked the crowd. 'Are you prepared? I don't want you fainting in shock.' Sanders marveled at how many of his policies — from Medicare for All to free public college to legalizing marijuana — have gone mainstream among Democrats and been adopted by the party's candidates running for seats 'from school board to president.' Still, that trend has also made it harder for Sanders to paint himself as the unequivocal standard-bearer of the left, which he more clearly was in the 2016 race." • Nothing wrong with opportunism — in fact, you want #MedicareForAll to be bandwageon — but all these ideas are mainstreamed in the discourse, but not at all in the liberal Democrat leadership, which opposes them as fiercely as Republicans do (and installed a great many centrist House freshmen who oppose them too).

Trump: "Hellscape 2021: Why a Second Loss to Trump Could Produce an Existential Crisis for Democrats" [Ed Kilgore, New York Magazine]. ", with theories ranging from Clinton campaign incompetence to media hostility to sexism to James Comey's unhelpful letters to sheer bad luck based on the distribution of a handful of votes in a few states. But a Democratic Party that manages to lose twice to Donald Trump — the second time after four years of the bizarre national experience of watching him in office — simply has to look at the donkey in the mirror." • The agony was not especially painful. Not only did the Democrats never produce a post mortem — suggesting that they think they really did nothing wrong — the common thread for all their "theories" was to blame somebody else. I think liberal Democrats have looked in the mirror and like what they see. That won't change.
RussiaGate
I don't mind using the term "RussiaGate" now that it has imploded and disgraced its advocates. The post mortems start piling in:

Mainstream edges toward a mea culpa. Hilarity ensues:

Painful to watch: harsh reality starting to seep ever so slowly into MSNBC, courtesy of @Isikoff, who admits that much of what that network spent the last 3 years deceiving its audience to believe turned out to be a hoax: pic.twitter.com/KQejtpSY3d

— Glenn Greenwald (@ggreenwald) March 26, 2019

This really is a must-listen, especially for those who don't watch TV.

"John Brennan Admits He had 'Bad Information' on Mueller Report: 'I Suspected There Was More'" [Mediate]. "After previously insisting there was collusion between President Donald Trump and Russia, former CIA Director John Brennan completed his 180 on the issue today by admitting he 'suspected there was more than there actually was.' 'I don't know if I received bad information, but I think I suspected there was more than there actually was,' Brennan told MSNBC's Morning Joe earlier today…. Brennan has previously suggested he had special information on the investigation, claiming in a March 5 TV hit that 'Friday is the day that the grand jury indictments come down,' and insisted that Trump's claims of no collusion between his campaign and Russia were 'hogwash.'" • Lol. I find myself using "lol" a lot, lately. I hope I don't overdo it. But lol. Crime makes you stupid, I guess.

"Russiagate: The Great Tragic Comedy of Modern Journalism" [Matt Bivens, Medium]. "I was not surprised to see politicians up on their hind legs, panting mindlessly about Russians. But to see journalists at CNN, The New York Times, NPR, MSNBC, competing to be even dumber … hot on the trail of a non-story, recklessly discarding fairness and professionalism … dragging us gleefully down every rabbit hole … applauding the collateral damage to bystanders, as they indulge their collective rage against Donald Trump, their hysterical certainty that he must be a Russian asset … What can I say? It's been heart-breaking." • The author is another Moscow Times vet, so his piece is well worth a read. Interestingly, he doesn't buy "Russian meddling" in the election, either (and see Ferguson, below). Neither do I, because nobody has shown a chain of causality that leads from meddling to votes changed in districts that would have affected the outcome. Readers, is this bar too high?

"We've All Just Made Fools of Ourselves — Again" [David Brooks, New York Times]. "Politics since Watergate has been defined by a long string of scandals and pseudo-scandals — Iran-contra, Whitewater*, Valerie Plame**, Benghazi, Solyndra, swift-boating. Politico last year compiled a list of 46 scandals that were at one time or another deemed 'worse than Watergate.' The nation's underlying divides are still ideological, but we rarely fight them honestly as philosophical differences. We just accuse the other side of corruption. Politics is no longer a debate; it's an attempt to destroy lives through accusation." • J-LS linked to Brooks this morning, but I just have to say: We live in a world where David Brooks makes sense. How can this be? NOTES * Issikoff is batting .500 (Whitewater was a hit, RussiaGate a swing and a miss), where ** Wheeler is .000; neither of the same two scandals provided the outcomes that thirsting readers sought, and to whom Wheeler pandered.

"The Economic and Social Roots of Populist Rebellion: Support for Donald Trump in 2016" (PDF) [Thomas Ferguson, Benjamin Page, Jacob Rothschild, Arturo Chang, and Jie Chen∗, Institute for New Economic Thinking]. From 2018, still germane:

This paper critically analyzes voting patterns in the 2016 U.S. presidential election. Using survey data from the American National Election Survey and aggregate data on Congressional districts, it assesses the roles that economic and social factors played in Donald J. Trump's "Populist" candidacy. It shows the hollowness of claims that economic issues played little or no role in the campaign and that social factors such as race or gender suffice to explain the outcome. While agreeing that racial resentment and sexism were important influences, the paper shows how various economic considerations helped Trump win the Republican primary and then led significant blocs of voters to shift from supporting Democrats or abstaining in 2012 to vote for him. It also presents striking evidence of the importance of political money and Senators' "reverse coattails" in the dramatic final result.

Odd. I'm not seeing "Russian meddling" in there. And from the more accessible iNET landing page for the article's release:

It wasn't Comey or the Russians. Trump prevailed because his campaign carefully targeted key states with late infusions of big money from private equity, casinos, and other far right contributors, a remarkable wave of donations from small donors, and substantial infusions from the candidate himself.

Skimming these two papers, hoo boy, what a breath of sanity.
Our Famously Free Press
Payback begins and sadly, it's richly earned:

The Trump campaign is sending this memo to TV producers: pic.twitter.com/yhr03LAI7N

— Jonathan Swan (@jonathanvswan) March 25, 2019
2019
"Obama cautions freshman House Democrats about the price tag of liberal policies" [WaPo (MA)]. "Former president Barack Obama gently warned a group of freshman House Democrats Monday evening about the costs associated with some liberal ideas popular in their ranks, encouraging members to look at price tags, according to people in the room. Obama didn't name specific policies [because that wouldn't have been passive-aggressive –lambert]…. [S]ome people in the room took his words as a cautionary note about Medicare-for-all and the Green New Deal, two liberal ideas popularized by a few of the more famous House freshmen, including Rep. Alexandria Ocasio-Cortez (D-N.Y.)." • Those aren't liberal ideas.

"Sneering Didn't Stop Jeremy Corbyn and It Won't Stop Ocasio-Cortez" [The American Conservative]. Somebody tell Obama. More: "If American conservatives keep up their own heated rhetoric—like comparing the Green New Deal to a "Revamped Communist Manifesto"—they'll end up damaging their own movement. It's ludicrous to suggest that Bernie Sanders and Ocasio-Cortez are calling for the abolition of property rights. Indeed, many socialists say that Sanders' failure to call for the nationalization of utilities means he isn't left-wing enough. It's also ridiculous to say that government-subsidized health care, something almost all developed nations have, is going to lead to the conditions seen in Venezuela. That kind of rhetoric won't wash with voters." • Looks like we're in for an election season with the dominant faction in both parties doing its best to lose. If only they both would!

Pelosi and the Democrat leadership set the table; Mike Pence sits down for a meal:

VP Pence calls Ilhan Omar an anti-Semite from the AIPAC stage, and gets a standing ovation

— Alex Kane (@alexbkane) March 25, 2019

Luntz tweeted about the DCCC policy of no longer recommending consultants who work for challengers, and AOC responded:

When I ran, the existing Dem tech was so obsolete that we developed our own canvassing app. It was so good it spun off into its own startup (https://t.co/hVw9pWknO7).

It's a shame that innovative technologies proven to work at winning elections won't be used by our party. https://t.co/XYXossyoTf

— Alexandria Ocasio-Cortez (@AOC) March 22, 2019

"Our party." Not right now…
Realignment and Legitimacy
"Why the Fight About the Electoral College Is About More Than the Electoral College" [Amy Walters, Cook Political Report]. • As for the EC, it ought to be doing what it was designed to do, and causing the Democrats to campaign nationwide. But they'd rather die as a political party — or rather, advocate constitutional changes that are highly unlikely to happen — than appear to the flyover states, so the EC isn't working as intended. Walters: "[W]hen politicians and voters believe that the system is inherently flawed or rigged — or that the people in charge of enforcing those rules are compromised – well, the whole thing falls apart. Americans don't trust the political class, the media, the political parties, or almost any institution in this country. As such, even an attempt to discuss reform or change will be met with charges of malfeasance. Republicans accuse Democrats of being sore losers, while Democrats argue that Trump and Republicans are comfortable with a descent into 'despotism.' It's unlikely that the 2020 campaign will do anything but widen distrust of our institutions and each other. The challenge of the 21st century is to understand and anticipate where this distrust and disruption lead. The tipping point has yet to be reached. But, it feels like we sit on its precipice more awkwardly than ever." • That's hair-on-fire stuff for the Cook Political Report.

"How activist organizations waste their DC volunteers" [Alice Marshall, Daily Kos]. "Your DC supporters are a powerful resource, if you know how to use them, which, from the looks of things, nobody does. For openers, our home-town newspaper remains one of the most influential in the English language. Why not ask your DC supporters to write a Letter to the Editor? You probably have the power to generate dozens of letters to The Post, at least some of which will be published. Even if none are published, the editors will know there is widespread support for your agenda within the home delivery market. These things matter." • So why send "contact your Represenative" letters to DC residents who don't have a voting representative?
Stats Watch
Consumer Confidence, March 2019: "Sudden doubts over the labor market make for decidedly downbeat reading in the March consumer confidence report" [Econoday]. "Whatever good news there may be, the theme of the report isn't favorable at all and is captured in a nutshell by a visible 2.5 point increase in those who say simply that the economy right now is "bad", at 13.6 percent. And the outlook for jobs, like the current assessment, isn't improving with more saying there will be fewer jobs ahead and fewer saying there will be more jobs ahead. Consumer spending collapsed during the holidays and the outlook for the first quarter, especially given this report, is uncertain."
Housing Starts, February 2019: "Continued softness is the gist from another mixed starts & permits report that is, however, probably not as weak as the February headlines" [Econoday]. "Single-family permits — perhaps the most important reading in this report for judging the long-term health of housing — were unchanged… Perhaps the most unfavorable news comes from the West which had been in what was arguably an unsustainable boom the last couple of years… erhaps the most unfavorable news comes from the West which had been in what was arguably an unsustainable boom the last couple of years."
S&P Corelogic Case-Shiller Home Price Index, January 2019: "A cross signal is out this morning which is probably good news for home prices given their recent and sharp slowing" [Econoday]. "The good news comes from FHFA's house price index which jumped… with the downbeat results coming, however, from Case-Shiller's report where the 20-city adjusted index managed only [an] increase that is at the low end of the consensus range."
FHFA House Price Index, January 2019: Stronger than expected rise" [Econoday]. "[S]olid and much wanted good news from a sector that was the worst performer in last year's economy."
Richmond Fed Manufacturing Index, March 2019: "While slightly weaker than consensus expectations, the deceleration is in line with other regional surveys also reporting slowing for the manufacturing sector" [Econoday]. "Today's Richmond Fed survey adds to mounting evidence of slowing growth in the manufacturing sector, but companies in the fifth district at least are as optimistic as ever that conditions will improve and their hiring activities remain strong."
Retail: "Tyson Recalls 69,000 Pounds of Chicken Strips After Metal Fragments Are Found" [New York Times]. • Save it for the UK, I guess…
The Bezzle:
Elon Musk but with Elizabeth Holmes' eyes pic.twitter.com/wpaJFTW6Zm

— Rob Beschizza (@Beschizza) March 22, 2019
Ow!
The Bezzle: "China Issues More Rules for Review of Listing on New Tech Board" [Bloomberg]. "Companies should clean up valuation adjustment agreements with private equity and venture capital investors before applying to list on China's new technology board." • Lol.
The Bezzle: "WeWork's Revenue Doubled Last Year. So Did Its Losses" [Bloomberg]. "Co-working company WeWork Cos. is continuing to expand, especially overseas. But its losses are growing in lockstep with its sales, the company said Monday." • Better expand more!
Tech: "Social media giants face regulation as publishers, not just postmen" [Financial Review]. "The problem is that extremists are good for business. From a revenue point of view, these platforms exist to serve up advertising. Those who choose to engage with conspiracies and other content most would judge to be offensive really, really engage with this stuff, and an engaged audience is easy to sell. Deep engagement is a key pillar of the social media business model."
Tech: "Google's Stadia Could Take Video Games Out of Your Hands" [OneZero]. "In the past, when you bought a video game cartridge or disc, you owned that game. You could dig Super Mario World out of storage, plug it into your old Super Nintendo, and play it right now, even though the hardware platform it plays on is more than 25 years old. Platforms like Steam also let you own the game in that you can download digital copies. If Steam were to go out of business, you might not be able to download a game anymore, but as long as you already have it on your computer, you could keep it as long as you wanted. With Stadia's streaming model, however, you never download a game. The game is installed on Google's servers, it runs on Google's servers, and your game progression is stored on Google's servers…. The most prominent question with a service like Stadia — aside from whether your internet speed can actually support this — is what happens should the game be removed from the server?" • I seem to remember that Amazon also removed books from Kindle; books that you had "bought" and that were on "your" device. Oh, and this is one obvious reason Silicon Valley is for UBI; it will supply a revenue stream of rents from their platform.
Tech: "This Spyware Data Leak Is So Bad We Can't Even Tell You About It" [Motherboard]. "A company that sells consumer-grade software that lets customers spy on other people's calls, messages, and anything they do on their cell phones left more than 95,000 images and more than 25,000 audio recordings on a database exposed and publicly accessible to anyone on the internet. The exposed server contains two folders with everything from intimate pictures to recordings of phone calls, given that the app markets itself mostly to parents…. This breach is just the latest in a seemingly endless series of exposures or leaks of incredibly sensitive data collected by companies that promise to provide services for parents to keep children safe, monitor employees, or spy on spouses. In the last two years, there have been 12 stalkerware companies that have either been breached or left data exposed online." • Testing can prove the presence of bugs, but never their absence…..
Manufacturing: "Pilot: Can pilots trust Boeing again?" [CNN]. "For my fellow pilots, trust has been seriously eroded. Considering that Boeing did not include a detailed description of the MCAS (Maneuvering Characteristics Augmentation System), the flight-control software that has been linked to both crashes, can pilots trust Boeing with any of its other products? They are right to ask, 'What else is Boeing not telling me?' Airline pilots are a skeptical bunch, an attribute that often defines our decision-making. It's a good thing, especially in an emergency." • The pilot forums, and our pilot commenters here, are impressive.
Manufacturing: "Airbus shares take off after bumper Beijing order" [Reuters]. "Airbus shares rose on Tuesday after the European planemaker won a deal worth tens of billions of dollars to sell 300 aircraft to China." • For the A320, a direct competitor to the 737.
The Biosphere
"The vanishing point: life on the edge of the melting world" [The Narwhale]. "The Arctic is warming up almost twice as fast as the rest of the planet. Several factors like thawing permafrost, shorter sea ice season, more severe storms, and rising sea level contribute to the increased rate of erosion along the Arctic coast. Moreover, the process produces massive amounts of sediment that in the long term may have negative impact on marine ecosystems along the coast." • A moving story of one Arctic village subject to this process.
"The insect apocalypse is not here but there are reasons for concern" [The Economist]. "That species are failing in some places is not in dispute. What is less clear is whether the decline is global. Drs Sánchez-Bayo and Wyckhuys found a mere 73 papers. That is not enough, argues Alex Wild of the University of Texas, Austin, to say much about anything globally. There have been no surveys of wild insect numbers in India, China, Siberia, the Middle East or Australia and only a single study each in South America, Sub-Saharan Africa and South-East Asia. These areas include almost all the tropics where the majority of insect species are thought to live. Most of the biggest declines have been measured in Europe and the United States, where the human footprint lies heaviest on the landscape and where modern agricultural methods are almost universal." • Hmm. Readers, those of you who live outside Europe and the United States, can you comment on insect populations? Are you still getting bug splats?
Net Neutrality
"Real Net Neutrality Is More Than a Ban on Blocking, Throttling, and Paid Prioritization" [Electronic Frontier Foundation]. "When we talk about net neutrality protections, we often talk about the explicit bans on blocking, throttling, and paid prioritization. Those three terms got a lot of play at the hearing in the House. But net neutrality is not just those three things… Net neutrality is the principle that all Internet service providers (ISPs) should treat all traffic coming over their networks without discrimination. Violations of that principle include, but are not limited to, blocking, throttling, and paid prioritization." • This is a very good, clarifying article. Let's nationalize the ISPs as part of the push for rural — heck, national — broadband.
Imperial Collapse Watch
"America's Corruption Is a National Security Threat" [Foreign Policy]. "But the problem is in fact far more serious than Trump and his entourage. Consider some other recent scandals. Example #1: The 2008 Financial Crisis… Example #2: The Boeing 737 Max… Example #3: The (Latest) College Admissions Scandal…. [O]nce corruption becomes endemic in a society, rooting it out becomes difficult if not impossible." • Examples could be multiplied. "Every week is screw-your-buddy week and his wife too, if he's out of town." –John D. MacDonald, A Tan and Sandy Silence.
Class Warfare
"Crippling debt 'linked to depression'" [BBC]. n = 7500. "People with mental health issues are three-and-a-half times more likely to be in problem debt than those without such conditions, analysis suggests. This link was even stronger for certain conditions such as bipolar disorder and depression, the Money and Mental Health Policy Institute said. It said those with Obsessive Compulsive Disorder (OCD) were six times more likely to have serious money troubles…. Someone who had such difficulties was Debbie, from the West Midlands… Eventually she decided the only route out was bankruptcy." • Which, thanks to Joe Biden, today's students in America cannot do, and so are doubly condemned. That Uncle Joe. He's such a nice man.
"The Supermanagerial Reich" [Los Angeles Review of Books]. "In Nazi Germany, economic history shows us a rapid change in the distribution of income and the emergence of a managerial elite who obtained an outsized share of national income, not just the now-proverbial one percent, but the top 0.1 percent. These were Nazi Germany's equivalent to today's so-called "supermanagers" (to use Thomas Piketty's now-famous term). This parallel with today's neoliberal society calls for a closer examination of the place of supermanagers in both regimes, with illuminating and unsettling implications." • Yikes!
"The Amazon Drama" [Ajay Singh Chaudhary, The Baffler]. "even worse for union leaders who yearn for the post-War compromise or politicians who dream of Germany's "social market economy" is that they cannot grok that the game is increasingly zero-sum. Twenty-first century capital, desperate to keep up profitability in a "post-growth" world, neither wants or even really can make those kinds of concessions. Wages, for example, might budge up here or there, especially from their hyper-depressed levels, but wage stagnation overall is a key component of profit, structurally necessary to keep growth sputtering along. There's no more win-win thirty glorious years to be had. The fight with the Amazons of the world is a fight to the finish." • Grab a cup of coffee, this is well worth a read.
News of the Wired
Micro-seasons:
Word of the day: "micro-season" – in the classical Japanese calendar the year is divided into 72 five-day micro-seasons or kō. Thus 6–10 March is 蟄虫啓戸, meaning "Hibernating insects surface"; 11–15 March is 桃始笑, "First peach blossoms".
Precise, poetic, attentive phenology. pic.twitter.com/nkAnie7Ty9

— Robert Macfarlane (@RobGMacfarlane) March 11, 2019
What's the Japanese word for the mud season kō?
* * *
Readers, feel free to contact me at lambert [UNDERSCORE] strether [DOT] corrente [AT] yahoo [DOT] com, with (a) links, and even better (b) sources I should curate regularly, (c) how to send me a check if you are allergic to PayPal, and (d) to find out how to send me images of plants. Vegetables are fine! Fungi are deemed to be honorary plants! If you want your handle to appear as a credit, please place it at the start of your mail in parentheses: (thus). Otherwise, I will anonymize by using your initials. See the previous Water Cooler (with plant) here. Today's plant (via):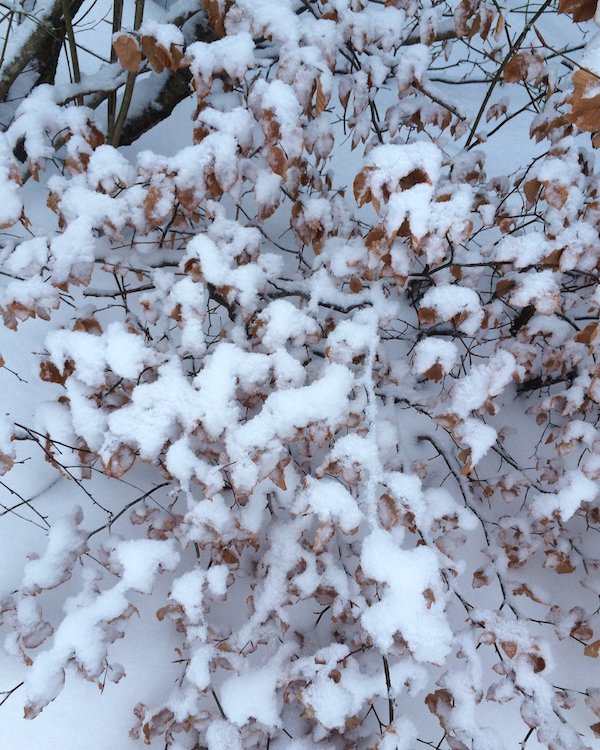 Probably the last tapestry like this for the year…
* * *
Readers: Water Cooler is a standalone entity not covered by the annual NC fundraiser. So do feel free to make a contribution today or any day. Here is why: Regular positive feedback both makes me feel good and lets me know I'm on the right track with coverage. When I get no donations for five or ten days I get worried. More tangibly, a constant trickle of small donations helps me with expenses, and I factor that trickle in when setting fundraising goals. So if you see something you especially appreciate, do feel free to click below! (The hat is temporarily defunct, so I slapped in some old code.)
Or Subscribe to make a monthly payment!