By Lambert Strether of Corrente.
Politics
"But what is government itself, but the greatest of all reflections on human nature?" –James Madison, Federalist 51
"They had one weapon left and both knew it: treachery." –Frank Herbert, Dune
Readers, we will look at the reflection on human nature that is #RussiaGate in a standalone, special Water Cooler post in a few minutes. If you could hold back your comments on the topic of the Mueller report until that time? –lambert
Stats Watch
Dallas Fed Manufacturing Survey, March 2019: Solid, though below consensus [Econoday]. "Despite the strength in production and employment, today's report is mixed as trouble for new orders points to trouble ahead for general activity and is line with a large body of data pointing to a slow start for this year's factory sector." And: "This survey remains in positive territory with subindices new orders again declining and unfilled orders marginally declining with both in expansion. Even though there was a marginal improvement in the general index, this report should be considered somewhat worse than last month because of the decline of the key subindices" [Econintersect].
Chicago Fed National Activity Index, February 2019: "Below Econoday's consensus range" due to "February's sharp drop in nonfarm payroll growth" [Econoday]. "This report offers an early summation of recent indicators and the results are not upbeat."
Manufacturing: "Boeing to Meet Regulators, Pilots to Detail 737 Max Fixes" [Bloomberg]. "The planemaker invited more than 200 pilots, technical leaders and regulators for an informational session Wednesday in Renton, Washington, where the model is built, Boeing said in an emailed statement Monday. The company said it met Saturday with some U.S. and overseas customers…. U.S. air-safety regulators are leaning toward approving Boeing's changes to software and pilot training for the Max." • Um, are the changes still self-certified?
The Fed: "Fed Needs to Get With The Program" [Tim Duy's Fed Watch]. "Probably best to first step back to last week's FOMC meeting. That event concluded with the scene of Powell & Co. running backwards as fast as is possible for central bankers to try to correct the error of the December rate hike…. What's going on here? The persistence of low inflation has finally become too much for the Fed to dismiss, especially now with the economy decelerating. They can't justify it anymore as a transitory phenomenon so it must be attributable to excessively high estimates of the natural rate of unemployment." • "Natural" has always been doing a lot of work, there…
Mr. Market: "Key Recession Signal That's Not The Yield Curve" [Econintersect]. "The key recession signal where the coincident indicators surpass the leading indicators hasn't been triggered. Since the leading index is back to its record high, it means the recession signal, which measures the time the index is away from its record high, is off the clock. The leading index has peaked a median of 10 months before the following recession, implying the next recession is at least 10 months away."
Rapture Index: Closes up two on floods. "The Central U.S. has been hit with massive floods" [Rapture Ready]. Record High, October 10, 2016: 189. Current: 179. Heading back to 180. Remember that bringing on the rapture is a good thing.
The Biosphere
"First policy report – 50 shades of green: the rise of natural capital markets and sustainable finance" (PDF) [Green Finance Observatory]. "Carbon markets have spectaculary failed to curb greenhouse gas emissions for over a decade, and it has been demonstrated that they suffer from unresolvable conceptual issues, such as the inexistence of a reliable price signal. As a result, they will never work and should be abandoned. Once carbon becomes an asset class for investors, it is also likely to create significant financial stability risks, with a high risk of contagion to other asset classes and the wider economy." • Well, that throws down the gauntlet!
"The Fight to Tame a Swelling River With Dams That May Be Outmatched by Climate Change" [New York Times]. "For millenniums, the Missouri was a wide, sinuous river. Passage was treacherous and steamboats frequently sank in the shallows. The river flooded in the spring, and you could walk across it in the fall. After the devastating dust bowl years of the 1930s and a series of severe floods in the early 1940s, Congress decided to do something. It was the era of big dams. Across America, landscapes were being rearranged to suit human needs. Over time, the broad, shallow river was transformed into a deep, narrower channel more conducive to the river shipping business, in the process creating new land along the banks…. A 2012 report on climate change in the Missouri River Basin, commissioned by the Bureau of Reclamation (the Corps' western equivalent) predicted by the middle of this century a roughly 6 percent average annual increase in upper-basin runoff and a bit more than a 10 percent increase in the lower river." • Intereresting article on managing a system of dams.
"Reassessing the role of grazing lands in carbon-balance estimations: Meta-analysis and review" [Science Direct]. From the abstract: "Assuming a steady state between carbon (C) gains and losses, greenhouse gases (GHG) inventories that follow a widely used simplified procedure (IPCC Tier 1) tend to underestimate the capacity of soils in grazing-land to sequester C….. Our results show that grazing lands generate C surpluses that could not only offset rural emissions, but could also partially or totally offset the emissions of non-rural sectors. The potential of grazing lands to sequester and store soil C should be reconsidered in order to improve assessments in future GHG inventory reports."
"Stanford researchers explore the effects of climate change on disease" [Stanford News]. "Stanford biologist Erin Mordecai and her colleagues have made startling forecasts of how climate change will alter where mosquito species are most comfortable and how quickly they spread disease, shifting the burden of disease around the world. A major takeaway: wealthy, developed countries such as the United States are not immune…. Mosquitoes and other biting insects transmit many of the most important, devastating and neglected human infectious diseases, including malaria, dengue fever, chikungunya and West Nile virus. Economic development and cooler temperatures have largely kept mosquito-borne diseases out of wealthier Northern Hemisphere countries, but climate change promises to tip the scales in the other direction."
"Glacier melt on Everest exposes the bodies of dead climbers" [CNN]. "More than 200 mountaineers have died on the peak since 1922, when the first climbers' deaths on Everest were recorded. The majority of bodies are believed to have remained buried under glaciers or snow. 'Due to the impact of climate change and global warming, snow and glaciers are fast melting and dead bodies are increasingly being exposed and discovered by climbers,' Ang Tshering Sherpa, former president of Nepal Mountaineering Association, told CNN." • If there's a Goddess in that mountain, she's not happy about any of this.
"Is Michigan's UP Winter Culture Melting?" [Belt Magazine]. "Like the rest of the world, the UP's climate is heating up. Between 1973 and 2010, ice coverage in the Great Lakes declined by seventy-one percent. Heavy rain events in the Midwest now shed thirty-one percent more rain than they did fifty years ago. The rains not only replace the possibility of potential fresh snow; they also wash away the already-established packed snow and ice. In the short term, the lack of Great Lakes ice coverage can actually cause higher levels of lake-effect snow, which can negatively affect sports like sled dog racing. For this year's UP200, officials moved the end of the race because heavy snow caused safety concerns. But in the long term, by 2060, unless climate change is slowed, some scientists predict Michigan's winter precipitation will be mostly rain. These changes will drastically affect local traditions like the UP200, unless mushers and locals are able to adapt." • Perhaps the dogs can drag boats instead of sleds?
"Mother Nature & U.S. Grant" [The American Conservative]. "I have come to think about global warming as being analogous to slavery in the US. The South knew that its entire economic and political order depended on slavery. It was impossible for them to think about ending slavery, because to have done what it took to end slavery would have meant the end of an entire way of life." • Hmm.
"How to protect community with elevated levels of benzene detected near ITC" [KHOU]. [Tony Miller, CEO of Entanglement Technologies] says that plume of smoke across the city looked scary, but the concern should be greater now. 'In retrospect that wasn't the most hazardous time, it's actually now that the fire is out,' said Miller. 'The heat from the fire was actually lifting everything up and so it wasn't actually hitting the ground. But now with that fire out, these toxic chemicals are there and they're exposed so we're actually getting higher concentrations after the fire was extinguished than when we were when the fire was active.'" • News you can use…
"Kale is now one of the most pesticide-contaminated vegetables" [CNBC]. "The [Environmental Working Group] publishes its 'Dirty Dozen' list annually, in which it ranks the 12 produce items that contain the highest amount of pesticide residues. The group analyzes data from the Department of Agriculture's regular produce testing to determine the list. Ranked alongside kale on the list are strawberries, spinach, nectarines, apples, grapes, peaches, cherries, pears, tomatoes, celery and potatoes…. More than 92 percent of kale had residue from at least two pesticides after washing and peeling the appropriate vegetables, according to the report. Some had up to 18. Almost 60 percent of the kale samples showed residual Dacthal, a pesticide that is known as a possible human carcinogen."
Documention problem:
"Communication Measures to Bridge Ten Millennia" – a 1984 report by the great semiotician Thomas Sebeok for the US Human Interference Task Force on the problem of marking radioactive waste sites, some of which will be dangerous for more than 100 000 years.https://t.co/WOc6wv2O5g pic.twitter.com/sppIvxNWaR

— Incunabula (@incunabula) March 23, 2019
Neoliberal Epidemics
"Guggenheim Museum Says It Won't Accept Gifts From Sackler Family" [New York Times]. "The Solomon R. Guggenheim Museum in New York said on Friday that it did not plan to accept future gifts from the family of Mortimer D. Sackler, a philanthropist and former board member whose money has been met with growing unease in the art world as his family's pharmaceutical interests have been linked to the opioid crisis…. In the statement, the museum said members of the family had donated $9 million to the Guggenheim between 1995 and 2015, including $7 million to establish and support the Sackler Center for Arts Education. The spokeswoman said the center's name was contractual and the museum had no plans to change it." • "Unease." Somehow, I don't get the sense that the Guggenheim is trying all that hard on the contractual issue. Maybe they could put up a plaque saying that although they'd l-o-o-o-o-v-e to change the name — explaining why, perhaps using stronger terms than "unease" — they just can't? And how about you, Harvard?
Guillotine Watch
"Mystery parent paid $6.5 million to get kids into top universities as part of admissions scandal" [Los Angeles Times]. "Someone paid $6.5 million to get his or her children into elite schools. But the identity of that parent — and details about which schools were involved — remains a mystery nearly two weeks after authorities in Boston filed the charges against dozens of wealthy individuals. The lack of information about the money is more notable given that the charges go into intense detail about the alleged actions of other parents, who are accused of bribing and cheating to get their kids into schools such as Yale, USC and UCLA. Prosecutors have mentioned the $6.5 million in payments at a news conference and in court. But they are not included in the hundreds of pages detailing the charges." • Why not just give the kid the money?
Class Warfare
"Minnesota Amazon Workers Walk Off the Job over Speed-Up" [Labor Notes]. "After yet another speed-up in a workplace notorious for its lightning pace of work, workers at a Minnesota Amazon warehouse walked off the night shift for three hours. The March 7 walkout at Amazon's fulfillment center in Shakopee, Minnesota, was these workers' second job action in three months…. Supervisors refused to meet with the workers as a group, but agreed to meet with a representative the next day. According to the strike's organizers, nothing concrete came out of that meeting." • Of course not.
"'I'm really struggling': Facing pay cuts, some ride-hailing drivers prepare to strike" [Los Angeles Times]. "t's not the first attempt by drivers to stage a strike against Uber and Lyft — many of the same drivers organized a similar protest at LAX in 2017. The ride-hailing workers, this time led by a group called Rideshare Drivers United, say past strikes have lacked cohesive strategy and planning, ultimately leading to disparate demands and low attendance. Part of the problem, they say, is that the drivers' fight has long fixated on their classification as independent contractors — a battle that has so far proved fruitless. Though they would still prefer to be classified as employees, they hope they can unite a broader swath of the workforce by focusing first on pay."
News of the Wired
Privatization:
Hi Steve, like previously stated, Dunkin Donuts is responsible for opening the doors in the morning at Hamilton station. NJT has spoken to the vendor multiple times. If you would like to file a formal complaint, use the link below. -TB https://t.co/XKn7GOjKzM

— NJ TRANSIT (@NJTRANSIT) March 21, 2019
Flight risk:
ugh the ipads keep trying to update while i'm flying the plane maybe we should fix this pic.twitter.com/6bYzaeamkq

— Internet of Shit (@internetofshit) March 25, 2019
"Christian Bale Gains 450,000 Pounds to Play Sandworm in 'Dune' Remake" [Hard Drive]. "'He's too modest,' said director Denis Villeneuve, rolling just in time to avoid being crushed by Bale's blubbery thigh. 'Christian is a true thespian. He's never messed up his one line, a guttural growl I'll hear in my nightmares until death takes me, and he's never late to set. Even better, he's always polite to the helicopter pilots who carry his Lovecraftian sea of flesh to and from the converted warehouse we store him in. Consummate professional.'"
* * *
Readers, feel free to contact me at lambert [UNDERSCORE] strether [DOT] corrente [AT] yahoo [DOT] com, with (a) links, and even better (b) sources I should curate regularly, (c) how to send me a check if you are allergic to PayPal, and (d) to find out how to send me images of plants. Vegetables are fine! Fungi are deemed to be honorary plants! If you want your handle to appear as a credit, please place it at the start of your mail in parentheses: (thus). Otherwise, I will anonymize by using your initials. See the previous Water Cooler (with plant) here. Today's plant (mgl):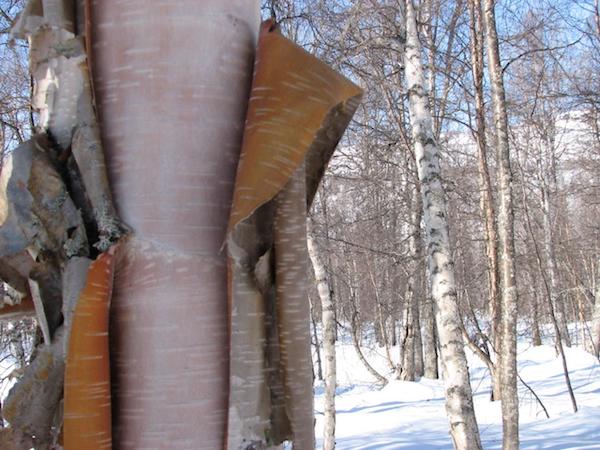 mgl writes: "Birch in winter near Curry, AK." Birch bark is lovely to light a wood stove with; far superior to newspaper!
* * *
Readers: Water Cooler is a standalone entity not covered by the annual NC fundraiser. So do feel free to make a contribution today or any day. Here is why: Regular positive feedback both makes me feel good and lets me know I'm on the right track with coverage. When I get no donations for five or ten days I get worried. More tangibly, a constant trickle of small donations helps me with expenses, and I factor that trickle in when setting fundraising goals. So if you see something you especially appreciate, do feel free to click below! (The hat is temporarily defunct, so I slapped in some old code.)
Or Subscribe to make a monthly payment!