By Lambert Strether of Corrente.
Trade
"China's secretive lending to Africa" [Official Monetary and Financial Institutions Forum]. "Questions are swirling around China's financing of Ethiopian Airlines (ET), and whether it was part of the country's secretive lending to Africa…. While it is difficult to obtain hard facts about Beijing's involvement, there are indications that Chinese banks, in particular the China Export Import Bank and Industrial and Commercial Bank of China Financial Leasing, have lent large amounts to Ethiopian Airlines. The tragic crash of ET Flight 302 on 10 March shone a light on China's involvement in Africa. Once its causes become clearer, it may lead to a reassessment of the risks of lending to a fast-expanding airline. It is possible western creditors will react faster than their Chinese counterparts. Regardless of the extent of ET's fault in the crash, lenders will probably continue to support the airline. This is particularly true of Chinese investors as part of Beijing's 'going global' strategy; Ethiopia plays an important role as a transport hub in Africa. Any retrenchment would have a knock-on effect on China's strategy elsewhere on the continent. Chinese airlines are in no position to fill the gap if the country downscaled its commitment to ET. In addition, the airline's success has made it a profitable Chinese investment."
"China's airplane ambitions get a boost from Boeing fallout" [Los Angeles Times]. "Seven days after the Ethiopian Airlines crash, the Ethiopian ambassador to China paid a visit to China's state-owned airplane manufacturer in Shanghai. He tweeted photos of himself sitting in the cockpit of the Comac C919, a new Chinese-built plane aimed to compete with Boeing's 737 Max 8 and Airbus' A320neo. 'It will not be so long that we will see them in the blue sky,' the ambassador tweeted. 'Even in my layman observations, I do not think they need 20 years and for sure they will not wait for 20 years.'"
Politics
"But what is government itself, but the greatest of all reflections on human nature?" –James Madison, Federalist 51
"They had one weapon left and both knew it: treachery." –Frank Herbert, Dune
2020
Buttigieg:

Show me an example of Buttigieg standing up to power. Corporate power. I know he wants to do good. Give me an example of him wanting to fight bad.

— Matt Stoller (@matthewstoller) March 27, 2019

Although I like Buttigieg better than I did — I'm still suspicious of anybody who thinks that a Rhodes Scholarship, McKinsey, and the military is the royal road to the Oval Office — Stoller is correct to pose this question.

Sanders (1):

Discrimination has no place in our society. I am proud to display this flag as a symbol of my support for transgender people across the country. We must stand with transgender people in all of our communities. pic.twitter.com/W6Esa16vzP

— Bernie Sanders (@SenSanders) March 26, 2019

Sanders (2): Big if true:

2020 Alabama Democratic Primary
Sanders 27%
O'Rourke 17%
Harris 16%
Booker 14%
Warren 12%
Buttigieg 4%
Klobuchar 2%
Hickenlooper 1%
Yang 1%
Castro 1%
Gabbard 1%
Gillibrand 1%
Inslee 1%
Delaney 1%
Williamson 0%
Messam 0%@ChangePolls 3/20-23

— Political Polls (@Politics_Polls) March 27, 2019

Sanders (3):

Bernie Sanders on eliminating private health insurance: "get rid of the insurance companies"https://t.co/96QSsI7QZH pic.twitter.com/yzkWfOGN8J

— RNC Research (@RNCResearch) March 27, 2019

The RNC keeps coming up with Sanders gotchas that are, in fact, excellent things that should be done.

O'Rourke: "Beto O'Rourke's Free Ride on Charter Schools Won't Last for Long" [The Intercept]. "O'Rourke stayed conspicuously silent on the topic of charter schooling during his Senate campaign, and his backers in the education establishment decided not to press him on it…. While most Democratic candidates are likely to face questions about charter schools on the trail to the White House, that likelihood is greater for Beto O'Rourke's than most, given his wife's stature in the charter school movement. Amy O'Rourke is a former charter school leader and currently sits on the board of a local education reform group that supports expanding charter schools in El Paso."

"As Nevada lags behind in 2020 visits, Silver State Democrats warn about ignoring the state" [CNN]. "According to data collected by CNN, the 14 candidates running for the Democratic nomination in 2020 have made 13 trips to Nevada since the 2018 midterms, a number that dramatically trails behind Iowa, a state that has received 49 trips, New Hampshire with its 46 trips and South Carolina, which has had 26 visits since November 2018."
RussiaGate
"MSNBC's Trump-Russia Ratings Fizzle: 'Time to Pivot to 2020'" [Daily Beast]. "Within MSNBC, there's an acknowledgement that the Trump-Russia narrative on which the cable network—and especially its primetime star Maddow—built monster ratings has fizzled for the moment. Insiders also claim not to be surprised that the conclusion of the long-awaited Mueller report—or at least the Trump-appointed attorney general's summary—was a whimper, not a bang for an outlet that has invested so much time and energy, in primetime and throughout its dayparts, in the notion that Trump is unworthy of the Oval Office and might at some point be forced to give it up. And it's also possible that the Mueller disappointment drove loyal viewers away in much the same way that people avoid looking at their 401(k)s when the stock market is down. Maddow, who has consistently vied for the first or second top-rated cable news program, was sixth on Monday evening, down almost 500,000 total viewers from the previous Monday, as was MSNBC's second top-rated program in primetime, The Last Word With Lawrence O'Donnell." • So, the "insiders" knew there was a problem, but kept stoking the madness until the last possible moment?

"Consortium News' Record on Russia-gate—A Series of Articles on How CN Covered the 'Scandal': No. 1—'The Sleazy Origins of Russia-gate" [Robert Parry, Consortium News]. From March 29, 2017, and how long ago that seems: "Despite the dubious quality of Steele's second- and third-hand information, the June report [which included the piss tape] appears to have won the breathless attention of Team Clinton. And once the bait was taken, Steele continued to produce his conspiracy-laden reports, totaling at least 17 through Dec. 13, 2016." • The late, great Robert Parry's prose is lucid and calm. This is one of a series of re-posts, a well-deserved victory by Consortium News (another victim of the skeevy, WaPo-promoted propornot scamsters).

"The Paranoid Center" [Ross Douthat, New York Times]. "The Iraq war was fiercely opposed by paleoconservatives and antiwar libertarians as well as by the antiwar left, and the strongest skeptics of the Russiagate narrative have been left-wing journalists." And:

This pattern points to the essential difference between paranoias of the fringes and what Reason's Jesse Walker once called "the paranoid center." Because the center believes in the basic goodness of American and Western institutions, the basic wisdom and patriotism of their personnel, its threat matrix is always attuned to Great Enemies outside and radicals within, and its greatest fears tend to involve the two groups working together — whether that means Middle Eastern dictators and Islamist sleeper cells after Sept. 11 or the grand alliance of Putinists and homegrown white nationalists that's blamed for Donald Trump.

Meanwhile the extremes, in different but sometimes overlapping ways, are much more skeptical about American institutions, much more "unpatriotic" in the way that David Frum once dismissed right-wing critics of the Iraq war, and thus much more likely to be skeptical of any narrative that asks you to simply trust the wisdom and good intentions of, say, figures like James Comey and John Brennan.

Notice the tri-partite, non-binary structure. What a world we're living in, when Douthat approaches making sense.

"We know Russia interfered in the 2016 election. Will anything be done to stop it in 2020?" [Think Progress]. • Still on the bandwagon. I've seen those "Internet Research Agency" memes. If they had the effect CAP thinks they did, then every Democratic strategist should close up shop, because the Russians are better, and far, far cheaper. Why not offshore campaign messaging to Russia?

"Taibbi: As the Mueller Probe Ends, New Russiagate Myths Begin" [Matt Taibbi, Rolling Stone]. "After the 2016 election, the storyline instantly became that Trump was an illegitimate president, a foreign operative who'd cheated his way into office and would therefore need to be removed ahead of schedule." • You could call that a "storyline." Or, given the involvement of the intelligence community, after and before Election Day, you could call it a soft coup. Brennan and Clapper — and the faceless intelligence community represent — have been getting off remarkably lightly in all the victory laps (though I can't say I've double-checked everything Parry wrote). Except here–

"The Reckoning Finally Arrives for the Trump Resistance" [Bloomberg]. The deck: "With Mueller's investigation over, Democrats, the news media and have a lot to answer for." This: "Finally, there is that handful of former officials who validated the worst fears of Americans about Trump without ever providing actual evidence. The best example is former CIA Director John Brennan. For the last two years, Brennan has been a frequent guest on cable TV to spread the innuendo that Trump is compromised by Russia. Just this month, he speculated that Mueller would be indicting members of Trump world for criminal conspiracy, even as he insisted he had no 'inside knowledge' of Mueller's deliberations. That last part, at least, turns out to have been true." • I don't believe for a moment that it's only "former" officials — who was doing all the leaking? — and it was Clapper, too, not just Brennan. I certainly wouldn't mind having the intelligence community's wings clipped with a Senate investigation, though it would be nice if they could avoid creating a Benghazi-style omnishambles.
2019
AOC on environmentalism as an "elitist" issue:

Watch every second of this… @AOC is so incredibly spot on. pic.twitter.com/ESP4dC5TTo

— Brian Tyler Cohen (@briantylercohen) March 27, 2019

"French Socialist Édouard Louis on Failed Centrism and the Rise of AOC" [New York Magazine]. "With Alexandria Ocasio-Cortez, my first reaction was, Finally, she talks about reality! When I was a student, I would open the papers or turn on the TV, and see politicians speaking, and I would think, What kind of society are they talking about? It's not the society that I live in! When they were saying these words obsessively, like 'responsibility,' what does it mean? My father had an accident at the factory when he was 35. He couldn't walk for a few years. His back was destroyed. But then, according to the French state, he was supposed to go back to work. The only job for someone like him was to be a street sweeper, because he had no education or diploma. The work destroyed his back even more. And so when you say 'responsibility,' what are you talking about? I can't even answer to that kind of language, because it has nothing to do with reality. And so when Ocasio-Cortez talks about corruption, when she talks about pain, when she talks about rage, I think that finally someone is talking about reality." • Very interesting on the French context that gave rise to the GJ as well.
Realignment and Legitimacy
"Second man found dead in Ed Buck's apartment died of accidental meth overdose, authorities say" [Los Angeles Times]. "The second man to die in Democratic donor Ed Buck's West Hollywood home died of a methamphetamine overdose, authorities confirmed Monday… He was the second black man to die of a methamphetamine overdose in Buck's apartment. Buck, 64, who is white, is a former fashion model, self-described retired multimillionaire and onetime West Hollywood City Council candidate. He has long been a contentious figure in town, where he was best known for his animal rights and LGBTQ activism, and ." • Looks like donor class impunity at work.

Liberal Democrats think they own your vote, and they also think they own their seats:


In New York, opposition to publicly financed campaigns is coming from Democrats in the Assembly who are worried about primary challengers.

Not a good justification for a corrupt system. Get yr Assembly member on the record for fair elections this year. 3 days til the budget.

— Zephyr Teachout (@ZephyrTeachout) March 27, 2019

I guess they prefer servicing donors?
Stats Watch
Readers, I'm sorry to be so light on business links, but RussiaGate is eating the earth (and also my brain). Hopefully things will be back to normal, if normal is the word I want, soon. –lambert
International Trade, January 2019: "January's trade deficit came in … much lower-than-expected as exports rose" [Econoday]. "Details show a very welcome rise in food exports, which had been shrinking in prior months, as well as a gain for vehicle exports. Imports of capital goods fell, which is good for the deficit but a negative for business investment, while imports of industrial supplies, reflecting a decline for oil, fell."
Current Account, Q4 2018: "As a percentage of GDP, the current account deficit rose to a still moderate 2.6 percent vs 2.5 percent in the third quarter" [Econoday].
State Street Investor Confidence Index, February 2019: "Global institutional investors continued to reduce their exposure to global equities in March" [Econoday]. "Risk aversion by North American and European institutional investors continues to be fed by concerns regarding the potential breakdown in US-China trade talks, a potential hard Brexit, and potential populist wins in European Parliament elections, according to State Street."
Retail: "Boo light special? Market defends self against ghost claim" [Associated Press]. "A spokeswoman for Market Basket says in a statement to The Boston Globe that 'as far as we know all of our stores ghost-free' after someone posted on social media this month about seeing an apparition at a store in Wilmington, Massachusetts. The person said the ghost was 'an old Victorian era woman in her nightgown … near the frozen peas.' Hundreds of people weighed in, including others who claimed to have seen a ghost in the store."
Tech: "Forget Photoshop. Adobe Is a Marketing Company Now" [Bloomberg]. "Chief Executive Officer Shantanu Narayen has upended Adobe's business model and quietly transformed it into that of a marketing company. Adobe has been working full crank to track every interaction a consumer has with a brand: tallying her visits to a brick-and-mortar store and what she buys; using cookies to monitor her web activity and figure out how many devices she has; analyzing her interest in emails about sales or promotions; and incorporating social media monitoring to see what she says about a brand. Adobe can combine all of this with other companies' data about a person's income and demographics to try to predict the triggers that would make her buy a new phone or pair of shoes. In essence, Adobe is trying to know a consumer's decision-making process better than she may know it herself." • No doubt their "Software-as-a-service" model helps them.
Gentleman Prefer Bonds: "Here's Why U.S. Bond Yields Plunged So Much Over the Past Week" [Bloomberg]. "The Federal Reserve's surprise policy shift last week shook markets, but, even still, the intensity of the ensuing drop in U.S. bond yields has puzzled many observers. A massive wave of hedging in the swaps market helps explain the scale of the eye-catching move…. The sharp move in rates since the FOMC decision 'can be attributed to mortgage convexity receiving hedging,' Citigroup's head of U.S. rates strategy wrote in a March 22 report. The 10-year Treasury yield falling below 2.5 percent 'likely triggered convexity flows, which is typically done by servicers, REITs and money managers,' he added." • Swell. It everything goes pear-shaped, dull normals like me will have to figure out what the heck a "convexity flow" is. Yay!
The Biosphere
"Coal, oil, and natural gas demand hits record high in 2018" [Grist]. "Demand for coal, oil, and natural gas hit new all-time highs in 2018, according to a worrying new report from the International Energy Agency, an intergovernmental organization that compiles statistics on global energy use…. The report provides further evidence that the world's two biggest emitters, the United States and China, are choosing to switch from coal to natural gas, not coal to renewables. While natural gas is often touted as being lower in CO2 emissions than coal, it still releases plenty of CO2 as well as methane — an even more powerful greenhouse gas. The move could lock in decades of emissions…. China added more than six times the amount of renewable energy to its grid than the United States did — but even that is nowhere near enough to offset continued investment in fossil fuels."
"Stopping Human-Caused Air Pollution Would Prevent 5.6 Million Air Pollution Deaths Per Year: New Study" [Weather Underground] (original). "If humans stopped emitting air pollution, an astonishing 5.6 million premature deaths per year due to global outdoor air pollution could be prevented, according to research published Monday. About 65% of these deaths are due to burning of fossil fuels, with the remainder due to such activities as biomass burning and agriculture. Eliminating human-caused air pollution would also significantly reduce drought in monsoon regions, but it would allow more sunlight to reach the surface, increasing Earth's surface temperature by at least 0.36°C (0.65°F). Overall, the effects would be hugely beneficial."
Yikes:
"This is the real solution to climate change: babies…the solution to so many of our problems at all times and in all places is to fall in love, get married, and have some kids." –@SenMikeLee on @AOC and @SenMarkey's Green New Deal pic.twitter.com/QdDEZJFIYs

— Justice Democrats (@justicedems) March 26, 2019
Love your kids so much you want them to grow up in the swirling fumes of an anthropocene hellscape…
"Volcanic threats to global society" [Science]. "When Mount Tambora in the Lesser Sunda Islands, Indonesia, erupted in 1815, more than 100 km3 of volcanic pyroclasts and ash were discharged into the stratosphere up to altitudes of over 40 km. The volcanic gases and ash dispersed over the Northern Hemisphere, causing what was called "the year without a summer" in Europe, with severe starvation, famine, mass migrations, and an estimated several tens of thousands of casualties…. The 1815 Tambora eruption was large, but far from extreme. Its size is classified as 7 on the Volcanic Explosivity Index (VEI), which is a relative measure of the magnitude of volcanic eruptions. In the past 2 million years, there have been 27 so-called supereruptions (VEI 8, with an eruption volume >1000 km3) (3), the most recent of which occurred at Taupo volcano, New Zealand, about 27,000 years ago…. Although more than 800 million people on Earth live within 100 km of an active volcano and are directly exposed to detrimental short- to medium-range effects of volcanic eruptions (7), the occurrence of a supereruption in today's interconnected world extends that number to virtually the entire world population…. there is a need to develop a strategy for enhancing human resilience and for safeguarding the critical nodes and elements necessary to defend the level of progress and civilization that humans have achieved." • One more thing to worry about! (Super-eruptions follow a Poisson distribution, so the fact that 27,000 years have passed since the last one does not affect the probability of the next one (if I understand a Poisson distribution aright).
Health Care
"5 Women on What It's Actually Like to Have Universal Health Care" [Elle]. "We talked to women in five countries with universal health care systems—Canada, Iceland, Taiwan, Australia, and the UK—about their daily interactions with their country's medical systems. While conditions varied, and there were certainly shortcomings, most of the women that ELLE interviewed could agree on one thing: at least they didn't have to deal with the health care system in America." For example:
In your own words, describe how your health care generally works.

If I'm sick, from a basic point of view, I just call my doctor's office in the morning, they have walk-in hours in the afternoon and then I go to the doctor. For my baby, he goes to see the doctor more frequently than me, those are just check-ins that don't cost anything. He just gets vaccines and gets weighed and the doctor asks us questions to make sure everything's okay. He hasn't had to get any prescriptions yet and not all prescriptions are free for kids, but a lot are free under the age of 25. That's a newer thing in Ontario the past few years.
Amazing that we aren't looking at these systems, copying what they do, and trying to do better.
"Democracy Matters in Global Health" [Council on Foreign Relations]. "Democracy has historically played little role in driving global health. Autocracies, such as China and Cuba, are famous for providing good health care at low cost. Many countries that experienced the greatest improvements in life expectancy and child mortality over the last fifteen years—such as Ethiopia, Myanmar, and Rwanda—are also among the least democratic nations [PDF] in the world….. The past may not be prologue, however, when it comes to democracy and global health. The health needs of low- and middle-income countries are changing: infectious diseases and child mortality rates are declining… New research published in the Lancet shows that, between 1980 and 2016, the democratic experience of a nation—an indicator of how democratic a country has been and for how long—was more responsible for reductions in mortality from cardiovascular diseases, transportation injuries, cancers, and most other noncommunicable diseases than the level of gross domestic product (GDP) or urbanization in that nation, or the amount of international aid it received (see below). By contrast, democracy had little effect on mortality from most infectious diseases and deaths associated with giving birth. The one exception is tuberculosis…"
Health insurance horror stories (1). Thread:
I was in the ER with a health scare recently and while they were taking blood & I was wondering if I'm dying, a lady came in to tell me my copay and I had to dig for my credit card. Every day this system continues to exist is a crime

— Online Influencer (@InternetHippo) March 24, 2019
Because everybody loves their private health insurance.
Health insurance horror stories (2). Thread:
THREAD: Let's talk about how awesome private insurance is.

My doctor called me last week to let me know my insurer had declined to pay the bill for my last appointment, because they claimed I had a second health insurance provider. (Spoiler alert: I don't)

— Ari Rabin-Havt (@AriRabinHavt) March 26, 2019
These two threads are actually a genre on Twitter; and others always chime, each new tweet always being more brutal and stupid and ridiculous than the last one.
""Medicare for All" Is Missing a Vital Group: The Incarcerated" [Marshall Project]. "No one is talking about making federal health insurance truly "for all" by extending eligibility to the 2.2 million people incarcerated in this country…. The original Social Security Act of 1935 prohibited the payment of federal dollars, either directly or via state pass-through, for services for 'inmates of a public institution.' This means that federal dollars cannot be used to pay for healthcare or other services for incarcerated people in local jails or in state prisons, except when they are hospitalized for more than 24 hours in a separate healthcare facility…. Incarcerated people have up to 12 times the risk of death within the first two weeks after release, and up to four times within the first year. Lack of continuity of care certainly contributes to this horrifying statistic." • Sanders and Jayapal should fix this. It's not only humane, it's good politics (as, for example, the Florida referendum restoring voting rights to felons shows).
"House Democrats' new plan to strengthen Obamacare, explained" [Vox]. Among other things: "The Democratic bill is a smorgasbord of provisions to expand health care and undo the Trump administration's regulatory actions to weaken the ACA: It expands the tax credits available under the law, both reducing costs for lower-income families and expanding eligibility so middle-class Americans can receive federal assistance." • Oh. Tax credits. What a hill to die on.
"New York Suburb Declares Measles Emergency, Barring Unvaccinated Children From Public" [New York Times]. "An executive order pulled close to 6,000 unvaccinated children out of schools. Nearly 17,000 doses of the measles-mumps-rubella (M.M.R.) vaccine were given in 26 weeks. There was a public health campaign in which community officials, doctors and rabbis testified to the importance of immunizations. None of those efforts stemmed the severe measles outbreak that has been plaguing Rockland County in New York since October. So on Tuesday, in an extraordinary step, the county executive, Ed Day, declared a state of emergency, effective at midnight, that would bar children and teenagers who are not vaccinated against measles from public places…. , Mr. Day said. Mr. Day cited this behavior, which he called shockingly irresponsible, as justification for his order." • Thank you, anti-vaxxers!
Guillotine Watch
"At $50,000 a Year, the Road to Yale Starts at Age 5" [Bloomberg]. "The words are whispered under a cone of silence in moneyed Manhattan: . Whispered, too, are the shimmering prizes: the future keys, it's said, to Harvard, Princeton or Yale. Welcome to the quest to win a spot at New York's Baby Ivies, the private preschools and kindergartens where big money and bigger egos clash over whose three- or five-year-old will gain the first edge." • "Cutthroat, ruthless, Darwinian, cruel." So, good training, no?
Class Warfare
"The Impact and Malleability of Money Design" [Law and Political Economy]. Finance during reconstruction:
We pick up the story…. in the post-Civil War South, a monetary wasteland by any measure. Banks there collapsed along with the Confederacy and its currency. According to Lawrence Goodwyn, the per capita money supply in Arkansas was thirteen cents; in Rhode Island, it was $77.16. Bridgeport, Connecticut had more banks than the states of Texas, Alabama, North Carolina, and South Carolina combined, while Massachusetts alone had a national bank circulation that was five times that of the entire South.

Behind the numbers rose the system of debt peonage that came to shape production for millions of poor Southerners, white and black. Bereft of cash, farmers turned to "furnishing merchants" for supplies: everything from clothes to tools, seeds to hardware. The goods came on credit and that credit was extremely expensive—merchants routinely charged exorbitant rates, 100 to 200% annually. In return, each merchant took a lien on the farmer's crops. Once the lien attached, the merchant virtually monopolized that farmer's connection to the market. As to consumption, the farmer could buy only from the merchant who held the crop lien because no other lender would advance credit without collateral. And as to production, the farmer had to turn over his crop to the merchant for sale to pay off his debt.

The trap was, in fundamental ways, a monetary one. The devastation of the South's financial infrastructure was only the beginning. After the Civil War, the federal government settled on a long-term deflationary policy; by limiting the amount of money in circulation, it aimed to drive down prices so that it could resume convertibility of the fiat currency that still circulated.
From Mehrsa Baradaran, The Color of Money. Damn, another book to read!
"Complex societies precede moralizing gods throughout world history" (letter) [Nature]. From the abstract; "Although previous research has suggested an association between the presence of moralizing gods and social complexity, the relationship between the two is disputed, and attempts to establish causality have been hampered by limitations in the availability of detailed global longitudinal data. To overcome these limitations, here we systematically coded records from 414 societies that span the past 10,000 years from 30 regions around the world, using 51 measures of social complexity and 4 measures of supernatural enforcement of morality. Our analyses not only confirm the association between moralizing gods and social complexity, but also reveal that moralizing gods follow—rather than precede—large increases in social complexity." • Somebody tell Mike Lee….
"Succeeding While Black" [Boston Review]. Michelle's book: "Yet despite all the optimism and goodwill that Obama embraces and inspires, I find Becoming troubling. Sticking to her strategy for success, Obama reassures her reader repeatedly that she is not a 'political' person. Instead Obama describes herself as a 'child of the mainstream' who 'never stopped reading People magazine or let go of my love for a good sitcom. . . . And to this day nothing pleases me more than the tidy triumph delivered by a home-makeover show.' But as someone who has been around politics since she was a child (her father was a precinct captain in the Democratic Party) and is now, domestically and internationally, one of the most well-known ambassadors of the United States, this denial is not modesty, it is misleading. Indeed, far from being apolitical, Obama is politically sophisticated, and any reader of her book should treat her that way."
"A New Male Birth Control Pill is Being Tested. Here's What to Know" [Time]. "The new pill, which works similarly to female contraception, passed initial safety tests and produced hormone responses consistent with effective birth control in 30 men, according to research presented by the Los Angeles Biomedical Research Institute and the University of Washington at the Endocrine Society's annual meeting. (The study has not yet been published in a peer-reviewed journal.)… ike female birth control pills, which typically build in a week of placebo pills to allow for menstruation, the male version would need to be taken every day to keep sperm counts low." • Oh.
News of the Wired
"Why the cult of the early riser still captivates" [Financial Times]. "To spare you having to read ['leadership guru' Robin Sharma's] 300-page manifesto, it boils down thus: club members must get up as soon as the alarm goes off at 4.45am before launching into 'The Victory Hour', which breaks down into 20 minutes of movement and hard physical exercise, 20 minutes of 'reflection', such as prayer, meditation or journal writing, followed by 20 minutes of 'growth', during which you might listen to 'a podcast about leadership' or 'consume an audiobook." • No. No I am not going to listen to "a podcast about leadership," and I would listen to an audiobook, not "consume" it. My "Victory Twenty Minutes" consists of rising, showering, packing my man-bag, and emerging into the daylight in quest of caffeine and a lap-top surface. I don't have time for this "growth" nonsense. Who reads this stuff?
Today we call them "memes":
A STEREOTYPE was originally a printing plate that could be used to duplicate text as many times as required. Because the type could be mass produced and circulated without change, in the 19th century the word came to be used of any well established, widely perpetuated image. pic.twitter.com/FkFG1RCQvW

— Haggard Hawks ?? (@HaggardHawks) March 27, 2019
Domino theory:
A domino can knock over another domino about 1.5x larger than itself. An awesome mechanical chain reaction https://t.co/T0rCujQP74 pic.twitter.com/jmowo1uFlX

— Massimo (@Rainmaker1973) March 27, 2019
* * *
Readers, feel free to contact me at lambert [UNDERSCORE] strether [DOT] corrente [AT] yahoo [DOT] com, with (a) links, and even better (b) sources I should curate regularly, (c) how to send me a check if you are allergic to PayPal, and (d) to find out how to send me images of plants. Vegetables are fine! Fungi are deemed to be honorary plants! If you want your handle to appear as a credit, please place it at the start of your mail in parentheses: (thus). Otherwise, I will anonymize by using your initials. See the previous Water Cooler (with plant) here. Today's plant (via):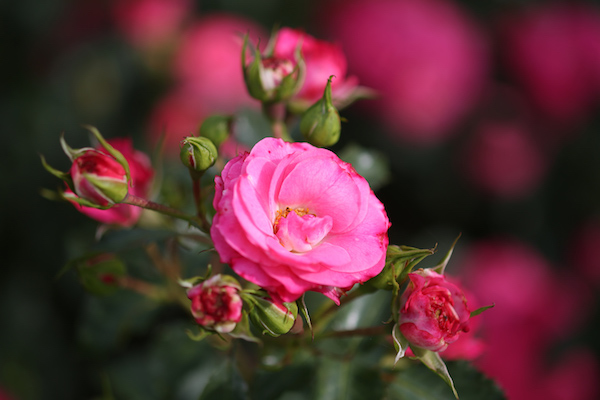 Rosa 'George Lawrence Price'
* * *
Readers: Water Cooler is a standalone entity not covered by the annual NC fundraiser. So do feel free to make a contribution today or any day. Here is why: Regular positive feedback both makes me feel good and lets me know I'm on the right track with coverage. When I get no donations for five or ten days I get worried. More tangibly, a constant trickle of small donations helps me with expenses, and I factor that trickle in when setting fundraising goals. So if you see something you especially appreciate, do feel free to click below! (The hat is temporarily defunct, so I slapped in some old code.)
Or Subscribe to make a monthly payment!