By Lambert Strether of Corrente
Dear Readers,
As you know, I'm one one of those INTJs, and I hate to impose on people by asking for things, especially money. (Those of you who are quick decision-makers may wish to click here and go right to the Donate button.) In fact, I had collected all the links to do a regular Water Cooler, because there's so much going on, so I was going write all that up, and then put a modest plea at the top. But then I looked at what I had done last year, and it turned out I had written an entire post, and because I am also a creature of habit, I decided to do again what has succeeded in the past. (Last year, 275 of you donated. This year, I would like to try for 300. And last year, we achieved the goal with one post over one day. Please don't make me ask for money twice in one year!)
Yves has described Water Cooler's mission as follows:
Besides providing general business news, Water Cooler files all the scamming and grifting and phishing under the heading of "The Bezzle," provides a contextual view of official statistics, maintains a watch on important indices, and follows shipping and supply chain news as a non-financial window into globalization. In politics, Water Cooler provides detailed, gritty coverage of important races…, of sausage-making on policy, especially health care, and tracks the continuing legitimacy crisis of the political class as a whole, especially out in the "flyover states." In addition, Water Cooler covers ecological news under climate change, and gives dispatches from the front of Class Warfare. That's a lot of material to cover and bullshit to wade through on a daily basis!
There have been, as of this writing, 1,146 Water Coolers. How has Water Cooler changed since Yves' original description in 2017, and today? That's a harder question to ask than you might think; Water Cooler is rather like a kaleidocope that I assemble each day: Water Cooler only takes two-and-half hours to write, but I'm constantly collecting bright shiny objects in the the form of links and quotes and tweets throughout the day; and as the deadline approaches, I dump the shiny bits into the kaleiscope, shake, add perspective, and the pattern of the day emerges.
That said, I think two general themes still emerge:
1) You should support Water Cooler to protect us all against increased levels of ambient bullshit
Ambient bullshit has, if anything, increased in the last year because of the continuing destruction of newsrooms, especially local newsrooms (thank you, Facebook, for the "pivot to video"MR SUBLIMINAL And let's not forget private equity! but also because of their partial replacement by social media. We also have Facebook to thank for the increase in bullshit, besides the comparable though not identical venue, Twitter. Twitter has, amazingly, replicated the function the blogosphere performed fifteen years ago, as a place where press, politicians, and particularly verbal and aggressive hio polloi duke out how to frame the issues, and what the issues should be. For those of you who don't hate the Twitter, I hope I've done a useful job of curating the best of it; Twitter is where much of the news breaks, these days.
It's beyond the scope of this post to develop a typology of ambient bullshit, but the following categories suggest themselves, all of which are regularly displayed, attacked, and dissected in Water Cooler:
The Bezzle: This section of Water Cooler began by noticing and calling out Silicon Valley bullshit: "Innovation," "disuption," etc. Notably, that was an early tell for fabulated valuations, as with Uber, and the "start-up" mania generally. Over the past year, I think the number of grossly outright frauds and impositions on the public has increased, with the general theme being regulatory arbitrage (Uber, AirBnB), regulatory capture (Boeing), and farcically poor IT (Boeing again). All this is covered on a daily basis.
Parties and Movements: As I wrote of the Politics section of Water Cooler last year:
The "gritty" character of the "Politics" coverage is there to help us all recognize the nature of political events in near-real time. ("Yes, they ran that same play in 2006.")
Seeing political events for what they are is especially important in a Presidential campaign year, as 2019 has — horridly, Christmas music in the stores in July-style-of-thing — become. (584 days is a long time in politics.) I can't think of another venue that provides [lambert blushes modestly] such detailed, insightful, and near-real-time coverage of center-to-left politics, where "left" includes DSA (and people who think DSA is too moderate), besides follwing movements and entities like the Women's March, Indivisible, Black Lives Matter, and the reparation movement. Of course, Water Cooler also keeps a watchful eye on Presidential candidates, including Biden, Booker, Buttigieg, Castro, Delaney, Gabbard, Gillibrand, Harris, Hickenlooper, Inslee, Klobuchar, O'Rourke, Sanders, Trump, Warren, Williamson, and Yang. Maybe when I understand Republicans better, I'll branch out.
The State: The State is, quite naturally, a major source of bullshit as well. (Here, though off topic, I would like to give myself a pat on the back for this December 2016 post, which was very early to flag the role of the intelligence agencies in what today we call RussiaGate, in their attempt to change the Constitutional order.
2) You should support Water Cooler to help us become even more knowledgeable and effective citizens and voters
Here are I think there are two ways that Water Cooler eases "the cost of citizenship"; the level of effort required to understand "finance, economics, politics, and power," and understanding, find the leverage points and work for change. The first is on policy; the second is with respect to systems.
On policy, Water Cooler leverages the expertise in health care policy we have developed over the years, with a view to guiding the system toward Medicare for All. (I view providing universal concrete material benefits through Medicare for All as — believe it or not — the easiest and best way to demonstrate that government can actually function (that it can be "here to help you," as any Social Security recipient knows, for example). One that demonstration is made, we can move on to larger things, particularly climate change, where we have greatly expanded coverage, under "The Biosphere," to include scientific research when it appears, policy proposals (e.g., the carbon tax or the Green New Deal), as well as the "wonders of nature," as miraculous adaptions occur, or new geological events are understood, and so on.
On systems, particularly political or administrative systems, we try — much as I love "horse race" coverage, and I truly do — to move beyond personalities and consider politcal figures as the representatives of factions, and especially to move beyond identity politics — where ascriptive identities like [x] gay [x] latin [x] woman are viewed not merely as virtuous in themselves, but as direct readouts for policy — to a more grounded politics where economics enters in the form of class interests (working out, for example, Thomas Frank's insights in Listen, Liberal). This is especially the case in the "Class Warfare" section, where we cover everything from strikes to densely argued theoretical articles from all over the political map (and, of course, "Guillotine Watch," for the utterly egregious).
3) You should support Water Cooler for random, serendipitous reasons
Heck, good things come in threes. Let's go for the synthesis! If you like light irony, cryptic allusions, gardening, dad jokes, bad tweets, new vocabulary words, The American Conservative jowl by cheeek with the New Left Review, and a range of musical taste that runs from Gilbert and Sullivan to the Clash, everything included in the present classification, and the lovely plants you all send in, then Water Cooler is the place for you! Please click the Donate button below and contribute what you can.
* * *
2018's Water Cooler fundraiser went very well, and we would like 2019's to go even better. What Yves wrote in 2017 is true this year as well:
To be crass, Lambert is making well under a living wage for his work on Water Cooler and that is not right. We need you to live up to what we hope is one of the widely-held values in the commentariat, that people should be paid fairly for their work, especially work that has already been done! That means digging into your wallets, whether a little or for a lot, and chipping in for Water Cooler.
Readers, I couldn't write Water Cooler without independent funding from you; there's no mainstream market for calling out bullshit. Your contributions tell me that you value the work I did for the past year — you are contributing for work I have already done, not for work I will do in the next year — and your contributions will determine how much work I can do in the next year. Please click the Donate button below and contribute what you can. Even if you can only make a small contribution, we'd still appreciate that, because we also have readers who can make much bigger donations. Again, our target is 300 donors, and we'd like to return to our regularly scheduled programming as soon as possible. I really enjoy writing Water Cooler, and I hope you enjoy reading it. Thank you!
* * *
To make the business relationships clear, Yves writes:
Water Cooler is a separate store front within Naked Capitalism to pay for [Lambert's] considerable effort on it over and above all the work he already does on the site… Yes, Lambert also gets paid out of the annual fundraiser, but that is for the considerable amount of work he does besides Water Cooler, such as DJing the site, helping manage the comments section, managing a lot of the tech issues, and helping in tooth-gnashing over other "business of running the business" matters.
* * *
PayPal has upgraded its donation button and screens, and the clumsy dropdowns have gone away, as have the difficulties with entering custom amounts. If you click the Donate button below:
the following new and improved screen will appear, which I have helpfully annotated: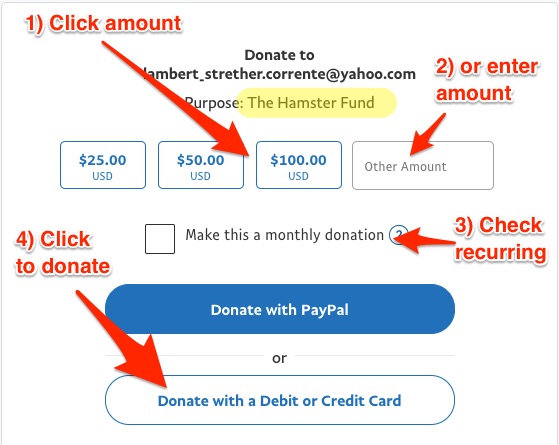 Step (1): Click the amount you wish to donate. ($100 is the top amount, because I was persuaded by a commenter not to underprice myself, something I have consistently done as a consultant and contractor, back to the days when I was mowing lawns for the neighbors as a teenager). Alternatively, you may choose to
Step (2): Enter an amount, whether larger than $100, smaller than $25, or somewhere in between. (This eliminates a difficulty small donors had; and if you can contribute only a small donation, that is absolutely fine; the amount is meaningful to you.)
Step (3): If you wish, make the donation recurring. (Helpful to me as a stress reducer, though of course you can cancel at any time).
Step (4): Donate. PayPal has naturally made itself the default, which is fine if you have a PayPal account, but you can also pay by credit card (the bottom button). Click that button and the usual sort of credit card page will appear.
If you hate PayPal, you can email me at lambert [UNDERSCORE] strether [DOT] corrente [AT] yahoo [DOT] com, and I will give you directions on how to send a check. Thank you!