Our mini-fundraiser for Water Cooler is on! As of this hour, 190 donors — our goal is 300 – have already invested to support Water Cooler, which provides economic, political, and zeitgeist coverage, to help us all keep our footing in today's torrent of propaganda and sheer bullsh*t. Independent funding is key to having an independent editorial point of view. Please join us and participate via Lambert's Water Cooler Tip Jar, which shows how to give via credit card, debit card, PayPal, or even a check in the US mail.
Yves here. American companies are still playing games to avoid reporting profits in the US. This does not mean that they are keeping cash offshore. One of the biggest companies using clever tax structuring to avoid minimize reported US profits, Apple, which managed to get a special deal with Ireland that allowed it to report corporate profits nowhere for tax purposes, kept the cash related to its Irish sub in banks in the US and managed it out of an internal hedge fund in Arizona.
The outcome the article laments is no surprise. The last time the US gave a tax holiday to allow multinationals to repatriate profits, they used them to pay execs bonuses and buy back stock, and then returned to business as usual.
By Alex Kimani, a veteran finance writer, investor, engineer and researcher for Divergente Research LLC and Safehaven.com. Originally published at SafeHaven
When the GOP tax bill was enacted in 2017, President Trump promised that the United States would become a magnet for new jobs as trillions of repatriated dollars found their way home. But apparently, many companies that have stashed trillions of dollars abroad did not get the memo.
Last year, corporate America brought back just $664.9 billion of offshore profits, or just 16.6 percent of the $4 trillion Trump said they would return as a result of the tax overhaul.
More worryingly, the languid pace of repatriation has gotten progressively weaker as the quarters roll on, with fourth quarter repatriations clocking in at just $85.9 billion compared to $579 billion recorded for the first three quarters according to Department of Commerce data.
Shifting Profits Overseas
You can trust wily American companies to figure out a way to keep as much of their profits as possible away from Uncle Sam's reach. The new tax law was primarily designed to use a carrot and stick approach to nudge companies to bring back their offshore profits to the country.
The carrot: corporate tax was lowered from 35 percent to a more manageable 21 percent.
The stick: the US government now taxes all profits accumulated overseas, regardless of where the money is held. Under the old rules, companies were allowed to defer US taxes until they repatriated the money.
Incredibly, Congress failed to anticipate a major loophole when it decided to charge US companies an even lower 10 percent corporate tax for profits earned abroad. Clearly, the lawmakers underestimated the labyrinthine workings of corporate tax for international companies. The tax avoidance guardrails put in place in the new territorial system don't seem to be working. The result: American companies have been shifting their profits to low-tax jurisdictions to lower their tax bills even further. You can clearly see that in the chart belowwhereby reinvested foreign earnings have suddenly shot up.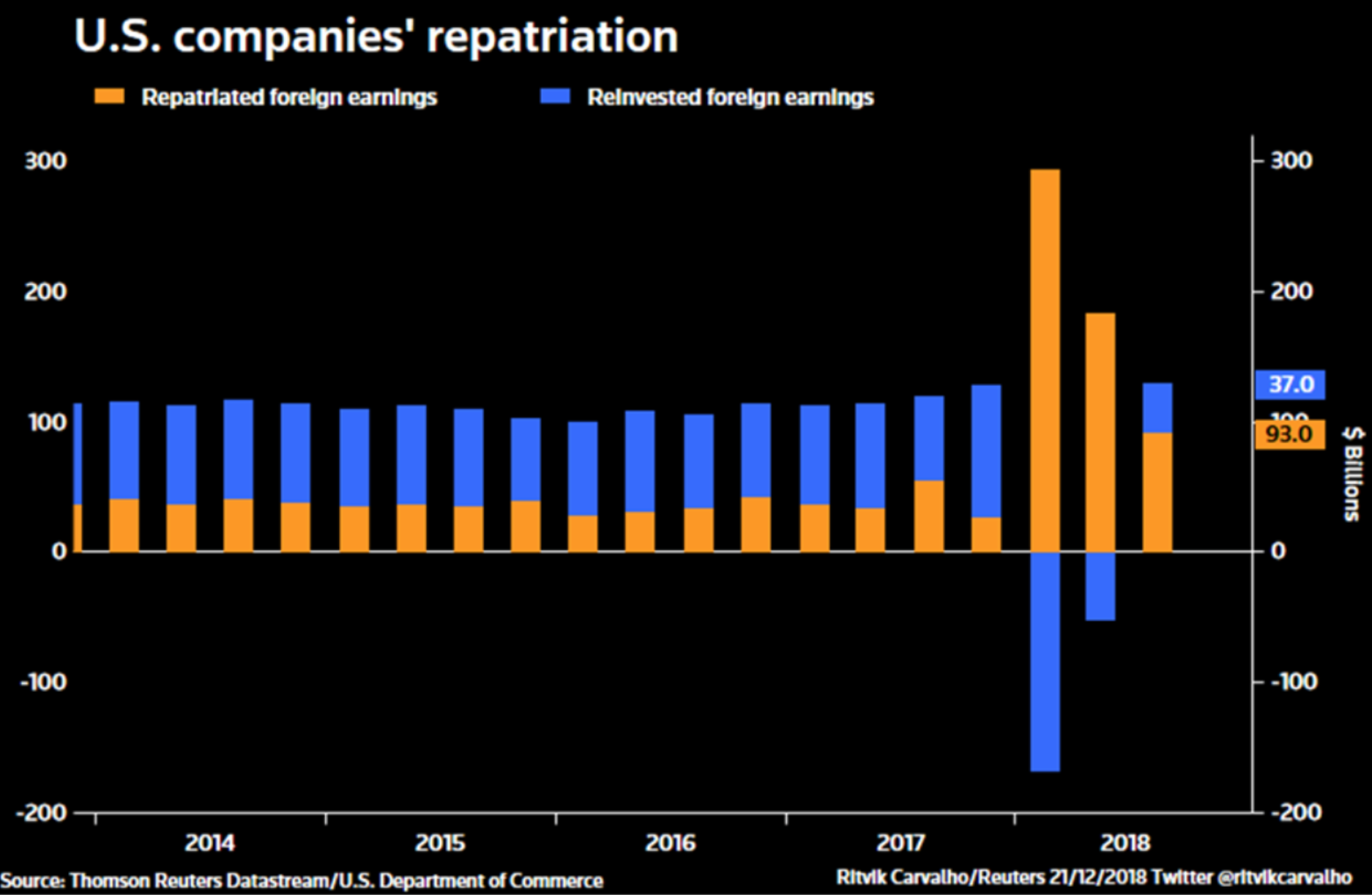 Source: Reuters
The second chart below shows that plenty of money has moved out of Ireland, a major host of European hubs of US tech and pharma companies such as Apple Inc. and Pfizer Inc. to low-tax territories like Cayman Islands and Luxembourg.

Source: Reuters
And companies are not apologetic about it either.
Last year, drugmaker Abbvie Inc. told shareholders that its tax rate would fall to just 9 percent from 22 percent previously due to a change in the territorial system. Abbvie happens to be a grandmaster when it comes to shielding its profits in tax havens, routinely reporting zero profits in the US despite most of its research facilities being based in the country.
Pfizer, Boston Scientific Corp. ,Microsoft Inc. Synopsis and Expedia Group are all pros at the game, too.
This bunch, however, have nothing on Amazon Inc. The ecommerce giant not only managed to pay zero tax on its massive $11.2 billion corporate income for 2018, but was even able to claim $129 million in rebates thanks to loopholes in the new tax law. Video streaming company, Netflix Inc., also managed to get away scot free despite posting a record profit of $858 million.
More Buybacks
Still, an extra $700 billion flowing into the economy in a year is hardly chicken feed. So, has the money being used to create more jobs as Trump hoped? Hardly. The evidence suggests that majority of that cash has simply found its way into buybacks with minimal discernible impact on investments. It's probably not a coincidence that the generous tax cut has been followed by record buybacks, with companies repurchasing more than a trillion dollars-worth of their own shares last year.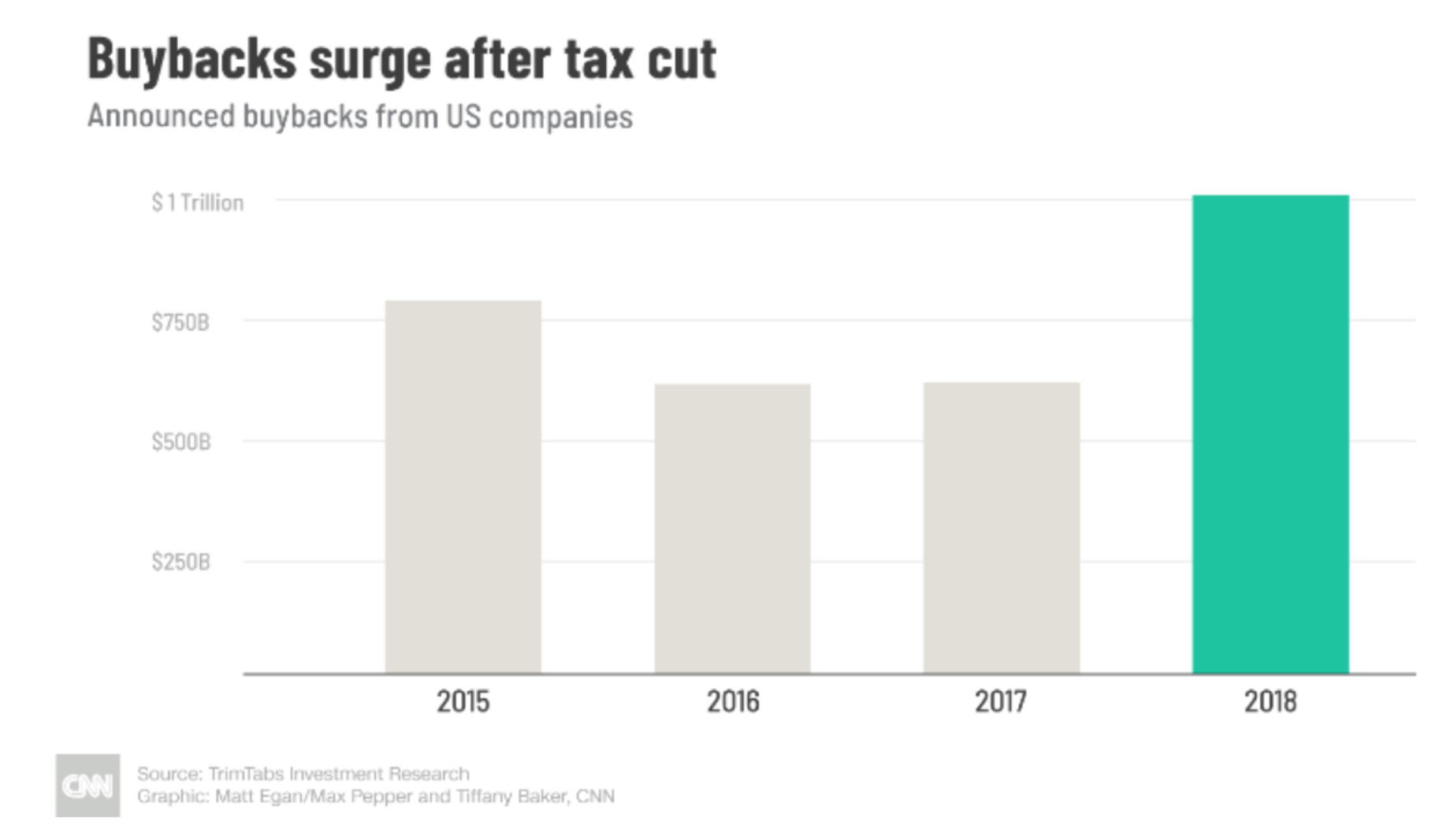 Source: CNN
Ironically, Congress now wants to tame the monster it has helped create by reining in on buybacks. But with fears that a market top could be near, the timing would be wrong since buybacks provide a large source of demand for shares.
Further, lawmakers probably don't have to worry too much about hefty buybacks if the current trajectory for repatriations is any indication.