By Lambert Strether of Corrente.
Trade
"China and US reach milestone agreement on road to trade peace" [South China Morning Post]. "China and the United States have agreed to set up enforcement offices to monitor implementation of trade pledges, making a breakthrough that paves the way for ending their tariff war. The enforcement mechanism and the establishment of the offices have been major hurdles to an accord between the two nations, with China concerned that checks on its policies by US officials would be an infringement of sovereignty. But the agreement will also allow China to monitor US behaviour, a reciprocal concession which analysts said showed determination from both sides to reach a trade deal."
"Incentivising Pro-Labour Reforms" (PDF) [Alice Evans, Center for International Development]. From the abstract: "This paper shows that countries may reduce labour repression if they perceive this as conducive to export growth. This paper traces what happened before, in the presence of, and then following the withdrawal of international economic incentives for pro-labour reforms in Vietnam and Bangladesh. The Government of Vietnam announced it would allow independent trade unions, in order to join the Trans-Pacific Partnership (TPP) and increase market access. Similarly, the Government of Bangladesh rescinded restrictions on unions, following global condemnation of Rana Plaza and fear of buyers leaving en masse. Both governments reduced labour repression to promote export growth. With high-level authorisation, Vietnamese and Bangladeshi activists and reformists became less fearful, and mobilised for substantive change. However, these economic incentives were short-lived: after Trump's election, the USA withdrew from TPP; buyers continued to source from Bangladesh, and squeezed prices (without requiring labour reforms). Both governments then amped up labour repression – notwithstanding private regulation, economic upgrading, industry growth, and mass strikes."
Politics
"But what is government itself, but the greatest of all reflections on human nature?" –James Madison, Federalist 51
"They had one weapon left and both knew it: treachery." –Frank Herbert, Dune
2020
Buttigieg (D)(1): "Midwest mayor gives Democrats hopes of taking the White House" [Financial Times]. "For some Democrats who are still reeling from Donald Trump's victorious presidential campaign, Mr Buttigieg represents their greatest hope of winning back the White House. His rapid rise from small-time mayor to presidential contender feels almost quixotic: the Indiana high school valedictorian turned Harvard graduate and Rhodes scholar who went from McKinsey to the navy reserves before being elected mayor of his home town at 29." • That's an intelligence officer in the naval reserves, in Afghanistan. Doing what? Gathering intel for the Afghan Navy?

Buttigieg (D)(2): "What Happened When Pete Buttigieg Tore Down Houses In Black And Latino South Bend" [Buzzfeed]. "'Part of the propaganda around this was, 'Oh, my gosh, these are absentee landlords and they don't care about their community. They don't live here, and we've got to get these properties out of the hands of these irresponsible people,'" [Regina Williams-Preston] said. 'But what I think was missing — the gap in understanding how these communities work — is that a lot of these homes were owned by people who inherited them from their family who passed away, and/or they were living in the home and it got so bad and they couldn't get any help for it, so they ended up having to move out.'" • So, the problem of preserving black wealth — if a house be considered wealth — intergenerationally. This is a very interesting article.

Harris (D)(1): "2020 roundup: Biden leads Harris in California" [NBC]. "Joe Biden leads the pack of Democratic White House hopefuls in a new Qunnipiac University poll of California Democrats that puts the former vice president ahead of Oakland-born California Sen. Kamala Harris. Biden wins over 26 percent of California Democrats and Democratic-leaning voters in the new poll, with Vermont Independent Sen. Bernie Sanders and Harris close behind at 18 and 17 percent respectively. " • One poll, more than a year away, but I suppose it affects the invisible primary…

Klobuchar (D): "Amy Klobuchar Also Used the Courts as a Threat Against Students Skipping School" [Jezebel]. • Amy Klobuchar is a cop.

Sanders (D)(1): "AIPAC Targets Bernie Sanders in Facebook Ads Focused on Key Democratic Primary States" [The Intercept]. "SEN. BERNIE SANDERS, who could be the first Jewish president of the United States two years from now, is currently the target of a pressure campaign on Facebook paid for by the American Israel Public Affairs Committee, the pro-Israel lobbying group known as AIPAC." • Wait, what? Isn't that election meddling by a foreign power?

Sanders (D)(2): "Bernie Sanders Leads the Democratic 2020 Pack, Now He's Coming for the Fox News Crowd" [Newsweek]. "While candidates such as Beto O'Rourke and Mayor Pete Buttigieg have enjoyed an increasing share of the spotlight, Sanders has gathered $28 million in funding (more than anyone else in the running), a majority female campaign staff of more than 100, and a solid list of policies to campaign on. In a new Morning Consult poll, Sanders topped the field of declared Democratic candidates and received the most support from female, Hispanic and black voters. Sanders also enjoyed the highest level of name recognition in the field at 99 percent. That's even higher than the yet-to-be-declared a candidate Joe Biden." • I hate to apply the dreaded label "front runner"…..

Sanders (D)(3): "Sanders unveils revamped 'Medicare for All' plan" [Politico]. "Sen. Bernie Sanders tried to stake his position as the leading progressive in a crowded presidential field on Wednesday by rolling out a new "Medicare for All" plan, in the process reopening divisions among Democrats after President Donald Trump united them with his renewed assault on Obamacare." • Quite a lead…
2019
Good question:

.@RepAOC @AOC to JPMorgan Chase CEO Jamie Dimon: "I represent kids that go to jail for jumping a turnstile because they can't afford a metro card. Do you think that more folks should have gone to jail for their role in a financial crisis that led to 7.8 million foreclosures…?" pic.twitter.com/3RFEdkCD6B

— CSPAN (@cspan) April 10, 2019

But "folks"? Do they say "folks" in Brooklyn?
RussiaGate
Something to look forward to:

Worth noting amid this talk of "spying": We're soon going to get a detailed review of the Russia probe FISA use. The IG look at the matter – which Barr said could be released in May/June – encompassed a "million-plus" docs & witnesses, same as review of Clinton case. pic.twitter.com/hBNM8MyH4F

— Matt Zapotosky (@mattzap) April 10, 2019

"The Folly of the Mueller Investigation" [Andrew McCarthy, National Review]. "After an exhaustive 22-month investigation, Mueller found that there was no criminal collusion between the Trump campaign and the Kremlin. This was already manifest to anyone who had closely followed the investigation — anyone, that is, who had taken note that no predicate crime was specified when Mueller was appointed (the special-counsel regulations require one), or anyone who had read the indictments Mueller filed, which demonstrated that Russia's operations predated Trump's entry into the 2016 campaign, that some of them were actually anti-Trump in nature, and that Russia (which is notoriously adept at espionage) neither needed nor sought American collaborators. "There is no allegation," observed Deputy Attorney General Rod Rosenstein in announcing charges against Russian operatives brought by the special counsel he had appointed, "that any American was a knowing participant in this illegal activity." Never was such an allegation even hinted at against the president, nor against any of his associates, a handful of whom were charged either with crimes that had nothing to do with the 2016 campaign or with process crimes (mostly lying to investigators) that were not committed until after the campaign was over." • On to Assange!

"Putin, on Mueller report: 'We said from the start it would find nothing'" [Reuters]. "Putin, speaking at an Arctic forum in the Russian city of St Petersburg, said on Friday that Mueller's findings were predictable for Moscow. 'That it (Mueller's inquiry) would finish in that way – like a mountain giving birth to a mouse as they say – was clear to us in advance. I've been telling you this all along.'"
Realignment and Legitimacy
"Key findings on Americans' views of race in 2019" [Pew Research Center]. "A majority of Americans say race relations are generally bad, and many think the country hasn't made enough progress toward racial equality. A new Pew Research Center report finds deep divides between white and black adults – and between Republicans and Democrats – in views about race relations and racial inequality in the United States…. Over half of U.S. adults (58%) say race relations are generally bad, and while this share is highest among blacks, majorities of whites and Hispanics also say this. Overall, 53% of the public says race relations are getting worse, while 17% say they are getting better and 30% say they're staying the same. Those who say race relations are generally bad are particularly pessimistic – 69% of that group says race relations are getting worse, compared with 30% of those who say race relations are generally good."

"Democrats are cozying up to corporate lobbyists despite purity pledges" [Politico]. "[There is a] trend of Democratic lawmakers who have promised to steer clear of corporate PACs allowing the same corporations' lobbyists to write them personal checks — and in some cases even host fundraisers for them….. Democrats on K Street are frustrated by what they view as arbitrary restrictions on which kinds of money lawmakers will take and which kinds are forbidden, according to interviews with a half-dozen Democratic lobbyists." • So why not bulldoze K Street and salt the earth?

"DC outside spending groups live and die by the megadonor" [Open Secrets]. "As super PACs and "dark money" nonprofits are often so reliant on contributions from a handful of wealthy individuals, a powerful group can lose influence quickly if a single donor decides to jump ship…. Most independent expenditure dollars go toward television ads. Even as digital ads become more popular, television ads still dominated the 2018 election." • RussiaRussiaRussia wasn't going to go on forever…

"Already Great" [Dissent]. "What's striking in retrospect is how easy it was to bring together the two questions that Schur was puzzling through in 2009—the Obama question of how to transcend the divide between red and blue America; the [David Foster] Wallace question of whether sincerity could survive in a culture of irony—and how quickly both answers led toward a particularly oblivious variety of liberalism…. what Parks and Rec did for most of its run [was assuage] the anxieties of managerial-class liberals by telling them everything would be okay if we trusted the grownups—the Obamas, the Clintons, the Knopes—to look out for us. "On some level," Schur said, "we have to present optimism." By the end of the show, optimism meant a future where public services are gutted, a handful of corporations dominate the economy, and all your favorite characters are doing just splendidly." • Since I haven't owned a TV for decades, I've never seen Parks and Rec. Should I hunt down some YouTube clips?

"Inside the (semi-)secret society for young Trump staffers" [Politico]. "The club, an informal gathering that provides solidarity and networking opportunities in a hostile Washington, is open to what it calls "the Team" — Trump administration appointees as well as alumni of the campaign, transition and inaugural committee. Members wear a lapel pin fashioned after the butt end of a .45 caliber bullet casing and attend semi-regular gatherings that often feature remarks by better-known Trump-world figures such as Brad Parscale, Corey Lewandowski and Scaramucci…. Its operations, described here for the first time, offer insight into how the anonymous foot soldiers of Trump's Washington have organized their social lives: discreetly, with an eye toward exclusivity and the aspirational lifestyle that has always marked the Trump brand. Not quite a secret society, the club nonetheless goes to some lengths to fly under the radar: Public hints of its existence are scarce, and the locations of its events are withheld from attendees until they RSVP, all the better to evade the notice of pesky activists and nosy reporters." • And a second story on the same day–

"How Rep. John Lewis Quashed A Progressive Revolt Over A Controversial IRS Measure" [HuffPo]. "Lewis, in his conversations with Ocasio-Cortez and Hill, stressed aspects of the bill that Democrats like. It contains language preventing the IRS from referring debts from some lower-income taxpayers to debt collectors. And it includes provisions to improve IRS customer service, address identity theft and authorize grants for nonprofits to provide free tax-filing assistance to low-income people….. Lewis also told them that similar legislation had passed the House three times previously and with Senate Republicans finally onboard with the measure, this was the opportunity to get it signed into law. Ocasio-Cortez said Wednesday that Lewis took seriously the concerns she and Hill raised, and she anticipates working with him on separate legislation addressing the electronic filing issue." • We'll see…

"City Council OKs $1.6 billion in subsidies for Lincoln Yards, 'The 78′" [Chicago Sun-Times]. "After a late-night reversal by Mayor-elect Lori Lightfoot, the City Council on Wednesday approved $1.6 billion in subsidies to unlock the development potential of two-mega developments: Lincoln Yards and 'The 78.' … Mayor Rahm Emanuel added: 'I know there's a lot of hard feelings. There's a lot of strong feelings — and that's OK. But at the end of the day, we've had that debate. It's time to move forward.'" • [chef's kiss].

DSA:

Our next Brake Light Clinic is Saturday, April 27th, 12PM – 5PM at Second City Church! 251 Verbeke Street, Harrisburg, PA 17102. Let us replace your brake lights for free! pic.twitter.com/BHloARzqP1

— Harrisburg DSA? (@harrisburg_dsa) April 10, 2019

"Next," note well.
Stats Watch
Jobless Claims, week of April 6, 2016: "Challenger's job-cut count is clearly trending higher and payroll growth has hit turbulence but jobless claims data are, in contrast, consistent with accelerating demand for labor" [Econoday]. "Seasonal adjustments surrounding Easter, shifting from early April last year to late April this year, can cloud economic data but these concerns aside, claims data are re-emerging as among the most positive indications for the U.S. outlook." And: "06 April 2019 Initial Unemployment Claims Moving Average At Lowest Level Since October 1969" [Econintersect]. "This marks 209 consecutive weeks of initial claims below 300,000, the longest streak since 1970."
Producer Price Index (Final Demand), March 2019: "Pulled higher by energy but also by finished goods, producer prices rose" more steeply than expected [Econoday]. "This report in balance is stronger than the run of this year's inflation readings underscored by the overall year-on-year rate of 2.2 percent, which is up 3 tenths from February and 1 tenth above Econoday's high estimate." And: "March 2019 Producer Price Final Demand Goods Biggest Increase Since May 2015" [Econintersect]. "The Producer Price Index moderated. Energy prices were the major reason for the increase. The PPI represents inflation pressure (or lack thereof) that migrates into consumer price."
Tech: "Nine Companies Are Shaping The Future Of Artificial Intelligence" [Forbes]. "Artificial intelligence efforts lack long-term vision, and it may be a structural problem. Worse yet, the direction of AI — and future of corporate decision-making — is now concentrated in a relatively small handful of global companies…. AI is being shaped by nine companies, all in the US or China: Alibaba, Amazon, Apple, Baidu, Facebook, Google, IBM, Microsoft, and Tencent." • "Thou shalt not make a machine in the likeness of a human mind."
Mr. Market: "Deadly 'Super Fungus' Fuels Surge in Chinese Drugmakers' Shares" [Bloomberg]. "'Super fungus is a hot topic in China now. No medicine is able to cure the super fungus, but still that's enough to be a trigger for some hot-money flow into the pharma sector,' Zhang Gang, Shanghai-based strategist at Central China Securities Co., said by phone."
Tech: "The big tech companies are smothering small start-ups" [Financial Times (DL)]. "There are no simple answers, but one option is to categorise the digital platforms as "essential networks", and impose the common carriage rules that have been applied to every essential network in US history (railways, utilities and so on). Those rules require networks to carry goods and information on a first-come, first-served basis, and to charge everyone the same price for the same service. They also prohibit networks from competing with businesses that rely on them to get to market." • If your business depends on a platform…
Tech: "Next major macOS version will include standalone Music, Podcasts, and TV apps, Books app gets major redesign" [9to5Mac]. Heck, who needs a working keyboard for that? More: "With the standalone versions of Apple's media apps coming to the Mac, it's natural to ask: what about iTunes in macOS 10.15? According to sources, the next major version of macOS will still include the iTunes app. Since Apple doesn't have a new solution for manually syncing devices such as old iPods and iPhones with the Mac, it's natural to keep iTunes around a little longer." • Gad. iTunes is one of the ugliest and most stupid programs I've ever attempted to use, even uglier and more stupid than — remember this? — Font/DA Mover. And they can't fix it.
The Biosphere
"Stanford energy and environment experts examine strengths and weaknesses of the Green New Deal" (symposium) [Stanford News]. Mark Jacobson, director of Stanford's Atmosphere/Energy Program: "Rather than increasing costs, the GND reduces costs substantially. The upfront capital cost of a 100 percent wind-water-solar electric power generation system is about $9.5 trillion. However, this cost is spread out over many years and will pay itself off over time through electricity sales. Further, a wind-water-solar system uses half the energy as a fossil fuel system and also eliminates health and climate costs due to fossil fuels. As such, U.S. consumers will pay only $1 trillion per year in energy costs with the GND, whereas under a fossil fuel system, they will pay $2 trillion per year in energy costs and $600 billion per year in air pollution health costs, and will incur $3.3 trillion per year in global climate costs due to U.S. emissions, for a total economic cost of $5.9 trillion per year. Thus a wind-water-solar system costs society one-sixth that of a fossil fuel system."
"The Science to Climate Action Network: A New Approach to Urgent Local Needs" [Weather Underground]. "Rather than replace the legally mandated National Climate Assessments, four of which have been released since 2000, the group hopes to see these reports leveraged and built on through an interactive, locally tailored approach. The goal is to draw on constituent feedback, participation, and knowledge in order to develop guidance on climate adaptation and greenhouse gas reduction that's handcrafted for communities…. Flooding is a textbook example of a risk that's often heightened by climate change, and one that can be both alleviated and exacerbated by actions at the local scale. In Hamburg, Iowa, for example, community members joined the U.S. Corps of Engineers in 2001 to hastily enhance a levee that was holding back the Missouri River during a massive flood. Although the enhancement was functional, it didn't meet U.S. Corps of Engineers guidelines for permanent levees, so it was removed. In March, while awaiting a replacement, much of the town was inundated by record flooding along the Missouri." • Hmm.
"You're going to cut down on plastic and it's going to get weird" [Grist]. "I solicited a bunch of tips from my Grist colleagues that they use in real life to limit or reuse single-use plastic in their lives — and how they've been ridiculed for exactly those practices." For example: "I use soda cans, plastic containers, and aluminum cans as planters!" Readers?
"Ocean uproar: saving marine life from a barrage of noise" [Nature]. "Humanity has greatly added to the ocean soundscape. There is no global map of ocean noise, but researchers agree that ship traffic approximately doubled between 1950 and 2000, boosting sound contributions by about 3 decibels per decade. That translates to a doubling of noise intensity every 10 years (decibels are calculated on a logarithmic scale). Sound travels differently through air from through water, making it hard to compare the two environments. But the blast of a seismic air gun used to map the sea floor for oil and gas can be as loud as a rocket launch or an underwater dynamite explosion; ship engines and oil drilling can reach the roar of a rock concert (see 'A sea of sound'). Some of these sounds are audible for hundreds of kilometres."
"Satellite Images Seen as Helpful Gauge of War-Torn Economies" [Bloomberg]. Jiaxiong Yao, an economist at the IMF: "'In regions where conflicts increased, nights became darker. In regions where conflicts subsided, nights became brighter.'… The findings add to the growing pile of research on alternative data sources, including other publications probing what signals night lights offer economists." • Apparently, the economic harm caused by conflict is underestimated by official measures, as is the subsequent rebound. Yao: "It is likely that periods of economic disruption made it difficult to track the economy accurately and the emergence of the informal economy in subsequent restoration did not enter national accounts."
Big Brother Is Watching You Watch
Busybodies:
Looks like @feraljokes is in fine company! If you remember, a few years ago, he got a visit from homeland security cause of a joke.

Well, in 1960, Groucho Marx got on the FBI radar for his subversive activity of mispronouncing "United States" as "United Snakes" pic.twitter.com/CK4w0e4Kot

— Historic.ly (@historic_ly) April 9, 2019
Guillotine Watch
"Tourists behaving badly are a threat to global tourism" [Asian Correspondent]. "Tourism brings many benefits to communities around the world. But tourism hotspots are feeling the strain as tourist numbers increase. Locals resent being crowded out of restaurants and parks. They resent paying inflated prices. Most of all they resent tourists behaving badly. The increasing prevalance of the badly behaved tourist, either in reality or simply as cultural meme, presents a serious issue for the tourism industry. In cities at tourism's bleeding edge, such as Venice, resentment has boiled over into anti-tourism protests. The problem now, as other tourism scholars have pointed out, is that tourism is promoted as an activity of pure hedonism. Rather than being encouraged to see themselves as global citizens with both rights and responsibilities, tourists are sold an illusion of unlimited indulgence. They are positioned as consumers, with special privileges. Is it any wonder that encourages indulgent behaviour and an attitude of entitlement?" • Rather like the people destroying California poppies to take selfies…
Class Warfare
"'Chemical burns': Delta flight attendants say new uniforms cause rashes" [Guardian]. "Delta flight attendants are complaining that a new set of uniforms introduced by the airline are still causing skin rashes and worse almost a year after the company introduced them…. On a private Facebook group used by over 2,000 flight attendants viewed by the Guardian, hundreds of flight attendants have complained of health problems as a result of wearing the new uniforms…. While no definitive scientific analysis has determined what is causing the rashes, many doctors have told flight attendants that formaldehyde and Teflon chemical finishing, put on the uniforms to make them stain resistant and durable, are a likely culprit." • Formaldehyde? Teflon? On clothing? Huh?
"Stone Circles Ringed House That May Have Belonged to the Neolithic 'One Percent'" [Live Science]. "The massive and ancient stone circles around Stonehenge and Avebury in southern England may have all started with the commemoration of a single Neolithic house that probably belonged to an elite family, archaeologists now say…. Using ground-penetrating radar, the researchers found that the monumental stone circles of Avebury, about 25 miles (40 kilometers) north of Stonehenge, were centered on an early Neolithic habitation, with the concentric stone circles and large earthen embankment being built around it probably centuries later."
News of the Wired
"Are Trigger Warnings Actually Helpful?: [Scientific American]. "In the most recent and comprehensive study so far on the topic, Mevagh Sanson and colleagues systematically and empirically examined the consequences of trigger warnings…. They found that people who saw trigger warnings judged the material to be just as negative, felt similarly frequently intrusive thoughts and avoidance, and understood subsequent material just as much as those who did not see trigger warnings. Whatever positive effects of trigger warnings that were found were 'so small as to lack practical significance."" n = 1394.
"The best $20,000 I ever spent: Starbucks every day of my adult life" [Vox]. "Starbucks is the faintly irresponsible thing that makes me responsible, the routine that props up all my favorite delusions: that I can, and do, live a life of sustainable luxury; that I can predict the future, at least a little bit. At least I know I'll go to Starbucks tomorrow."
"There's No Substitute for Print" [The Atlantic]. "I shrugged on my bathrobe and stepped into my slippers and felt the cold encircle my ankles when I opened the front door," to pick up the newspaper. I remember this feeling. It is, in fact, a great feeling!
* * *
Readers, feel free to contact me at lambert [UNDERSCORE] strether [DOT] corrente [AT] yahoo [DOT] com, with (a) links, and even better (b) sources I should curate regularly, (c) how to send me a check if you are allergic to PayPal, and (d) to find out how to send me images of plants. Vegetables are fine! Fungi are deemed to be honorary plants! If you want your handle to appear as a credit, please place it at the start of your mail in parentheses: (thus). Otherwise, I will anonymize by using your initials. See the previous Water Cooler (with plant) here. Today's plant (notabanker):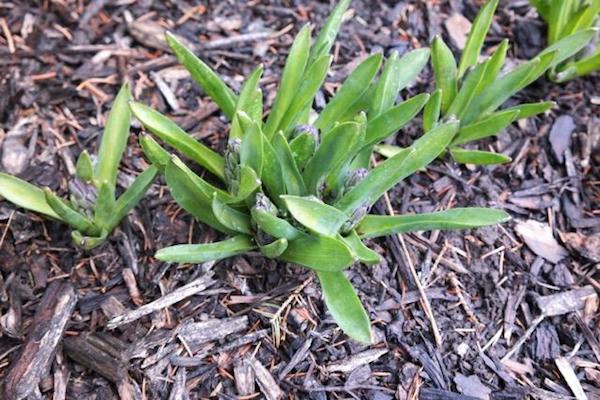 notabanker writes: "Purple hyacinth getting ready to burst. One of the few early spring bulbs the deer won't eat."
* * *
Readers: Water Cooler is a standalone entity not covered by the annual NC fundraiser. So do feel free to make a contribution today or any day. Here is why: Regular positive feedback both makes me feel good and lets me know I'm on the right track with coverage. When I get no donations for five or ten days I get worried. More tangibly, a constant trickle of small donations helps me with expenses, and I factor in that trickle when setting fundraising goals. So if you see something you especially appreciate, do feel free to click this donate button:
Here is the screen that will appear, which I have helpfully annotated. Because it's new and improved, I'll leave it up for a few days: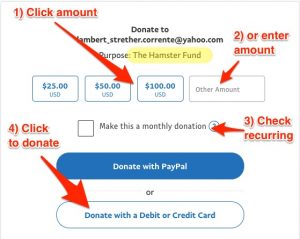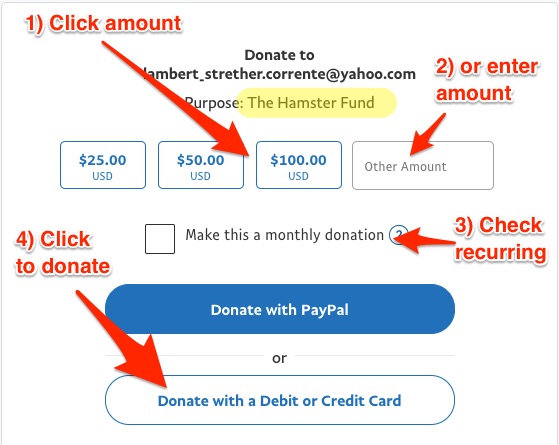 If you hate PayPal, you can email me at lambert [UNDERSCORE] strether [DOT] corrente [AT] yahoo [DOT] com, and I will give you directions on how to send a check. Thank you!