By Lambert Strether of Corrente.
Politics
"But what is government itself, but the greatest of all reflections on human nature?" –James Madison, Federalist 51
"They had one weapon left and both knew it: treachery." –Frank Herbert, Dune
2020
Gravel (D)(1):

The Democratic Party must be the party of righteous fury at what our country has become.

No more palling around with war criminal George W. Bush.

No more dogwhistles about "predators on our streets."

No more wars of choice. No more needless bloodshed.https://t.co/R8N3Dr0Ge3

— Mike Gravel (@MikeGravel) April 10, 2019

Gravel (D)(2): "Why I Gave a Buck to Mike Gravel" [Nathan J. Robinson, Current Affairs]. "Mike Gravel is running for president, thanks to a group of Twitter-savvy teenagers—David Oks, Henry Williams, and Elijah Emery—who somehow convinced him to run… the Mike Gravel Twitter account has a consistent message: The United States has failed to hold itself accountable for crimes committed around the world, its bloated military is a global empire, and a serious presidential candidate must be willing to call out the bipartisan embrace of the defense establishment, the construction of terrifying new autonomous drone technology, and the embrace of human rights abusers like Saudi Arabia and Israel. When Current Affairs talked to Oks and Williams about their campaign, they did not joke around at all. The Democratic Party, they said, needed an antiwar voice. Someone needs to be pushing for a foreign policy agenda that moves toward peace with all nations. Bernie Sanders, they said, had been a 'fairweather friend' to the antiwar movement, and has shamefully remained silent on serious issues of justice, such as the imprisonment of Chelsea Manning. If Mike Gravel could get on the debate stage with the other candidates, he could do what he did in 2008, and confront them directly." • "Needed an antiwar voice" probably grates on Gabbard supporters, but surely two is better than one?

Harris (D): "Kamala Harris Takes Her Shot" [The Atlantic]. Another embed reports. Note that the magazine publication timeline means that this was written some time ago (just after the "pot-smoking joy seeker" eruption). "By harris's side, on the road, is not her husband, Doug Emhoff, a Los Angeles lawyer she married in 2014, but her sister, Maya, who was a top policy adviser for Hillary Clinton's 2016 presidential campaign and, before that, the vice president for democracy, rights, and justice at the Ford Foundation and the executive director of the ACLU of Northern California." • So.

Sanders (D)(1): "Bernie Sanders, Now a Millionaire, Pledges to Release Tax Returns by Monday" [New York Times]. "Mr. Sanders — whose trademark on the campaign trail is his attacks on the 'millionaires' and the 'billionaires' — had consistently ranked among the least wealthy members of the Senate. But since his 2016 run for the presidency, Mr. Sanders's financial fortunes have improved. His 2017 Senate financial disclosure forms show he earned roughly $1.06 million that year, more than $885,000 from book royalties. His most recent book, 'Where We Go From Here,' was published last year." • Highly inefficient, when you can make a full quarter of that amount in a couple of hours speaking at Goldman.

Sanders (D)(2): Point, from the New Yorker:

Bernie's "It's totally fine that I'm a millionaire" underscores the problem with the whole "it's wrong for billionaires to exist" position. Because if it's wrong for billionaires to exist, why isn't it wrong for millionaires to exist? No one needs a million dollars to live well. https://t.co/bRwwWpCWJZ

— James Surowiecki (@JamesSurowiecki) April 9, 2019

Sanders (D)(3): Counterpoint, not from the New Yorker:

If you think the former New Yorker finance guy doesn't know the difference between having a million dollars and having a billion dollars, I have some exciting investment opportunities I'd like to share with you

— Connor Wroe Southard (@ConnorSouthard) April 10, 2019

And:

The inevitable "Bernie is rich!" Twitter frenzy is going to basically just be that Matt Bors cartoon… pic.twitter.com/YlV6XIYFOr

— Walker Bragman (@WalkerBragman) April 10, 2019

Presumably Sanders' new staff will deal with this…

Trump (R): "Trump calls Mueller probe an 'attempted coup'" [Politico]. "'This was an attempted coup,' [Trump] continued. 'This was an attempted takedown of a president, and we beat them.'" • It remains to be seen whether Trump will bluster, or start declassifying documents that will prove his case. If the latter, pass the popcorn.

Warren (D): "Elizabeth Warren releases 2018 tax return, revealing $900,000 in income" [Los Angeles Times]. "Warren and her husband, Bruce Mann, jointly reported a gross income of about $900,000 on their return, with Warren reporting income of $176,280 for her job as senator and about $325,000 from her writing career. Warren has penned 11 books, including several as a law professor before she entered politics. Mann, a professor at Harvard Law School, earned more than $400,000."

Yang (D): "Longshot 2020 presidential candidate Andrew Yang is using an online meme army to raise millions" [Business Insider]. "But thanks to appearances on the Joe Rogan Experience and the Breakfast Club— one a hugely popular podcast and the other a highly-rated radio show, both with diverse audiences — the political newcomer gained traction and a large following across social media, seemingly overnight. And since then, Yang has made multiple appearances on Fox News and on conservative commentator Ben Shapiro's podcast — neither of which are usually frequented by Democratic presidential contenders. Those appearances helped expose Yang to audiences who might not have otherwise heard of him, namely, the so-called "meme masters" of Reddit, 4Chan, and other forums… This unexpected windfall of contributions driven almost entirely by the Internet, which no other 2020 candidate has experienced, helped Yang secure the required 65,000 individual campaign donations to guarantee him a spot on the stage for the first Democratic primary debates in June in Miami."

IA: "How Iowa floods have become a 2020 presidential campaign issue" [Des Moines Register]. "'At the end of the day, I think we're going to pass a disaster relief bill that will protect Iowa, Nebraska, Puerto Rico and every other community that needs protecting,' Sanders said in an interview with the Des Moines Register…. Sanders said Puerto Ricans deserve aid just as much as any other Americans suffering from disasters. 'They are American citizens — you know, a lot of people don't know that,' Sanders said. 'They have got to be treated with respect in the same exact way we treat the people of Vermont and the people of Iowa.'" • Not a lot of pandering there, eh?
Realignment and Legitimacy
"Trump has one big advantage heading into 2020. Here's a progressive response to it." [WaPo]. "A new national poll finds that 58 percent of Americans approve of Trump's economic performance, and one Democratic pollster is warning of 'serious jeopardy' for the Democratic Party if it fails to articulate a 'bold, compelling economic vision.'" • And coincidentally, there's a Democrat think tank with just such a vision: The Roosevelt Institute. "At the core of [the Institute's] blueprint is a fundamental idea: 'Our economy rewards those who have power.'" • At least on this column, the unasked question is: What is the source of power?

"Dem activists eye a 2020 focus beyond 'getting rid of Trump'" [Associated Press]. "Leaders of a prominent liberal group are urging Democratic presidential contenders who are pitching massive policy changes to also focus on more fundamental 'structural reforms' to American democracy. In a book set for publication this fall, Ezra Levin and Leah Greenberg — who founded the activist group Indivisible in 2017 — plan to outline a vision for the future of liberal organizing that goes beyond simply fighting President Donald Trump. In their book 'We Are Indivisible,' they aim to zero in on issues such as the overhaul of Senate rules, which they see as necessary to achieve the sort of big policy shifts that Democratic presidential candidates are campaigning on." • Odd, "structural reforms" that have nothing to do with capital, class power, or heck, even identity politics.

"Meeting Needs" [n+1 (DB)]. "The Philly Childcare Collective (PCC) is a group of activists that provide free childcare to racial and economic justice groups in Philadelphia. Their system is similar to that of other radical childcare collectives: coordinators offer free childcare trainings for those who want to support movements throughout the city by caring for kids during meetings, trainings and events… Social reproduction is often forgotten along with the people who perform it. This forgetting has serious political consequences… Political meetings rely upon social reproductive labor: washing dishes, caring for children, feeding participants. But the meeting itself also presents a reproductive challenge: how do participants sit, in what sequence do they speak, how do they address one another? The stakes of these questions are high, and can ultimately sustain or destroy us. These sorts of high stakes are why Silvia Federici lifts up movements that "place at the center of their political project the restructuring of reproduction as the crucial terrain for the transformation of social relations." • Such efforts are, to me, a better use for DSA resources than electoral politics. Go out and serve the workers! (I'd also add that running a meeting that respects attendees time, as well as their views, is a skill, and well worth learning (and being taught). That's why I'm a Roberts Rules advocate, instead of whatever it was Occupy did. Of course, people's experience on the ground may differ).

"The Rightwing of the DSA Left: A Quick Look at r/stupidpol" [Medium]. "The About section features a quote from Adolph Reed, a political scientist who most recently gained a spotlight for his critiques of Ta-Nehisi Coates reparations arguments circa 2015 as well as critiques of college campus 'call out culture' and identity politics. Much of his takes come across [to whom?] as blatantly class reductionist." • I don't follow Reddit at all, so I have no idea where the irony in all this lies. But if you're going to throw words like "Strasserite" around, let alone "blatantly [hoo boy] class reductionist" — then it might make sense to do a little research on Reed, who's a political scientist at the University of Pennsylvania, and was an advisor to the 2016 Sanders campaign. I dunno what "recently gained a spotlight" even means, but if you've done your homework, you know that Reed made his call on Obama quite early: In 1996. So Reed's worth paying attention to, agree or disagree (see e.g., here, here, and here). Reed's [x] black, too, if identity politics matters to you.

"Congress Is About to Ban the Government From Offering Free Online Tax Filing. Thank TurboTax." [Pro Publica]. "Just in time for Tax Day, the for-profit tax preparation industry is about to realize one of its long-sought goals. Congressional Democrats and Republicans are moving to permanently bar the IRS from creating a free electronic tax filing system…. Last week, the House Ways and Means Committee, led by Rep. Richard Neal, D-Mass., passed the Taxpayer First Act, a wide-ranging bill making several administrative changes to the IRS that is sponsored by Reps. John Lewis, D-Ga., and Mike Kelly, R-Pa. In one of its provisions, the bill makes it illegal for the IRS to create its own online system of tax filing." • Thanks, Democrats!

"Nancy Pelosi and Cheri Bustos Take Sudden Swipes at AOC" [The Intercept]. "Despite the dismissive approach to social media from Pelosi and Bustos, Ocasio-Cortez has been able to circumvent traditional political gatekeepers partly because of her online fluency. And she has used the platform to benefit other Democrats. Following the rebuke to the House campaign arm's policy, Ocasio-Cortez raised $50,000 each for three other lawmakers — Reps. Jahana Hayes, D-Conn., Katie Hill, D-Calif., and Mike Levin, D-Calif. — in a matter of hours." • Paying them back in their own coin.
Stats Watch
Consumer Price Index, March 2019: "Higher energy costs drove the consumer price index [higher-than-expected] but when excluding energy and also food, core prices inched up [lower-than-expected] [Econoday]. "Economic data may be slowing in general but inflation remains stable; and though the core may be moderating slightly, overall inflation is rising slightly. For the Federal Reserve, annual CPI rates run several tenths below the PCE price indexes which points to slightly softer-than-target inflation. Nevertheless the direction, which is flat, is favorable."
Atlanta Fed Business Inflation Expectations, April 2019: "Inflation expectations at the business level are unchanged for a third straight month" [Econoday]. "This morning's consumer price report, though mixed, was flat on net which does hint at stable though subdued inflation expectations in the months ahead."
Banks: "Singapore Bans Former HSBC and UOB Bankers for Fraud and Dishonesty" [Bloomberg]. • Shocking. And, oddly, this hasn't happened to Chinese banks (though to be fair, I'm not sure if mainland banks do much international business).\
The Bezzle: "China wants to ban bitcoin mining" [Reuters]. "China's state planner wants to eliminate bitcoin mining in the country, according to a draft list of industrial activities the agency is seeking to stop in a sign of growing government pressure on the cryptocurrency sector…. State-owned newspaper Securities Times said on Tuesday the draft list 'distinctly reflects the attitude of the country's industrial policy; toward the cryptocurrency industry." • A draft, however.
The Bezzle: "Tesla Opens a New Quarter With Another Round of Sales Staff Cuts" [Bloomberg]. "The cuts made last week affected teams known internally as "inside sales," which were tasked with reaching out to potential customers and inviting them to test drive cars, the people said. After the retail strategy revamp, these employees were reassigned to tasks such as taking inbound calls, helping with deliveries and even washing and detailing vehicles, the people said."
The Bezzle: "Revealed: the cash cost of WeWork's global expansion" [FT Alphaville]. "Yet WeWork is not a exactly an infant business either. It is now the largest corporate office tenant in London and New York. And it carries a market valuation of $47bn, 16 times rival Regus, which, according to S&P Capital IQ data, generated $3.3bn of revenues, and $493m of ebitda, in 2018. So at some point, to justify the faith of its investors, it will need to turn off the investment taps and mature." • "Failure to launch," it seems, is not merely a slur directed at millennials; it's the reality for many VC-backed business, including not just WeWork, but Uber, etc.
The Bezzle: Lol:
The Tesla Full Self-Driving Computer now in production is at about 5% compute load for these tasks or 10% with full fail-over redundancy https://t.co/fTseO2JyVp

— Elon Musk (@elonmusk) April 8, 2019
Love the way Musk is encouraging drivers to take their hands off the wheel…
The Bezzle: "Facebook is hiring someone to tell politicians it's not a monopoly" [Quartz]. "Facebook, Google, and Amazon control 80% of the US online advertising market with virtually no regulation, in addition to mediating much of the world's communications and commerce." • The new hire has their lobbying work cut out for them, ka-ching, ka-ching.
Tech: "The Design of Apple's Credit Card" [Arun Venkatesan]. "The essence of the design of Apple Card is reduction. Some high-end credit cards move many markings to the back of the card. Apple has gone one step further. The usually present card number, expiration date, security code (CSC or CVV) and signature blank are completely gone…. This level of obsession with the details is nearly expected from Apple. It's an obsession that requires taste, wealth, expertise and an extensive supply chain, a combination unique to Apple." • I wouldn't have thought there's be a genre for credit card porn; but there is! There is! Also, as the writer hints at, the Apple credit card is really what Apple would like all its "high touch" products to become: Thin, titanium, no user input, no ports, extracting rent with every use, and revocable by Apple at any time for any reason.
Tech: "A Brief History of Porn on the Internet" [Wired]. "John Tierney, a fellow at Columbia University who studied the cultural impact of technology, traced what he called the 'erotic technological impulse' back at least 27,000 years—among the first clay-fired figures uncovered from that time were women with large breasts and behinds. 'Sometimes the erotic has been a force driving technological innovation,' Tierney wrote in The New York Times in 1994, 'virtually always, from Stone Age sculpture to computer bulletin boards, it has been one of the first uses for a new medium.'" • Given the puritan and Bowdlerizing tendencies at Google, Apple, and Amazon, I wonder if there is a new medium to which porn is gravitating.
Honey for the Bears: "The Global Economy: A Delicate Moment" [International Monetary Fund]. "A year ago, economic activity was accelerating in almost all regions of the world. One year later, much has changed. The escalation of US–China trade tensions, needed credit tightening in China, macroeconomic stress in Argentina and Turkey, disruptions to the auto sector in Germany, and financial tightening alongside the normalization of monetary policy in the larger advanced economies have all contributed to a significantly weakened global expansion, especially in the second half of 2018…. After the weak start, growth is projected to pick up in the second half of 2019. This pickup is supported by significant monetary policy accommodation by major economies, made possible by the absence of inflationary pressures despite growing at near potential. The US Federal Reserve, the European Central Bank, the Bank of Japan, and the Bank of England have all shifted to a more accommodative stance. China has ramped up its fiscal and monetary stimulus to counter the negative effect of trade tariffs. Furthermore, the outlook for US–China trade tensions has improved as the prospects of a trade agreement take shape."
The Biosphere
"The trouble with the urban farming 'revolution'" [Anthropocene Magazine] (original). "The rise of commercial controlled-environment agriculture (CEA)–comprised of large scale rooftop farms, vertical, and indoor farms–is a bid to re-envision cities as places where we could produce food more sustainably in the future…. the predominantly grown foods–such as lettuce–aren't of great nutritional value for the urban population, especially those threatened by food insecurity. Most produce from CEAs is sold at a premium, something that partly reflects the cost of the real estate used to grow the food. Consequently, that produce is typically grown for high-end food stores and restaurants, meaning it's unlikely to reach low-income urban populations who need it most. The researchers also think it's unlikely that CEA–which currently occupies just 3.09 acres in New York City–could expand into the roughly 1,864 acres they estimate is still suitable for urban farming in New York City."
"Supermarkets in Thailand and Vietnam Swap Plastic Packaging for Banana Leaves" [EcoWatch]. "Thailand and Vietnam are two of the five countries that account for 60 percent of the plastic in the world's oceans, according to a 2015 study. Now, Vice reported Friday that supermarkets in both countries are going back to nature to find an alternative to plastic bags: banana leaves." • Not merely back to nature, back to past practice.
"Toni Kuraga documents the experiences of workers in Almeria's 'Sea of Plastic'" (photos) [It's Nice That]. "Following a previous project in the Adra region of Almería, which follows the expeditions of local fisherman, Toni decided he wanted to tackle a different kind of sea in his subject matter – 'a sea that cannot be found on any nautical chart; a plastic ocean that covers the whole territory of Almería.' He is, of course, referring to the 35,000 hectares of greenhouses which the area is famous for. Visible from space, the intensive agriculture of Almería is the largest of its kind. Reportedly producing over half of Europe's fruit and vegetables, food exports from the greenhouses were valued at €1.4 billion in 2012. With such a wealth of worrying yet impressive figures, it's easy to overlook the people behind them. Not those at the top of the chain, reaping the rewards of this gigantic harvest, but the ones at the bottom, toiling in the fields for a pittance. Working in temperatures of up to 45-degrees, the labourers that keep the farms running are paid as little as £30 a day." • The photographs are interesting, but this gives me pause: "In an attempt to counter their suspicions, Toni spends much of his time trying to build a relationship with the workers, eventually finding a few that are willing to be involved." • It's not possible to exploit a thing, but it is possible to exploit a person…
"Hidden agony behind our craze for cashews: How thousands of Indian nut processors on £2.15 a day are left with 'unbearable' burns from acid in the shells of the superfood" [Daily Mail]. "The rise in veganism is thought to have played a part in our increasing consumption. Cashews are in energy bars, butters and salads as well as vegan alternatives to milk, cheese and creamy puddings. A good source of protein, magnesium, potassium, iron and zinc, the monounsaturated fats they contain help protect against heart disease. But there's a catch to cashews. The nuts — nearly all processed in India or Vietnam — are difficult to extract and are therefore shelled by hand. A cashew has two layers of hard shell, between which lie caustic substances — cardol and anacardic acid — that can cause vicious burns. Burns are a fact of life for up to 500,000 workers in India's cashew industry, nearly all women. They are employed without contracts, with no guarantee of steady income, no pension or holiday pay. Many don't even get gloves, and if they did, they probably couldn't afford to wear them. Gloves would slow their shelling down, and they are paid by the kilo. When their pain becomes unbearable, they need medicine — and, of course, they must pay for it. So they soothe the acid burns with ash from their fires." • Oy. And I love cashews.
"Glencore wins $520 million deal to sell coal to Mexico" [Reuters]. "The utility said in a statement that by offering the best price, Glencore won all 12 auctions held to supply a CFE plant in the southwestern state of Guerrero with the coal, for delivery between May and December of this year." • Leave it in the ground, or at least make it harder to extract.
Neoliberal Epidemics
"The Impact of Student Loan Debt and Student Loan Delinquency on Total, Sex‐, and Age‐specific Suicide Rates during the Great Recession" [Sociological Inquiry]. " The results of the present study found one aspect of the Great Recession, student loan delinquency, contributed to higher suicide rates in the United States. The results support past research that showed economic indicators such as financial debt and foreclosure was associated with negative mental health outcomes… The results of the present study suggest that increasing student loan delinquency during the Great Recession increased the total, male, age 20–24, and age 35–44 suicide rates within states, but had no effect on any type of suicide between states. Thus, unobserved factors not related to variables in the statistical models are needed to explain differences in suicide rates between states. Examples of these factors could be gun availability, culture, and protective resources related to mental health treatment. Nonetheless, the results reported in this study support past theoretical and empirical studies that explain suicide rates as a function of economic frustration related to the inability to achieve desired social and economic outcomes (Durkheim 1951; Henry and Short 1954; Yang 1992). The study establishes an association between student loan delinquency and suicide rates during the Great Recession." • So maybe all those [glass bowls] snickering at "economic anxiety" can STFU now?
Guillotine Watch
"Actress Lori Loughlin, 15 other parents indicted in college admissions scandal with conspiring to commit fraud and money laundering" [WaPo]. "Actress Lori Loughlin, her husband and 14 other parents are facing additional charges in the national college admissions scandals, including allegations of money laundering, prosecutors announced Tuesday…. Lara Yeretsian, a criminal defense lawyer, wrote in an email, 'Loughlin and other parents who are now facing the additional money laundering conspiracy charge are definitely feeling the weight of the government and the mounting pressure to plead guilty or cooperate.' The additional charges were in no way a surprise, Yeretsian added, 'considering the hard-hitting and tough posture of the prosecutors in this case.'" • One might wonder, for example, whether "college consultant" William "Rick" Singer's operation was the only one such, or whether he had competitors that the parents either considered or used for others of their children.
Class Warfare
"John Oliver tackles mobile homes, their pitfalls, and the big investors killing their 1 advantage: affordability" [The Week]. "Recently, private equity firms and other large investors are jumping in, [Oliver] added. 'So the homes of some of the poorest people in America are getting snapped up by some of the richest people in America, and luckily, there have been no problems whatsoever — except I'm obviously kidding, it's going terribly.'…. "The rise of big-money investors in mobile homes has led to a corresponding spike in rents, fees," and other costs, Oliver said. High-interest financing by leading manufactured-home seller Clayton Homes, controlled by Warren Buffett but advertised by Duck Dynasty's Phil Robertson, is one reason mobile homes are a great investment for big investors, and a lousy one for buyers, Oliver said, but it's not the only reason. About a third of mobile home dwellers own their house but not the land it sits on, and the large investors snapping up mobile home parks tend to jack up rents or tear down the parks." • Oh, man. Duck Dynasty. Yuck.
News of the Wired
"A realist takes on quantum mechanics" [Nature]. "Like Einstein, [Lee] Smolin is a philosophical 'realist' — someone who thinks that the real world exists independently of our minds and can be described by deterministic laws…. This view of the world is incompatible with the conventional interpretation of quantum mechanics, in which key features are unpredictability and the role of observers in the outcome of experiments. Thus, Einstein never accepted that quantum mechanics was anything but an impressive placeholder for a more fundamental theory conforming to his realist credo. Smolin agrees… One thing on which every physicist in Smolin's field can agree is that there is a crying need for more juicy clues from nature. There have been no surprises concerning the inner workings of atoms for some 20 years. It is experimental results that will decide whether Smolin is correct." • Quantum mechanics will not be overthrown in prose….
"The True, Complicated Story of the Ayahuasca Murders" [Men's Journal]. "Ayahuasca tourists, who have been arriving from North America and Europe since at least the 1960s, have long been accused of appropriating and dishonoring indigenous tribal culture, by using the brew, an important part of local religious ceremonies, for recreation. The recent boom in ayahuasca-seeking outsiders owes, in large part, to scientists' speculations that DMT, the drug's primary psychoactive substance (which is illegal in the U.S. and Canada), may help treat addiction, depression, post-traumatic stress, and other disorders." • An interesting and ugly story, which reminds me of that Christian missionary's fatal trip to the Andaman Islands…. Of course, we might ask ourselves why our own culture is so efficient at producing "addiction, depression, post-traumatic stress" and other disorders.\\
"Smooth taste":
Hypothesis: if a common advertising technique for a class of product is to appeal to synaesthesia, that product is probably not good for you in large quantities.

— Fabian Giesen (@rygorous) April 10, 2019
I'm not at all sure this is right. But it's an intriguing hypothesis!
No:
This Indian barber cuts men's hair by setting it on ? pic.twitter.com/PqGym94LhU

— Al Jazeera English (@AJEnglish) April 10, 2019
Though if I were a citizen of the UK, I might reconsider.
The Lidless Eye:
"As with all great discoveries this is just the beginning" says @EHTelescope director Shep Doeleman #EHTblackhole https://t.co/RjpPjXDt0a pic.twitter.com/ulngkjkNcz

— Physics World (@PhysicsWorld) April 10, 2019
* * *
Readers, feel free to contact me at lambert [UNDERSCORE] strether [DOT] corrente [AT] yahoo [DOT] com, with (a) links, and even better (b) sources I should curate regularly, (c) how to send me a check if you are allergic to PayPal, and (d) to find out how to send me images of plants. Vegetables are fine! Fungi are deemed to be honorary plants! If you want your handle to appear as a credit, please place it at the start of your mail in parentheses: (thus). Otherwise, I will anonymize by using your initials. See the previous Water Cooler (with plant) here. Today's plant (IM):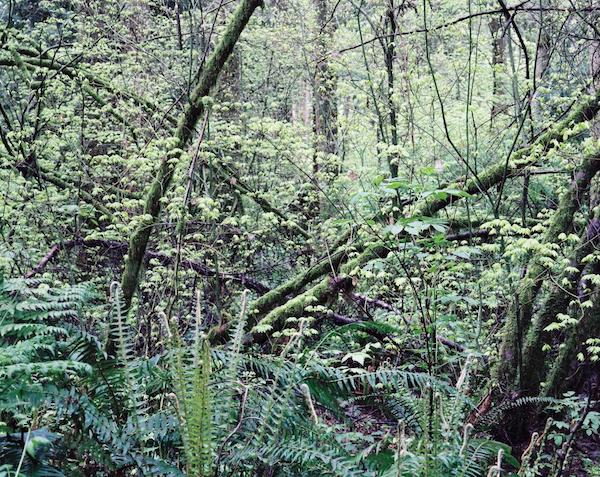 IM: "West coast forest in the spring, with lovely translucent vine maple leaves and sword fern fronds. Everything is trying to absorb light before the big leaf maples shade them out."
Readers, despite several contributions yesterday, I'm still a little bit stressed on plant inventory. Maybe time for some shots of spring? Or at least mud?
* * *
Readers: Water Cooler is a standalone entity not covered by the annual NC fundraiser. So do feel free to make a contribution today or any day. Here is why: Regular positive feedback both makes me feel good and lets me know I'm on the right track with coverage. When I get no donations for five or ten days I get worried. More tangibly, a constant trickle of small donations helps me with expenses, and I factor in that trickle when setting fundraising goals. So if you see something you especially appreciate, do feel free to click this donate button:
Here is the screen that will appear, which I have helpfully annotated. Because it's new and improved, I'll leave it up for a few days: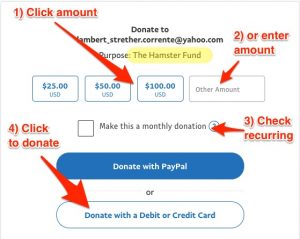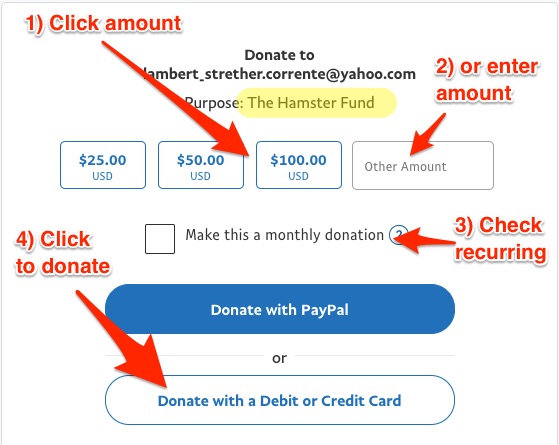 If you hate PayPal, you can email me at lambert [UNDERSCORE] strether [DOT] corrente [AT] yahoo [DOT] com, and I will give you directions on how to send a check. Thank you!