By Lambert Strether of Corrente.
Trade
"Exclusive: U.S. waters down demand China ax subsidies in push for trade deal – sources" [Reuters]. "The issue of industrial subsidies is thorny because they are intertwined with the Chinese government's industrial policy. Beijing grants subsidies and tax breaks to state-owned firms and to sectors seen as strategic for long-term development. Chinese President Xi Jinping has strengthened the state's role in parts of the economy. In the push to secure a deal in the next month or so, U.S. negotiators have become resigned to securing less than they would like on curbing those subsidies and are focused instead on other areas where they consider demands are more achievable, the sources said." • Gotta move those 737s off the lot…
"U.S. Farmers Fear China Trade Deal Will Leave Them Worse Off" [Bloomberg]. "Many producers are alarmed by signs that the administration would accept Chinese purchase target pledges for commodities like soybeans and pork without a promise to lift retaliatory tariffs…. Many American farmers say today's economic pressure is the most severe since the farm crisis of the 1980s. Profits have been shrinking since they peaked six years ago and last year fell to half of what they were in 2013. Years of bumper crops sent prices for key commodities such as corn and soybeans plummeting — down 40 percent since 2013. Trump's determination to disrupt global trade abruptly compounded the financial damage last year."
Politics
"But what is government itself, but the greatest of all reflections on human nature?" –James Madison, Federalist 51
"They had one weapon left and both knew it: treachery." –Frank Herbert, Dune
2020
WaPo reporter Michelle Ye Hee Lee went through the Democrat candidates fundraising reports for Q1 2019. I turned her thread into a table, which I sorted on the "Donations Under $200" column:

Biden hasn't declared, of course, so we don't know where he will be. I'm not a campaign finance expert, but a few things stand out. First, Sanders is the leader in "Total Amount Raised," "Donations Under $200," and "Cash on Hand." Second, Warren, despite her lack of press, is in second place (though notice her massive transfer from a past campaign, unlike Sanders). Third, Buttigieg has been extremely frugal during his "meteoric rise"; he's spent under a million! Finally, centrists Harris, Klobuchar, Castro, and Inslee all seem to have a similar donor composition. Here is Lee's article—

"Early fundraising by 2020 Democrats shows they are in for a long, drawn-out fight" [WaPo]. "One reason for the relatively modest totals is that many wealthy donors and fundraisers are sitting on the sidelines — waiting for former vice president Joe Biden to join the field, or simply watching to see who rises and who flames out. Also, many of the candidates have focused on wooing donors who give in small increments online. Some Democratic strategists expressed concern about the early figures, which they described as lackluster. Rufus Gifford, finance director for Barack Obama's 2012 reelection campaign, said campaigns are hindering themselves by failing to maximize all sources of money, which includes courting wealthier donors willing to give up to the limit of $2,800." • Lol. Consultants want more billing!

* * *

Biden (D)(1): "Biden Spanish-language ad becomes 'hot mess'" [Politico]. "In the run-up to his expected presidential campaign announcement, former Vice President Joe Biden's supporters cut a Spanish-language ad in South Florida over the weekend emphasizing healthcare, education and his biography. The Saturday film shoot was a hushed affair — paid local actors signed non-disclosure agreements promising not to discuss the job. But some posted images on social media of the Fort Lauderdale commercial anyway…. Biden is expected to announce after Easter Sunday — offers have been accepted by prospective campaign staffers and a state chairman is being lined up. But supporters caution that nothing is final until the former vice president gives the final word." • Biden has form. Let's get the implosion underway.

Biden (D)(2): "Ocasio-Cortez says a Biden presidential run doesn't 'animate' her" [Yahoo News]. AOC: "I can understand why people would be excited by that, this idea that we can go back to the good old days with Obama, with Obama's vice president. There's an emotional element to that, but I don't want to go back. I want to go forward."

Buttigieg (D)(1): "Secret tapes linger over Buttigieg's meteoric rise" [The Hill]. "An Indiana judge will rule soon on whether to release five cassette tapes of secretly recorded conversations between South Bend police officers that led to the 2012 demotion of Police Chief Darryl Boykins, the city's first ever black police chief." • The focus is on racial issues, but in my reading there's a subtext of Buttigieg having difficulty managing the police department, perhaps even being muscled by them.

Buttigieg (D)(2):

Today, I saw a video clip of @PeteButtigieg playing classical piano. Another were he speaks in Spanish. And this one, were he tells Parisians, he shares their pain -in French. Just imagine having a President whose intellect exceeds that of a root vegetable…for a change. https://t.co/X9ZT0CrXMk

— Ana Navarro-Cárdenas (@ananavarro) April 16, 2019

Like I said, some people think Listen, Liberal! was a blueprint.

Buttigieg (D)(3): "The Eternal Sunshine of Mayor Pete" [Rolling Stone]. "Buttigieg has a theory of how to oust Trump — not by fighting him tooth and claw, but by crafting an alternative vision of a future that people can hear and invest in — and he's going to stick with it. His big finish on Sunday, after his imaginary visit with Young Pete, crystallized the approach perfectly: "Do we not live in a country that can overcome the challenge of a bleak moment?" he asked. 'We've had it with winter. You and I have the chance to usher in a new American spring.'" • It's morning again in America…

* * *

Patient readers, there's so much on Sanders because there's so much: The FOX Town Hall, the battle with CAP, and his tax returns. The first two are shows of strength; the last, not so much. In his own way, Sanders is feeding the media, isn't he?

Sanders (D)(1): "Bernie Sanders pierces the Fox News bubble — but for only a flickering moment" [WaPo]. "[Fox anchors Bret Baier and Martha MacCallum] would ask a question targeting Sanders's rhetoric, and he would parry. The audience was largely sympathetic to his arguments, leading to an awkward moment when Baier asked whether attendees would be willing to give up their private insurance in favor of a government-run plan — and being greeted with loud cheers. At times, the hosts seemed to be back on their heels." • So Sanders goes into enemy territory and comes out unmarked. Here's a clip:

Bernie Sanders spent more than 2 minutes of his Fox News town hall to defend Medicare for All and attack Trump's Medicare plans — uninterrupted. Not sure I've seen that happen on Fox News before. pic.twitter.com/kuONJdbcB3

— Dan Diamond (@ddiamond) April 16, 2019

Sanders (D)(2): "Sanders takes on Fox — and emerges triumphant" [Politico]. "Bernie Sanders entered the Fox's den on Monday night — and he not only survived the hourlong encounter, but often dominated. Appearing at a Fox News-hosted town hall, smack in the middle of Trump Country, the Democratic presidential front-runner played the part, swatting down tough questions from the hosts about health care, defense spending and his newfound wealth. At one point, the Vermont senator even led the network's audience in a call-and-response that found them cheering loudly for his policies." • Never thought I'd see a headline line that from Politico.

Sanders (D)(3): "'Stop Sanders' Democrats Are Agonizing Over His Momentum" [New York Times]. "The matter of What To Do About Bernie and the larger imperative of party unity has, for example, hovered over a series of previously undisclosed Democratic dinners in New York and Washington organized by the longtime party financier Bernard Schwartz. The gatherings have included scores from the moderate or center-left wing of the party, including Speaker Nancy Pelosi; Senator Chuck Schumer, the minority leader; former Gov. Terry McAuliffe of Virginia; Mayor Pete Buttigieg of South Bend, Ind., himself a presidential candidate; and the president of the Center for American Progress, Neera Tanden." • Hi, "Mayor Pete!" [waves]. UPDATE Sanders, as I keep saying, has an independent mailing list, an independent media operation, and is developing an independent canvassing operation. Pelosi, Schumer, McAuliffe, and Schwartz are right to be concerned. Unfortunately, their only option is to fight dirty, since they cannot compete on policy. So that is what they will do.

Sanders (D)(4): "The Rematch: Bernie Sanders vs. a Clinton Loyalist" [New York Times]. Neera Tanden's mother: "Those Bernie brothers are attacking her [Tanden] all the time, but she lets them have it, too. She says Sanders got a pass [in 2016] but he's not getting a pass this time." • Thanks, Mom!

Sanders (D)(5): "Bernie Sanders Releases Tax Returns, Showing Million-Dollar Years" [Bloomberg]. "Sanders's book royalties were larger than many of his 2020 rivals. Elizabeth Warren reported nearly $325,000 in income from her book. Kirsten Gillibrand reported about $50,000 of book deal profits. Since 2016, Sanders has published three books, including 'Our Revolution: A Future to Believe In,' which he used to launch his last presidential bid. 'If anyone thinks I should apologize for writing a best-selling book, I'm not going to do it," Sanders said Monday at a townhall event hosted by Fox News." • Most people, when they put in the work, expect to be paid, and if somebody hits the winning number, good for them. So we'll see how this plays with the base.

Sanders (D)(6): "Bernie Sanders' Tax Returns are Irrelevant" [Benjamin Studebaker]. "Some people appear to believe that Bernie Sanders' campaign is about vilifying millionaires and billionaires as individuals. But this is not what I hear when I listen to Sanders talk. Over and over, Sanders attacks the millionaire and billionaire class." • If Sanders brings home #MedicareForAll, would it matter if his tax returns looked like Al Capone's?

Sanders (D)(7): "Why Bernie Sanders Should Give His Millions Away" [Nathan J. Robinson, Current Affairs]. "Bernie declining to give his fortune away is a huge squandered political opportunity and needlessly creates a gigantic political liability. It gains him nothing to keep the money; he obviously doesn't need it, as he was doing fine before he wrote a bestselling book. And yet by keeping it, he creates a distraction. Donald Trump will call him 'millionaire Bernie." • When I buy a book, and I buy a lot of books, I expect to pay the author, as (apparently) did millions of others. Robinson reminds me of the club-owner who expects musicians to play 'for the publicity'". And Sanders can't backtrack now without looking weak. Anyhow, FDR was rich.

* * *


Trump (R): "For a tradition-smasher, Trump is running a very conventional re-election operation resembling Nixon 1972, Reagan 1984, Bush 2004: Building massive $ edge, eliminating intra-party opposition, creating GOTV machine, playing divide-and-conquer with large D candidate field, etc." [Larry Sabato]. • And don't imagine that the White House isn't in full campaign mode, right now.

2019
Pelosi (1): Meeting with Labour politicos (MH):

These are the Blairites who would sooner destroy their own party than allow it to represent the working class of their country. This after Labour increased its share of votes by more than in any election since 1945. Pelosi is putting the left of her party on serious notice here. https://t.co/nxVasvgnWV

— Naomi Klein (@NaomiAKlein) April 14, 2019

Because of course. She also (naturally) repeates the Blairite/Tory smear that Corbyn's Labour is anti-semitic. Sound familiar?

Pelosi (2): "The 2019 60 Minutes interview" [CBS].

Lesley Stahl: You have these wings– AOC, and her group on one side–

Speaker Nancy Pelosi: That's like five people.

Lesley Stahl: No, it's– the progressive group is more than five.

Speaker Nancy Pelosi: Well, the progressive– I'm a progressive. Yeah.

In narrow party terms, Pelosi is correct; this is the situation she and the DNC/DCCC brought about as they structured the ballot choices in 2018! But this doesn't square very well with the liberal Democrats narrative of unity.

Pelosi (3): Troll army revolts:

So um, Nancy Pelosi's staff was feeding the calf cramp lady talking points and also she sucks so bad she alienated the calf cramp lady https://t.co/G7a1b0emZT

— Dok (@Dok845) April 14, 2019

McElrath: "O'Rourke is like the guy who is all sweet and nerdy but holds you down and makes you cum until your calves cramp." Who in the Pelosi apparatus thought it was a good idea to involve her?

Remember this?

"We have a giant deficit. They have a lot of oil." – neera tanden. it's been years but I can't cope with anything cap-related because of this

— Atrios (@Atrios) April 12, 2019

(Thank you, Julian Assange.)
Realignment and Legitimacy
"Freedom Rider: Scoundrels and Reparations" [Margaret Kimberly, Black Agenda Report]. "Reparations should not be a topic for national discussion until there is something akin to a consensus among black people about what to demand and how to do it. The justness of the cause isn't complicated but the how and the why certainly are." • With some choice words for Al Sharpton: "A sure sign of a failed discussion is the involvement of people with bad motives, people like Al Sharpton. The Democratic Party has made the two-faced traitor the go-to guy for presidential candidates. This status of faux king maker is proof that the Democratic Party has no respect for black people, the group they depend upon the most to win elections."
Stats Watch
Industrial Production, March 2019: "The U.S. industrial economy, and specifically the manufacturing sector, continues to sputter" [Econoday]. "Positive readings for business equipment and hi-tech do offer some offset to general weakness in manufacturing. Exports are not broken out in this report but weakness here is a likely culprit for a manufacturing sector that began to break down late last year and so far this year, does not look like it will be contributing much to overall economic growth in the 2019 economy."
Housing Market Index, April 2019: "Builder optimism is inching higher this month" [Econoday]. "April is the beginning of the Spring housing season and very favorable mortgage rates are expected to provide badly needed momentum. Yet this report, which didn't really beat anyone's expectations, is hinting more at moderate strength than exceptional strength."
The Bezzle: "How to Scan Your Airbnb for Hidden Cameras" [Slate]. "[D]oing network and port scans for suspicious devices on the local Wi-Fi network doesn't require as much technical knowledge as you might fear. Nor does it require expensive gear." • Sounds like a tax on my time…
Tech: "Hands-On Huawei P30 Pro Review: 10x Zoom, Killer Design" [Tom's Guide]. "After seeing Huawei's foldable Mate X at Mobile World Congress last month and now the P30 Pro, it's clear that Huawei is pushing the entire smartphone industry forward — at least when it comes to hardware." • I've gotta say that even for a smart phone hater like me, the cameras (plural, developed with Leica (!)), are impressive. No wonder Apple wants to get out of hardware and go into the movie business.
Transportation: "The Cost of Convenience: Ridesharing and Traffic Fatalities" (PDF) [Stigler Center for the Study of the Economy and the State]. From 2018, still germane: "The arrival of ridesharing is associated with an increase of 2-3% in the number of motor vehicle fatalities and fatal accidents. This increase is not only for vehicle occupants, but also for pedestrians. We propose a simple conceptual model to explain the effects of ridesharing's introduction on accident rates. Consistent with the notion that ridesharing increases congestion and road utilization, we find that the introduction of ridesharing is associated with an increase in arterial vehicle miles traveled, excess gas consumption, and annual hours of delay in traffic. On the extensive margin, ridesharing arrival is also associated with an increase in new car registrations. These effects are higher in cities with higher ex-ante use of public transportation and carpools, consistent with a substitution effect, and in larger cities and cities with high ex-ante vehicle ownership." • So, if you're an exterminist, what's not to like?
The Biosphere
"The Coming Desert" [New Left Review]. • This is a long, but truly fascinating article. I had no idea that Kropotkin (that Kropotkin) was also a geographer and a climatologist!
Class Warfare
"Wrenching video from Pine Island dairy farmer highlights desperation on the farm" [Star-Tribune]. "Dairy farming is collapsing a way of life around the country. The median income at a dairy farm in Minnesota dropped by nearly two-thirds last year, from $43,000 to less than $15,000. And one out of 10 Minnesota dairy farmers ceased operations. Smaller operations, such as the Bergs', struggle to survive with milk prices hovering around break-even for years. Large-scale operations have emerged with lower costs and high output…. Near the end [of the Video], [Mark Berg] described feeling irritated by a call his mother, Penny Berg, received from Beth Ford, chief executive of Land O'Lakes, the agricultural cooperative based in Arden Hills that is one of the nation's largest producers of dairy products. Ford reached out after receiving a letter from Penny Berg outlining the family's struggles. Mark Berg gave Ford credit for reading the letter and then calling his mom, but he was upset that she offered to help his mom find other work. 'Find another job? My mom wakes up at 5 in the morning every single [expletive] morning and works until 10 o'clock at night,' he said."
News of the Wired
Game of Thrones pre-cap:
THREAD. With the restart of #GoT imminent, here's a swift Marxist analysis of the situation. I will do updates during the Season. 1/ The White Walkers represent #Barbarism – what Marx called "the mutual ruin of the contending classes" … pic.twitter.com/iMrx6RSaPr

— Paul Mason (@paulmasonnews) April 14, 2019
"The truth about cat and dog owners" [Financial Times]. "The answers suggested that dog owners only attached significant value to their dogs if they had raised the pets themselves — and the perceived value of dogs collapsed if owners were asked to imagine that a dog behaved like a cat, ie in a very independent and self-sufficient way." • So [ducks] dogs are authoritarian followers?
* * *
Readers, feel free to contact me at lambert [UNDERSCORE] strether [DOT] corrente [AT] yahoo [DOT] com, with (a) links, and even better (b) sources I should curate regularly, (c) how to send me a check if you are allergic to PayPal, and (d) to find out how to send me images of plants. Vegetables are fine! Fungi are deemed to be honorary plants! If you want your handle to appear as a credit, please place it at the start of your mail in parentheses: (thus). Otherwise, I will anonymize by using your initials. See the previous Water Cooler (with plant) here. Today's plant (PG):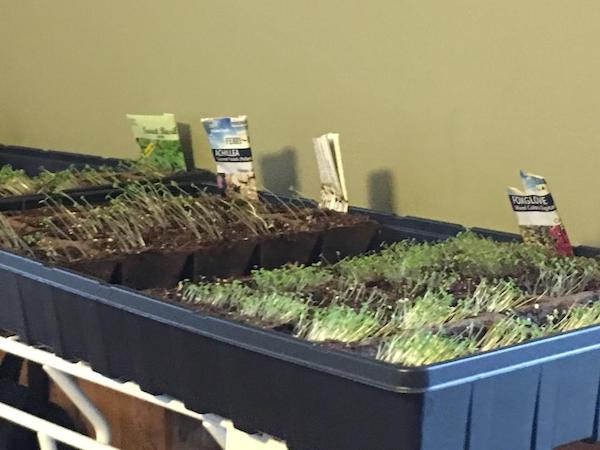 PG writes: "I started some seeds this year – total investment is 25 bucks in seeds plus another 60 ish for potting mix and some bulbs for perennials and pots. The trays are coming up and I never expected that checking the trays would be the first thing I think of every morning."
Bonus plant:
People of the Pun, may I present today's offering, recognizing that you might have to be of a certain age to get it. pic.twitter.com/pKrdNpEQwq

— ??????? (@Snewsma) April 6, 2019
* * *
Readers: Water Cooler is a standalone entity not covered by the annual NC fundraiser. So do feel free to make a contribution today or any day. Here is why: Regular positive feedback both makes me feel good and lets me know I'm on the right track with coverage. When I get no donations for five or ten days I get worried. More tangibly, a constant trickle of small donations helps me with expenses, and I factor in that trickle when setting fundraising goals. So if you see something you especially appreciate, do feel free to click this donate button:
Here is the screen that will appear, which I have helpfully annotated. Because it's new and improved, I'll leave it up for a few days: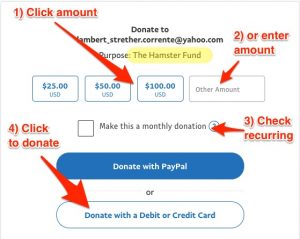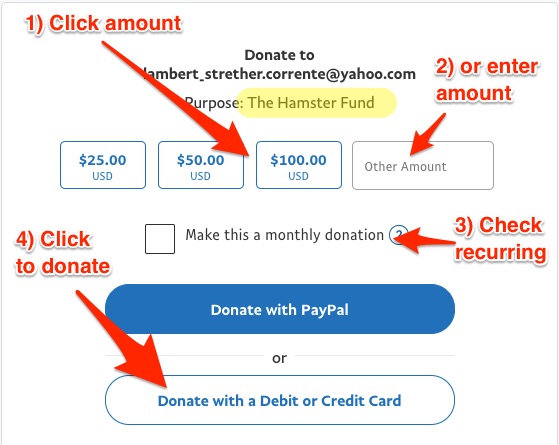 If you hate PayPal, you can email me at lambert [UNDERSCORE] strether [DOT] corrente [AT] yahoo [DOT] com, and I will give you directions on how to send a check. Thank you!