By Lambert Strether of Corrente.
Trade
"China Isn't Cheating on Trade" [Peter Beinart, The Atlantic]. "From Elizabeth Warren, who earlier this year claimed that China has "weaponized its economy," to Marco Rubio, who last year tweeted that the Chinese aim to "steal & cheat their way to world dominance," leading Democrats and Republicans [including Trump, of course] describe China's economic practices as uniquely malevolent and getting worse. In fact, neither accusation is true…. Beijing's economic policies are actually quite typical of a country at its stage of development. Like many regimes in the developing world, Beijing fears the "middle-income trap," in which rising wages undermine its advantage as a center of low-cost manufacturing before it develops the capacity to produce higher-value goods. China worries that unless it moves from assembling iPhones to inventing them, economic growth will stagnate and popular unrest will follow. China therefore erects tariffs to protect industries it hopes will help it make that leap. So did the United States when it was industrializing." And: "[Complaints] dominate Beltway discourse not because the evidence underlying them is particularly strong. It isn't. They have come to dominate Beltway discourse because Democrats and Republicans both believe that Trump's anti-China message helped him win Pennsylvania, Ohio, Michigan, and Wisconsin, and that the path to the presidency runs through those states again in 2020." • Blowback from de-industrializing the "Rust Belt"…
Politics
"But what is government itself, but the greatest of all reflections on human nature?" –James Madison, Federalist 51
"They had one weapon left and both knew it: treachery." –Frank Herbert, Dune
2020
Buttigieg (D)(1): "The Complexities of the Black Vote" [Charles Blow, New York Times]. "In a way, I think that you could make a case that there are two black Americas among the people descended of the enslaved in this country: The sons and daughters of the Great Migration and the sons and daughters of the people who stayed in the South…. One difference is religiosity. While black people in general are more religious than the overall population, black people in the South are also appreciably more religious than black people in other parts of the country, according to Gallup data. This religiosity translates into a form of social conservatism." • Blow is, I think, treading delicately around California's Proposition 8: "Based on National Eelction Pool (NEP) estimates, 70 percent of blacks cast their ballots in favor of Proposition 8 [i.e., against gay marriage] while 49% of white, 53% of Latinos, 49% of Asians, and 51% of those from another racial/ethnic identity supported a ban on gay marriage." • The seeming paradox can be resolved if the liberal Democrat Establishment regards Buttigieg as a catspaw, with their ultimate goal preventing Sanders from winning 50% + 1 of the delegates, and a brokered convention.

Buttigieg (D)(2): Mayo Pete:

Watching the @PeteButtigieg announcement from South Bend. Crowd seems very large, very impressive but also very white-an obstacle he will have to overcome.

— David Axelrod (@davidaxelrod) April 14, 2019

Buttigieg (D)(3): "South Bend considers legal options with homeless under Main Street" [South Bend Tribune]. "Two days after removing wooden pallets that the homeless were using for beds under the Main Street viaduct, the city was still letting people camp there Wednesday…. Shortly after the city destroyed the pallets Monday morning, people returned and set up new encampments with cardboard boxes, bedding and assorted possessions. Mayor Pete Buttigieg doesn't want that happening either, and he said his administration's attorneys were researching whether Indiana's public nuisance law authorizes the city to prohibit the encampments altogether….. John Shafer, founder of the nonprofit Michiana Five For the Homeless, which secured the pallets from an Elkhart food pantry and brought them to the viaduct, has called their confiscation and destruction by the city 'shameful.' Buttigieg said the city didn't think it was taking anyone's 'possessions,' as Shafer has said. 'People have different ideas about being helpful,' Buttigieg said. 'The pallets symbolize, in some ways, a real concern we have about people who are well-intentioned… but can be doing more harm than good.'"

Buttigieg (D)(4): "Buttigieg says he doesn't support boycotts of companies over political donations" [CNN]. "South Bend Mayor Pete Buttigieg cautioned against boycotts of companies like Chick-fil-A because of their political giving in an interview on Wednesday, arguing that it leads people to 'sometimes slip into a sort of virtue signaling in some cases where we're not really being consistent.' The comment — which comes a day after Buttigieg, who is gay, said he doesn't support Chick-fil-A's politics but supports its chicken — is significant because of past controversy surrounding Chick-fil-A. The fast food company's president Dan Cathy said in 2012 that the company was supportive of 'the biblical definition of the family unit"=; and that society was 'inviting God's judgment on our nation when we shake our fist at him and say, 'We know better than you as to what constitutes a marriage." As a result, many groups boycotted the chain." • People have different ideas about being helpful….

Moulton (D): "Massachusetts Rep. Seth Moulton joins 2020 presidential race" [Des Moines Register]. "'16 years ago today, leaders in Washington sent me and my friends to fight in a war based on lies. It's still going on today,' Moulton said in a recent tweet. 'It's time for the generation that fought in Iraq to take over for the generation that sent us there.'… He's called health care "a right every American must be guaranteed," pushed to toughen gun laws, was a co-sponsor of the Green New Deal, has championed a federal "Green Corps" modeled after the Civilian Conservation Corps of the 1930s, and has called for an end to the Electoral College…. Moulton is now the third political figure from Massachusetts to take a stab at a White House run. U.S. Sen. Elizabeth Warren — a Democrat — and former Massachusetts Gov. William Weld — a Republican — are also running."

Sanders (D) (1): Crowds in SC:

#Bernie2020 #BernieInGreenville Where are Donut Twitter's Bernie Rally POC Face Counters™ tonight? ?? pic.twitter.com/ZBxKwTpdal

— Ellahbie (@Ellahbie) April 20, 2019

Sanders (D)(2): The entire campaign has the union "bug," not just the printed literature:

Today, the staff union of the @BernieSanders presidential campaign took a moment to show their support for Stop & Shop workers on strike in New England. @StopDontShop #solidarity #SupportStopAndShopWorkers pic.twitter.com/ySjjkVBHW9

— UFCW Local 400 (@UFCW400) April 19, 2019

Warren (D)(1): "Elizabeth Warren's Higher Education Plan: Cancel Student Debt and Eliminate Tuition" [New York Times]. "Ms. Warren's sweeping plan has several planks. She would pay for it with revenue generated by her proposed increase in taxes for America's most wealthy families and corporations, which the campaign estimates to be $2.75 trillion over 10 years. In addition to eliminating undergraduate tuition at public colleges and universities, she would expand federal grants to help students with nontuition expenses and create a $50 billion fund to support historically black colleges and universities. She would eliminate up to $50,000 in student loan debt for every person with a household income of less than $100,000; borrowers who make between $100,000 and $250,000 would have a portion of their debt forgiven." • Kudos to Warren because she's in there punching on policy. That said:

My thoughts on @ewarren's proposal for significant student debt cancellation: pic.twitter.com/fQxTPE9Zmz

— CharliePatrick (@CharliePatrick) April 22, 2019

As I've said, you can drown in an inch of water. $50,000 does seem low (plus the means test is part of the liberal love affair with complex eligibility requirements); I've remarked that Warren's problem statements tend to be strong; her solutions, less so. And what about the people who faithfully paid? Shouldn't they get a big fat rebate check in the mail?

Warren (D)(2): "Warren approaches breakout with black voters" [Politico]. "The Massachusetts senator launched into a brief history lesson on African-American homebuyers being rejected outside designated areas, black families getting hit hardest by subprime mortgages and foreclosures during the 2008 crash, and black homeownership still lagging far behind whites. 'That's a problem, and it's a race problem,' Warren thundered, emphasizing 'race' as the crowd erupted into applause. 'And we need to attack it head on.'" • Who was President, then?

* * *

"We Asked Democratic Activists Who They're Backing — And Who They'd Hate To See Win" [FiveThirtyEight]. "As part of my ongoing book research, I've been in touch with roughly 60 Democratic activists in New Hampshire, Iowa, South Carolina, Nevada and Washington, D.C.,1 asking them about their preferences for the 2020 Democratic presidential nomination. About 35 people from the respondent pool participated in each wave of interviews… This time around, I also asked respondents who they didn't want as the nominee." • n = 35. The party decideds?

Hmm. Better start training those poll-watchers and coin-flippers.

"Evaluating the 2020 Democratic Primary Field" [RealClearPolitics]. "Assessing the Democratic presidential primary at this point is a nearly impossible task. With around 15 serious candidates who have declared or formed an exploratory committee, and with another handful seriously looking at joining the race, the slate is very much in flux. Like the Republican primary in 2016, small changes in the polling position of candidates can translate to a large change in their position relative to one another, which in turn incentivizes rising candidates to stay in. So rather than, say, power-ranking the candidates – how does one really decide how to rank John Hickenlooper versus Jay Inslee? – I will look at them through the lens of 'buy' versus 'sell'." • Fun methodology! Abrams (buy), Biden (sell), Booker (sell), Buttigieg (sell), Harris (hold), Klobuchar (buy), O'Rourke (buy), Sanders (buy), Warren (sell), Yang (buy). Penny stocks: Castro, Gillibrand, Hickenlooper, Inslee, Bennet, and some other members of Congress and candidates you may have never heard of.
Realignment and Legitimacy
Reparations:

I think many of us are in agreement that HR40 will benefit from revision. Let's begin to explore precisely. what those revisions ought to be.

— Sandy Darity, Retweets do not mean endorsement. (@SandyDarity) April 20, 2019

Darity is an academic powerhouse behind reparations (and is sound on MMT, among other things). However, when Sanders, of reparations, asked "What does that mean?" — and caught amazing amounts of sh*t for it — he was exactly right, wasn't he?

"Jane McAlevey on How To Organize for Power" [Current Affairs]. McAlevey: "I'm not critical of mobilization, I'm very clear that we need plenty of mobilization. It's just, I'm critical when that's all we do…. The difference between the two—and this is sort of the essential reason why we have to do both, not just one—mobilizing is essentially when we just spend all of our time talking to people who already agree with us. It's getting more effective at the technology of turnout. It's calling up a protest, and 300 people show up the first time, and you say 'Wow, that wasn't what we thought,' and you double down, and you do way better social media, and you use every single piece of technology you can, and you get 4,000 out the next time. And that's a huge jump, and you feel great. The problem is that your organization is more like 100,000, and so you're still only turning out a teeny fraction, and even worse, you're not actually engaging anyone or expanding your base. So, what organizing is, by contrast, if I just use that example: If your base is 100,000, organizing is an explicit strategy to go from 100,000 to 1,000,000 and to make it simple, realistic, with a plan. In organizing, we're consciously, every single day, doing what we call 'base expansion.'" • If Sanders is organizing, and not mobilizing… His staff and he are in for quite a ride.

DSA:

Today, the staff union of the @BernieSanders presidential campaign took a moment to show their support for Stop & Shop workers on strike in New England. @StopDontShop #solidarity #SupportStopAndShopWorkers pic.twitter.com/ySjjkVBHW9

— UFCW Local 400 (@UFCW400) April 19, 2019

Go out and serve the working class!
Stats Watch
Chicago Fed National Activity Index, March 2019: "Consumer spending & housing remain in the negative column as do production and employment" [Econoday]. "Personal consumption & housing pulled the index down."
Existing Home Sales, March 2019: "After surging far beyond expectations in February, existing home sales came in at the low end of Econoday's consensus range in March" [Econoday]. "When balancing March and February together improvement is clear."
Supply Chain: "One of the most frantic supply chains in the U.S. runs on an unlikely combination of semi-trucks, station wagons and harried parents sweating over the details of an $800 million annual business. The springtime seasonal frenzy of Girl Scout-cookie distribution is a logistics high-wire act" [Wall Street Journal]. "The Girl Scouts of the USA-licensed bakers oversee the operation on the back end before turning goods over to regional councils and finally to local leaders that bring together tractor-trailers and scout troops, often at any space they can find to get the Do-Si-Dos delivered." • I've gotta say, I love Thin Mints.
Tech: "The Dark Side of Fitness Tracking" [Medium]. "[F]or many people, donning a health-focused device each day isn't necessarily a good thing. Research suggests that even if you don't ditch your tracker after the first few months, it can be difficult to develop a healthy, effective relationship with the device that's monitoring your calories, steps, and minutes of sleep. In one study, published in the Journal of the American Medical Association, overweight participants who wore fitness trackers each day lost less weight than those who didn't. In another, people who wore them for a full year were no healthier than they'd been at the start of the study. On the other end of the spectrum, users can become too obsessed with the data their devices are collecting, leading them to self-diagnose problems that don't exist; they can get so invested in their stats that it drains any enjoyment from previously pleasant activities; and, in some cases, fitness trackers can even exacerbate disordered eating behaviors"
Transportation: "Union Pacific Corp.'s precision railroading plan is triggering a major shift in the carrier's investment plans. The freight carrier has halted construction of a sprawling $550 million facility in Brazos, Texas, and closed two other so-called hump yards… as the railroad embraces an operating strategy that calls for fewer, longer trains" [Wall Street Journal]. "The Union Pacific's Brazos facility was the single largest capital project in the 156-year-old railroad's history and was meant to help with the expected shipping demand in the region. The changes at Union Pacific already appear to be bearing fruit: The railroad's first-quarter profit rose 6% thanks to lower operating expenses that offset lost revenue from severe weather that hit its operations."
The Biosphere
"Just because it's digital doesn't mean it's green" [Izabella Kaminska, FT Alphaville]. "[C]onsuming one euro of digital technology in 2018 induces direct and indirect energy consumption 37% higher than what it was in 2010.This trend is the exact opposite of what is generally attributed to digital technology and runs counter to the objectives of energy and climatic decoupling set by the Paris Agreement." • This is a must-read, worth the log-in, which is free. And: "[The information and communications technology (ICT)] still contributes to about 4 per cent of global greenhouse gas emissions, which is still twice that of civil aviation. What is worse, its contribution is growing more quickly than that of civil aviation."
"What lies beneath: Robert Macfarlane travels 'Underland'" [Guardian]. "In the summer of 2010, I made the first notes towards a book called Underland, about burial and unburial, deep time and journeys into darkness, which would eventually take almost a decade to write. It was hard, that summer, not to think of the underland, for three extraordinary stories were unfolding, dominating global news for months: the Deepwater Horizon disaster, the entrapment of 33 Chilean miners beneath the Atacama desert, and the eruption of Iceland's Eyjafjallajökull volcano." • Damn, one more book to read. This article has a fascinating perspective, and it's well worth a read. I quoted this paragraph to memoriaize the Deepwater Horizon disaster; I still remember the live videos from the ocean floor…
"Was There a Civilization On Earth Before Humans?" [The Atlantic]. "When it comes to direct evidence of an industrial civilization—things like cities, factories, and roads—the geologic record doesn't go back past what's called the Quaternary period 2.6 million years ago. For example, the oldest large-scale stretch of ancient surface lies in the Negev Desert. It's "just" 1.8 million years old… And, if we're going back this far, we're not talking about human civilizations anymore…. So, could researchers find clear evidence that an ancient species built a relatively short-lived industrial civilization long before our own? Perhaps, for example, some early mammal rose briefly to civilization building during the Paleocene epoch about 60 million years ago…. Fifty-six million years ago, Earth passed through the Paleocene-Eocene Thermal Maximum (PETM). During the PETM, the planet's average temperature climbed as high as 15 degrees Fahrenheit above what we experience today. It was a world almost without ice, as typical summer temperatures at the poles reached close to a balmy 70 degrees Fahrenheit. Looking at the isotopic record from the PETM, scientists see both carbon and oxygen isotope ratios spiking in exactly the way we expect to see in the Anthropocene record." • It's always been my secret theory that civilization killed the dinosaurs. No evidence, though!s
"Southern Ocean diatoms: small, yet mighty!" [oceanbites]. "The organic carbon produced by the phytoplankton helps fuel the carbon cycle by either: 1) being eaten by zooplankton, a type of larger planktonic organism 2) sinking out to the deep ocean after dying or 3) contracting a marine virus that causes the cellular content (organic carbon) to leak out. The contribution that phytoplankton make to the carbon pump differs between ocean regions as the types and abundance of phytoplankton vary. Phytoplankton species vary between the different regions of the ocean depending on specific environmental conditions, such as light, nutrients or temperature."
"'Pointless' rare knee bone makes evolutionary comeback in humans" [Sky News]. "The fabella, described as the "appendix of the skeleton", is buried in a tendon behind the knee and acted as a kneecap in Old World monkeys…. It can cause pain and discomfort and was once rare in humans – but a new study has shown it is becoming more common. Scientists from Imperial College London (ICL) examined 21,000 knee studies from 27 countries spanning 150 years. Between 1918 and 2018, the number of people with a fabella increased more than threefold. In 1918, just 11.2% of the world population had one, but by 2018 the percentage had risen to 39%.' • Evolution in historical time. Amazing.
"A highway runs through it" [Grist]. "Progressives like Chris Sensenig now see freeway removal as a once-in-a-generation opportunity to redress the wrongs of the past and make cities radically greener. For nearly a decade, the urban designer has been thinking seriously about what Oakland would look like without I-980. And the more he thought about it — the more he collected old ma
"s and pictures of the landscape before the highway — the more excited he became. He joined up with other like-minded people to form ConnectOakland, a small organization dedicated to envisioning a neighborhood free of I-980. 'The key thing is that this is public land,' Sensenig said. 'Public land is for the public good. We should be seeking to maximize the public good, not just accepting whatever happens to already be there." • But the local politics are interesting; apparently, when I-980 was put through, the community was involved, so they are invested in a way that, say, the North End of Boston was not with the horrid "Central Artery."
MMT
"The left should resist the siren song of 'modern monetary theory'" [Heather Boushey, WaPo]. "But to me, as someone who shares some of the policy goals of MMT advocates, it seems crazy to give up on taxes as an important source of revenue for vital social programs — to define taxes as, in a sense, irrelevant to government spending — at a time when the public, finally, seems to have an appetite for universal health care, wealth taxes and similar ambitious policies. At such a moment, why embrace a theory that has never been tested on a significant scale? To shift toward an economic theory that sees taxes as largely irrelevant to government spending is economically and politically unwise." • "Heather Boushey is the executive director and chief economist at the Washington Center for Equitable Growth." So this is what "passing the baton" means?
Hits the jackpot:
Fortunately, climate change will wait while we fight over fiscal space.

— Stephanie Kelton (@StephanieKelton) April 19, 2019
The 420
"New Yorkers Get Cannabis With Their Lunch for '4/20′ Day" [Bloomberg]. "Confusion reigns over the legality of marijuana-related products. Federal regulators are focused on commercial claims that CBD has beneficial health effects, for which there's no conclusive evidence. Meanwhile, retailers claim the additive can help with chronic pain or anxiety, but again, there's no evidence. Then there's the unanswered question, as the FDA noted earlier this year, of whether there are negative long-term effects from CBD use. None of this has gotten in the way of clever marketing aimed at consumers who don't know—or care—about the latest scientific study." • Amazingly, Bloomberg does not expand the CBD acronym; it refers to cannabidiol, "the second-most abundant cannabinoid in cannabis" (after THC, with which I am familiar) but non-intoxicating.
Class Warfare
"The California exodus is speeding up" [Quartz]. "According to recently released data from the US Census, about 38,000 more people left California than entered it in 2018. This is the second straight year that migration to the state was negative, and it's a trend that is speeding up. Every year since 2014, net migration has fallen…. Besides births, the main reason California's population hasn't already started falling has been international migration into the state. Every year since 2011, net domestic migration has been negative—i.e., more people leave California than move in from other states. But from 2011 to 2016, the number of international migrants moving into California was larger than the number of locals who were moving out." • Hmm.
"Lawyer files $5-million claim, saying L.A. City Hall rat problem caused her illness" [Los Angeles Times]. "Workers at City Hall have complained for nearly a year about rodents, setting traps, finding droppings and paw prints, and capturing the scurrying creatures on video…. Since Greenwood went public with her claims, city crews have engaged in a major cleanup of the Civic Center, setting traps and clearing vegetation." • Oops. I juxtapose these two snippets not to trash California, but to point out that California, with its very high Gini coefficient, is not necessarily a model for the rest of the country to follow (and we should be wary of the local oligarchy that runs it, if we were not already from CalPERS).
News of the Wired
"People Underestimate How Fun It Is to Do the Same Thing Twice" [The Atlantic]. "An entire category of people seems to have caught on to this way of thinking: little kids. Many of them will gladly rewatch the same movies, read the same books, and sing the same songs ad infinitum." • This is me right now! I read plenty of new books, and see plenty of new art, but I reread old books all the time!
Be kind to librarians. Thread:
please never reshelve your books at the library! even if you didn't check it out, the desk still needs it! why? well i'll tell ya in this thread!

— reckless god ~ 49 days! (@androgydyke) April 20, 2019
"Words from the 1990s" [Oxford English Dictionary]. "Cybernauts (1989) and Netties (1985) surfed the World Wide Web (1990) (or the Web (1990) for short). To be in the swim you had to have your own website (1993) or homepage (1993) or blog (1999), or you could communicate via SMS (short message service; 1991). It was the decade of all things cyber-: cybercrime (1991), cybersex (1991), cybershoppers (1994), cyberwar (1992), etc., etc. You would hope to avoid the spam (1994) and the mail bombs (1994), but the main fear in the cybercafé (1994) was the dreaded millennium bug (1995), which threatened to make the world's computer systems crash when the clocks chimed midnight on 31 December 1999. At least cyberpets (electronic toys that need regular stimuli; 1995), such as the tamagotchi (1997), would not be affected; they only succumbed if you neglected them." • Cybernaut is no more….
The world of eggcorns:
You know how it is … https://t.co/j8KjQfxyKl pic.twitter.com/0S8Rvmt3IS

— Steven J. Gibbons (@stevenjgibbons) April 18, 2019
Never never never never never:
Restoration of Notre Dame should be mindful of its past while revealing its unique potential as an urban mixed-use development. Here at Pick Rogarth + Baumsnatch, we believe… pic.twitter.com/7XkTyPppo7

— C:\temp\ (@BryceElder) April 16, 2019
* * *
Readers, feel free to contact me at lambert [UNDERSCORE] strether [DOT] corrente [AT] yahoo [DOT] com, with (a) links, and even better (b) sources I should curate regularly, (c) how to send me a check if you are allergic to PayPal, and (d) to find out how to send me images of plants. Vegetables are fine! Fungi are deemed to be honorary plants! If you want your handle to appear as a credit, please place it at the start of your mail in parentheses: (thus). Otherwise, I will anonymize by using your initials. See the previous Water Cooler (with plant) here. Today's plant (IM):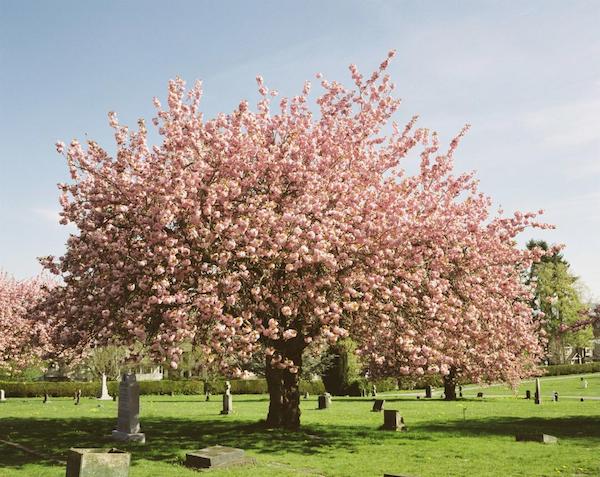 IM writes: "Sakura blossoms. These are actually throwback Sakura blossoms, long since shed, from May, not April, but a need for plant images is a need for plant images."
In the past few days, I got a sudden influx of plant images; not sure why. Seasonal change? Change in the zeitgeist? Thank you, readers!
* * *
Readers: Water Cooler is a standalone entity not covered by the annual NC fundraiser. So do feel free to make a contribution today or any day. Here is why: Regular positive feedback both makes me feel good and lets me know I'm on the right track with coverage. When I get no donations for five or ten days I get worried. More tangibly, a constant trickle of small donations helps me with expenses, and I factor in that trickle when setting fundraising goals. So if you see something you especially appreciate, do feel free to click this donate button:
Here is the screen that will appear, which I have helpfully annotated.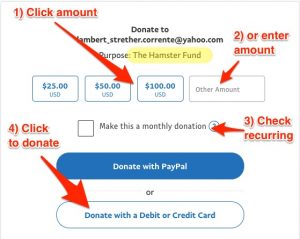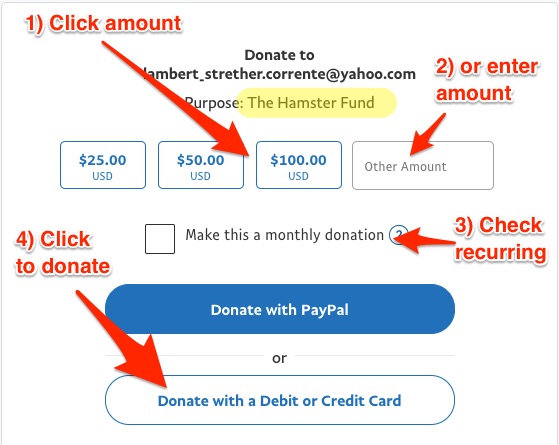 If you hate PayPal, you can email me at lambert [UNDERSCORE] strether [DOT] corrente [AT] yahoo [DOT] com, and I will give you directions on how to send a check. Thank you!