By Lambert Strether of Corrente.
Politics
"But what is government itself, but the greatest of all reflections on human nature?" –James Madison, Federalist 51
"They had one weapon left and both knew it: treachery." –Frank Herbert, Dune
2020
* * *

Biden (D)(1): "Joe Biden Plans to Enter the 2020 Race on Thursday. He's Starting With $0." [New York Times]. "Unlike [Sanders and O'Rourke], Mr. Biden does not have an at-the-ready list of hundreds of thousands of contributors to ply for small donations. He must rely heavily, at least at first, upon an old-fashioned network of money bundlers — political insiders, former ambassadors and business executives who can expedite dozens, if not hundreds, of checks for $2,800 each, the legal maximum an individual can contribute in the primary…. 'Everyone thinks Biden can't get small donors because he's moderate,' Mr. Rendell said. 'Baloney!' Mr. Rendell recommended that Mr. Biden invest offline, too, pitching an old-fashioned direct mail program to reach older potential donors and tap into the "general consensus" of his electability against Mr. Trump. 'There is enough of a consensus there that those little old ladies — even if they're a little on the progressive side — would write a $25, $50, $100 check to Joe, maybe four or five times in the next year,' Mr. Rendell said." • Oh, dear. "Little old ladies."

Biden (D)(2): "No one knows what Joe Biden thinks about health care" [Sarah Kliff, Vox]. "It's notable to me that the Biden Foundation, a nonprofit helmed by the former vice president, has a section on the various issues it considers 'pillars.' That includes things like 'advancing community colleges' and 'strengthening the middle class.' But there isn't a mention of health care in sight."

Biden (D)(3): "Joe Biden Begins Taking Money for a 2020 Presidential Campaign" [New York Times]. "Mr. Cohen's email suggested that potential donors should raise $14,000 each, in increments of $2,800, the maximum contribution allowed, and listed a number of party leaders planning to support Mr. Biden, including former Gov. Ed Rendell of Pennsylvania and former Mayor Michael Nutter of Philadelphia. Plans for a Philadelphia fund-raising event were first reported by the radio station WHYY…. Stephen A. Cozen, a Philadelphia-based lawyer and a longtime friend of Mr. Biden, confirmed he was helping to organize the Philadelphia-based event next week, laying the groundwork for what Mr. Biden's backers hope will be a significant financial show of force.• Since Biden's home state of Delaware is next to Pennsylvania, this makes sense. Speculating freely: One strategy for a brokerered convention might be for delegates from regional oligarchies, aggregated, to prevent any one candidate from passing the 50% + 1 threshold for nomination, leading to a brokered convention. Harris might take California and Nevada, Biden Pennsylvania and New York (recall Cuomo's near endorsement), and so forth.

Biden (D)(4): "Inside Biden's battle plan" [Politico]. "As Biden's team works to lock down national labor support, it is also chasing union backing in early states like Iowa, where his aides have already interviewed staff…. Former Nevada Democratic Party Chairman Sam Lieberman said Biden has already won his endorsement and he expects "labor could be easily persuaded to support Joe Biden if he was in the mix…. 'They're going to launch strategically all over the country,' an operative with knowledge of Biden's strategy said. 'They'll have people in place in Iowa, New Hampshire, Nevada, South Carolina and roll out endorsements from elected officials all over the country, so when they come out they can have this show of force.'" • Oh, strategically! I woudn't be surprised if this fell very flat. There's old school, to be sure. But there's also shopworn, and very, very tired.

Buttigieg (D): "Why I'm switching from Elizabeth Warren to Pete Buttigieg" [Bleeding Heartland]. "Policy is extremely important, and I don't want to downplay the role it should play in your decision-making process on who should receive your vote. That being said, man does not live on bread alone, and the moral, cermonial role of leadership that comes with the presidency is of equal importance. Policy is extremely important, and I don't want to downplay the role it should play in your decision-making process on who should receive your vote. That being said, man does not live on bread alone, and the moral, cermonial role of leadership that comes with the presidency is of equal importance." • Wowsers.

Castro (D): "The Federal Government Failed Homeowners. How Much Blame Does Julián Castro Deserve?" [HuffPo]. • Amazing. Well worth a read. This looks as awful as HAMP. Readers, have any of you had experience with DASP?

Gravel (D)(1):

Here's the official Mike Gravel 2020 Campaign Launch Ad – "Rock 2.0" Join the #Gravelanche to push American politics to the left and speak truth to power, send Mike $1 to get him on the debate stage: https://t.co/R8N3DrihCD. pic.twitter.com/MWaPNCrxJH

— Mike Gravel (@MikeGravel) April 18, 2019

The Gravel campaign is punching far above its weight!

Gravel (D) (2):

.@GravisMarketing just came out with its new Iowa poll. With an admittedly small sample size, Sen. Mike Gravel:

– AGAIN outpolled @SenGillibrand (also beating her in her best demo, women)
– beat @KamalaHarris among the 18-29 demo
– also outpolled @JulianCastro and @JayInslee pic.twitter.com/cCVopAJ1xE

— Mike Gravel (@MikeGravel) April 22, 2019

I'm a little awed by how the Gravel campaign is transforming itself from an exercise in guerilla marketing into a real, albeit tiny campaign. Life's rich pageant!

Sanders (D)(1): "Sanders says the right to vote should be extended 'even for terrible people' like Boston Marathon bomber" [CNN]. "Asked at a CNN town hall Monday night if he thought felons should be allowed to vote — even while they're incarcerated, not just after they're released — Sanders said the country needs more people to vote. 'This is a democracy and we have got to expand that democracy, and I believe every single person does have the right to vote,' he said." • The upside: This principled stand surely resonates with the heavily incarcerated Black community, and builds on the Florida referendum restoring the vote to ex-felons. The downside: Willie Horton-style assaults, as shown in the CNN headline. If these assaults don't "take," that's an early test of the resilience of the Sanders campaign apparatus, and its independence from "straight" media. A nice tweet from Sanders' staff:

You might recall that the Central Park 5 spent up to 13 years in prison before they were exonerated, & Trump argued they should be put to death.

Maybe this is radical, but I think they should've been able to vote. #CNNTownHall

— Briahna Joy Gray (@briebriejoy) April 23, 2019

War criminals and torturers like Gina Haspel and John Yoo can vote. So can Jamie Dimon and Lloyd Blankfein. Why not incarcerated felons?

Sanders (D)(2): "Bernie Sanders offers 3 ideas to help battle gentrification while in Greenville" [Greenville News]. Sanders: "The bottom line is, we have to say before we can even come up with a solution what we want. And that is that working people have a right to continue to live in the communities that they love and where they grew up." • Maybe Sanders should have a chat with Mayo Pete on housing policy.

Warren (D): Of the Town Hall:

Warren answers questions like she's interviewing for a job at Vox; Bernie answers questions like he wants people to vote for him in an election.

— Matthew Yglesias (@mattyglesias) April 23, 2019

This provocation was not well-recieved on Yglesias's timeline, but it's worth pointing out that swooning wonks are not necessarily a good proxy for, er, electability.
Impeachment
"Could Donald Trump be impeached" [Financial Times]. "Recent polling has shown that around a third of voters support impeachment, while 48 per cent oppose it." • As we know from 2016, Elizabeth Warren has terrible political instincts.

"The Mueller Report Demands an Impeachment Inquiry" [LawFare]. "The problem is that impeachment isn't a purely political matter—though certainly it is political in part. It's a constitutional expression of the separation of powers, of Congress's ability to check a chief executive overrunning the bounds of his power. It's also, under the OLC memo, the only release valve in the constitutional structure for the urgent and mounting pressure of an executive who may have committed serious wrongdoing. To say that the appropriate course is simply to wait for the next presidential election in 18 months, is to offer a judgment that—even in light of his conduct as described by Mueller—Trump is not truly unfit for the office. It is to say he is no different from, say, Vice President Mike Pence, who would take his place, or any other Republican for that matter. It is to say that what matters is winning elections, even if it risks further institutional harms." • The West Wing was canceled in 2006, due to falling ratings.

"Hillary Clinton: Any Person Other Than Trump Would Have Been Indicted For Obstruction" [RealClearPolitics]. A transcript of her interview with Time magazine: "[CLINTON:] I think there is enough there that any other person who had engaged in those acts would certainly have been indicted, but because of the rule in the Justice Department that you can't indict a sitting President, the whole matter of obstruction was very directly sent to the Congress…. I'm really of the mind that the Mueller report is part of the beginning. It's not the end. … There's still so much more that we should know and that we should act upon." • Always something to look forward to!

"These Democrats are ready to put Mueller in the rear view mirror" [McClatchy]. "There's one group of Democrats desperate to quit talking about Robert Mueller and his Trump-Russia probe — the vulnerable ones up for re-election in Trump-friendly districts…. In the swing districts in Georgia, North Carolina, South Carolina, Kansas and elsewhere, constituents haven't been bringing up Mueller's findings often since Attorney General William Barr issued a summary last month. Now that the full report is out, few expect voters to make it a big issue. Republicans currently need a net gain of 18 seats next year to win control of the House." • Not just in swing districts. Remember Warren's statistic that of (IIRC) 275 voter questions, 3 were about impeachment. And it's not as if the propaganda hasn't had time to take hold…

"Democrats face Catch-22 with Trump impeachment strategy" [The Hill]. "On Tuesday, six key committee heads outlined their plans to conduct further investigations into Trump's actions, including associations with Russian President Vladimir Putin, allegations of ill-gotten loans from Deutsche Bank and Mueller's ambiguous conclusion on the obstruction question. Pelosi and Democratic leaders have been concerned that talk of impeachment would politicize those probes, to Trump's political advantage. But they also think the public exposure will almost certainly build their case that the president is unfit to hold office — a case that could lead to impeachment." • I dunno. When are the hearings scheduiled for #MedicareForAll?
Realignment and Legitimacy
"How the Intercept Is Fueling the Democratic Civil War" [Politico]. "The Intercept is almost totally funded by a single billionaire backer, eBay founder Pierre Omidyar, who supports the site through parent organization First Look Media. Omidyar, who through a spokesperson declined to comment for this story, appears to live in a different political reality from his own publication. Intercept links are noticeably absent from his Twitter feed, which is filled with reflections on a supposed Trump-Russia conspiracy—pitting Omidyar against Intercept co-founding editor and columnist Greenwald, a deep skeptic of the media's coverage of the Russia scandal. And unlike the heroes of the Intercept's political coverage, Omidyar isn't some left-wing outsider; he's a mainstream Democratic donor and was even a supporter of the conservative 'Never Trump' super PAC. Several people I spoke to—sources inside the company and other media observers—are now asking: How much longer will the billionaire patron bankroll a news outlet so clearly at odds with his own politics?" • Ouch!
Stats Watch
MBA Mortgage Applications, week of April 19, 2019: "The great rush to lock in low mortgage rates may already be fading" [Econoday]. "It's too early for the dip in the purchase index to lower expectations for home sales but the news, right when home sales data are starting to show life, is nevertheless disappointing."
The Bezzle: "Elon Musk claims on Tesla's autonomous capabilities does not reflect its current reality" [Freight Waves]. "All this being said, Musk's tall predictions come right before its quarterly earnings report, which is expected to be below expectations as the company has had a disappointing few months of car sales. This has led Tesla's stock to sink 5 percent this week to $262.75 per share. Going by all of Musk's claims that have routinely failed to hold water, it remains to be seen if this announcement lives up to its promise, or if it will go down as yet another assertion not based on actual results.:" • Maybe the SEC will slap him with a wet noodle again. A man can dream!
The Bezzle: "Uber Faces Proposed 'IPO Tax' in a San Francisco Divided by Inequity" [Bloomberg]. "San Francisco Supervisor Gordon Mar is circulating a motion that, if approved by a majority of the county board, would place a payroll tax covering stock-based compensation on the November ballot. The proposal, a draft of which was obtained by Bloomberg, would impose a new cost, 'for the privilege of engaging in business in the city,' on companies that dole out equity to employees….The potential law, which some are calling an 'IPO tax,' reflects uneasiness in a city with constant reminders of the income gap, from Google buses to Uber drivers sleeping in their cars."
The Bezzle: Thread:
When ridiculous startup culture meets the twisted American healthcare system pic.twitter.com/CZfwNAoJxs

— Eric Gade (@ecgade) April 22, 2019
Aren't ambulances "on demand" already?
Tech: "Facebook's flood of languages leave it struggling to monitor content" [Reuters]. "Facebook Inc's struggles with hate speech and other types of problematic content are being hampered by the company's inability to keep up with a flood of new languages as mobile phones bring social media to every corner of the globe." • Moderation doesn't scale. Who knew?
Manufacturing: "Alphabet's Waymo Reviving Detroit Plant With Self-Driving Cars" [Industry Week]. "Alphabet Inc.'s Waymo LLC has picked an idled American Axle & Manufacturing Holdings Inc. facility in Detroit as the site where it will equip vehicles made by Fiat Chrysler Automobiles NV and Jaguar Land Rover Automotive Plc with self-driving technology. The Mountain View, California-based company will lease the factory and start work on its self-driving vehicles this summer, creating 'hundreds' of jobs over time [hmm…], according to company blog posts…. Waymo's cars will be so-called Level 4 autonomous vehicles, equipped with hardware and software allowing the cars to drive themselves without the assistance of a human operator ." • Silicon Valley reinvents the train?
Manufacturing: "Boeing Suspends Outlook as 737 Max Uncertainty Clouds Future" [Industry Week]. "The manufacturer abandoned its 2019 financial forecast as it deals with the aftermath of two deadly crashes of its 737 Max aircraft, according to a company statement Wednesday. Boeing also revealed it hadn't repurchased shares since mid-March after spending $2.3 billion on its stock in the quarter… The Max's devastated safety record, production miscues for a much-delayed military tanker, and a wave of negative media coverage threaten another selling point for investors looking at Boeing, said Carter Copeland, an analyst with Melius Research. After the 787's early stumbles, the Chicago-based planemaker began a systematic campaign to root out risk in an effort to protect shareholders from negative surprises, he said in a report earlier this week." • The recent report in the Times on the 787 can't have boosted confidence, then.
Honey for the Bears: "Caterpillar slips as higher costs dent margins at construction business" [Reuters]. "Caterpillar Inc spooked investors for a second straight quarter as rising costs hit margins in its construction equipment business and tepid sales in the Asia Pacific region pointed to continuing subdued growth in China…. The latest results come after the world's largest heavy duty equipment maker warned in the fourth quarter that construction activity in China could cool after two years of significant growth."
The Biosphere
"Melting permafrost in Arctic will have $70tn climate impact – study" [Guardian]. "The release of methane and carbon dioxide from thawing permafrost will accelerate global warming and add up to $70tn (£54tn) to the world's climate bill, according to the most advanced study yet of the economic consequences of a melting Arctic… The new projections contained a modicum of good news because the impact of land permafrost melt was at the lower range of what had been feared. Previous estimates suggested these Arctic tipping points could add more than 10% to climate costs. Some feared the methane alone could prove catastrophic but the new figures show CO2 remains the greatest concern."
"Relating Urban Biodiversity to Human Health With the 'Holobiont' Concept" [Frontiers in Microbiology]. "A relatively unaccounted ecosystem service from biodiversity is the benefit to human health via symbiotic microbiota from our environment. This benefit occurs because humans evolved alongside microbes and have been constantly exposed to diverse microbiota. Plants and animals, including humans, are organised as a host with symbiotic microbiota, whose collective genome and life history form a single holobiont. As such, there are interdependencies between biodiversity, holobionts, and public health which lead us to argue that human health outcomes could be improved by increasing contact with biodiversity in an urban context. We propose that humans, like all holobionts, likely require a diverse microbial habitat to appropriate resources for living healthy, long lives. We discuss how industrial urbanisation likely disrupts the symbiosis between microbiota and their hosts, leading to negative health outcomes. The industrialised urban habitat is low in macro and microbial biodiversity and discourages contact with beneficial environmental microbiota." •
"This proposed pipeline is fracturing New York's green new image" [Grist]. "New York state is in the middle of a green makeover. Earlier this year, it was the first state to formulate its own Green New Deal. New York City is leading the U.S. in a green overhaul, passing a carbon pricing fee charging drivers in some of the most traffic-choked neighborhoods. Last week, the city council voted to pass a Climate Mobilization Act that includes bills to make infrastructure more energy-efficient. Many activists say that, given New York's new, greener identity, the state going forward with the Williams Pipeline] doesn't quite seem to compute." • It doesn't.. For the forseeable future, all projects that make it easier to extract carbon from the earth should be opposed.
Class Warfare
"Instagram Memers Are Unionizing" [The Atlantic]. "Instagram memers have had enough. They generate the engagement that helps keep Instagram growing—but, they argue, the multibillion-dollar platform doesn't pay them for their work, or give them any control. So they're fighting back. And before you write off IG Meme Union Local 69-420 as a joke, the organizers of the collective would like you to know that they are very serious." • A very reasonable answer to digital sharecropping!
"Here are the fastest growing and shrinking counties in America" [Business Insider]. Handy map: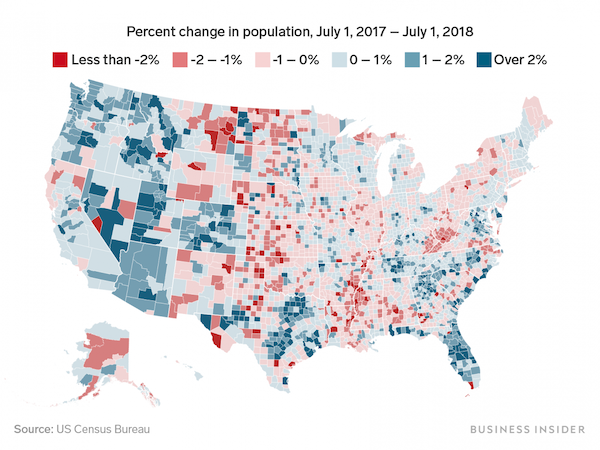 Not precisely a coast vs. interiors story…
News of the Wired
"Psilocybin-assisted mindfulness training modulates self-consciousness and brain default mode network connectivity with lasting effects [Neuroimage (VS)]. n=38. " The study highlights the link between altered self-experience and subsequent behavioral changes. Understanding how interventions facilitate transformative experiences may open novel therapeutic perspectives. Insights into the biology of discrete mental states foster our understanding of non-ordinary forms of human self-consciousness and their concomitant brain substrate."
"Dr. Ruth happy she's not a millennial on the dating scene" [New York Post]. "Speaking to us Monday at the Playboy Club, Dr. Ruth said that millennials have 'lost the art of conversation because everyone is on their phone . . . What that will lead to, which is serious — is a lot of loneliness,' she said." • You kids get offa those phones! (Seriously, speaking as an old codger, dating wasn't all that great in the pre-cellphone era; one thing that makes conversation difficult is that you have to have something to say. I'd be interested to hear from younger codgers and codgeresses: Do you agree with Dr. Ruth?)
* * *
Readers, feel free to contact me at lambert [UNDERSCORE] strether [DOT] corrente [AT] yahoo [DOT] com, with (a) links, and even better (b) sources I should curate regularly, (c) how to send me a check if you are allergic to PayPal, and (d) to find out how to send me images of plants. Vegetables are fine! Fungi are deemed to be honorary plants! If you want your handle to appear as a credit, please place it at the start of your mail in parentheses: (thus). Otherwise, I will anonymize by using your initials. See the previous Water Cooler (with plant) here. Today's plant (Phil H):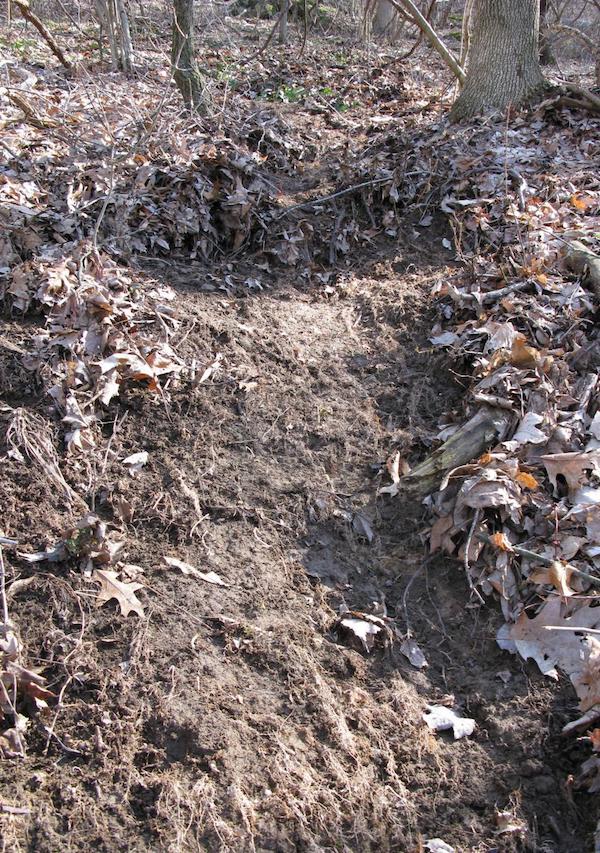 Phil H: "We had some very heavy rain recently hereabouts in east-central Ohio. Although I didn't actually see it as it was happening, there was obviously a stream going through a place in the woods where water doesn't normally flow. The water removed plant debris & the top layer of soil, leaving exposed tree roots." Mud season! I wonder how the tree feels when this happens…
* * *
Readers: Water Cooler is a standalone entity not covered by the annual NC fundraiser. So do feel free to make a contribution today or any day. Here is why: Regular positive feedback both makes me feel good and lets me know I'm on the right track with coverage. When I get no donations for five or ten days I get worried. More tangibly, a constant trickle of small donations helps me with expenses, and I factor in that trickle when setting fundraising goals. So if you see something you especially appreciate, do feel free to click this donate button:
Here is the screen that will appear, which I have helpfully annotated.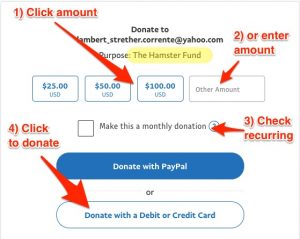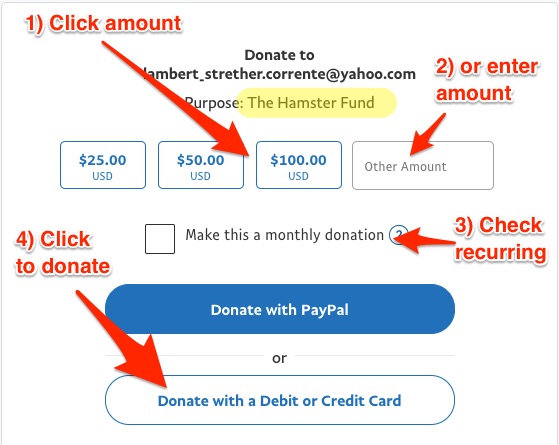 If you hate PayPal, you can email me at lambert [UNDERSCORE] strether [DOT] corrente [AT] yahoo [DOT] com, and I will give you directions on how to send a check. Thank you!