By Lambert Strether of Corrente.
Trade
ISDS encourages off-shoring? See the extract from Stiglitz:
I'm reading @JosephEStiglitz's new book, "People, Power, & Profits".

Really appreciate this point about globalisation & wages:

It's not just that wages are cheaper overseas, but our trade agreements give companies stronger rights if they invest overseas than at home. #ISDS pic.twitter.com/2vLq83cMBR

— Alice Evans (@_alice_evans) April 23, 2019
Politics
"But what is government itself, but the greatest of all reflections on human nature?" –James Madison, Federalist 51
"They had one weapon left and both knew it: treachery." –Frank Herbert, Dune
2020
* * *

Biden (D)(1): "Biden Pulls Off Dusty Tarp Covering Old Campaign Motorcycle" [The Onion]. "Saying it was time to 'get out the hog for one last ride,' former Vice President Joe Biden pulled the dusty painter's tarp off of his old campaign motorcycle Wednesday, gently running his hand along the polished chrome headlight and muttering 'welcome back, baby.'" • Oy.

Biden (D)(2): "Joe Biden Will Announce His Presidential Campaign Next Week, Unless He Doesn't, But He Probably Will" [Time]. "'I've never seen anything so half-assed,' a former Biden aide said. 'They're improvising and doing last-minute planning. The guy has been running for President since 1987 and can't figure the basics out, like where to stand on his first day? This should make everyone very nervous.'" • Who's nervous? Popcorn doesn't make me nervous. Does it make you nervous?

Biden (D)(3): "Is Biden running? Plans keep changing" [Post-Gazette]. "If the former vice president does launch his presidential campaign this week, it now won't involve a trip to Charlottesville, Va., and plans for potential public events in Pennsylvania are also uncertain, according to sources familiar with his plans. Even Mr. Biden's widely anticipated entry into the race grew unclear Monday, with the Atlantic reporting that a planned video announcement Wednesday was now being pushed back. It had seemed that Mr. Biden's protracted deliberations had come to an end, only for new doubts to arise about the timing and mechanics of launching his bid."

Biden (D)(4): "Cuomo Is Sticking With Biden" [State of Politics]. "'I think he has the best chance of defeating President Trump, which is the main goal here,' Cuomo said. 'I think he can unify the Democratic Party and, again, focus on the goal, the goal is defeating President Trump and Joe Biden is in the best position to do that.' Cuomo, re-elected to a third term last year, has not made any public moves toward launching a campaign for the White House himself." • I wouldn't say "public" is doing a lot of work, there, but it's not exactly supine, either.

Buttigieg (D)(1): First to take advantage of the Democrat shift to an even more militarized set of electeds after 2018:

Thank you, Pete! pic.twitter.com/ta1WMXh15U

— Brazen Politics ?? (@brazenpolitics) April 14, 2019

Buttigieg (D)(2): "Pete Buttigieg Trivializes the Impact of Trade on US Job Losses" [Dean Baker, Truthout]. "In his campaign for the Democratic presidential nomination, Pete Buttigieg has been telling audiences that the U.S. lost six times as many jobs due to automation than trade from 2000 to 2010, according to The Washington Post. This is literally true, but for all practical purposes it is a very big lie….Tthe loss of millions of manufacturing jobs to imports was an explicit political choice, because our leaders decided it was more important to promote investment opportunities in China for Goldman Sachs and to increase protection for Pfizer's drug patents…. [A]t the very least, we should be able to talk honestly about what happened and why. Instead, Buttigieg seems intent on going the route of denial."

Buttigieg (D)(3): "Rivals are scrambling to dig up dirt on Pete Buttigieg" [NBC]. "'Our competitors can run their campaigns how they want,' said Lis Smith, Buttigieg's top communications adviser. 'We're less interested in politics as usual and more focused on getting Mayor Pete's hopeful message of generational change out there.'" • "ful message of generational …." It worked once, I suppose….

Sanders (D)(1): "9-Foot-Tall Bernie Sanders Greets Supporters After Session With Posture Coach" [The Onion]. • "NEWS IN PHOTOS" so the headline is the joke…
Impeachment
Warren:

Last night on @maddow, I made it clear: We can't ignore a president's repeated efforts to obstruct an investigation into his own disloyal behavior. The House should initiate impeachment proceedings against the President of the United States. pic.twitter.com/QHxYmYUtxM

— Elizabeth Warren (@ewarren) April 21, 2019

Maddow. Oy.

"Kamala Harris on Trump: 'I believe Congress should take the steps towards impeachment'" [CNN]. • Whatever "steps toward" might mean. Warren and Harris are also both Senators, so they don't have to do the heavy lift of buildng the case, unlike Pelosi

"Sanders Warns That Talk of Trump Impeachment Risks Party Agenda" [Bloomberg]. "He added that if going into the months leading to the 2020 elections 'all that the Congress is talking about is impeaching Trump — Trump, Trump, Trump and Mueller, Mueller, Mueller' then they aren't talking about health care, raising the minimum wage, gay rights and other issues. 'What I worry about is that works to Trump's advantage,' he said." • Sanders seems to be implying that Democrats can't walk and chew gum and the same time. Um, is there a reason to think he's wrong?

"Pelosi's impeachment dam has been breached" [WaPo]. "What's also significant here is the way in which Warren and Harris are talking about impeachment. Warren's words in particular seemed geared toward rebutting Pelosi's argument for a more cautious approach. A few weeks back, Pelosi set the threshold for impeaching Trump as getting bipartisan buy-in from Republicans…. The Democratic Party is currently engaged in a battle between its head and its heart — between a thirst for the power that has eluded it in recent years and a real sense that impeaching Trump is simply the right thing to do. Warren and Harris are now giving Democrats' license to pursue the latter course — to make this a moral calculation rather than the political one Pelosi has argued in favor of. If Democrats start joining their ranks and rejecting the pragmatic approach, Pelosi and her fellow leaders are going to be faced with a really difficult decision."

Lambert here: I'm having a hard time gaming this out, and I don't think I'm the only one. I start with the figure that (IIRC) of 275 questions Warren was asked on the trail, three were about impeachment. That suggests that, outside the Democrat nomenklatura, two solid years of yammering about Russia seems to have gotten no traction with voters. On the other hand, young Democrat "stars" in the House AOC and Ilhan Omar are for impeachment; presumably they're not out of touch with their constituents (i.e., it's not all anti-Pelosi posturing). Then there's the fact that plenty of people who voted for Trump knew who and what he was; it doesn't, then, help Democrats break out of their bubble by telling people what they already know and have accepted.

Assuming there's a solid theory of the case beyond string diagrams, a truly Watergate-style House investigation might induce people to take Trump's putative crimes — and his prosecutors — more seriously, but that assumes the hearings won't devolve into a Benghazi-like circus of tangled narrative and CT. Where's today's folksy, avuncular, honest Sam Ervin? I don't see one around.

I ask myself who impeachment empowers and disempowers. Clearly, it empowers the Clinton faction (hence upping the risk of war with Russia). Clearly, it empowers the intelligence community (unless Trump blows the lid off whatever it was the Obama administration thought it was doing by setting up honey-traps for Papodoplous, etc., and what the DNC, through its cut-outs, thought it was buying from Steele). I would guess it disempowers the Blue Dogs, Pelosi's main fear, because they don't want their races nationalized, which is what impeachment might do. And I don't view heaving some Blue Dogs aver the side as a bad thing! I would also guess that it will disempower Sanders — to the extent his own media and canvassing operations do not defend him — by sucking all the oxygen out of the room on policy for the next two years. In any case, the Senate seems highly unlikely to convict, so isn't the impeachment a case of (highly profitable) virtue signalling?

Of course, there is the larger principle of the rule of law — as Warren says and may even believe — holding crooks accountable, and yadda yadda yadda, but who believes that? Let's be serious: If the Democrats were able to convict Trump, they'll stop right there. They have a donor class to service, after all, exactly as in 2008. Also too, President Pence.
2019
Good for her:

Rep. Ilhan Omar: Legalize marijuana everywhere, expunge records of those jailed for pot offenseshttps://t.co/3XCQ8p18Hr pic.twitter.com/6JqX9JfD2e

— Newsweek (@Newsweek) April 20, 2019
Stats Watch
Federal Housing Finance Agency House Price Index, February 2019: "Appreciation has been slumping visibly for home prices" [Econoday]. "Home sales struggled badly last year especially at year end and the weakness is reflected in prices. Yet this report is for February, just when mortgage rates started to fall dramatically which is a nearly guaranteed plus for sales."
New Home Sales, March 2019: "easily topped expectations" [Econoday]. "Yesterday's existing home sales report corrected lower in March but followed a great surge in February, and together with today's report points to a promising year for home sales which were last year's big economic disappointment. The strength also points to a reversal for home prices where appreciation had been slumping."
Richmond Fed Manufacturing Index, April 2019: "Fifth District manufacturing activity growth continued to moderate" [Econoday]. "Capacity utilization also fell into negative territory.. Other components in the index, however, were mostly stronger, with backlog of orders remaining deep in contraction territory but up."
Two Boeing stories drowned out by the MCAS debacle:
Manufacturing: "Claims of Shoddy Production Draw Scrutiny to a Second Boeing Jet" [New York Times]. Regarding Boeing's union-busting plant in Charleston, SC, which manufactures the 787: "A New York Times review of hundreds of pages of internal emails, corporate documents and federal records, as well as interviews with more than a dozen current and former employees, reveals a culture that often valued production speed over quality. Facing long manufacturing delays, Boeing pushed its work force to quickly turn out Dreamliners, at times ignoring issues raised by employees…. Qatar Airways stopped accepting planes from the factory after manufacturing mishaps damaged jets and delayed deliveries….. Employees have found a ladder and a string of lights left inside the tails of planes, near the gears of the horizontal stabilizer." • Well, I'm sure somebody would have heard the ladder rattling around; what's the issue? More: "Joseph Clayton, a technician at the North Charleston plant, one of two facilities where the Dreamliner is built, said he routinely found debris dangerously close to wiring beneath cockpits. 'I've told my wife that I never plan to fly on it,' he said. 'It's just a safety issue.'" • Recall also that the 737 MAX problems are knock-on effects from the 787 launch debacle. So now, not only Boeing's cash cow (the 737) but its star (the 787) are in trouble. Which means that Boeing, the national champion, is in trouble. I imagine we'll bail them out with a large military contract. Or maybe we already have, but it's in the black budget and we don't know about it!
Manufacturing: "Boeing's switch to 'smart machine' inspectors draws heat from union" [Post and Courier]. "An example of how the new technology works is a 'smart wrench' used to tighten nuts in hydraulic lines on Boeing's 737 and 777 programs. It will eventually be used on the 787 assembly line in North Charleston…. The Seattle Times reported the digital wrench signals when the correct torque is being applied to a nut and automatically sends the data to a computer system. The high-tech tool eliminates the need for mechanics to mark each nut, the paper reported, because it is programmed to track all of the operations in a pre-determined sequence." • Obviously, wrenches that are "smart" — there's that word! — are totally transparent and not gameable at all.
The Bezzle: "Tesla CEO plans to hand the car keys to robots next year" [Associated Press]. "From Musk's vantage point, Tesla has a huge advantage over autonomous vehicle competitors because it gathers a massive amount of data in the real world. This quarter, he said Tesla will have 500,000 vehicles on the road, each equipped with eight cameras, ultrasonic sensors and radar gathering data to help build the company's neural network, which will serve as the digital equivalent of the self-driving cars' consciousness. The network allows vehicles to recognize images, determine what objects are and figure out how to deal with them. To become fully self-driving, the cars also need a special computer that fits behind the glove box and is powered by a special chip Musk boasted is better than any other processor in the world 'by a huge margin.'" • So Musk plans to train his AI by driving his cars into civilians? Isn't that what his plan amounts to? That's about the size of it–
The Bezzle: "Consumer Reports: Tesla Must Prove Safety Before Claiming "Self-Driving" Ability" [Consumer Reports]. "David Friedman, Vice President of Advocacy for Consumer Reports, said, "Tesla's current driver-assist system, 'Autopilot,' is no substitute for a human driver. It can't dependably navigate common road situations on its own, and fails to keep the driver engaged exactly when it is needed most…. "We've heard promises of self-driving vehicles being just around the corner from Tesla before. Claims about the company's driving automation systems and safety are not backed up by the data, and it seems today's presentations had more to do with investors [marks] than consumers' safety….. But instead of treating the public like guinea pigs, Tesla must clearly demonstrate a driving automation system that is substantially safer than what is available today, based on rigorous evidence that is transparently shared with regulators and consumers, and validated by independent third-parties." • Ouch.
The Bezzle: A tough crowd in China:
More video of the exploding $tsla in Shanghai pic.twitter.com/r9HiH4GEOA

— BertelSchmitt™ ????? (@BertelSchmitt) April 22, 2019
Tech: "Dark pattern" concept going mainstream. This thread on TurboTax, which some of you may have just finished using:
1/ Here's how @TeamTurboTax tricks Americans into paying each year to file — even though they qualify for the fully free product.

It involves some creative wording, a hard(er) to find 2nd site and something called "dark patterns." More on that later.

Let's get to filing! ???

— ProPublica (@propublica) April 22, 2019
Tech: "Facebook's new chief lawyer helped write the Patriot Act" [The Verge]. "But many are already troubled by [Jennifer] Newstead's history lobbying and legislating for more powerful electronic surveillance. As The Hill points out, a 2002 Justice Department press release describes her as "helping craft" the legislation. Notorious Bush administration lawyer John Yoo described her as the 'day-to-day manager of the Patriot Act in Congress' in his 2006 book." • Jon Yoo? That's quite a recommendation. I mean, depending on the kind of business you're in.
Tech: Faceboook is listening (anecdote):
Last year, I wrote this article about Facebook ads – promoting things I'd been talking about ?Since then, I've been targeted with loads more, including an ad for an Easter egg I was eating last week ?
Spooky! ?
Have you experienced anything like this?https://t.co/3TT9ASZick

— Tyler Mears (@tylerashleighm) April 15, 2019
Tech: Your phone is listening (another anecdote):
I yelled into my phone "I'm pregnant" for 5 minutes on Sunday to see which apps would start advertising baby things. Definitely NOT pregnant. Zero babies in my sphere. Didn't get any ads, but just received these free formula samples in the mail, which is creepier. pic.twitter.com/tGlOHfTMxO

— Sam (@scarlet_xroads) April 19, 2019
Tech: Your taxi is watching:
— Rosa Golijan (@rosa) April 20, 2019
The Biosphere
"'Global deal for nature' fleshed out with specific conservation goals" [Nature] "Governments around the world must fully protect 30% of Earth's surface and sustainably manage another 20% by 2030 if they're to have a hope of saving ecosystems and limiting global warming, researchers have said in a new report. The recommendations are part of a fleshed out 'global deal for nature' — initially proposed by researchers in 2017 as a companion to the Paris climate accord — that outlines what it will take to maintain a liveable planet…. The scientists called for doubling the area of fully protected regions on land, such as tropical forests and grasslands, and a roughly five-fold increase in the extent of marine protected areas. Efforts to manage ecosystems sustainably should go beyond governments and involve groups that would be affected by conservation policies, including businesses, local communities and Indigenous people, the researchers write. .IIf humanity moves quickly, it can achieve the goals of the Paris climate accord while also slowing the rate of species extinctions, says lead study author Eric Dinerstein, a wildlife scientist at the conservation group RESOLVE in Washington DC." • The original paper–
"An Ecoregion-Based Approach to Protecting Half the Terrestrial Realm" [Oxford Bioscience]. From the abstract: " Using a map of Earth's 846 terrestrial ecoregions, we show that 98 ecoregions (12%) exceed Half Protected; 313 ecoregions (37%) fall short of Half Protected but have sufficient unaltered habitat remaining to reach the target; and 207 ecoregions (24%) are in peril, where an average of only 4% of natural habitat remains. We propose a Global Deal for Nature—a companion to the Paris Climate Deal—to promote increased habitat protection and restoration, national- and ecoregion-scale conservation strategies, and the empowerment of indigenous peoples to protect their sovereign lands. The goal of such an accord would be to protect half the terrestrial realm by 2050 to halt the extinction crisis while sustaining human livelihoods."
"Should Trees Have Standing? Toward Legal Rights for Natural Objects" (PDF) [Christopher Stone, Southern California Law Review]. From 1972, still germane, though very much of its time:
To be able to get away from the view that Nature is a collection of useful senseless objects is…deeply involved in the development of our abilities to love–or, if that is putting it too strongly, to be able to reach a heightened awareness of our own, and others' capacities in their mutual interplay. To do so, we have to give up some psychic investment in our sense of separateness and specialness in the universe. And this, in turn, is hard giving indeed, because it involves us in a flight backwards, into earlier stages of civilization and childhood in which we had to trust (and perhaps fear) our environment, for we had not then the power to master it. Yet, in doing so, we-as persons-gradually free ourselves of needs for supportive illusions.
As a person to whom the only halfway acceptable religion is animism, this makes sense to me!
"Tepco transfers first nuclear fuel out of No. 3 reactor building at crippled Fukushima plant" [Japan Times]. "Seven unspent fuel rod assemblies were transferred Tuesday to a common pool about 100 meters away, according to Tokyo Electric Power Company Holdings Inc…. Tepco aims to transfer all of the remaining 559 spent and unspent fuel assemblies from the No. 3 unit storage pool to the common pool by March 2021…. Even if the fuel removal work progresses smoothly, Tepco still faces the biggest challenge in the decommissioning of the crippled plant — retrieval of melted fuel that has dripped down into the containment vessels at the Nos. 1-3 units."
Our Famously Free Press
"Supreme Court could limit FOIA, curtail investigative reporting" [Committee to Protect Journalists]. Food Marketing Institute (FMI) v. Argus Leader: "The stakes are high, not only for journalists who report on the relationship between businesses and the government, but also for local reporters who often brush up against similar exemptions in local and state-level records laws. If the newspaper loses and the FOIA exemptions expands, press freedom advocates and reporters told CPJ, crucial accountability reporting could become more difficult…. The issue hinges on an exemption that can be used to redact parts of a FOIA request. When journalists ask the federal government to turn over information, either the government or another party to the information can block its release if they argue the information is "confidential"–invoking a FOIA exemption known as Exemption 4…, Even if local reporters don't tangle with Exemption 4 directly, the Supreme Court weighing in on the topic could trickle into their work, said Sam Jones, an attorney in Iowa who does open records litigation for the Iowa Gazette. The Iowa public hospital association, for example, recently blocked the Gazette's request for release of pricing information for a report into the costs associated with its contracts with outside vendors." • Read the whole piece for FMI's horrid theory of the case; here is a transcript of the oral arguments. SCOTUSblog concludes: "Republicans, and some Democrats, might embrace the broader interpretation of "confidential" that business interests favor, and the current congressional sclerosis could leave in place a new status quo that a business-friendly court establishes." • I wonder if CalPERS has a position on this….
"Julia Angwin Is Out as Editor of New Tech Watchdog Site The Markup" [New York Times]. "The Markup raised more than $23 million in funding, a testament to the reputation that Ms. Angwin, the site's editor in chief, and another of its founders, Jeff Larson, had established through their work at ProPublica, which they left last year. But on Monday evening, Ms. Angwin was fired from The Markup via email, just months before the site's planned July start date." • Two founders* force out a third? This whole story reads very oddly, and one can't help but think that "$23 million in funding" has something to do with it. NOTE * And since when did the horrid "founder" creep into the world of journalism. "Publisher" or "editor" would do just fine….
"What I've Learned From Collecting Stories of People Whose Loved Ones Were Transformed by Fox News" [New York Magazine]. "For at least one person, it marks the final memory he'll ever have of his father: 'When I found my dad dead in his armchair, f*cking Fox News was on the TV,' this reader told me. 'It's likely the last thing he saw. I hate what that channel and conservative talk radio did to my funny, compassionate dad. He spent the last years of his life increasingly angry, bigoted, and paranoid.'" • To be fair, the story does gesture in this direction: "More than a few readers wrote to say this all made them thankful they merely had to contend with Dem-Boomer family who had gone mad for Maddow and Russiagate. 'My grandma is a huge Maddow person and operates the same way as Fox News brained people,' one wrote me. 'The signaling she gets and reiterates from MSNBC happens in the same sort of 'brain rot' way. Like, she heard something on there, or on Facebook, that was about how Trump is about to get impeached — and every day I talk to her and she repeats that.' ;I love her, and she's bright and it's obviously less offensive" than Fox News, the reader continued, 'but the whole f*cking garbage corporate 24 hour news model is insidious and so so f*cking bad.'" • I haven't had this experience with family, fortunately, though there are topics I don't broach with acquaintances. I don't know what the solution is. I'd say that TV is just bad for you, except I would bet the same process happened with print.
Class Warfare
"The Uber Workplace in D.C" (PDF) [Kalmanovitz Initiative for Labor and the Working Poor]. n=40.
1. Uber drivers do not know how much they earn or lose.

• 100% of drivers experienced difficulties with, or barriers to, calculating their actual compensation.

2. Data about the Uber workplace is limited.

• Regulators and researchers do not have access to basic information about labor conditions.

3. Uber drivers are encouraged to take on financial risk and debt.

• 33% of drivers took on debt as a result of their work on the ride-hailing platform.

4. Uber drivers report challenges to their health and safety.

• 30% of drivers reported physical assaults or safety concerns.

5. Despite these challenges, the Uber workplace remained attractive.

• 50% of drivers would recommend the job to a friend.

• 45% of drivers planned to keep working the job for at least six more months.
For some definition of "attractive."
News of the Wired
"Student Studying in Paris Witnessed Fire at Notre Dame Cathedral" [The University of Tennessee News]. This is mundate, at least for a story about Notre Dame catching on fire, until the last two sentences: "Studying in Paris has been 'the coolest thing in the world,' [Oliver Trigony, a history major from Jackson, Tennessee] said. 'I am visiting monuments that I have only seen on the internet and seen paintings that I have only seen in books.'" • I have a family story about two kids standing in front of a large painting at MOMA. One says: "This is the original." And the other says: "What do you mean?"
"Meet the People Keeping Mold-A-Rama Alive" [Atlas Obscura] (2018). "When Mold-A-Rama debuted at the 1962 Seattle World's Fair, the molds of the Space Needle, a monorail, and other fair-related designs drew as much attention as the unique production process, which remains the same to this day. After inserting payment, customers watch two sides of an aluminum mold close as it is injected with heated polyethylene pellets. In less than a minute, the mold opens, releasing the plastic object.* The signature 'waxy' smell hangs in the air as the hollow figurine slowly cools… 'It's a true form of American manufacturing," [owner William Jones' says. 'All of the machines were made in America, made here in Chicago actually. There's a niche that they maintain. I think it helps that we have never tried to change it. We leave it right where it's at and pay honor to it and try to let it survive. It seems to be just doing that on its own at times.'" • Dinosaurs! Aliens! Green gorillas! However, I have never seen a Mold-A-Rama, at least not literally. Readers?
* * *
Readers, feel free to contact me at lambert [UNDERSCORE] strether [DOT] corrente [AT] yahoo [DOT] com, with (a) links, and even better (b) sources I should curate regularly, (c) how to send me a check if you are allergic to PayPal, and (d) to find out how to send me images of plants. Vegetables are fine! Fungi are deemed to be honorary plants! If you want your handle to appear as a credit, please place it at the start of your mail in parentheses: (thus). Otherwise, I will anonymize by using your initials. See the previous Water Cooler (with plant) here. Today's plant (Carla):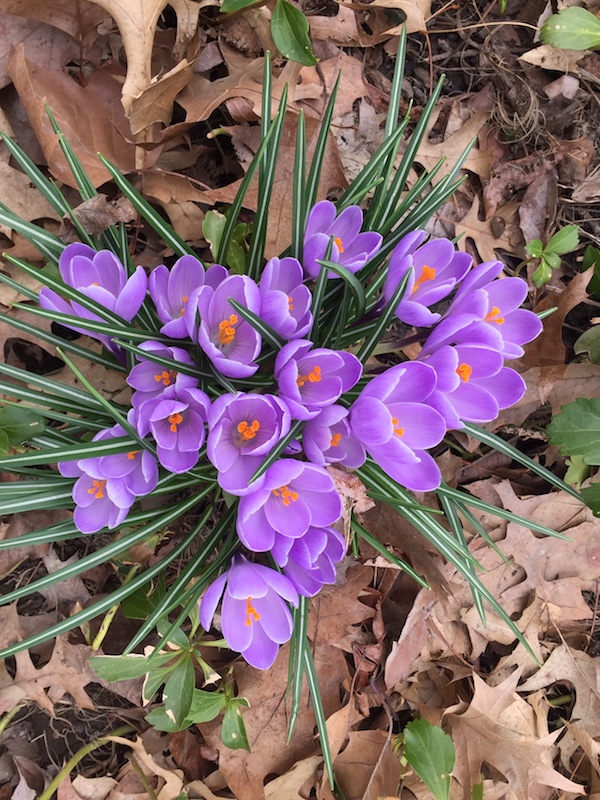 Weeks of rotting leaves and mud. Then suddenly — pop!
* * *
Readers: Water Cooler is a standalone entity not covered by the annual NC fundraiser. So do feel free to make a contribution today or any day. Here is why: Regular positive feedback both makes me feel good and lets me know I'm on the right track with coverage. When I get no donations for five or ten days I get worried. More tangibly, a constant trickle of small donations helps me with expenses, and I factor in that trickle when setting fundraising goals. So if you see something you especially appreciate, do feel free to click this donate button:
Here is the screen that will appear, which I have helpfully annotated.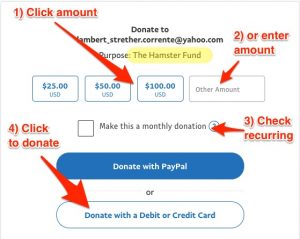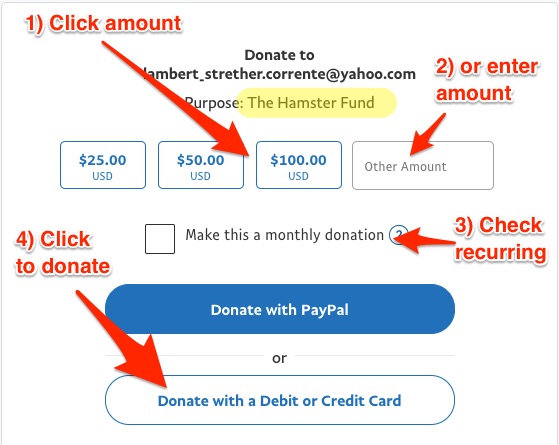 If you hate PayPal, you can email me at lambert [UNDERSCORE] strether [DOT] corrente [AT] yahoo [DOT] com, and I will give you directions on how to send a check. Thank you!