By Lambert Strether of Corrente.
Politics
"But what is government itself, but the greatest of all reflections on human nature?" –James Madison, Federalist 51
"They had one weapon left and both knew it: treachery." –Frank Herbert, Dune
2020
Readers, I had so much collected over the weekend, I couldn't make sense of it all! –lambert

Biden (D)(1): "No Joe!" [Andrew Cockburn, Harpers]. Massive takedown. "[T]here is not the slightest sign that Biden used his influence to encourage pursuit of the financial fraudsters [after the Crash]. As he opined in a 2018 talk at the Brookings Institution, 'I don't think five hundred billionaires are the reason we're in trouble. The folks at the top aren't bad guys.'" • Read the room, Joe.

Biden (D)(2): "Lucy Flores and Amy Lappos Speaking Out About Joe Biden's Alleged Inappropriate Touching Matters" [Teen Vogue]. "I would argue that some of Biden's defenders implicitly ask what is the cost, really, to girls and women, to let someone touch you for a minute, if they mean well and it makes them happy…. The actions of some powerful people, and powerful men, in particular, occupy a space in between typical greetings and sexual assault. When someone puts a hand on someone else's thigh or makes an attempt to move past a person by putting their hands on their hips, they may not be offending everyone, and it can be unclear if the intent is to sexualize or demean — or if there was any intent at all…. What matters most is not what Biden may have intended; what matters most is the effect his alleged actions may have had on someone much less powerful than him."

Buttigieg: (D) (1):

South Bend's first black police chief secretly recorded the other officers saying racist things and confronted them about it and the officers complain to the FBI who investigates and tells Buttigieg. Chief gets demoted and the racist officers get $500k. WTF. https://t.co/9sSdftMfJj

— Samuel Sinyangwe (@samswey) April 4, 2019

Oopsie.

Gravel: (D) (1):

There are two types of Trump resistors – those who see him as an aberration and wish to return to GWB/Obama (like Frum and Biden), and those who view him as the inevitable result of decades of disastrous policy & the rule of an out-of-touch, universally despised elite class.

— Mike Gravel (@MikeGravel) April 5, 2019

Except only the first type employs the #Resistance hash tag.

O'Rourke (D) (1): "Reality bites Beto after high-flying kickoff" [Politico]. "O'Rourke has seen little movement in polls since he announced. He posted an impressive — but not first-in-class — fundraising total for the first quarter of the year. Another young, relatively inexperienced politician, Pete Buttigieg, has emerged as the Democratic upstart of the moment." • It's almost like a Gish Gallop, isn't it? Harris, then Beto, then "Mayor Peter"… Who's next?

O'Rourke (D) (2): "Map: Here's what 2020 contender Beto O'Rourke's Saturday swing through Des Moines looked like" [Des Moines Register]. "When O'Rourke arrived, he spoke to a group of over 150 that encircled him in the Des Moines backyard. He stood on a black wooden box, rotating throughout his speech to see everyone attending. Eventgoers asked him about a variety of issues from his views on Israel and Palestine to the late Sen. John McCain. The yard faced a busy Des Moines street — and drivers noticed the presidential candidate from the road. O'Rourke waved back at passengers who shouted 'Beto!' from passing cars." • See a guy standing on something and gesticulating, it's O'Rourke; hence the honking. I don't know if O'Rourke is an idiot savant, or a genius. Certainly his answers to questions from citizens are nothing special.

O'Rourke (D) (3):

Beto O'Rourke campaigns in Iowa: "We also have to understand our story as a country and that it's composed and comprised of people from the planet over who have made us stronger when they have chosen us." pic.twitter.com/qkgX46FLVd

— The Hill (@thehill) April 7, 2019

Huh?

Sanders (D) (1): "Bernie Sanders says he does not support open borders" [Politico]. "The attendee also claimed the Vermont senator is 'an advocate for open borders.' 'I'm afraid you may be getting your information wrong. That's not my view,' Sanders said. 'What we need is comprehensive immigration reform,' he continued. 'If you open the borders, my God, there's a lot of poverty in this world, and you're going to have people from all over the world. And I don't think that's something that we can do at this point. Can't do it. So that is not my position.'… Sanders has backed the 2013 comprehensive immigration legislation proposed by the bipartisan Gang of Eight senators." • That will be highly unpopular with the wage-fixing Silicon Valley donor class, who rely on H1B visas for a compliant and inexpensive workforce, and would like the same happy outcomes with their yardmen and maids. The tone police are already out in force on this one…

Sanders (D)(2): "Bernie Sanders Is the Most Popular 2020 Candidate Among Hispanic Voters" [The Intercerpt]. "The polling, which was done by Morning Consult and shared with The Intercept, shows that Sanders's support among Hispanic voters is at 33 percent, though those results are not broken down by age, which could be a determining factor in the primary vote. Sanders generally performs best among young voters, and a turnout of young Latinx voters would likely benefit him more than if older Latinx voters show up to the polls. Former Vice President Joe Biden, who is also considered a leading candidate despite not having declared his run for office, is the only contender who comes close to Sanders's level of support, with 24 percent…" • Only one poll, of course, but it least it shows that Sanders is not deeply unpopular. Of course, 574 days is a long time and politics, and plenty of people will be working on that….

Sanders (D)(3): "Young Latinos convert parents into supporting Bernie Sanders" [MSNBC]. "English is not [Lidia] Rodriguez's first language. And like many parents who are new immigrants, she sought election guidance from her children, who tend to be more politically engaged and better assimilated into American life…. And so when [her daughter] Brenda said that Sanders was the strongest candidate for their family, Rodriguez didn't bat an eye. She would support him, too. 'It's because you're a trusted messenger, for everything — reading documents, translating, etc.,' Brenda said her mother later told her. Their family is not alone. The clear enthusiasm among young people for the Sanders campaign is slowly having a double return within the Latino community— fired-up millennials with immigrant roots are going home to their families and convincing them to buy into Sanders' revolution."

Sanders (D)(4): "For many voters, it's not what's new about Bernie Sanders– It's what's the same" [Quad Cities]. "'A lot of them are saying what he was saying four years ago. I think he's been saying this whole life and I believe him that he means what he's saying,' says Tom Post. 'What he wrote in his book is what he said then and he's saying it now,' says Rex Grove…. Sanders credited the people of Iowa for 'starting his revolution.' He says they helped normalize what many others thought were radical ideas back in 2016." • Wait, what? I thought insulting and blaming voters was what Democrats were all about. Did I not get the memo?

Sanders (D)(5): "A 2016 hangover: Some Bernie Sanders supporters still upset" [Associated Press]. • Hey, remember when AP called the primary for Clinton the day before the vote? Good times…

Sanders (D)(6): Not to be a squeeing fan boy:

Spending recess working on the @rollcall photo archives and I found another hidden gem. @SenSanders giving @SenatorLeahy bunny ears while awaiting the arrival of the 1994 @PeoplesTree pic.twitter.com/QejslWVYyZ

— Bill Clark (@billclarkphotos) March 21, 2019

But who said Sanders doesn't have a sense of humor?

Warren: "Warren places third in 2020 Massachusetts poll" [The Hill]. "In a poll of likely Democratic primary voters in the state, 14 percent picked Warren as their preferred Democratic nominee for president. Sanders led the field with 26 percent of support, followed closely by Biden, who had the support of 23 percent of likely Massachusetts voters. According to Spencer Kimball, director of Emerson Polling, "This is a concern for Warren who at this time does not have a firewall in her home state, and her rival Sanders has a strong base in the Bay State."

"Primary debates should be a Democratic bulwark against Trump tirades" [Daily Kos (RH)]. Many assumptions about Democrats and the Democrat nomenklatura I don't share, but here's an interesting nugget: "The second 2019 Democratic debates have been announced for July 30 and 31 in Detroit, a month after the first debates in Miami. What isn't said in the email sent to the [DNC's] members announcing the debates is that [the DNC] through contract negotiations with CNN and others, have informed them … Uncertain to members of the DNC is whether or not candidates would be penalized for participating in non-sanctioned debates." • DNC thuggishness is more and more open, isn't it?
Realignment and Legitimacy
"Research is vital to the moral integrity of social movements" [Rev. Dr. William J. Barber II, Economic Policy Institute]. "One of the quickest ways for a movement to lose its integrity is to be loud and wrong. We've seen too many movements that have bumper sticker sayings but no stats and no depth. Researchers help to protect the moral integrity of a movement by providing sound analysis of the facts and issues at hand. Armed with this information, we're able to pull back the cover and force society to see the hurt and the harm of the decisions that people are making." • This is a must-read.

Service project:

1/2
Hello everyone we need your help!Florida DSA is working towards getting rid of school lunch debt in Florida.

Our problem for our chapter is Volusia County cafeterias are owned by a private company called "School Way Cafe". Who refuse to give us student lunch debt info.

— Daytona Beach DSA ? (@DaytonaBeachDSA) March 29, 2019

Good PR, concrete material benefits, just like brakelight clinics. What's not to like?

Textbook controversy: Thread:

1/19 Ok, i ordered my own copy of History of the World in Christian Perspective, 3rd Ed (1995) by Abeka Publishers, and it delivers. For historians of US religion, holy crap. Someone needs to do an article on where this has been taught. @MelaniMcA @KevinMKruse @samhaselby pic.twitter.com/EMUy3uP2yM

— Brad Simpson (@bradleyrsimpson) April 5, 2019

Holy moley. I was lucky enough to miss all this when I went to school!

"Stacey Abrams to keynote annual Mackinac Policy Conference" [Michigan Advance]. "Joining Abrams as announced speakers at this year's Mackinac Conference are Republican former governors and presidential candidates Jeb Bush of Florida and John Kasich of Ohio. A number of prominent political pundits also are slated to speak at the conference. They include: Democratic former U.S. Rep. Harold Ford Jr., former Democratic National Committee Chair Donna Brazile and Matthew Dowd, a Michigan native and former President George W. Bush adviser." • Quite a line-up!
Stats Watch
Commodities: "A Million Tons of Copper Is on the Way: It May Not Be Enough" [Bloomberg]. "Giant mines currently under construction will churn out an additional 1 million tons of copper through 2023, but that won't be enough to fully close an expected gap between supply and demand in the next few years…. Trade negotiations between China and the U.S. and the impact that tensions could have on Chinese demand for the metal are likely to be at the center of conversations during the gathering in Santiago. China is the world's largest buyer of copper and it consumed more than half of the estimated 23.5 million tons of copper produced in 2018, according to Chile copper agency Cochilco…. 'Brokers including myself are generally positive on a near term view,' [Colin Hamilton, managing editor for commodities at BMO Capital Markets] said. 'In my view the difference is the near-term outlook for China."
Finance: "You Pay for Netflix and Spotify Monthly. What About Financial Planning?" [Quartz]. "In a region where people have adopted mobile payment systems, mobile money, and mobile communications so easily, could it be that mobile payments for financial advisory, investment advisory, and project advisory is just around the corner?" But: "If you pay for those things the chances are you won't have any money and so the only advice should be: stop paying for crap tv and music subscriptions."
The Bezzle: "Gaming will be a key differentiator in autonomous vehicles" [Business Insider]. "As AVs become more widespread, they'll free up riders to consume media and content while on the road. We expect US shipments of semi- and fully autonomous vehicles (AVs) — nearly all of which will come with embedded internet connectivity — to rise from a half-million today to about 2.6 million in 2023. In the absence of needing to drive the car, consumers will be free to engage in various activities of their choice, which could include everything from working to streaming media and other entertainment experiences."
The Bezzle: "Sunday Strategist: Tesla Engineered the Perfect Demand Curve" [Bloomberg]. "In the Model 3, Tesla managed to engineer an economist's dream: a near-perfect demand curve. It was launched in 2016 as a $30,000 car. But with demand far outstripping any reasonable supply for years, the company smartly pegged starting prices at almost double that level by prioritizing production of fancier, more high-end configurations. Musk is plenty irreverent about Detroit, but this is an auto industry trick as old as the carburetor. Any time a new vehicle is launched, manufacturers order up an inordinate share of the big-money trims to capture those most "willing to pay," as the dismal scientists say. The front-loading usually lasts a quarter or two, but without formal model-year designations, Tesla was able to keep the hype up for over a year before so much as hinting at bare-bones iterations of the car. The problem with a $60,000 starter Tesla is that there's another one that costs only slightly more, the Model S. The No. 1 rule in price segmentation — clumping customers by willingness to pay — is make sure the affluent folk don't trade down. (This is why the service in coach is so salty and the seats so small). It appears that would-be Model S buyers have trickled down to the cheaper option. And why wouldn't they?"
Tech: "Why New Technologies Take Decades to Change the Economy" [Barron's] (original). "Whenever a new technology arises that has the potential to change the world, we see the invention in terms of its improvement on what came before. So electricity gives cleaner and better light than kerosene lamps. Yet it is never a particular invention, but a new ecosystem that arises, that transforms the world. Consider that in the mid 90s, computers had been around for half a century with little or no impact on economic productivity. Yet when that technology combined with the Internet and computer engineers started collaborating deeply with subject matter experts to create industry and function specific applications, that drove a productivity boom. Once again, it is not so much new inventions, but new ecosystems that drive advancement." • I really resist that "ecosystem" metaphor. It smells of synergy.
Tech: "Google shuts down AI ethics council after controversy over members" [CNET]. "Google said Thursday that it's pulling the plug on its newly announced artificial intelligence ethics council, after more than a week of outcry over some of the members the search giant had chosen for the group. The group, called the Advanced Technology External Advisory Council (ATEAC), was comprised of AI experts outside of Google. The goal was to help guide the company in its work on AI projects and address thorny issues like facial recognition and bias in machine learning. But the council was slammed with controversy from the very beginning. Some accused one member, Heritage Foundation President Kay Cole James, of being "anti-trans, anti-LGBTQ, and anti-immigrant." On Monday, a group of employees called Googlers Against Transphobia and Hate published a petition demanding James be removed from the group. More than 2,000 Googlers have signed it. Another member, Alessandro Acquisti, a behavioral economist and privacy researcher, had already dropped out of the group." • Well, on the bright side, we have the Heritage Foundation to thank for the ObamaCare mandate. So there's that.
Tech: "What happened with Amazon, and decoding 'tasteful"'" [Tiny Nibbles]. "Just so there's a public record of my recent experience with Amazon Associates, I'm putting it all on one place below. The short version: Amazon terminated my Associates account with vague language about unsuitable content on one of my websites (this one). After reaching out to tell me it was a mistake, but asking me to change a few images, and then going unresponsive, Amazon eventually reinstated my account just over a week later. I discovered that Amazon is doing random, somewhat automated reviews on Associates accounts, but they are fine with nudity on partner website — as long as it is 'tasteful.'" And: "Imagine being an author, and Amazon doesn't like you, won't do business with you, or has put a mark on your record somewhere. You can't imagine it because it's not really possible if you want to survive as an author, let alone be successful." • If your business depends on a platform…
Manufacturing: "China Aircraft Leasing suspends orders for 100 Boeing 737 MAXs: report" [Reuters]. "China Aircraft Leasing Group Holdings has put its order for 100 Boeing 737 MAX jets on hold, until it is assured of the aircraft's safety…. The Hong Kong-listed lessor, which is controlled by the state-owned conglomerate China Everbright Group, [had] placed an order for 50 aircraft in June 2017."
Manufacturing: "Japan's IHI finds over 7,000 cases of improper inspections for jet engine parts" [Japan Times]. "A scandal over improper maintenance work at jet-engine maker IHI Corp. deepened Monday as the company said it has found over 7,000 cases of flawed inspections in the process of making engine parts during the two years through January…. The heavy-machinery maker, known for supplying engines to Boeing and Airbus, stated in a press release that the affected products meet the specified size, strength, functions and performance and have no technical problems."
Rapture Index: Closes up one on Oil Supply/Price. "The oil prices have risen with new demand" [Rapture Ready]. Record High, October 10, 2016: 189. Current: 179. Still below the 180 floor. Remember that bringing on the rapture is a good thing.
The Biosphere
"Succulent plant diversity as natural capital" [New Phytologist Trust]. "Drought‐tolerant plants are increasingly recognized as a resource to mitigate the consequences of climate change. Succulent plants use stored water to sustain metabolism during regular droughts; succulence is a highly successful adaptation that has evolved in thousands of species throughout the plant kingdom…. This review highlights research needed to develop desert succulents as a sustainable resource in a carbon economy…. [X]eromorphic succulents endemic to arid and semi‐arid regions could be at risk of extinction due to habitat loss and exploitation, while others could become invasive if introduced outside their natural range, thus compounding an existing problem of invasive succulent plant species."
"Concerns over glyphosate pass from human health to the soil" [Politico]. "Soil experts, academics and scientific studies are also establishing clear links between the use of substances such as glyphosate with drops in soil fertility and the collapse of microbe ecosystems essential to healthy soil… [French farmer François Peaucellier], 30, no longer measures success just by the bounty of his crops, he says, but by the number of worms he finds living in the soil beneath them… He pierces his own land with a yellow spade. The soil is marbled with healthy decomposing roots, crawling lice and squirming earthworms. 'These animals do so much more work than any fertilizer will do,' he says. 'But you need one, two, three years to bring back the life.'" • Wait, what? You can't extract rent from an earthworm! What's wrong with this guy?
Cute couple:
For a new plot, first see what is already growing! Then go for some flowers and plants that attract bees and thus improve pollination for everyone – lavender or comfrey good for bees. Best way to be healthy is to get your hands dirty – in the soil!

— Jeremy Corbyn (@jeremycorbyn) April 7, 2019
"The big lie we're told about climate change is that it's our own fault" [Vox]. "That same IPCC report revealed that a mere 100 companies are responsible for 71 percent of global climate emissions. These people are locking you and everything you love into a tomb. You have every right to be pissed all the way off. And we have to make them hear about it." • "There are not very many of the Shing." And it's almost as if putting capital under democratic control is the way forward, not changing consumer behavior.
"People Are Getting Sick From A US Steel Factory That Is 'Grossly Violating' Health Standards, Experts Say" [Buzzfeed]. "'When I was a child, I thought the coke works were a cloud factory,' said Meade, looking down onto the Clairton coke works. 'When I was older, I learned better." ● The "union way of life" really shouldn't have to depend on children getting asthma. But — I would imagine as in Houston — that's where we are.
UPDATE "Designing a Green New Deal" (September 13, 2019; Philly) [EventBrite]. "Designing a Green New Deal intends to bring a broad array of voices together, placing economists, historians, and designers in conversation with journalists, organizers, elected officials, and other parties engaged in organizing for climate action. This event will serve as the launch of a broader, Green New Deal and the built environment research initiative in The McHarg Center.
Our Famously Free Press
"Slow down, read up: Why slow journalism and finishable news is (quickly) growing a following" [Nieman Labs]. "A pack of burgeoning 'slow journalism' startups is trying to find out. With taglines like 'Slow down, wise up' and 'We prioritize knowledge over speed,' these digital-first outlets place their bets on two converging trends: a growing need to elude what has been labeled 'content overconsumption,' 'information overload,' and 'news is noise' in favor of more 'finite,' 'manageable,' and 'digestible' news apps and content; and the factual or perceived shortcoming of the media that it is great at telling us what has just happened, but less good at explaining significant developments." • The media — see under RussiaGate — is not "great" at telling us "what has just happened." We don't have an "information overload" problem, but a mis- and disinformation overload problem.
"Last year's headlines are in danger of disappearing forever" [Columbia Journalism Review]. "Between March 2018 and January 2019, we conducted interviews with 48 individuals from 30 news organizations and preservation initiatives. What we found was that the majority of news outlets had not given any thought to even basic strategies for preserving their digital content, and not one was properly saving a holistic record of what it produces. Of the 21 news organizations in our study, 19 were not taking any protective steps at all to archive their web output… When we asked interviewees why they believe news organizations are not archiving content, they said repeatedly that journalism's primary focus is on 'what is new' and 'happening now.'" • Agnotology.
"Great Hill Partners Acquires Gizmodo Media Group and The Onion from Univision Communications Inc." [BusinessWire]. "Great Hill Partners, a leading growth-oriented private equity firm, today announced it has acquired the Gizmodo Media Group and The Onion, a collection of premium digital content producers, from Univision Communications Inc… G/O Media brands reach more than a third of all Americans online each month, attracting approximately 100 million unique visitors. The Company's collection of digital-first brands serve young, diverse influencers with content that reflects their values and passions, including category-leading sites focused on technology (Gizmodo), car culture (Jalopnik), modern women's interests (Jezebel), sports (Deadspin), life tips and hacks (Lifehacker), gaming (Kotaku), and African American news and culture (The Root), and The Onion, which includes The A.V. Club and ClickHole." • Well, I wonder how long it will take for Great Hill Partners to crapify them. After it unionized, The Onion almost regained its dolf form. They react:
Gizmodo Media Group has been sold to Great Hill Partners. Our statement: pic.twitter.com/OJlbp3ysNH

— GMG Union (@gmgunion) April 8, 2019
The Times is for fans. The FInancial Times is for players:
Google sent the @FT a cake to congratulate us on reaching 1m paying subscribers.

It's quite plain and the wrong shade of pink. Also doesn't really make up for the destruction of the news industry's revenue streams.

But thanks! pic.twitter.com/baOFuPYLRZ

— John Burn-Murdoch (@jburnmurdoch) April 3, 2019
Class Warfare
"Socialist Principles Have Always Been Part of Black American Tradition" (interview) [Z, Truthout]. Z: "Our organization [Black Socialists of America (BSA)] reflects the ethos of Peter H. Clark's iconic 1877 speech, "Socialism: The Remedy for the Evils of Society" — Clark was the first Black Socialist of America, by the way. Our organization is building off of the work that Ella Baker was doing with the Young Negroes' Cooperative League back in the 1930s and fully embodies her nonsectarian, non-dogmatic approach in using socialist theory in a human-centered way. Baker was also an open socialist, by the way, so let's be clear on that. Our organization is committed to the anti-capitalist internationalism described in Huey P. Newton's 'Intercommunalism' works and reflects the revolutionary, anti-capitalist, feminist intersectionality that bell hooks was talking about way back in the early '80s before liberals co-opted the terminology."
"Towards a critical defense of 'identity politics'" [Socialist Worker(DB)]. "Identities, then, are constructs, and products of historical divisions and conflicts. But saying identities are constructs doesn't mean they are therefore "fake" — any more than saying race is a historical construct wipes away the realities of racism. Identity plays a big role on the level of consciousness, self-perception and self-pride for oppressed groups — and often opens up a path to understanding oppression as part of a system. Identity has at least two aspects: a name or category that a person chooses for themselves, and a box that a person is shoved into when they enter the world. In fact, the two are inseparable."
"Why does the Left sneer at the traditional working class?" [Unherd]. "It was a straightforward political point. 'Labour comes out in favour of keeping free movement – an utter betrayal of traditional working-class people, the majority of whom oppose it and voted to end it in the referendum. The party will pay a heavy, but deserved, price for this at the ballot box.' This was my tweet after Labour had declared its support for the Common Market 2.0 proposal earlier this week. Cue hordes of offendotrons, utterly certain that my use of the term 'traditional' was really a euphemism for 'white'."
UPDATE "Teach For America — except for California" [Politico]. "Backed by powerful teachers unions, Democrats are pushing to ban Teach For America from California amid a wave of teacher's strikes and a heated debate over charter schools in the nation's most populous state." • Good. They're scabs.
News of the Wired
"Two Tolkiens, One Better World" [The American Conservative] • Ugh, TAC seems to think that Tolkien's horrid lapse of style between the victory over Sauron and the Scouring of the Shire should be emulated: "Upon Amon Gwareth, the Hill of Defence, the rocky height amidst the plain, was built Gondolin the great, whose fame and glory is mightiest in song of all dwellings of the Elves in these Outer Lands. Of steel were its gates and of marble were its walls." What horrid, fustian stuff. No.
"On the Hunt for Japan's Elaborate, Colorful Manhole Covers" [Atlas Obscura]. "In Japan, many manhole covers are works of urban art—elaborate, curious, distinctive, even colorful. They have become a tourist destination unto themselves, and attract a legion of dedicated manhole enthusiasts who travel the country to visit some of the thousands of unique designs…. Typically, "local manholes" or "design manholes" feature elements special to a particular location: a town emblem, landmark, event, or official bird or flower. For instance, Takasaki, 60 miles northwest of Tokyo in mountainous Gunma Prefecture, has manhole covers that commemorate the city's popular summer fireworks festival. Local mascots (known as yurukyara, such as Fukaya City's adorable rabbit-deer Fukkachan) and cartoon characters also appear. In Tokyo's Tama ward, home of the Sanrio Puroland amusement park, one can find covers featuring the ever-popular Hello Kitty." • Why the heck don't we do this?
* * *
Readers, feel free to contact me at lambert [UNDERSCORE] strether [DOT] corrente [AT] yahoo [DOT] com, with (a) links, and even better (b) sources I should curate regularly, (c) how to send me a check if you are allergic to PayPal, and (d) to find out how to send me images of plants. Vegetables are fine! Fungi are deemed to be honorary plants! If you want your handle to appear as a credit, please place it at the start of your mail in parentheses: (thus). Otherwise, I will anonymize by using your initials. See the previous Water Cooler (with plant) here. Today's plant (Carla):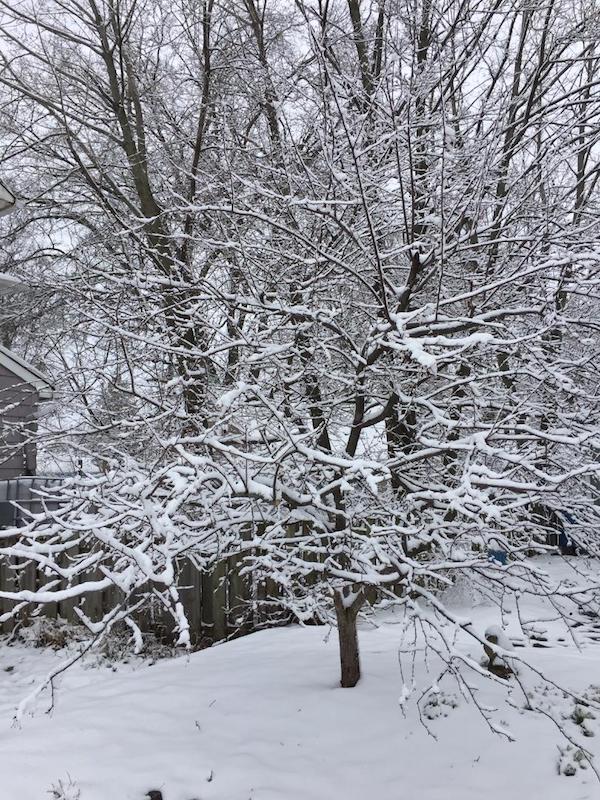 Carla writes: "Spring snow." Lovely!
Readers, I'm still a bit short on plants. Maybe time for some shots of spring? Or at least mud?
* * *
Readers: Water Cooler is a standalone entity not covered by the annual NC fundraiser. So do feel free to make a contribution today or any day. Here is why: Regular positive feedback both makes me feel good and lets me know I'm on the right track with coverage. When I get no donations for five or ten days I get worried. More tangibly, a constant trickle of small donations helps me with expenses, and I factor in that trickle when setting fundraising goals. So if you see something you especially appreciate, do feel free to click this donate button:
Here is the screen that will appear, which I have helpfully annotated. Because it's new and improved, I'll leave it up for a few days: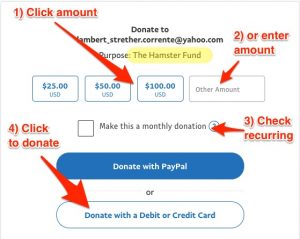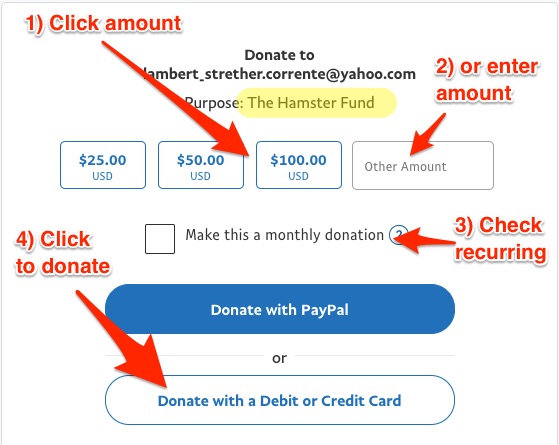 If you hate PayPal, you can email me at lambert [UNDERSCORE] strether [DOT] corrente [AT] yahoo [DOT] com, and I will give you directions on how to send a check. Thank you!