By Lambert Strether of Corrente.
Life's rich pageant in Politics today! –lambert
Trade
"One Trump Victory: Companies Rethink China" [New York Times]. "Whatever deal Washington and Beijing reach over the trade war, President Trump has already scored a big victory: Companies are rethinking their reliance on China…. The move, known as decoupling, is a major goal of those who believe the world has grown far too dependent on China as a manufacturing giant. As Beijing builds up its military and extends its geopolitical influence, some officials fear that America's dependence on Chinese factories makes it strategically vulnerable. Now companies in a number of industries are reducing their exposure to China. GoPro, the mobile camera maker, and Universal Electronics, which makes sensors and remote controls, are shifting some work to Mexico. Hasbro is moving its toy making to the United States, Mexico, Vietnam and India. Aten International, a Taiwanese computer equipment company, brought work back to Taiwan. Danfoss, a Danish conglomerate, is changing the production of heating and hydraulic equipment to the United States." • Hmm.
Politics
"But what is government itself, but the greatest of all reflections on human nature?" –James Madison, Federalist 51
"They had one weapon left and both knew it: treachery." –Frank Herbert, Dune
2020
* New candidate

Biden (D) (1): Doubling down:

Biden comes on stage and hugs IBEW President Lonnie Stephenson.

"I just want you to know I had permission to hug Lonnie," Biden says, to uproarious applause from the (mostly male) crowd.

— Nidhi Prakash (@nidhiprakash) April 5, 2019

UPDATE Buttigieg: "Pete Buttigieg Governed South Bend Like a Republican" [Benjamin Studebaker]. Pete Buttigieg may speak a lot of languages, but he wasn't that creative. His big idea was to threaten low income residents with fines if they didn't pretty up their homes. Those who couldn't afford the residential plastic surgery had their homes seized and bulldozed. He brags about this. He calls it "1,000 homes in 1,000 days". South Bend became better looking by paying a blood price. Of course, once the city looks better, Buttigieg can claim to have "revitalised" it, even though large numbers of residents remain mired in poverty. Those residents don't have much of a voice in the town, and their lives and interests are swept under the rug. He was re-elected by a large margin, just like many Republican mayors. In his second term, he got really interested in traffic, just like the Republican mayor in my hometown. Calling it "Smart Streets", he widened sidewalks, added some trees, threw in some bike lanes, and–of course–built some roundabouts. Sanders housed more than a thousand people. Buttigieg bulldozed more than a thousand homes."

Gravel (D)(1): Ouch:

"GOP healthcare solution" is an oxymoron, like "alone together" or "Beto policy idea"

— Mike Gravel (@MikeGravel) April 4, 2019

Gravel (D)(2): "Going gaga for Gravel" [The Hill]. "Who else is going to say his campaign is about 'forcing centrists to confront the immorality of our imperial projects,' or that 'singing about 'unity' and 'love' as your overarching 'ideas' usually doesn't stop an international rising tide of fascism driven by economic deprivation and climate change'?…. Did I mention that I love this guy? As of this writing, Gravel was sitting pretty in second place in Democracy For America's online poll. What are you waiting for people? Vote and propel him to No. 1! Give him $1 so that he can get to the debate stage and tell Beto O'Rourke face-to-face that his words are meaningless drivel." • DFA?!

Sanders (D)(1): "Congress invokes powers to challenge Trump on war in Yemen" [Associated Press]. " Rejecting a plank of President Donald Trump's foreign policy, the House on Thursday invoked never-before-used powers to demand that his administration withdraw support from the Saudi-led war in Yemen. The Senate passed the same resolution in March with bipartisan support… [Two lawmakers] led the charge for the war powers resolution, Sens. Chris Murphy, D-Conn., and Bernie Sanders, I-Vt." • I'm trying to bring to mind another Democrat presidential candidate who drove the legislative process to try to stop a war (which rules out Gabbard, though her heart is definitely in the right place). Here's the Senate text: Sanders is the sponsor. To their credit, Warren, Gillibrand, Klobuchar, and Harris are all co-sponsors (this being another sign of how Sanders was dragged the Democrats left, at least nominally).

Sanders (D)(2): Bernie's taxes:

My take on Bernie's tax returns:
1) He should probably release them, in theory
2) There is literally nothing they could hypothetically reveal that would make me not support him
3) Refusing to release them is making the right people mad and is therefore extremely funny

— Carl Beijer (@CarlBeijer) April 5, 2019

* Swalwell (D)(1): "Eric Swalwell Is Running for President on Gun Safety" [The Atlantic]. "The California congressman and frequent cable-news guest on all things related to President Donald Trump and Russia will announce his presidential plans in an appearance on The Late Show With Stephen Colbert. But he won't be running on Russia, or on the continuing fallout from the Mueller report and the Barr letter. Swalwell will center his campaign on gun control." • Swalwell is from California, so I'm not sure how Harris feels.

Swalwell (D)(2): Unmentioned in the Atlantic article: Swalwell is a CIA Democrat:

Wild how the biggest Russiagaters in Congress are also adoring CIA mouthpieces (poor baby, too) pic.twitter.com/6pVKpujp4u

— Thomas! (@ThomasIsOnline) September 24, 2018

Trump (R): "Trump got no bounce from Mueller. That leaves him a narrow path to re-election." [NBC]. "The president's approval rating has been a flatline… Maybe when [the Mueller report is released and] voters learn more, the numbers will move, in one direction or the other. Or maybe this is just the latest and loudest example of what we've seen over and over again during this presidency: a gigantic news development, followed by suggestions that a critical turning point in his public standing may be at hand, followed by …. well, pretty much nothing. Is there a Democrat who can engage in months of direct combat with Trump and emerge with anything like the kind of popularity Barack Obama had in 2012 when a majority viewed him favorably?" • I guess we'll find out…

Warren (D)(1): "Elizabeth Warren wants CEOs to go to jail when their companies behave badly" [Vox].

A summary of the legislation released by Warren's office explains that it would "expand criminal liability to negligent executives of corporations with over $1 billion annual revenue" who:

– Are found guilty, plead guilty, or enter into a deferred or non-prosecution agreement for any crime.

– Are found liable or enter a settlement with any state or Federal regulator for the violation of any civil law if that violation affects the health, safety, finances, or personal data of 1% of the American population or 1% of the population of any state.

– Are found liable or guilty of a second civil or criminal violation for a different activity while operating under a civil or criminal judgment of any court, a deferred prosecution or nonprosecution agreement, or settlement with any state or Federal agency.

Executives found guilty of these violations could get up to a year in jail. And a second violation could mean up to three years.

So now we have a way to get rid of the bad apples?

Warren (D)(2): "Elizabeth Warren Issues Her Strongest Indictment of the Filibuster Yet" [The Daily Beast]. Warren: "So let me be as clear as I can. When Democrats next have power, we should be bold and clear: We're done with two sets of rules—one for the Republicans and one for the Democrats. And that means when Democrats have the White House again, if Mitch McConnell tries to do what he did to President Obama, and puts small-minded partisanship ahead of solving the massive problems facing this country, then we should get rid of the filibuster." • As Obama and the Democrats should have done in 2009, for pity's sake.

IA: "UnitedHealthcare is pulling out of Iowa's private Medicaid management program" [Des Moines Register]. "UnitedHealthcare was paid about $2 billion in federal and state money to manage Iowans' health care last fiscal year. It is the second Medicaid management company to bail out of Iowa since the state's controversial decision to privatize its Medicaid system. AmeriHealth Caritas left the state in 2017 after complaining that it had lost hundreds of millions of dollars on the project." • That should put health care front and center in the Iowa primary, along with privatization.

IA: "Socialism, but in Iowa" [The Atlantic]. "[Caroline Schoonover, co-chair of the Central Iowa DSA, and the other socialists I met in Iowa are not Upper West Siders from moneyed families, nor are they, for the most part, graduates of elite Ivy League schools…. Instead, the people I spoke with see the DSA as a vehicle for changing their own immediate circumstances. They want to build a movement that transcends individual politicians, whose positions are malleable and whose tenure is temporary. And while most establishment Democrats would like to distance themselves from the label, the trajectory of America's newly surging socialist movement could ultimately shape the party's future. Schoonover's chapter, which has about 160 members, didn't exist before 2016—none of Iowa's DSA groups did…. All the members at the meeting had their own reasons for joining the DSA, but most of those reasons were rooted in personal financial struggle: They were drowning in an ocean of student debt, or straining to pay their rent or afford their insurance premiums." And:

But more important, they say, working on behalf of a single candidate will only distract from their efforts to organize tenants and build power in their communities. "We don't talk about Bernie," Schoonover explained. "He's not a factor in our organizing at all." Most of them would certainly prefer Sanders to other Democrats in the 2020 field, and individual members can volunteer for him on their own time, Schoonover said. "But we're not a Bernie Sanders fan club just waiting for our chance to finally knock doors for him."

This is good reporting from the Atlantic, which will not surprise NC readers; see Water Cooler on Central Iowa DSA back in March. (Note again, from Pittsburgh, how fast a DSA chapter can go sour. But one does wonder what the class composition of Pittsburgh was; Studebaker describes "the clique," but not the membership.)
RussiaGate
Holy moley:

The pro-Mueller ralliers in Times Square have distributed this songbook. They are currently leading a mass singalong. Please read these lyrics pic.twitter.com/1y36LDFeEg

— Michael Tracey (@mtracey) April 4, 2019
Realignment and Legitimacy
"Why and How Capitalism Needs to Be Reformed (Part 1)" [Ray Dalio, LinkedIn]. "I think that most capitalists don't know how to divide the economic pie well and most socialists don't know how to grow it well, yet we are now at a juncture in which either a) people of different ideological inclinations will work together to skillfully re-engineer the system so that the pie is both divided and grown well or b) we will have great conflict and some form of revolution that will hurt most everyone and will shrink the pie. I believe that all good things taken to an extreme can be self-destructive and that everything must evolve or die. This is now true for capitalism. In this report I show why I believe that capitalism is now not working for the majority of Americans, I diagnose why it is producing these inadequate results, and I offer some suggestions for what can be done to reform it." • Splits go all the way to the top; see, e.g., Philippe Égalité.

"What the heck does Steve King do all day?" [WaPo]. "For the most part, the successful members of Congress wake up early for some fundraising over breakfast, commute to work (while fundraising), meet with some lobbyists and constituents in their office, yuk it up with colleagues during votes on bills that rarely become laws, then it's off to happy hour for some quick fundraising before finally settling down with some of their closest donors for dinner, dessert and fundraising." • It's all about the benjamins ?…

"You elected them to write new laws. They're letting corporations do it instead." [USA Today]. "Each year, state lawmakers across the U.S. introduce thousands of bills dreamed up and written by corporations, industry groups and think tanks. Disguised as the work of lawmakers, these so-called 'model' bills get copied in one state Capitol after another, quietly advancing the agenda of the people who write them. A two-year investigation by USA TODAY, The Arizona Republic  and the Center for Public Integrity reveals for the first time the extent to which special interests have infiltrated state legislatures using model legislation. USA TODAY and the Republic found ." • This is excellent reporting! Here is a tweet-storm on the methodology. Thread:

More than a year ago, I was asked to do the impossible. Help build an algorithm that could tease out what statehouse bills were created from model legislation (ie copy-paste legislation). Along with a terrific team @USATODAY and @azcentral. We did it. Here's how. (THREAD)

— Rob O'Dell (@robodellaz) April 4, 2019

"'A Network of Alternative Campaign Infrastructure': Progressives Dismiss DCCC Threats on Primary Challengers" [Common Dreams]. "A decision by the Democratic Congressional Campaign Committee late last month to blacklist vendors that support primary challengers over party incumbents drew a line in the sand against the potential progressive overthrow of the party's established order. In response to the new policy, 14 progressive groups Thursday announced the launch of the DCCC Blacklist—a collective of left wing vendors that are bucking the Democratic campaign arm's directive." • Quotes from the usual suspects, including Justice Democrats, but this is interesting: ""We reject the DCCC's attempt to hoard power, which will only serve to keep that talent pool—and Congress itself—disproportionately white and male,' said [Indivisible's María Urbina]." Yes, identity politics, but would have put Indivisible on the DCCC's side.

"Bill and Hillary Clinton to embark on star-studded speaking tour" [The Hill]. "Bill and Hillary Clinton will be joined by a slew of big names on their forthcoming speaking tour — including Ben Stiller, Jordan Klepper, and 'Scandal's' Tony Goldwyn." • So that was the problem with their book tour: Not enough stars!

"Chelsea Clinton on talking to kids about the environment and what's going on in the world" (interview (oh gawd)) [Los Angeles Times]. "Not with my 2-year-old but with my 4-year old, we talked about the family separations at the border and how fundamentally wrong it is that any child would be taken away from their family. And my daughter, thankfully has this visceral reaction, 'That's just so bad. Like ?' I say, 'Well, , but I know that the way we try to answer that is to stop it from happening.'" • No.
Stats Watch
Employment Situation, March 2019: "It's back to normal as nonfarm payroll bounced back to trend… near the top of the consensus range [Econoday]. "The unemployment rate remains very low, unchanged at an as-expected 3.8 percent with the pool of available workers lean and drawn down slightly…. The payroll breakdown is mixed and highlighted once again by professional & business services…. But the strong takeaway from today's report is very positive. The labor market remains the nation's central source of economic strength at the same time that wages have room to move higher. For monetary policy, it's wait-and-see with no need at all to raise rates yet also no need to further stimulate demand." And but: "March 2019 BLS Jobs Situation – Internals Are Poor But Headline Numbers Are Good" [Econintersect]. "The establishment and household surveys seem to have come from different dimensions. For the second month in a row, these surveys which are the basis of the monthly jobs report do not match with one actually contracting and the other growing significantly. The economically intuitive sectors contracted. The rate of growth of the establishment survey was lower than one year ago. The year-to-date growth remains under last year and worsened….[T]his report makes me uncomfortable." And but: "This was strong enough to alleviate recession fears (no worries!), but not too strong to change the Fed's view of the economy (stay on hold)" [Calculated Risk]. "Note that sometime soon the overall participation rate will start declining again due to demographic factors. The overall participation rate has been moving sideways for several years, as the expansion has offset the demographics factors."

Manufacturing: "Navy eyeing discounted Boeing 737s" [Duffelblog]. • If we need to bail out Boeing, that's how to do it…
Tech: "'Beyond Sketchy': Facebook Demanding Some New Users' Email Passwords" [Daily Beast (JCC)]. "Facebook users are being interrupted by an interstitial demanding they provide the password for the email account they gave to Facebook when signing up. 'To continue using Facebook, you'll need to confirm your email,' the message demands. "Since you signed up with [email address], you can do that automatically …" A form below the message asked for the users' "email password.'" • Facebook has stopped this, but how on earth did this make it into production code? Did Boeing's MCAS programming team move on to Facebook?
Tech: "Facebook's ad system seems to discriminate by race and gender" [Economist]. "HUD's lawsuit also accused Facebook itself of discrimination against minorities through the algorithms it uses to run its advertising business. These are the same ones that Facebook uses to maximise click-throughs and views, and therefore revenue." • Exactly as the town of Ferguson maximizes its revenues by arresting black people for minor traffic violations. Because they can.
The Biosphere
"Why 5G Makes Me Reconsider The Health Effects Of Cell Phones" [Wired (Krystyn Walentka)]. "I've been impatient for years with people complaining about the health effects of wireless communications. The phrase "tinfoil hat" leaps to mind, I readily concede. But I am learning that hundreds of scientists and tens of thousands of others believe that the intensity of 5G represents a phase change and that 5G's effects on mankind should be studied closely before this technology is widely adopted." • It is true that no species has ever had to adapt to pervasive "very-high-frequency radio waves at high power levels," at least not on our planet's surface. As with so much "innovation" — especially innovation that is not Jackpot-ready — saying "no" is a reasonable default position.
"House Democrats Voted for a Natural Gas Future, and Nobody Noticed" [Walker Bragman, Paste]. "Ocasio-Cortez had been one of 224 House Democrats to back a bill that, if passed, would allocate roughly $580 million in federal funding over two years to public and private energy development projects in Europe and Eurasia, including natural gas infrastructure…. H.R. 1616 was introduced by Rep. Adam Kinzinger (R-AL) early last month. Disguised as a measure to crack Russia's energy dominance in Europe and Eurasia, it passed the House easily on March 25 with a margin of 391-to-24 and no Democratic opposition—though 10 Democrats did not vote, including six members of the Congressional Progressive Caucus. The bill's true intention, however, seems to be opening up new energy markets to American fossil fuel companies, enabling the easy export of liquid natural gas." • As above, "no." Leave it in the ground.
"30×30: A Blueprint for Ocean Protection" (PDF) [Universities of York and Oxford]. "Ocean sanctuaries are a key tool for protecting habitats and species,
rebuilding ocean biodiversity, helping ocean ecosystems recover and maintaining vital ecosystem services. By initiating an international legally binding instrument to enable the protection of marine life and habitats outside national jurisdiction, the United Nations has an opportunity to put in place robust structures to create and govern ocean sanctuaries on the high seas. Scientists are calling for at least 30% of the world's oceans to be protected as ocean sanctuaries, and this study charts how this 30% figure could be achieved to protect the full spectrum of marine life on the high seas."
"Backyard chickens hit hard by a long-gone, extremely contagious disease" [New Food Economy]. "In California, backyard birds are in lockdown. County fairs are canceling their poultry shows. Veterinary hospitals aren't accepting chicken appointments. Local 4-H leaders are telling chicken owners to keep their birds sequestered. Some poultry breeders are even worried their birds will need to be euthanized. The issue? Virulent Newcastle Disease, or VND, a disease thought to be long gone from the United States—until new cases emerged in May of last year… As of presstime, one million birds have been euthanized in this current outbreak—including poultry at three large commercial egg-laying facilities. … Both the current outbreak and its most recent predecessor in 2002 have been linked to backyard poultry (legal and illegal alike). And it's likely that without modified behavior from owners regarding animal health and disease transmission, we may be seeing more outbreaks in the future."
"The Big Business of Japan's Cherry Blossoms" [Bloomberg]. "An estimated 63 million people travel to and within Japan to view the bloom, spending around $2.7 billion (301 billion yen) in the process, according to an analysis from Kansai University. With the bloom currently underway and the number of tourists up in the first two months of the year, a record number of visitors is expected again."
"Rolex Unveils New Diving Cuckoo Clock Capable Of Working Up To 3,000 Meters Underwater" [The Onion]. • Big seller in Miami!
Our Famously Free Press
Virtue is its own reward:
A huge honor to be among winners of the annual Izzy Award for achievement in independent media, named after journalism legend I.F. Stone. I was cited for "meticulous reporting for @TheNation [that] consistently challenged the way the public was being informed about" Russiagate. pic.twitter.com/PFreE7njYg

— Aaron Maté (@aaronjmate) April 3, 2019
UPDATE "'Boom!': an autopsy of the media after the Mueller bombshell" [Spectator USA]. "Easy as it might be to pooh-pooh Maddow as some zany outlier, the undeniable reality is that the sick conspiratorial mindset she embodied was thoroughly mainstream: it infected virtually every sector of elite American culture, from journalism, to entertainment, to the professional political class. Rachel is just the tip of the rotten iceberg. Take, for instance, Keith Olbermann…. 'We are at war with Russia,' Olbermann gravely proclaims. The inauguration of Donald Trump, he prophesies, will mark 'the end of the United States as an independent country.' Anyone who rejects this analysis is a 'traitor' says Olbermann, and in league with 'Russian scum.' His recommendation is to thwart Trump via some harebrained Electoral College scheme where electors are intimidated into violating their duty to vote according to the election outcome in their respective states and districts. I covered this attempted coup at the time, which failed, but was supported by leading Democrats ranging from Hillary Clinton campaign communications director Jennifer Palmieri to Harvard Law Professor Laurence Tribe; as well as Michael Moore, Lawrence Lessig, Peter Beinart, DeRay McKesson, Paul Krugman, and Neera Tanden. Prominent liberals had been melodramatically whinging for months about how appalled they were by Trump's alleged propensity to violate 'norms,' but the next minute they turned around and demanded that all norms governing the centuries-old Electoral College process be thrown out the window. The wild propaganda promoted by Olbermann had become the standard, mainstream view among American liberals: fundamentally corrupting their capacity to view subsequent political events with any semblance of rationality." • Yep. See NC here, December 13, 2016.
Class Warfare
"Big Tech's Original Sin" [New York Times]. "ig Tech's problems are indeed dizzying and manifold, but the last few years have taught us that there's an Occam's razor quality to any explanation of the toxicity of our online platforms. The original sin, it seems, isn't all that complicated; it's the prioritization of growth — above all else and at the expense of those of us who use the services." • Hilariously, the deck reads: "Greed. It's about greed." But the word "greed" doesn't appear in the text, and seems to have been replaced by "growth."
"Crime has the power to reproduce itself":
Frederick Douglass to Ida B. Wells: "It sometimes seems we are deserted by earth and Heaven – yet we must still think, speak, and work…" pic.twitter.com/tpgY9XHE18

— John E. Drabinski (@jdrabinski) April 3, 2019
News of the Wired
"A Growing Trend with Men, Vasectomy Procedure Plans" [Gomerblog]. "Recently a new trend has been spreading like wildfires throughout urology and family medicine clinics in the US…Vasectomy Procedure Plans. Many men seeking sterility are taking the advice from numerous pregnant women who develop extensive and thorough birth plans that spell out every last detail of their birthing experience. GomerBlog recently interviewed Jeremy Brinkenship who was about to get a vasectomy and he wanted it to be a magical and unforgettable experience. Jeremy is also requesting a 'delayed vas clamping' which seems to be the new popular thing to do." • With copy of Jeremy's plan!
But where are the notes:
Tibetan Musical Notation Is Beautiful https://t.co/BbpPWQAwoq pic.twitter.com/nfrBggeL38

— Open Culture (@openculture) April 5, 2019
* * *
Readers, feel free to contact me at lambert [UNDERSCORE] strether [DOT] corrente [AT] yahoo [DOT] com, with (a) links, and even better (b) sources I should curate regularly, (c) how to send me a check if you are allergic to PayPal, and (d) to find out how to send me images of plants. Vegetables are fine! Fungi are deemed to be honorary plants! If you want your handle to appear as a credit, please place it at the start of your mail in parentheses: (thus). Otherwise, I will anonymize by using your initials. See the previous Water Cooler (with plant) here. Today's plant (via):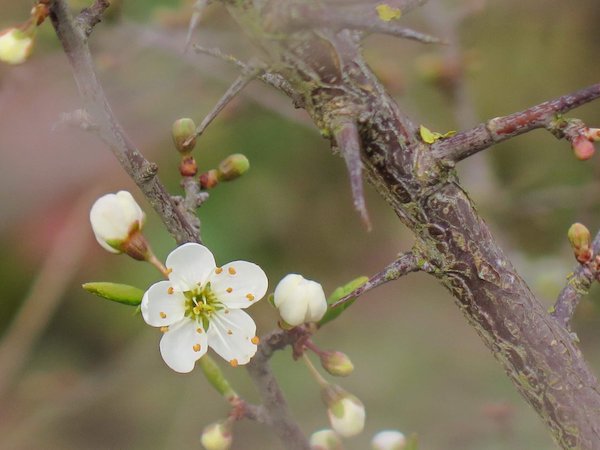 Grantham Ecologist: "The first few flowers beginning to break bud on the blackthorn shrubs above #Grantham this week – looking forward to seeing these shrubs filled with brimstones and early spring bees!"
Readers, I'm running short on plants. Maybe time for some shots of spring? Or at least mud?
* * *
Readers: Water Cooler is a standalone entity not covered by the annual NC fundraiser. So do feel free to make a contribution today or any day. Here is why: Regular positive feedback both makes me feel good and lets me know I'm on the right track with coverage. When I get no donations for five or ten days I get worried. More tangibly, a constant trickle of small donations helps me with expenses, and I factor in that trickle when setting fundraising goals. So if you see something you especially appreciate, do feel free to click this donate button:
Here is the screen that will appear, which I have helpfully annotated. Because it's new and improved, I'll leave it up for a few days: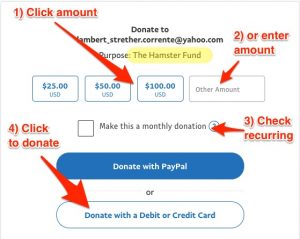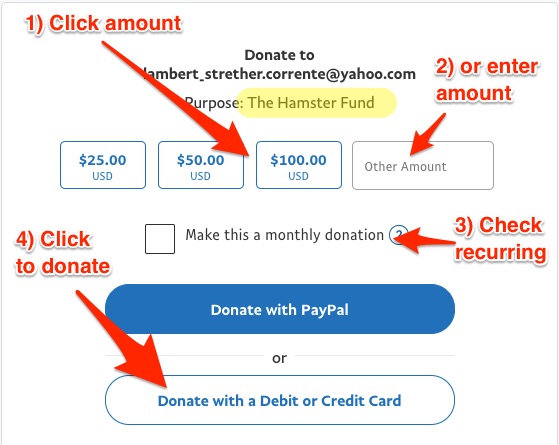 If you hate PayPal, you can email me at lambert [UNDERSCORE] strether [DOT] corrente [AT] yahoo [DOT] com, and I will give you directions on how to send a check. Thank you!