By Lambert Strether of Corrente.
Trade
"U.S. Moves to Impose Tariffs on $11 Billion of EU Goods" [WSJ]. "The Trump administration moved Monday toward imposing tariffs on about $11 billion in imports from the European Union, saying the move was justified by the bloc's subsidies for European aircraft manufacturer Airbus."
"Trump proposes tariffs on Airbus; EU likely to retaliate against Boeing" [Leeham News]. "The European Union is likely to seek stiff tariffs against Boeing and other US exports in retaliation for the Trump Administration's announcement yesterday it proposes $11bn in tariffs against Airbus and European exports. The Trump tariffs are proposed in connection with a World Trade Organization appeals finding that Airbus failed to cure illegal subsidies for the A380 and A350. Last month, the same WTO appeals process found Boeing and the US failed to cure illegal tax breaks to Boeing. Airbus claims at least $15bn in harm from these in lost sales. Neither the US nor the EU may impose the tariffs in advance of yet another round of WTO proceedings. The disputes already have gone on for 15 years.":
Politics
"But what is government itself, but the greatest of all reflections on human nature?" –James Madison, Federalist 51
"They had one weapon left and both knew it: treachery." –Frank Herbert, Dune
2020
Biden (D)(1): "In a shifting party, Biden maintains strength with SC's black Democrats" [McClatchy]. "Activists point to his role as vice president to Barack Obama, the country's first black president, his friendships and relationships in the state that date back years, and his vast experience in government compared to the rest of the field. Rep. Jim Clyburn of South Carolina told The New York Times in January that 'if Biden gets in the race, everybody else would be running for second place.' 'He has been very, very much endeared to the black community in a number of ways,' said Dot Scott, the president of the Charleston branch of the NAACP. 'The fact that he served as vice president for the first African-American president and was able to form the kind of bond that seems to have existed between the two of them, that's another signal to the black community that there must be something special about that man.'"

Booker (D): "Cory Booker plans to introduce reparations bill to Senate" [North Jersey Media Group]. "On Monday, Booker said he plans to file a bill in the Senate that would form a commission to explore reparations proposals for African-American descendants of slavery, according to a statement. The bill is a companion version of a House bill introduced by Rep. Sheila Jackson Lee, D-Texas. The bill was first introduced in 1989 by Rep. John Conyers." • So, a Senate version of HR40. Sanders should co-sponsor.

Buttigieg (D)(1): "Why Pete Buttigieg is bad for gays" [Jacob Bachrach, The Outline]. Final paragraph: "In a recent interview with NBC's Chuck Todd, Mayor Pete avowed himself a capitalist but called himself a 'democratic capitalist.' The moderating and equalizing force of democracy, he said, must hold in check the tendencies of capitalism toward inequality, concentration, and corruption. But it is hard to escape the way that American capitalism and American democracy have worked in tandem both to dissipate and to assimilate the radical democratic energies of queer liberation by giving a very circumscribed sort of gay a conditional membership to the club." • Well worth a read.

Buttigieg (D)(2): "Pete Buttigieg 'is a terrific candidate,' says longtime Obama adviser Valerie Jarrett" [Yahoo News]. "Valerie Jarrett, a longtime adviser to former President Barack Obama, weighed in on the 2020 presidential race in a new interview, calling 37-year-old South Bend Mayor Pete Buttigieg a 'terrific candidate' and predicting that former Vice President Joe Biden would 'make a compelling case' on the campaign trail." • Two signals to the donor class….

Buttigieg (D)(3): "Why You Love Mayor Pete" [David Brooks, New York Times]. "This is the biggest star-is-born moment since Lady Gaga started singing 'Shallow.'" Um. More: "[H]e is a localist and a Washington outsider, but he carries no populist resentment and can easily speak the language of the coastal elites." • I dunno about this "localist." South Bend, besides having been deindustrialized, is a college town: Notre Dame. And Buttigieg speaks the language of the "coastal elites" because, well, he worked for McKinsey. For pity's sake. Anyhow, read and have fun.

Buttigieg (D)(4): "Democratic megadonor sends fundraiser invites for Buttigieg" [Politico]. "Susie Tompkins Buell, a Democratic megadonor, has begun sending out invitations to a fundraiser for Pete Buttigieg's presidential bid. On Thursday, Buell, who in the 2020 presidential cycle has been an early backer of Sen. Kamala Harris' campaign, emailed friends about the April 11 fundraiser in San Francisco. 'I have had numerous conversations with many engaged, caring and deeply invested individuals about the Democratic prospects of winning back the White House in 2020. One thing stands out from these conversations — people are intrigued by Pete Buttigieg." • "Deeply invested." I'll say. Gawd help us all. And we certainly don't seem to be hearing a lot about Harris these days….

Buttigieg (D)(5):

Buttigieg on the political inflection point: "The moment that we're in is kind of illegible in giving us much insight on what comes next. That really will be decided by what happens now. That's one of the reasons I wanted to get in." https://t.co/wok7zzS5Jl

— Gerald F Seib (@GeraldFSeib) April 8, 2019

That's not Beto. It's Buttigieg.

O'Rourke (D): "Why two former Beto O'Rourke staffers now say they're with Bernie Sanders" [Texas Tribune]. "Young and Lanning, both 18 years old and first time voters, soon woke up to a sort of political hangover — disillusioned with O'Rourke and convinced he was not the true progressive they had imagined. 'We were definitely very, very caught up and invested in it," Lanning said. "It was after the election that we started being like like, ok his voting record actually is horrible.' From oil policy to health care, these two young Beto exes said they never took the time to pore over votes and policy positions. Once they did — and O'Rourke went from Senate hopeful to presidential wannabe — they abandoned him and are now supporting reliable liberal Bernie Sanders in the race for the White House." • Too funny.

Sanders (D)(1): "Sanders to roll out updated 'Medicare for all' proposal Wednesday" [The Hill]. "Sanders, who is again seeking the Democratic nomination for president, will unveil the bill alongside Senate co-sponsors, some of whom are also candidates for president…. A spokesperson for Booker said he would again cosponsor the bill, but Gillibrand, Harris and Warren's offices did not reply to requests for comment…. The updated version will also include long-term care, such as nursing homes, which is currently not covered by the Medicare program." • Good for Booker, who (give credit) seems capably of occasionally doing the right thing, even against interest. (For example, his marijuana legalization bill included amnesty, obviously the right thing to do, when the (mostly black) people in jail built the industry, while the (mostly white) people in suits are about to cash in.

Sanders (D)(2): "Sanders set for five-state Midwestern swing" [The Hill]. "Sanders has stops planned in Wisconsin, Michigan, Pennsylvania, Indiana and Ohio. President Trump won all of those states in 2016. The Sanders campaign said in a statement that the Democrats' 'strongest path to victory in 2020 runs through the upper Midwest' and that Sanders is 'by far the best-positioned candidate to win these states and defeat Donald Trump.'" • I left out the lazy and ubiquitous "white working class" framing.

Sanders (D)(3): Thread:

As a US Senator, Bernie Sanders' financial disclosure reports are available to the public since the passing of the STOCK Act. These reports are far more detailed than income tax returns and go back to 2012.https://t.co/n9WG2mQP2Q

— Dorothy Gasque (@dorothy4house) April 8, 2019

Trump (R): "Democrats face minefield if they get Trump's tax returns" [Politico]. "[Trump's] returns will still be protected by strict confidentiality laws — it is a felony, punishable by up to five years, to improperly disclose private tax information…. That means there will be a period, possibly lasting months, when Democrats will have finally seen the president's long-hidden taxes — and they will be inundated with questions about what's in them — but they won't be able to talk about them. If they let anything slip, Republicans will surely jump, demanding an investigation by the Justice Department."

CA: "California Focus: Moved-up primary is reaping benefits" [Sonoma Index-Tribune]. "Because most California delegates are elected in proportional-vote contests within each congressional district, it behooves presidential hopefuls to campaign everywhere in the state. All 53 congressional districts will elect delegates, between four and six per district depending on how strong the recent Democratic vote was in each place. So Democrats who campaign in Republican districts can win delegates without getting very many votes – if they get out of the big cities and visit places like Placer and Shasta counties. But to earn delegates, a candidate must win at least 15 per cent of Democratic votes. This may eliminate some lesser-known candidates. Others will be weeded out by the high cost of advertising here, but candidates who concentrate on rural areas can get around that."
Realignment and Legitimacy
Yep:

I'm tired of folks reading:

"working class" as white
"rural" as white
"suburban" as white
"Appalachian" as white
"rust belt" as white
"undecided" as white

This flattening and reductionist thinking is lazy and racist. Do better or lose always in every way.

— Maurice Moe Mitchell (@ciphersankofa) April 7, 2019

"The Center-Left Wants to Pass the Baton, but What 2020 Candidate Will Take It?" [Robert Borosage, The Nation]. "Democratic primary voters are being asked to consider a dizzying number of presidential candidates, and it must be difficult to sort and prioritize their various policies and records. Brad DeLong, a distinguished economist, former economic adviser to the Clinton and Obama administrations, and author of a feisty blog, suggests one standard: Do the candidates have a clue about the lessons of the Obama years? DeLong, a self-confessed 'neoliberal shill' and 'Rubin Democrat'—a reference to Robert Rubin, former Goldman Sachs head, big Democratic donor, Clinton Treasury secretary and Obama mentor, and Citibank executive disgraced in the financial collapse—created a stir when he admitted that his set had gotten it all wrong. 'The baton rightly passes to our colleagues on our left,' DeLong wrote. 'We are still here, but it is not our time to lead.'" • Kudos to DeLong, indeed, but does anybody really believe that the "dizzying number of presidential candidates" has anything to do with passing the baton to the left?
Stats Watch
Factory Orders, February 2019: "Very soft is the factory sector's current run" [Econoday]. "But positives are scarce in this report with February durable goods orders down…. Directly facing the slowdown underway in global cross-border trade, the U.S. factory sector started to stumble late last year and, judging not only by this report but by two straight declines in manufacturing production (part of the industrial production) as well as a host of private and regional reports, has yet to find its footing so far in 2019."
NFIB Small Business Optimism Index, March 2019: "The small business index remains flat, little changed in March" [Econoday]. "Job readings remain the most important positive in the sample though further gains in March were limited."
JOLTS, February 2019: "February not only saw a sharp slowing in job growth but also a sharp slowing in job openings" [Econoday]. "Quits are also watched in this report especially by Federal Reserve policy makers and they held steady… Slowing growth has been the theme for global economic data the past several months and the U.S. JOLTS report is now part of this picture."
Commodities: "Shale companies that helped build the U.S. energy boom may end up paying later for today's rapid growth. Frackers from Texas to North Dakota have been managing their wells to maximize short-term oil production, … effectively jumping on a treadmill and ratcheting up the speed. That's created an increasingly fragile cycle, with small and midsize shale companies rapidly drilling new wells to sustain production and growing more dependent on new capital to keep the oil flowing" [Wall Street Journal]. "That contrasts sharply with the methodical approach big companies like Chevron Corp. and Exxon Mobil Corp. are undertaking, efforts they believe will yield bigger results over a longer period. Suppliers like trucking companies and frac sand providers may hope the steady developments by the oil majors ramp will pick up by the time the wells from hard-charging smaller operators peter out." • "May hope."
Retail: "[Walmart Inc. is ] expanding its use of robots in stores to help monitor inventory, unload trucks and even clean floors… as the company looks to reset its workforce and operations to serve online business" [Wall Street Journal]. "The country's largest private employer said at least 300 stores this year will add machines that scan shelves for out-of-stock products. And Walmart will more than double to 1,200 the number of conveyor belts that automatically scan and sort products as they come off trucks. Walmart wants to save money even as it raises wages, but the effort is also aimed at flexibility. The retailer says automation at truck dock doors can cut the number of workers there from eight to four, allowing for more hiring targeted at expanding e-commerce efforts."
The Bezzle: "The S.E.C. Takes On Elon Musk's Tweeting, Again" [The New Yorker]. "After everyone had spoken, [Judge Allison] Nathan indicated that she had something decisive to say. 'Court orders will be followed,' she said sternly. 'I don't care if you're a small potato or a big fish.' However, she went on, she had concerns about the S.E.C.'s decision to file a contempt motion—a very serious move—without first trying to find a compromise with Musk. 'My call to action is for everyone to take a deep breath and put their reasonableness pants on and meet for at least an hour to work this out,' Nathan said. It was a blow for the S.E.C., and a boon for Musk's Twitter account." • Somehow, I don't think a small potato would get the same deference from the Court that Musk did.
The Bezzle: "The crowd-sourced, social media swarm that is betting Tesla will crash and burn" [Sidney Morning Herald]. "While activist investors have been around for years, the networked nature of this research and publicity campaign is new, said Byoung-Hyoun Hwang, a Cornell University finance professor who's studied social media's effect on financial markets. 'The diversity of perspectives, not just a diversity of opinions, could be very valuable,' he said." • For example: "It's after dark. Model 3s by the hundreds are parked inside a lit-up three-level parking garage. The cars are covered in dust. According to the man, some have been in there for months… Such storage practices are 'extremely unusual' in the auto industry, said Bill Hampton, a Detroit veteran who runs AutoBeat Daily, an online industry newsletter." • And off goes the photo to the Twitter….
Tech: "The Robocall Crisis Will Never Be Totally Fixed" [Wired]. "As with email spam, the most important step you can take is staying vigilant." • The focus of the article is on consumers. What I don't get: Why would anybody pick up the phone if they don't know who's on the other end? The best outcome is some sort of cold call, and who wants that?
Transportation: "China's Electric Cars Hit Some Potholes" [Bloomberg]. "For several days last week, the often distressingly poor quality of China's electric cars was a leading topic across Chinese media. According to one survey ricocheting across the web, nearly 70 percent of respondents said they regretted buying a new-energy vehicle (NEV)…. In 2018, Chinese manufacturers recalled 135,700 NEVs for a crushing 10.8 percent industrywide recall rate. Already this year, another 23,458 electric vehicles have been recalled…. he most common Chinese complaint about NEVs is that battery performance on the road doesn't meet what's advertised. New standards for certifying, testing and marketing batteries — and new resources devoted to enforcement — would help. Likewise, new industrial standards for key components such as fire-prone wiring harnesses would assuage fears that one's new car might, you know, suddenly burst into flames."
Manufacturing: "Caterpillar is hoping that monitoring service and the added sales of parts and repairs that it generates will build a steadier revenue stream than highly volatile sales of new equipment. That pushes Caterpillar into a growing field of manufacturers looking for growth through services and bigger slice of an extensive and often lucrative supply chain that begins after new equipment changes hands. Caterpillar is using technology to bind itself more closely to customers, with connected machinery alerting miners and builders to maintenance needs. That will also bring in revenue through connection charges and service contracts" [Wall Street Journal]. • Not quite sure how that meshes with right-to-repair….
Manufacturing: "Lufthansa CEO reveals the biggest change in the airline industry caused by the Boeing 737 Max scandal" [Business Insider]. "'When it comes to the certification, it's going to be interesting to see how the European authorities react to what has happened to the Max," [Lufthansa CEO Carsten Spohr] said. 'Historically, if the FAA certified the aircraft, it was basically 'copy and paste' for the European authorities.' 'Overall, foreign authorities will be more thorough in accepting American certifications,' Spohr added. 'I think that for me is one of the outputs of these terrible events in Indonesia and Ethiopia.'" • First slowly, then all at once…
Manufacturing: "China Aircraft Leasing says has not put Boeing 737 Max order on hold" [CNBC]. "China Aircraft Leasing Group (CALC) on Tuesday said it has not put its order for 100 Boeing 737 Max jets on hold nor had it suspended payment, rebutting an earlier report by the South China Morning Post (SCMP) newspaper. The SCMP attributed its information to comments from CALC Chairman Chen Shuang. The Hong Kong-listed lessor said Chen was misquoted."
The Biosphere
"Particulate pollution in the air we breathe kills hundreds of thousands a year, study finds" [CNN] (original). "Air pollution is deadly: A new study links exposure to it to more than 107,000 premature deaths in the United States in 2011. It isn't just killing us; it cost the country $866 billion… This study focused on the harm caused by the tiniest particulate matter, PM2.5. It's so tiny –1/20th of a width of a human hair — that you cannot see it, and it can travel past your body's usual defenses. Instead of being breathed out, it can get stuck in your lungs or go into your bloodstream. The particles cause irritation and inflammation and can lead to respiratory problems. Long-term exposure can cause cancer, stroke and heart attack…. The highest damage happens in high-population areas such as Los Angeles." • Less of that post-Jackpot, I would assume. So there's an upside!
"Mud and guts: Europe's forgotten environmental crisis" [Politico (!)]. Picking out one nugget of information: "An investigation into earthworm populations released in February reveals sharp decreases on British farmland, showing that some 21 percent of the acreage under study have no surface-dwelling worms, while 16 percent have no deep-burrowing ones. "The results indicate widespread, historical over-cultivation," according to Rothamsted Research, the Hertfordshire-based institute that conducted the study. It went on to say that fewer worms would mean fewer birds, a knock-on effect." • This is a must-read, especially for soil fans.
"Toyota's optical sensors might help farmers raise crop yields through quick soil analysis" [Japan Times]. "Toyota Motor Corp. has started testing a service that analyzes farm soil with optical sensors, allowing farmers to strategically distribute fertilizer to increase crop yields… By clarifying soil composition and offering suggestions on fertilizer amount and other important factors needed to make the best soil for growing crops, Toyota hopes to make it easier for farmers to pass their expertise down to younger generations. 'We hope that digitizing the experiences and intuition of artisan-like farmers, and offering cultivation guidance based on that data, will lead to solving the problem' with farmers lacking successors, said Takeshi Kanamori, head of Toyota's agriculture support division."
"Ecological limits and hierarchical power" [Real World Economics Review]. "According to Robin Dunbar (1992), the size of the human neocortex makes it impossible to maintain stable personal connections with more than 150 people, give or take (Dunbar's Number)…. The historical solution to this coordination problem is hierarchy (Turchin and Gavrilets 2009). In a hierarchy, each person has a limited number of personal connections – one superior above and a few subordinates below. The modular nature of these connections makes it possible to combine them into huge vertical organizations of almost any size (think of a country like China). From this viewpoint, hierarchical power is a means of harnessing more energy. Societies that wish to increase their standard of living can do so only by accepting more hierarchical power structures. Without such vertical structures, they would be unable to coordinate on a scale large enough to harness the energy they need. But there is a flip side to this argument. In their paper, 'Growing through Sabotage: Energizing Hierarchical Power' (2017), Shimshon Bichler and Jonathan Nitzan argue that much of the energy harnessed by hierarchical societies does not go to wellbeing at all, but rather to building, fortifying and sustaining power hierarchies as such." • Hmm.
Class Warfare
"The Farmworkers Who Pick Your Halo Mandarins Just Organized a Massive Labor Strike" [Civil Eats]. "The The Wonderful Company [is] one of the largest agriculture businesses in the entire state…. [The owners,] Stuart and Lynda Resnick, say they've spent $50 to $80 million on philanthropic efforts (not all of it in Central California), and tout themselves as progressive Democrats…. On January 11, 2019, the company announced, through its contractor field supervisors, that it would reduce farmworkers' pay by 12 percent. In response, about 1,800 nonunionized farmworkers, the majority of whom were undocumented, spontaneously walked out of Wonderful's citrus fields outside of Bakersfield. The workers… joined what became one of the largest non-unionized, undocumented labor strikes in recent history, and one of the largest farmworker strikes since the heyday of the United Farm Workers (UFW) in the 1960s and '70s." • Shocking.
It's good to see Chris Arnade back on the Twitter:
Juxtaposition pic.twitter.com/DJpSTQfj7q

— Chris Arnade (@Chris_arnade) April 9, 2019
News of the Wired
"The New Science of How to Argue—Constructively" [The Atlantic]. "Erisology is the study of disagreement, specifically the study of unsuccessful disagreement. An unsuccessful disagreement is an exchange where people are no closer in understanding at the end than they were at the beginning, meaning the exchange has been mostly about talking past each other and/or hurling insults. A really unsuccessful one is where people actually push each other apart, and this seems disturbingly common." • Hail Eris!
"The Standard Model of Particle Physics" [Symmetry Magazine]. • I don't pretend to understand it, but it's an elegant graphic.
"Cutting-edge procedure mends Jagger's 'heart of stone'" [Agence France Presse]. • Clickbait headline, but progress to avoid invasive surgery.
* * *
Readers, feel free to contact me at lambert [UNDERSCORE] strether [DOT] corrente [AT] yahoo [DOT] com, with (a) links, and even better (b) sources I should curate regularly, (c) how to send me a check if you are allergic to PayPal, and (d) to find out how to send me images of plants. Vegetables are fine! Fungi are deemed to be honorary plants! If you want your handle to appear as a credit, please place it at the start of your mail in parentheses: (thus). Otherwise, I will anonymize by using your initials. See the previous Water Cooler (with plant) here. Today's plant (WB):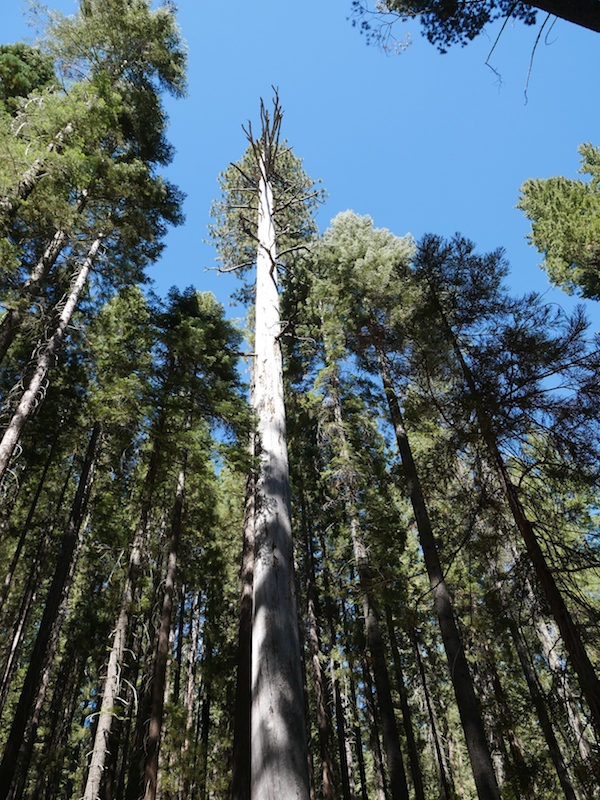 WB writes: "You'll never be 'short' on plants with Sequoias, at Cavaleras Big Tree State Park." Oh, Dad…
Readers, I'm still a bit short on plants. Maybe time for some shots of spring? Or at least mud?
* * *
Readers: Water Cooler is a standalone entity not covered by the annual NC fundraiser. So do feel free to make a contribution today or any day. Here is why: Regular positive feedback both makes me feel good and lets me know I'm on the right track with coverage. When I get no donations for five or ten days I get worried. More tangibly, a constant trickle of small donations helps me with expenses, and I factor in that trickle when setting fundraising goals. So if you see something you especially appreciate, do feel free to click this donate button:
Here is the screen that will appear, which I have helpfully annotated. Because it's new and improved, I'll leave it up for a few days: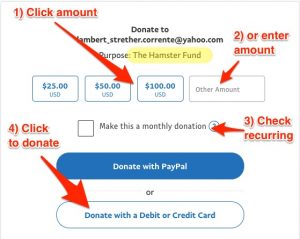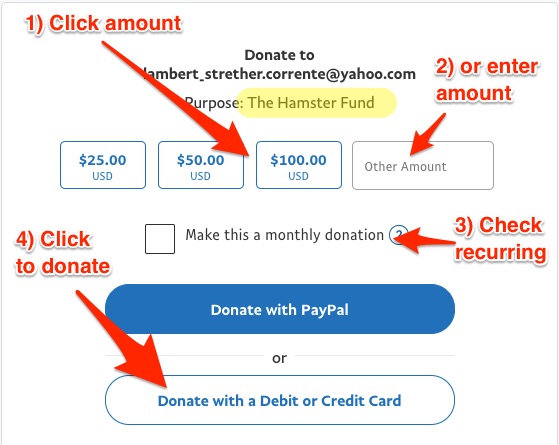 If you hate PayPal, you can email me at lambert [UNDERSCORE] strether [DOT] corrente [AT] yahoo [DOT] com, and I will give you directions on how to send a check. Thank you!