Why there's a recovery 'speed limit' after mass extinction Futurity (David L)
From blizzards to tornadoes to extreme temperature drops, a wild weather week ahead USA Today (David L)
Powerful Storm Threatens More Misery in Flood-Hit Midwest New York Times (resilc)
Researchers Warn Arctic Has Entered 'Unprecedented State' That Threatens Global Climate Stability EcoWatch (David L)
Norway Is Walking Away From Billions of Barrels of Oil Bloomberg (UserFriendly)
Popular weed killer's alleged link to cancer stirs widespread concern NBC (furzy)
Why the Plant-Based Impossible Whopper Has as Many Calories as a Beef Burger Inverse
Men Are Better At Maps Until Women Take This Course Nautilus (Dr. Kevin).
This article first ran in 2016 but is making the rounds now by virtue of being reposted on Medium. The regularly touting of the typical large difference between male and female spatial skills as somehow proving large native differences between men and women has long been an annoyance, in part because I score 99th percentile on spatial skills (and no, I don't have high levels of testosterone, even though some might think that).

This article offers an environmental/cultural explanation: men explore, which requires navigation. We see that reinforced culturally, in couples, men usually drive the car. And it also suggests that women are less likely to get "spatial" toys like blocks and Legos.

So at least in my case, this all adds up. We moved a ton when I was growing up. I not only walked to school, but rode my bike avidly starting at age 6, so I learned new road layouts many times. I also got some toys that they deemed to be male (blocks, Tinker toys) including my favorite toddler toy…..a crash car! I loved running it into the wall, seeing it smash, and then putting it back together.
Scientists Test Whether Brain Stimulation Could Help Sharpen Aging Memory NPR (David L)
China?
China-EU Summit faces challenging times Asia Times (Kevin W)
From Politico's morning European newsletter:
FRESH NUMBERS: Key new employment figures, prepared for today's Commission's conference on the "Future of Work," include 12.5 million jobs created in Europe since November 2014 (when Jean-Claude Juncker's college came to town). Unemployment in the EU dropped to 6.5 percent last year, from 10.2 percent in 2014. The share of under-4-year-olds in formal child care — an indicator for women's participation in the labor market — went up to 34 percent in 2017 from 28 percent in 2010. The gender employment gap closed a little — 79 percent of European men between 20 and 64 have a job, 11.5 percentage points ahead of women, down from a 15 percentage point gap 10 years ago.

So is all well in Europe? As of February 2019, 16 million Europeans are still unemployed, "including 3.3 million young people," according to the Commission figures, seen by Playbook. The conference, which around 400 people including national ministers, employers and trade unionists are expected to attend, is meant to remind everyone "that a lot of things in the EU have changed for the better since 2014, and this is an opportunity to speak about it," according to officials.

But the event also aims to convince skeptics in national capitals of three things: That Juncker and his team have been on the right path when insisting on a "social dimension" to the EU; that this part of their legacy shouldn't be forgotten (actually, expect Juncker to bring it to the Sibiu summit's attention in May again); and that improvement relies on active EU policymaking.
Macron faces tough choice over privatisation goal Financial Times
Brexit. In theory I should write something but it seems as if it would be far more speculative than usual, if nothing else because May is meeting with Merkel and Macron today. Sterling at 1.31 says Mr. Market expects an extension. And if nothing else, as PlutoniumKun pointed out yesterday, Merkel is a cautious, incrementalist politician, so it would be out of character for her to deny the UK an extension. Per the Financial Times story below, May has the Tories in knots by taking some steps…extremely late in the game…to have the UK participate in the European Parliament elections. But counter to that are two bits of information from Robert Peston, who as we have pointed out, is the best networked of all UK reporters on the Brexit beat. Peston says the EU is now moving towards a short extension, later than May 22 so as to avoid playing into the EU Parliament elections, but not as long as to June 30. Other stories suggest the EU is considering an extension to the end of 2019. As I said yesterday, I don't see how this allows enough time for anything to change. IMHO, the UK needs a two year extension if it is to get itself sorted out.
However, if Peston's source are right, the EU is moving away from Tusk's plan of a one year extension. And if that is the case, it suggests Macron is making headway. Macron had insisted that the EU needed to get the UK to agree to all sorts of "play nicely" restrictions as a condition of getting a long extension, particularly in light of threats by Nigel Farage and Jacob Rees-Mogg that the UK would make lots of trouble for the EU if it stayed in. But any such agreement would likely be unenforceable since EU members have treaty-defined rights.
Second, Peston reports that there has been no ramp up of the Government's "prepare for crash out" activities this week. Peston sees that as the Government being highly confident that there won't be one. Given that it is solely up to the EU as to whether and what kind of extension it offers (and I haven't seen a clear report as to whether the accidental crash-out bomb in the Cooper Bill has been removed, that of requiring Parliamentary approval of an extension if it is different than the one they authorized, which imposing conditions would achieve), this seems awfully optimistic. Peston argues this suggests May would revoke Article 50 if things fell apart.
Theresa May to Meet Merkel and Macron as Furious Tories Try to Oust Her Bloomberg

May enrages hardline Brexiters with plans for European elections

Is cancelling Brexit the Prime Minister's new default? Robert Peston, ITV

Useful background:

Eurosceptic argument – as it was – held together rather well around a single unifying idea: that the UK could not historically, culturally, spiritually, politically go where the EU is heading….to (crudely) "a country called Europe".

Thread…. /1

— Roland Smith (@rolandmcs) January 20, 2019
Syraqistan
Big Brother is Watching You Watch
From Brexiteers to Communists And Everything Between: Protesters Unite For Julian Assange at Ecuadorian Embassy Gateway Pundit (martha r)
Can attackers inject malice into medical imagery? Fake growths here and there techxplore (Robert M)
Dubai: Daughter of Facebook 'horse' insult woman makes plea BBC
Imperial Collapse Watch
America: A Failing State Ian Welsh (UserFriendly)
Trump Transition
2020
Mike Gravel Is Running for President in 2020 Rolling Stone (resilc)

Gravel Declares Presidential Bid to Highlight Anti-Interventionism and Direct Democracy Consortiumnews (UserFriendly)

California Rep. Eric Swalwell enters 2020 presidential race with focus on guns NBC (furzy)
Health Care
Chuck Todd's interview with Mitt Romney: A massive failure that shows exactly why Americans uninformed on healthcare Alternet (furzy)

U.S. Can't Afford 'Good Employer-Provided Insurance For All'
Kill Me Now
Profiles In Ruling Class Chutzpah Sardonicky (UserFriendly)

Michigan Conservatives Don't Want Kids to Learn 'Democracy' New York Magazine
There's something about AOC RTE (PlutoniumKun). Distance provides perspective…
Michigan Dealing With Multiple Chemical Threats National Conference of State Legislatures (UserFriendly)
The Path To Liberating Humanity Is The Same As The Path To Liberating The Individual Caitlin Johnstone
EV Superchargers Face One Key Hurdle SafeHaven
IMF changes tune on industry policy – shamelessly – Part 2 Bill Mitchell (Chuck L, UserFriendly). Note that the research arm of the IMF has been to the left of its policy arm for years.
Goldman Considers `A World Without Buybacks'. It Looks Ominous. Bloomberg (martha r). Quelle surprise!
Uber's long list of legal woes ahead of its IPO Financial Times
Lyft Is Angry About Lockups Matt Levine, Bloomberg (furzy)
Class Warfare
TVA contract workers say they're being exposed to toxic coal ash USA Today (martha r). From last week, still germane.

An example to all': the Mongolian herders who took on a corporate behemoth – and won Guardian

The booming business for smuggling people to the US: 'Everyone wins' Guardian
Antidote du jour. Al A: "Rufus the Arizona basset hound seeks refuge under the slip cover when the temperature falls below 80 degrees."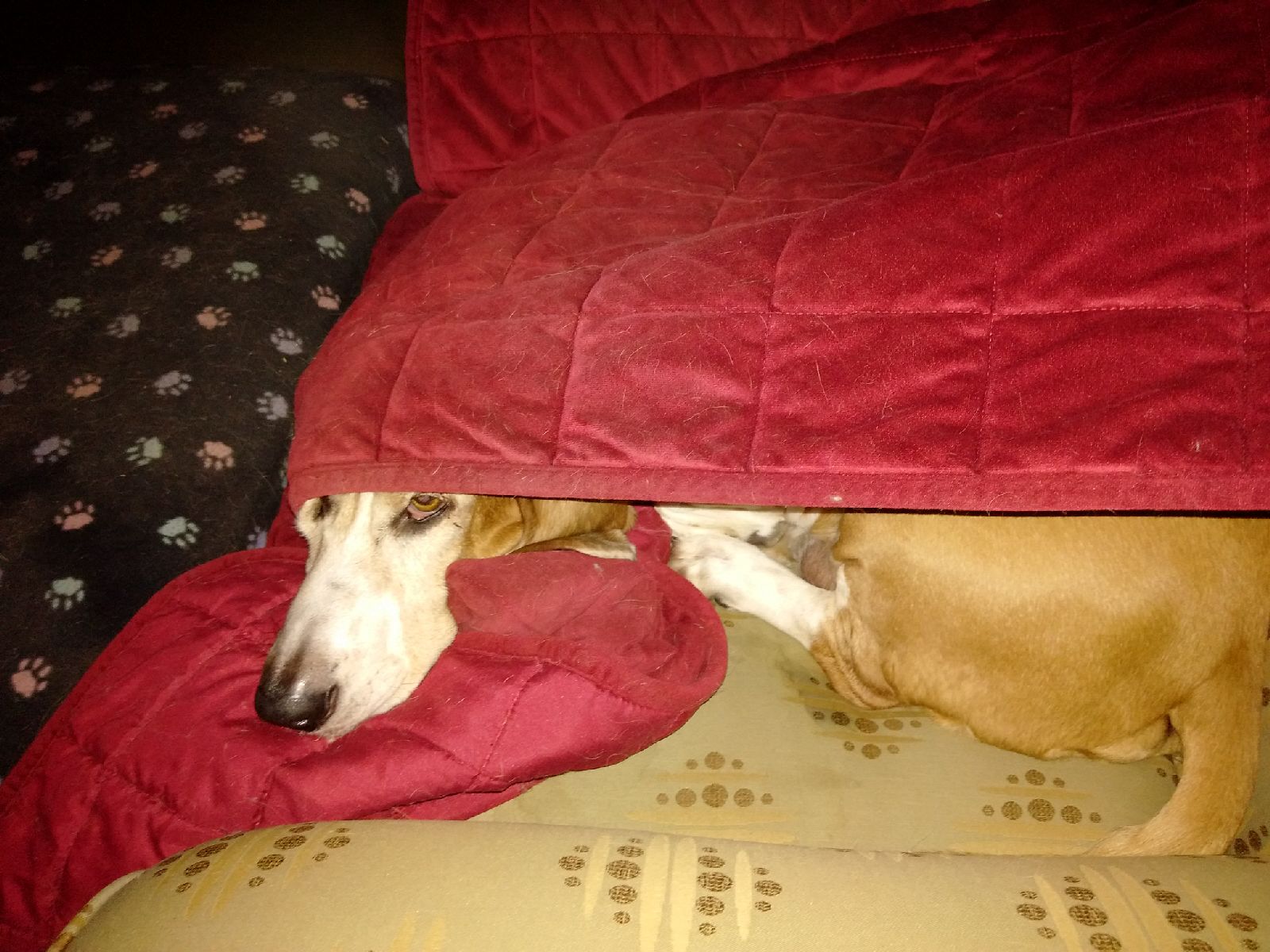 And a bonus:
See yesterday's Links and Antidote du Jour here