Yves here. We are delighted to feature this article by activists who fighting against fracked gas. We tend to focus on big picture and national/international issues, but the hand-to-hand combat on these questions often takes place at the local level.
By Kim Fraczek and Lee Ziesche of the Sane Energy Project, an NYC-based grassroots groups fighting the fossil fuel industry through community organizing, direct action, and policy work on renewables since 2011. They are a co-founder of the Stop the Williams Pipeline Coalition.
The global consensus of climate science tells us we need to drastically change our energy system and economy if we want to sustain life on planet Earth … and that we only have 11 years to do it. But the fossil fuel industry, one of the industries most responsible for climate disaster, refuses to comply with the urgency to retire their bottom line that depends on an extractive economy of dig, burn and dump.
So instead of facing the fact that their business model is destroying the planet, the fossil fuel industry is taking a page out of the big tobacco playbook and lying to our faces. What's the cigarette they're trying to sell us? Fracked gas.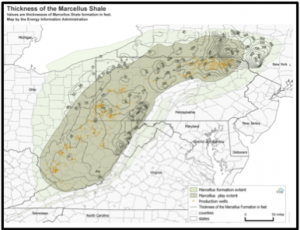 The same industry that coined the term "natural" gas to package it as a "clean bridge fuel" are pushing a massive buildout of pipelines, compressor stations, power plants and export facilities to move fracked gas from shale plays like the Marcellus Shale to new markets as seen here on the interactive You Are Here map.
But just as there never was a safe cigarette, there's no safe consumption of fracked gas when it comes to our climate and health. Methane, the main component of fracked gas, is an even more potent a greenhouse gas than C02 for the first 20 years it's in the atmosphere and if just a small percentage leaks, it's worse for the climate than coal.(Marcellus shale map courtesy of geology.com)
By May 16, New York State Governor Andrew Cuomo will have to make a decision whether he stands with climate science or fossil fuel industry propaganda when his administration's Department of Environmental Conservation (DEC) will decide to approve or deny permits for the Williams NESE fracked gas pipeline. And to thicken this plot, Donald Trump recently declared he will issue executive orders — to destroy the political power that anti-fossil fuel infrastructure communities have built — to demand that Williams NESE Pipeline gets built.
The proposed 23-mile long pipeline would bring fracked gas from Pennsylvania through New Jersey and NY Harbor and into New York City through an existing pipeline off the coast of the Rockaways, still working to rebuild after Superstorm Sandy 6 years ago.
Construction of the pipeline would dredge up industrial toxins and heavy metals that have sunk below the seafloor threatening wildlife that has seen a rebirth since the creation of Gateway National Park in 1971 to address the New York Harbor Pollution. Locking New York into several generations of fossil fuels with the Williams NESE Pipeline is not a risk we can afford to take right now.
National Grid, whose current business model is dependent on fracked gas expansion, claims the pipeline is necessary to meet growing gas demand. However, a new report, False Demand: The Case Against the Williams Fracked Gas Pipeline, proves there's no need for it, especially when energy efficiency efforts to reduce gas usage are taken into account. So why is National Grid pushing for the pipeline?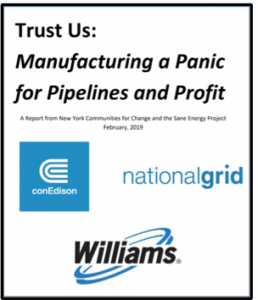 Another recently released report has the answer.Trust Us: Manufacturing a Panic for Pipelines and Profit, exposes the moratorium scare tactics big, corporate utilities like National Grid and Consolidated Edison are deploying to try to force Governor Cuomo to ignore climate science and approve fracked gas infrastructure and shows the staggering salaries top CEO's from Williams, ConEd and National Grid are making off delivering fracked gas.
It also highlights the grassroots organizing of the Stop the Williams Pipeline coalition to expose these scare tactics and encourage Governor Cuomo and his administration to see the swift announcement of a gas moratorium as opportunities to invest in the truly renewable solutions to fossil fuel industry fears because it means the end of their business.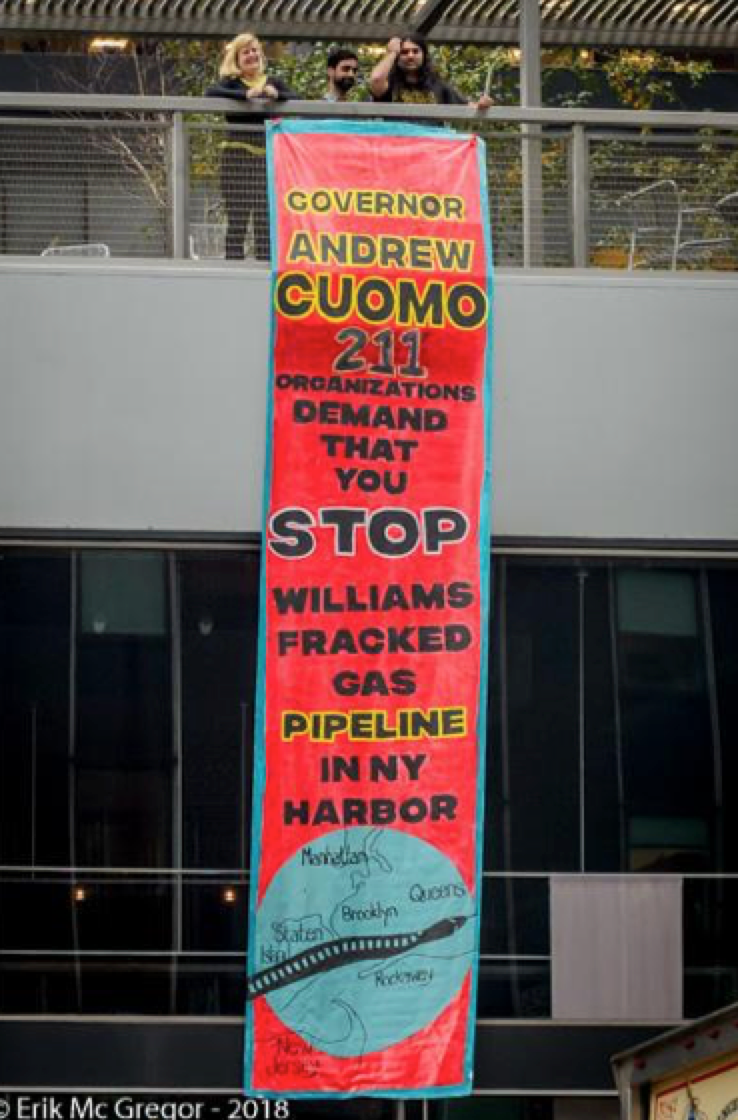 Facing the underbelly of the extractive system is not something this coalition shies away from. We have been operating a heightened level of urgency since day one:
Organizing multi-state meetings to discuss strategy, hundreds of community informational sessions
Challengingthe phony Federal Energy Regulatory Commission (FERC) process that facilitates rather than regulates interstate gas pipelines in order to gain a hearty fee in exchange for approvals
Building democratic people power through tactics like organizing a letteropposing the pipeline to Governor Cuomo from over 60 bi-partisan NYC elected officials including the Comptroller of New York City and the Speaker of our City Council.
Garnering261 New York State organizations, over 16,000 petition signatures
Dropping a 30 foot banneroutside Cuomo's NYC office in midtown Manhattan
Passing a NYC Council resolution against the Williams NESE pipeline on Thursday, April 18
Organizing a march with the youth Climate Strikers and Indigenous leaders like Ladonna Standing Bull Allard of Standing Rock, and NYC Public Advocate Jumaane Williams that stretched over the Brooklyn Bridge.
If Trump has his way, or if Cuomo succumbs to the pressure of the corporate utilities, we are fully prepared to put our bodies on the line to stop this pipeline.If we are going to take
control of our economy and build an economy that reflects values of regeneration and cooperation, then we must respond to the urgent warning from the global consensus of our planet's science community, and bring an immediate halt to this extractive economy.