The Predator That Makes Great White Sharks Flee in Fear The Atlantic
Global warming may boost economic inequality Science
We ignore the disaster in the antibiotics market at our peril FT
Edison asks for bigger profits, says bills would rise $14.40 a month for the average home Los Angeles Times and SCE says investors need bigger profits because of fire risks Los Angeles Times (KB).
Sickly sweet or just right? How genes control your taste for sugar The Conversation
Beware of Economic Theories Claiming to Explain Everything Bloomberg. Horseshoe theory, applied to macro.
Boeing Woes
Al Jazeera had the story of how Boeing was crapifying the 787 five years ago (Richard Smith). Thread:

THREAD.

Nearly five years ago we at @AJIunit broke the story of serious safety and quality concerns expressed by Boeing engineers working on the 787 Dreamliner. https://t.co/ONbXGh1DXK
— Will Jordan (@willjordan) April 23, 2019

Remember, again, that the set up for Boeing's 737 pratfall came when it stumbled and lost its balance with the late and over-budget 787, whose manufacture was driven by management's desire to build in union-busting South Carolina. Now that some online ticketing agencies can tell you what aircraft type your flight will use, it would be nice if they could tell you whether the actual aircraft was union-built. (Airbus is unionized in Europe, but not in its U.S. plant in union-busting Alabama).

Boeing faces Wall Street in likely 'lost year' of financial fallout from 737 crisis WaPo
Google Spinoff's Drone Delivery Business First to Get FAA Approval Bloomberg. Self-certified?
Brexit
Theresa May plans new Commons Brexit vote in high-stakes move FT

The awkward truth is that a Norway Brexit almost certainly wouldn't work The UK in a Changing Europe
Ireland takes steps towards cementing Wales and Scotland as allies Irish Times
China?
Could The U.S. Navy's War Plan Orange (For Fighting Japan) Be Used Against China? The National Interest
Sri Lanka has a history of conflict, but the recent attacks appear different The Conversation
Chronic malnutrition stunts Asia's rising-star economies Nikkei Asian Review
Syraqistan
India
Trump tightens sanctions on Iran's oil exports—How India will respond Brookings Institution

It took just one acre to grow faith in organic farming Business Line. n=4000, though only two farmers are interviewed.

The wilderness library People's Archive of Rural India
World Earth Day: Colonialism's role in the overexploitation of natural resources DownToEarth
Venezuela
Venezuela Imports Crude for the First Time in Five Years Bloomberg

Embassy Protection Collective Will Refuse To Turn Over Embassy To US Puppet Government: Arrests Expected Venezuelanalysis
The IMF Is Fueling an Argentine Crisis – Again Project Syndicate
New Cold War
Russia Sees Its Future in China and Eurasia The National Interest

Putin-Kim Summit: A Long Overdue Event Valdai Discussion Club

North Korea's Kim arrives in Russia for summit with Putin Channel News Asia
Fortress America rises in South Korea Asia Times
Zelenskiy faces battles with Ukraine's hostile parliament Reuters
Russiagate
Big Brother Is Watching You Watch
How Nest, designed to keep intruders out of people's homes, effectively allowed hackers to get in WaPo (KW).

Motoring With Big Brother The American Conservative
Suspect Accused Of Smashing 42 LinkNYC Wi-Fi Kiosks Spotted In New Video WLNY
Class Warfare
Workers of the world, embrace your value chains Council on Foreign Relations

Splits go all the way to the top. Thread, from Abigail Disney:

Let me very clear. I like Bob Iger. I do NOT speak for my family but only for myself. Other than owning shares (not that many) I have no more say in what happens there than anyone else. But by any objective measure a pay ratio over a thousand is insane. https://t.co/O34OjXd6rr
— Abigail Disney (@abigaildisney) April 21, 2019

Which dynasty next? The Waltons?
Climbers brought in to help protect Notre Dame from elements Guardian. Now the hard part begins.
Traveling is an elitist nightmare The Outline
Antidote du jour (Kokuanani):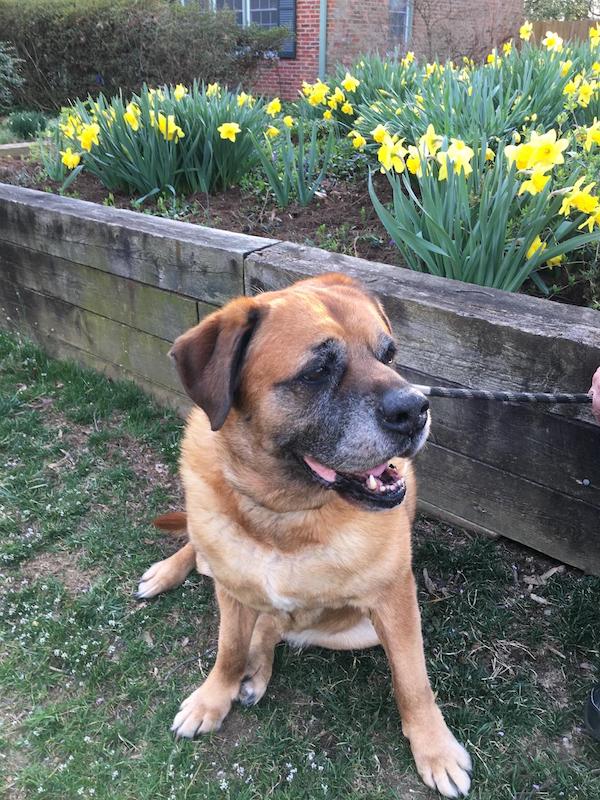 Kokuanani writes: "I have a new rescue dog: a 'senior' mastiff named 'Frances.' The last of our rescue chows died in December, and it was finally time for me to go back to the shelter. She is the sweetest [and snoozy-est]."
Bonus antidote (DK):
My sister's dog saw her using a string to play with the kittens so now he uses it to play with them ?? pic.twitter.com/xkyuqGbuaT

— Sam Pearson (@greeneggs_) April 21, 2019
Leveling up my dog and cat game!
See yesterday's Links and Antidote du Jour here.