By Lambert Strether of Corrente.
Patient readers, this Water Cooler is far too light, partly because (as I explained yesterday) my workflow went up in smoke, and partly because I've spent time tinkering with my tablets instead of writing and thinking. I hope to be back to something like normality tomorrow. –lambert
Technical Update: Thank you, readers, for all your suggestions (and sympathy). I think the approach that has the most merit is using a "synch" feature between a mailer's app on the iPad, and the browser-based mail on the the laptop. Unfortunately, since I now must "verify" my identity with Apple, which can take as much as a week, I can't install any of those apps for now. Sort of amazing I spend a thousand bucks on a machine but don't really own it. I wonder how long it will take for Apple's approach to filter out to the Internet of Things, not to mention robot cars.
Politics
"But what is government itself, but the greatest of all reflections on human nature?" –James Madison, Federalist 51
"They had one weapon left and both knew it: treachery." –Frank Herbert, Dune
2020
"2020 Democratic Presidential Nomination" [RealClearPolitics] (RCP average of five polls). Sanders (16.3%) claws back 1.6% from Biden (39.8%), others status quo.

"*" = New candidate.

* * *

Biden (D)(1): "What Joe Biden Is Teaching Democrats About Democrats" [Jonathon Chait, New York Magazine]. "The conclusion that Biden could not lead the post-Obama Democratic Party is the product of misplaced assumptions about the speed of its transformation. Yes, the party has moved left, but not nearly as far or as fast as everybody seemed to believe. Counterintuitively, House Democrats' triumph in the midterms may have pushed their center of gravity to the right: The 40 seats Democrats gained were overwhelmingly located in moderate or Republican-leaning districts." • I've been using that "center of gravity" metaphor for some time. And who ran for those 40 seats was very, very carefully calibrated, too.

Biden (D)(2): "'A dream ticket': Black lawmakers pitch Biden-Harris to beat Trump" [Politico]. "Some black lawmakers are agonizing over whether to back Biden or two members of the close-knit caucus — Sens. Harris and Cory Booker — who also are vying for the White House, according to interviews with a dozen CBC members. But with the former vice president jumping out to a huge, if early, lead in the polls, several CBC members are warming to the idea of a Biden-Harris ticket to take on President Donald Trump…. Democrats also are desperate to boost black turnout in 2020, blaming the drop-off from Barack Obama's wins as one reason for Hillary Clinton's defeat."

* Bullock (D)(1): "Democrat Steve Bullock Won a Red State in 2016. Can He Beat Trump in 2020?" [Politico]. "'You look at this field, and there's only one that's won in a Trump state when Trump was on the ballot, or won statewide in a Trump state, period,' [Steve Bullock, the Democratic governor of Montana] told me."

De Blasio (D)(2): "De Blasio's Trump Tower Event Derailed by 'You Suck' Chants" [New York Magazine]. " If the speech to put Trump "on notice" was any indication, the campaign rollout could have some remaining bugs. The noise of the protesters, amplified by the lobby's marble finish, was so loud the mayor had to leave his lectern and have reporters come closer so he could hear their questions…. Perhaps next time, assuming it ever reliably stops raining, de Blasio could hold the event outside Trump Tower as he'd intended, where he would have to deal with only the usual hellscape of Midtown noise." • Advance work counts!

O'Rourke (D)(1): "Beto's Long History of Failing Upward" [Politico]. "Celebrating defeat is unusual for a politician, and doing so makes O'Rourke notably different from the rest of the unwieldy field of Democrats running for president. In contrast to the 20 or so other 2020 candidates—all of them in various ways overachievers who tout the litanies of their successes—O'Rourke instead presents his loss to Cruz as a prominent selling point. More than his ownership of a small business. More than his six years on the city council in his native El Paso. More than his next six years as a back-bench House member in Congress. His near-miss against a prominent Republican in a red state was such a high-quality failure, so epically heroic, he seems to suggest, that it should be considered something of a victory. And he's not wrong to do it…. There's a reason his biography doesn't feature much in the campaign. For O'Rourke, the phenomenon on display in that race—failure without negative effects, and with perhaps even some kind of personal boost—is a feature of his life and career. That biography is marked as much by meandering, missteps and moments of melancholic searching as by résumé-boosting victories and honors." • Ouch.

Sanders (D)(1): "On the Trail With Bernie Sanders 2.0" [Matt Taibbi, Rolling Stone]. "For Sanders to win, all his voters have to do is overthrow basically the entire political system, which would be ridiculous except that all the other options may be worse: Trump is no solution, and a seemingly mighty traditional Democrat fell short last time." • The term "revolution" is serious, then.

"Which 2020 Presidential Campaigns Have Unionized?" [Front Page Politics]. • Castro, Sanders, Swalwell. What's wrong with the rest of 'em? Don't they like unions? Where's "Joe" on this?
2016 Post Mortem
"An Extremely Detailed Map of the 2016 Presidential Election" [New York Times]. • Fun!
Realignment and Legitmacy
"How DNC Chair Tom Perez plans to avoid the chaos of the GOP's 2016 debates" (interview) [Vox]. "There was a strongly held view among them that the primary debate calendar was set with an eye toward helping one candidate over another, and the reality is, whether that was perception or reality, it absolutely impacted people's sense coming out of the convention, of unity. " • "Them"? Who would "they" be? I mean, besides "not us."

"Sunrise Movement Plans Climate Action for Second Democratic Debate" [The Intercept].

On July 30, the scheduled date for the second Democratic presidential debate, Sunrise hopes to bring tens of thousands of young people to Detroit to present all the Democratic contenders with three demands:

• Sign the no fossil fuel money pledge.

• Commit to making the Green New Deal a day one priority if elected president.

• Plledge support for a presidential debate on climate change, so voters can hear where candidates stand on the issues.

"Liberal Relieved He Never Has To Introspect Again After Assembling All The Correct Opinions" [The Onion (RH)]. • Mighty woke…
Stats Watch
Import and Export Prices, April 2019: "Forecasters missed by a mile as import prices… and export prices… showed much less pressure than expected, in fact at or well underneath low estimates. [Econintersect]. "[T]he data that we've seen for April, whether continued weakness in portfolio management fees or apparel or airfares or import prices, all point to continued sub-par readings for core prices and with that a greater likelihood that, however distant, the next move for rate policy will be down not up."
NFIB Small Business Optimism Index, April 2019: "April was a strong month for the small business optimism index" [Econoday]. "Whether the breakdown of trade talks and the ratcheting higher of US and Chinese bilateral tariffs effects the sample will be an issue for the May report."
Marketing: "My Afternoon With 'Curvy Wife Guy'" [New York Magazine]. Includes this nugget: "When Tripp's Instagram post went viral in 2017, he had about 20,000 followers. Now he has 115,000. (Sarah has 460,000.) They're influencers, which means their business is attention. The more eyes they can get on their posts, the more they can attract sponsorships or advertising within them. For a single sponsored Instagram post, the couple can charge as much as $20,000, and 'that's just in terms of a single post. If we're throwing in blog posts, other types of syndicated content into their video content and all that stuff, it [they figure] gets bigger.'" • This "influencer" racket…
The Bezzle: "Uber's Day One Flop Shows a New Silicon Valley Stock Exchange May Have a Point" [Bloomberg]. "Around the same time as Uber's first trade at the New York Stock Exchange, the Long Term Stock Exchange got permission from the Securities and Exchange Commission to set up shop. Created by Eric Ries, a guru for Silicon Valley entrepreneurs, LTSE is designed to pull the stock market out of its short-term mindset through a set of rules meant to coax companies out of strategic near-sightedness." • As if Uber would be profitable in the long-term, either.
Tech: "Adobe warns Creative Cloud users with older apps of legal problems" [Engadget]. "In a response to a customer complaint on Twitter, the AdobeCare account said users can only download the two most recent variants of CC apps going forward." • Which sounds great, as long a the products aren't crapified.
The Biosphere
"Why coal ash and tailings dam disasters occur" [Science]. "There are about 1000 operating ash ponds in the United States (4), and coal consumption patterns suggest that there may be more than 9000 worldwide…. Failure of the containment structure around mine tailings and coal ash is often followed by a fast-moving mudflow, which can run downstream for several miles, with catastrophic consequences. This liquefaction of the impounded materials may suggest to regulators and the public that the problem lies with the impounded materials themselves. However, in the absence of internal collapse or induced shear (for example, as a result of a seismic event), liquefaction and outflow of ponded ash and tailings occur after the dam has failed. Thus, liquefaction does not cause the failure, but rather the disaster that follows."
"America's Achilles' Heel: the Mississippi River's Old River Control Structure" [Weather Underground]. "America has an Achilles' heel. It lies on a quiet, unpopulated stretch of the Mississippi River in Louisiana, 45 miles upstream from Baton Rouge. Rising up from the flat, wooded west flood plain of the Mississippi River are four massive concrete and steel structures that would make a pharaoh envious: the U.S. Army Corps of Engineers' greatest work, the two billion-dollar Old River Control Structure (ORCS). The ORCS saw its second highest flood on record in March 2019, and flood levels have risen again this week to their fifth highest level on record. While the structure is built to handle the unusual stress this year's floods have subjected it to, there is reason for concern for its long-term survival, since failure of the Old RIver Control Structure would be a catastrophe with global impact."
"California May Go Dark This Summer, and Most Aren't Ready" [Bloomberg]. "Six of the 10 most destructive wildfires in California history have come in the last 18 months, killing 123 people, and often shutting down large sections of the state's electrical grid." • So the answer is to shut down power entirely…
"Major Oil Companies Bankroll Paris Accord Bill Opponents By 3-to-1 Margin" [MapLight] and "Green New Deal Opponents Score 24 Times More Campaign Cash From Big Oil Companies" [MapLight].
Class Warfare
"Race, class, crisis: the discourse of racial disparity and its analytical discontents" (PDF) [Adolph Reed, Merlin Chowkwanyun Socialist Register]. From 2012, still highly germane:
The discourse of racial disparity is, when all is said and done, a class discourse. Even the best of the studies analyzing the racial impact of the crisis, for example, in focusing on racial disparity in subprime mortgage markets and foreclosure rates, sidestep a chance to interrogate the very limitations of the hegemonic commitment to homeownership altogether. More generally, automatic adoption of the racial disparities approach avoids having to conduct the detailed work that would situate ascriptive status within the neoliberal regime of accumulation that mitigates its influence. Repetitiously noting the existence of segregated neighbourhoods and how they decrease property value (real and perceived) and increase the likelihood of subprime mortgage is to identify a result, albeit one that is surely repellent. It does not tell us with much exactitude what institutions, policies, actuarial models, and systems of valuation produce those results, or more generally, what sociologist Mara Loveman describes as the 'extent a particular essentializing vocabulary is related to particular forms of social closure and with what consequences'. It substitutes in its place over results that can hardly be surprising.
That's a fun passage from the conclusion, but the entire piece is good. (Also a nice plug for Gretchen Morgensen.)
"How College Kids Feel About the College Admissions Scandal" [New York Magazine]. Heidy, 19- Tufts University: "I always figured people around me with connections get into the school of their dreams because of their privilege, so the scandal just reinforced my views about higher education. I can't say I'm surprised. Rich people love flaunting what they have and proving their status. It's frustrating that rich people's kid who don't even want the education, and who are already going to be successful because of their connections, take opportunities away from people who genuinely want to study and who don't have as many opportunities to succeed. Educating rich people who don't want to study is a waste of resources, and , but the bottom line is that our system is so unfair and broken." • "I understand…." It is interesting to speculate that free college would be good not only for the students, but for such remaining academic institutions that wish to retain or regain their integrity.
"Washington DC's weird weed economy means pot is free and stickers cost $80" [Quartz]. "If you want to acquire weed in the city, and you aren't able to grow your own, your only (legal) option is an essentially unregulated gray market. 'In this odd legal limbo, a gifting economy—in which people exchange weed for t-shirts or other items—has flourished, DCist reports. As one weed delivery service notes: 'Everything is strictly Initiative 71 compliant, meaning ALL MARIJUANA COMES FOR FREE. The only thing we sell are stickers and vintage baseball cards.' You have to pay for the vintage baseball cards (or a drawstring backpack or cold-press juice), but there's no charge for the dope. A single sticker might cost $80. … City authorities don't love this baroque marketplace. They can't collect tax dollars from marijuana sales, regulate what's being sold, or keep an eye on vendors." • "Anyone can create money. The problem lies in getting it accepted." –Hyman Minsky
News of the Wired
"Rare Bruce Lee interview footage unearthed from before martial arts legend became famous" [South China Morning Post]. • Rare footage.
"Killer Rabbits in Medieval Manuscripts: Why So Many Drawings in the Margins Depict Bunnies Going Bad" [Open Culture]. "[There is a] particular type of humorous marginalia, known as drollery… This enjoyment of the 'world turned upside down' produced the drollery genre of 'the rabbit's revenge,' one 'often used to show the cowardice or stupidity of the person illustrated. We see this in the Middle English nickname Stickhare, a name for cowards'— and in all the drawings of 'tough hunters cowering in the face of rabbits with big sticks.'" • (!)
Music (1): "…"
Music (2): Every so often, I remark that "everything's going according to plan!" Turns out there's a Russian punk rock song of that title:
* * *
Readers, feel free to contact me at lambert [UNDERSCORE] strether [DOT] corrente [AT] yahoo [DOT] com, with (a) links, and even better (b) sources I should curate regularly, (c) how to send me a check if you are allergic to PayPal, and (d) to find out how to send me images of plants. Vegetables are fine! Fungi are deemed to be honorary plants! If you want your handle to appear as a credit, please place it at the start of your mail in parentheses: (thus). Otherwise, I will anonymize by using your initials. See the previous Water Cooler (with plant) here. Today's plant:
* * *
Readers
: Water Cooler is a standalone entity
not
covered by the annual NC fundraiser. So do feel free to make a contribution today or any day. Here is why:
Regular positive feedback both makes me feel good and lets me know I'm on the right track with coverage
. When I get no donations for five or ten days I get worried. More tangibly, a constant trickle of small donations helps me with expenses, and I factor in that trickle when setting fundraising goals. So if you see something you especially appreciate, do feel free to click this donate button:
Here is the screen that will appear, which I have helpfully annotated.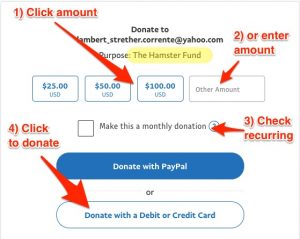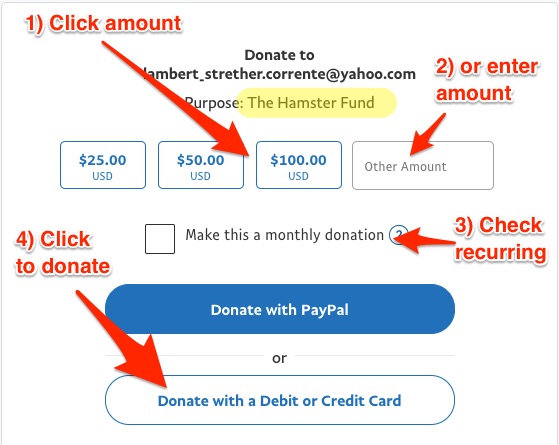 If you hate PayPal, you can email me at lambert [UNDERSCORE] strether [DOT] corrente [AT] yahoo [DOT] com, and I will give you directions on how to send a check. Thank you!