By Lambert Strether of Corrente.
Patient readers, my workflow remains disrupted because Apple has not yet returned control to me of the tablet I putatively own. So I feel like I'm running a sack race instead of blogging. Again, if any of you want to send me Water Cooler-appropriate links, or short video clips to introduce me to the YouTube world, that would be helpful (and fun). Thank you! –lambert P.S. This week, when I'm not in production mode, I'll see what I can do to make my expensive glass slab communicate with the outside world. Hopefully I won't have to write another ticked-off post.
Trade
"Trump reaches deal with Canada, Mexico to immediately lift metals tariffs" [Politico]. "The U.S., Canada and Mexico have reached an agreement to remove President Donald Trump's tariffs on steel and aluminum imports, a key roadblock to approval of the new North American trade deal. 'We're done,' said one official involved in the negotiations. 'It is a great day.'"
Politics
"But what is government itself, but the greatest of all reflections on human nature?" –James Madison, Federalist 51
"They had one weapon left and both knew it: treachery." –Frank Herbert, Dune
2020
Biden (D)(1): "Area Man Regrets Helping Turn Joe Biden Into a Meme" [Vice]. "I worked at The Onion for 19 years as a writer and features editor. By the time I left in 2012, the publication had developed its take on Vice President Biden: "creepy but harmless," with the emphasis on "harmless." We lampooned him as an uncle you'd shake your head at but not think twice about—the sort of guy who'd wink and say, "Don't let your meat loaf!" [Oh!] as a farewell…. As I watch him campaign as an old (-fashioned, -school, -old) centrist, I realize how badly we screwed up. Instead of viciously skewering a public figure who deserved scrutiny, we let him off easy. The joke was funny, but it didn't hit hard enough." • Well, perhaps they can make up for lost time.

Biden (D)(2): "Philadelphia-Based Community Organizations Speak Out Against Joe Biden's Candidacy" [Reclaim Phildelphia]. "This Saturday, May 19, Joe Biden will formally launch his Presidential campaign in Philadelphia on the Ben Franklin Parkway. In response, Philadelphia-based community organizations — 215 People's Alliance, Reclaim Philadelphia and One Pennsylvania — released the following statement. All three organizations are active in Philadelphia and statewide in fighting for racial, economic and gender justice, and play a significant role in local, state and federal elections. Last year alone, collectively the three organizations knocked on over 360,000 doors and played critical roles in electing: District Attorney Larry Krasner, and State Representatives Elizabeth Fiedler, Chris Rabb, Malcolm Kenyatta, and Joe Hohenstein…. Today, 215 People's Alliance, Reclaim Philadelphia and One Pennsylvania are formally registering our opposition to the candidacy of Vice-President Biden based on his disturbing 50-year record of prioritizing segregationist policies, placing corporate interests first, refusing to take accountability for sexual harassment and minimizing the threats of global warming." • Ouch. Oddlly, I couldn't find this with Google, even using a literal search on the headline.

Sanders (D)(1): "Bernie Sanders will call for ban on for-profit charter schools" [CNN], "In a major education policy speech set to be delivered Saturday, Sen. Bernie Sanders will call for a ban on all for-profit charter schools, a position that puts him directly at odds with the Trump administration and becoming the first of the 2020 Democratic presidential candidates to insist on such a move. The Vermont independent also will call for a moratorium on the funding of all public charter school expansion until a national audit on the schools has been completed. Additionally, Sanders will promise to halt the use of public funds to underwrite all new charter schools if he is elected president A senior Sanders campaign official shared the details of policy proposal with CNN ahead of the Sanders speech in South Carolina — the crucial early primary state where the African-American vote is a key voting base. The moratorium on the funding of public charter schools was initially called for by the NAACP; Sanders will say in his speech that he supports the group's efforts."

Trump (R)(1): "Trump asking farmers to make 'patriotic' sacrifices in his trade war" [Politico]. "'Farmers are patriotic and understand that someone had to finally call China to account,' Tim Murtaugh, communications director for Trump's 2020 campaign, said in a statement, adding that farmers 'understand the long game, because long-term planning is what they do.'" • And the politcal class agrees with Murtaugh (and Trump) on "calling China to account."

"It Won't Take Long for the Deep Dem Field to Start Thinning" [Cook Political Report]. "There is also the whole complicated business of who does and doesn't qualify for each round of debates, based on DNC criteria on poll performance, funds raised, and number of unique donors. With as many as 23 candidates, and with Biden and Sanders garnering as much as half the vote in early polls, this is going to get pretty brutal pretty quickly for many. In short, the opportunities will get fewer and fewer for half of this field by the end of June. Then there is the big challenge: fundraising, with the next big quarterly report card coming out in mid-July. Some will turn in impressive Federal Election Commission reports, while others will be underwhelming, if not downright embarrassing. Resources are critical to keep the campaign staff and rent paid, and the creditors happy, or at least cooperative. While in some ways our political process is awash in money, with the internet and the ActBlue fundraising platform making it cheaper and easier to raise money than in the old days of direct-mail fundraising, for those who are not getting traction in polls, crowds, and fundraising, it will be perilous and eventually fatal to their candidacies." • There are 220 days between the June 26-27 debates and the Iowa caucus on February 3, 2020. Makes the 2016 death March look like a walk in the park.

"Why California Will Matter More in the 2020 Election" [Zócalo Public Square]. "The California presidential primary traditionally has taken place in June, often well after the presidential candidates for all parties have been decided. But next year, California will join 12 other states for the Super Tuesday primary on March 3rd, 2020. What effect will this have on the election? Could California primary voters pick the next president?" • Not a coincidence the DNC sought to empower the local oligarchy of a one-party state.

"Trump and Biden, potential 2020 rivals, both head to Pennsylvania, a key battleground" [Los Angeles Times]. "Together [Trump and Biden] are paying little attention to the 22 other Democrats running for the party's presidential nomination, acting as if the starting gun has already been fired on the general election… Their Pennsylvania itineraries are emblematic of their competing political strategies. Trump, aiming to energize the white working-class voters who brought him to victory, plans to hold a rally in rural Lycoming County in the central part of the state, which went for Trump by nearly 45 percentage points in 2016…. Biden, hoping to make up for his party's 2016 shortfall among black and working-class voters, will hold his first large-scale 2020 campaign rally in Philadelphia, a bastion of black Democratic strength… The latest Quinnipiac University poll in Pennsylvania found Biden out-polls Trump 53% to 42%, with especially wide margins among independent voters and women."
2019
A good question:

.@AOC asked this pharma exec why a life-saving HIV drug costs nearly $2,000 in the U.S. and $8 in Australia pic.twitter.com/A7wTv92CCF

— NowThis (@nowthisnews) May 16, 2019
RussiaGate
"John Durham's New Mission to Root Out Russiagate Origins" [Sic Semper Tyrannis]. "[U.S. Attorney John Durham of Connecticut], who has been quietly conducting his probe for weeks, is not restricted by the limited mandates of a special prosecutor. Barr has solicited and gotten cooperation from DNI Coats and CIA Director Haspel to extend the probe into involvement of intelligence officials (Brennan, Clapper and their key aides) in the foisting of the Trump-Russia saga and the obtaining of tainted "evidence" to secure FISA warrants. Durham will be closely coordinating his investigation with the work of DOJ Inspector General Michael Horowitz, who is nearing completion of his own investigation into DOJ and FBI corruption and political bias in the Trump-Russia probe. In recent meetings with Republican Member of Congress Jim Jordan, Horowitz indicated he was preparing as part of his final report." •
Impeachment
"Political prophet Allan Lichtman: Would impeaching Trump help him or hurt him in 2020?" (interview) [Salon]. "Lichtman is perhaps best known for his earlier book "The Keys to the White House," which lays out 13 variables that he says determine whether the party that controls the White House will win a given presidential election. Each key is a statement that, if true, makes it more likely that the incumbent party will win the popular vote; if eight or more are true, the incumbent party can be expected to triumph." • Lichtman has form and called 2016 correctly using his method. So since the interview is hard to summarize, I summarized Lichtman's views in the form of a table (and his conclusion in a quote at the bottom of the table:

(If the keys are not self-explanatory, see here.) My only concern is that Lichtman seems to have shifted over from analyst to advocate. Trump has shown an amazing ability to wriggle out of any kind of trap, and I wonder if he might wriggle out of Lichtman's framework as well. For example, would impeaching Trump be a "scandal" in the same way that Lichtman imagines it? Further, Lichtman predicted two years ago that Trump would be impeached; I really hate to think that he's talking his book, but he wouldn't be the first academic to lose his moorings in "The Age of Trump" (vile phrase). So I will watch Lichtman's keys with interest.
2018 Post Mortem
"Did Changes in Economic Expectations Foreshadow Swings in the 2018 Elections?" [Liberty Street Economics]. "After examining the persistence of polarization in expectations using voting patterns from the presidential election in our previous post, we explore here how divergence in expectations may have foreshadowed the results of the midterm elections. Using the Survey of Consumer Expectations, we show that economic expectations deteriorated between 2016 and 2018 in districts that switched from Republican to Democratic control compared to districts that remained Republican."
Obama Legacy
"Progressive aldermen's 100-day agenda: higher minimum wage, more affordable housing" [Chicago Sun-Times (DJG)]. Not only are DSA Chicago Aldermen (!) an Obama legacy, so too is opposition to his stately pleasure-dome: "Passing an ordinance mandating a community benefits agreement long opposed by former President Barack Obama to protect residents living around the proposed Obama Presidential Center in Jackson Park. The ordinance would establish a community trust fund to assist long-term residents with property tax relief and rental assistance and require developers to set aside 30% of new units for households earning less than half the median income." • Good.
Stats Watch
Leading Indicators, April 2019: "The index of leading economic indicators missed expectations" [Econoday]. "Manufacturing components held down April's results while stock prices, financial conditions and consumer expectations were all positive contributors."
Consumer Sentiment, May 2019 (preliminary): "Tariffs or not, consumer expectations jumped this month" [Econintersect]. "Today's report dovetails with this week's Empire State and Philadelphia Fed manufacturing reports which likewise showed no visible impact from US-China trade issues, apart perhaps from the inflation readings in today's report."
E-Commerce Retail Sales, Q1 2019: Rose, and rose as a percentage of retail sales. [Econoday].
The Bezzle: "Tesla Autopilot was in use before car hit truck in fatal crash, NTSB finds" [Los Angeles Times]. "A Tesla Model 3 car involved in a fatal crash with a semitrailer in Florida was operating on the company's semiautonomous Autopilot system, federal investigators have determined…. The car drove beneath the trailer, killing the driver, in a March 1 crash that is strikingly similar to one that happened on the other side of Florida in 2016 that also involved the use of Autopilot… David Friedman, who was acting head of the NHTSA in 2014 and is now vice president of advocacy for Consumer Reports, said he was surprised the agency didn't declare Autopilot defective after the Gainesville crash and seek a recall. The Delray Beach crash, he said, reinforces that Autopilot is being allowed to operate in situations it cannot handle safely. 'Their system cannot literally see the broad side of an 18-wheeler on the highway,' Friedman said." • Oopsie…
Manufacturing: "Trade war, heavy rains weigh on Deere & Co." [Atlanta Journal-Constitution]. "Deere cut its profit and sales expectations for the year as a trade war between the U.S. and China escalates and farmers try to recover from a planting season besieged by heavy rains… The warning from Deere pulled the entire S&P industrial sector down on fears that the nation's largest manufacturers will see similar damage."
The Biosphere
"If the Old River Control Structure Fails: A Catastrophe With Global Impact" [Jeff Masters, Weather Underground] (part one; part two). A must-read. "America became the world's greatest economy because it had a wealth of natural resources. But those goods needed the world's greatest network of navigable rivers—the Mississippi River system—on which to be transported. Naturally, that network of rivers needed a port at the ocean, to regulate the flow of goods into and out of the country. Between Baton Rouge and New Orleans, the Lower Mississippi River has four of the fifteen largest ports in America. Those ports handle over 60% of all U.S. grain exports to the world, thanks to the barges moving downriver. Going upriver, those barges transport the petrochemicals, fertilizers, and raw materials essential for the functioning of U.S. industry and agriculture…. If the Old River Control Structure (ORCS) were to fail, barge navigation might be interrupted for weeks and possibly months…. Closure of the Mississippi to shipping would cost the economy $295 million per day, said Gary LaGrange, executive director of the Port of New Orleans, during the great flood of 2011. Closure for multiple months would cause a cascade of impacts across a broad sector of the U.S. economy, multiplying costs…. There are simply not enough trucks and trains in the country to make up for the barge capacity lost, and even if there were, the cost of doing so would be prohibitive… Failure of the ORCS and the resulting loss of barge shipping that might result could well trigger a global food emergency. The U.S. is one of the world's largest exporters of grain, and 60% of that grain is transported to market by barges travelling on the Lower Mississippi River. A multi-month interruption in the supplies of more than half of U.S. grain to the rest of the world can be expected to cause a spike in global food prices, and potentially create dangerous food shortages in vulnerable food-insecure nations." • A spike in food prices preceded Tahrir Square….
"Citizen sleuths exposed pollution from a century-old Michigan factory, with nationwide implications" [Science]. This is a very, very important story:
In a 2010 request for state funds to help redevelop the 6-hectare [Wolverine Worldwide] site, which sits astride a picturesque business district, lawyers representing the company stated: "There is no known contamination on the property."

Lynn McIntosh, a piano teacher and writer who has lived just a block from the tannery for more than 25 years, was skeptical. The statement was "legalese laced with hogwash," she recalls thinking when she read it. Tanneries use a stew of hazardous chemicals to transform raw hides into leather, she knew, and sometimes left contamination behind. For that and other reasons, McIntosh and others asked city and state officials to require a comprehensive environmental study of the site before it was redeveloped.

Their plea was rebuffed, so she and a small band of allies launched their own investigation. The group, which ultimately named itself Concerned Citizens for Responsible Remediation (CCRR), collected maps, dug into newspaper archives, and filed requests for public records. Members spoke with scientists knowledgeable about tannery chemicals and hired an environmental attorney with a background in geology to help them strategize. McIntosh even staked out and photographed the demolition of tannery buildings, followed waste trucks to dump sites, and interviewed retired tannery workers. The years of effort yielded stacks of documents that McIntosh—who prefers a simple clamshell cellphone to modern smart screens and paper files to the digital cloud—lugged to meetings in heavy bags.

Now, that sleuthing is having far-reaching impacts in Michigan and beyond. The concerned citizens uncovered evidence that the tannery had contaminated large swaths of land and water with chemicals known as a per- and polyfluoroalkyl substances (PFASs)
Somebody like @AOC — or Sanders — should grab "citizen science" both hands and and make it part of a Jobs Guarantee under the Green New Deal; there's so much work to be done. Note also that, derided as NIMBYs are, people with direct personal property interest in the results actually did the science. That was my experience with the landfill as well; the abutters were critical. The PFAS story has been bubbling for some time (thanks to links from readers) but I had not idea of this aspect until it showed up in Science! McIntosh, et al., must be very happy. To pre-empt a possible objection, citizen science isn't necessarily a professional class avocation; anti-landfill advocates from working class backgrounds made themselves into subject matter experts and trusted news sources with a level of effort."
"How to turn a persecuted pest into an ecosystem engineer" [Anthropocene]. "Among the distinctive ecological characteristics of Anthropocene-era Homo sapiens is a predilection for destroying keystone species: those creatures whose activities create habitat and nourish entire webs of life. Conservationists have tried to reverse this trend, with efforts focused on predators and large herbivores. Yet another class of keystone species has not received much notice: animals, in particular burrowing rodents, who are still abundant in terms of absolute numbers but seldom fulfill their historical, life-promoting roles… California ground squirrels, a gopher-sized rodent found throughout the western United States… provide an important food source for predators; their burrows aerate soil and furnish homes for other animals; their presence maintains grasslands—one of the world's most endangered ecosystems—and creates habitat mosaics." • I am here for small rodents. How else would the cat bring me gifts?
Health Care
"Judge rips insurance company for 'immoral, barbaric' cancer denials" [CNN]. "A federal judge blasted UnitedHealthcare last month for its "immoral and barbaric" denials of treatment for cancer patients. He made the comments in recusing himself from hearing a class-action lawsuit because of his own cancer battle — and in so doing thrust himself into a heated debate in the oncology world…. That includes insurance companies. [Dr. William Hartsell, [American Society for Radiation Oncology (ASTRO)]'s vice chairman for health policy] said a recent study showed that about two-thirds of cancer patients were initially denied proton treatment by their insurers: 'If you have a patient, say with esophageal cancer, they can't wait four months for a decision on treatment.'
'One of the problems we have right now with these [insurance] policies is, they are a one-size-fits-all policy,' he said. '.'" • No "kind of" about it. That's their function!
"Pfizer Denies Encouraging Drug Abuse By Packaging Fentanyl With Cooking Spoon, Lighter" [The Onion]. "Such implications are simply preposterous abdications of the very idea of personal responsibility."
Class Warfare
"Problems For Other People" [Eschaton]. "It's always fun to mock the various entries in the neverending series "Lifestyles Of The Not Quite Rich Enough" in the NYT, but mocking aside it is true that financial anxiety is creeping higher and higher up the income distribution…. We worry about our helicopter rides to the Hamptons, they worry about paying for dentistry. Until we do, too." • Somehow I don't think people who haven't dealt with a lot of anxiety about material conditions won't handle it well. (For those who don't follow him, Atrios is also very sound on robot cars.)
News of the Wired
:-(
R.I.P., Grumpy Cat. pic.twitter.com/vJ9KsHySa7

— The New Yorker (@NewYorker) May 17, 2019
"How One Contrarian 'Broke' Jeopardy! and Won $1.7 Million" [The American Conservative]. "Holzhauer, 'a professional sports gambler from Nevada,' may have shown the world what's possible when a player template—never challenged or questioned over a half century—is blown up and replaced by another strategy that produces vastly superior results. By now, millions of Americans are familiar with Holzhauer's unorthodox Jeopardy! strategy (the show is seeing ratings not reached since 2005). It's actually quite simple: unlike 99.9 percent of the game's previous contestants, Holzhauer starts at the bottom of the board—where the biggest money is—and goes sideways." • I don't think the Norms Fairy would be happy about this.
* * *
Readers, feel free to contact me at lambert [UNDERSCORE] strether [DOT] corrente [AT] yahoo [DOT] com, with (a) links, and even better (b) sources I should curate regularly, (c) how to send me a check if you are allergic to PayPal, and (d) to find out how to send me images of plants. Vegetables are fine! Fungi are deemed to be honorary plants! If you want your handle to appear as a credit, please place it at the start of your mail in parentheses: (thus). Otherwise, I will anonymize by using your initials. See the previous Water Cooler (with plant)
here
. Today's plant (DM):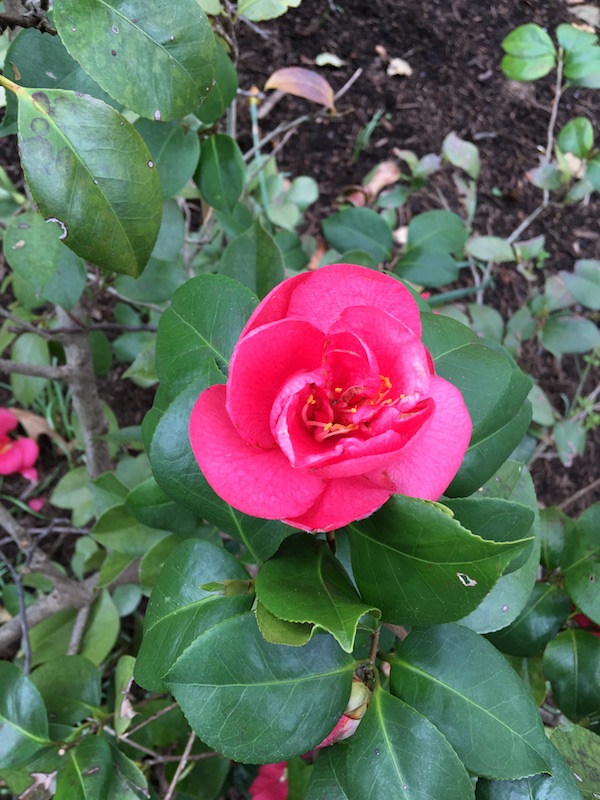 DM comments: "From my backyard." I guess not a rosa rugosa; the stems don't seem to be spiny.
* * *
Readers
: Water Cooler is a standalone entity
not
covered by the annual NC fundraiser. So do feel free to make a contribution today or any day. Here is why:
Regular positive feedback both makes me feel good and lets me know I'm on the right track with coverage
. When I get no donations for five or ten days I get worried. More tangibly, a constant trickle of small donations helps me with expenses, and I factor in that trickle when setting fundraising goals. So if you see something you especially appreciate, do feel free to click this donate button:
Here is the screen that will appear, which I have helpfully annotated.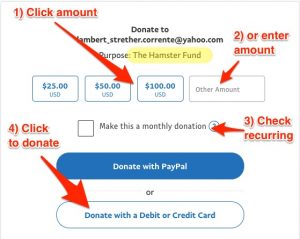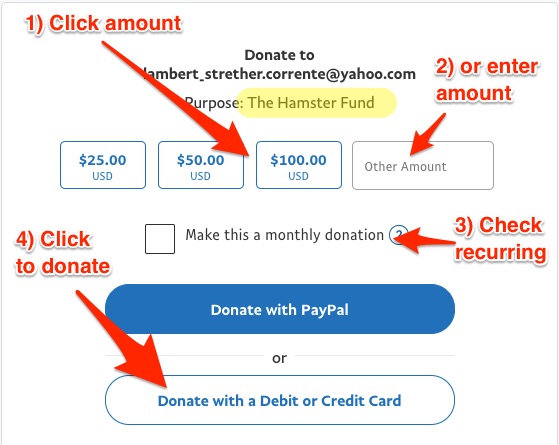 If you hate PayPal, you can email me at lambert [UNDERSCORE] strether [DOT] corrente [AT] yahoo [DOT] com, and I will give you directions on how to send a check. Thank you!