By Lambert Strether of Corrente.
Readers, my workflow is still disrupted because Apple has not yet returned control to me of the tablet I putatively own. So this is a little disjointed. If any of you want to send me Water Cooler-appropriate links — especially from sources I don't read, and also not already having appeared in the morning's Links — that would be helpful (and fun). Thank you! –lambert
Trade
"China threatens to reduce Boeing orders, but analyst says options are limited" [MarketWatch]. "Chinese airlines currently have 231 Boeing commercial aircraft on order, including 192 737 Max planes, [Ken Herbert, an analyst at Canaccord Genuity] said. In addition, China has placed orders for at least two 777 aircraft and several 787s, he said. 'It is also likely that hundreds of additional unassigned aircraft in Boeing's backlog are destined for Chinese customers,' Herbert said. China's options outside Boeing remain limited, with Airbus SE's AIR, +1.58% A320neo, the main 737 Max competitor, largely unavailable at least in short order. China's domestic C919 aircraft, by Chinese aerospace company Commercial Aircraft Corp. of China, or Comac, 'remains well behind schedule,' with first deliveries not expected until 2021, he said."
Politics
"But what is government itself, but the greatest of all reflections on human nature?" –James Madison, Federalist 51
"They had one weapon left and both knew it: treachery." –Frank Herbert, Dune
2020
"2020 Democratic Presidential Nomination" [RealClearPolitics] (RCP average of five polls). Sanders (16.3%) claws back 1.6% from Biden (39.8%), others status quo.

"*" = New candidate.

* * *

Biden (D)(1): "Biden's Nafta Vote Is a Liability in the Rust Belt" [Bloomberg]. "Biden is the only one of the 22 Democrats running for president who voted for NAFTA… 'NAFTA still resonates in the industrial Midwest and Rust Belt,' says Stanley Greenberg, a veteran Democratic pollster who recently conducted focus groups on trade in Michigan and Wisconsin. 'There's still a lot of anger because it symbolizes, for many people, the indifference about the outsourcing of jobs and the favoring of elite economic interests in international trade agreements." • "Symbolizes," forsooth.

Biden (D)(2):

In response to a question from a recovering drug addict about how to combat addiction, Biden defends the 1994 crime bill. pic.twitter.com/HsxKPYeEFp

— Daniel Marans (@danielmarans) May 13, 2019

I'd speculate this was implicitly an opioids/deaths of despair question. Either way, Biden slipped a cog answering it.

Biden (D)(3): "'When Biden announced, everything changed'" [Politico]. "'When Biden announced, everything changed,' said Robert Wolf, a venture capitalist and influential Democratic donor who raised money for and advised former President Barack Obama. 'So, if the combination of those three are 50-60 percent of the field right now, the others have to make sure that, for them to get in the teens, they have to break out away from each other.'" • Wolf is a Board Member for the Obama Presidential Library Center (I think. The site isn't crystal clear about how the Obama Foundation overlaps with the Center. Quite a board, though.

Sanders (D)(1): "Fox News viewers are more likely to support Bernie Sanders than people who watch MSNBC" [Business Insider]. "The [Morning Consult] poll found that 22% of Fox News viewers who also identified as potential Democratic primary voters back Sanders compared to just 13% of MSNBC viewers. Sanders was an outlier in this regard, as every other 2020 Democratic included in the poll had more support among MSNBC viewers than those who tend to watch Fox News." • As I keep saying, it's going to be harder for Sanders to win the primary than it would be for him to win the general.

Sanders (D)(2): "Can Bernie Sanders be stopped? In 2020 presidential race, experience could pay off." [Chicago Tribune]. From before Biden's entry, still germane: "Sanders, however, has competed at this level before… He has raised far more money than anyone else this time around, the great majority from small donors — which suggests that a lot of people who voted for him in 2016 are eager to do it again…. But for all his eccentricities, Sanders proved to be a sure-footed campaigner who avoided gaffes without ever sounding canned or cautious. His appearance at a Fox News town hall Monday showed fearlessness…. But for all his eccentricities, Sanders proved to be a sure-footed campaigner who avoided gaffes without ever sounding canned or cautious. His appearance at a Fox News town hall Monday showed fearlessness."

Trump (R)(1): "Polling Responses Provide Vivid Illustration of Divergent Opinions on Trump" [Charles Cook, Cook Political Report]. "This past week's NBC News/Wall Street Journal poll asked respondents open-ended questions with verbatim responses transcribed, a staple in campaign-sponsored polling but unusual among those that the media commissions. Though observing a focus group of a dozen voters is invaluable—watching facial expressions, body language, tone of voice, reactions to what others say—reading 40 pages of verbatim responses from 900 people covers a lot of ground, too." • Interesting methodology. Cook simply gives quotes; no analysis at all. I'm not sure the survey tells us anything we don't already know.

"Did the Left Misread the 2020 Democratic Primary?" [Politico]. "But it was Joe Biden's moment, and it sure still seems to be Joe Biden's moment. He has dominated the polls since he entered the race last month. Before Biden announced, he was at a measly 29 percent in the Real Clear Politics average of national polls, only 6 percentage points ahead of progressive favorite Bernie Sanders, who not all that long ago looked like a genuine co-front-runner. Since then, Biden has surged to 40 percent, kicking Sanders down to the mid-teens. In the past week, Biden has posted intimidating double-digit leads in polls from the early-contest states of Iowa, New Hampshire and South Carolina. His dominance of the Democratic Party's moderate wing has helped stall the rise of Mayor Pete Buttigieg while also squeezing the ability of candidates like Elizabeth Warren and Kamala Harris from positioning themselves as more viable progressive alternatives to Sanders. It's not just Biden's rising poll numbers that suggest that the activist left is out of step with most Democrats; it's the ideological makeup of the entire Democratic Party. Fifty-six percent of Democrats self-identify as 'moderate' and 9 percent even embrace 'conservative.'" • Thanks, Obama! (And IMNHOS Sanders will have to expand the base, and make it his. And if his canvassing operation can't do that, what good is it?

"The vast majority of Republicans support Alexandria Ocasio-Cortez and Bernie Sanders' plan to cap credit-card interest rates at 15%" [Business Insider]. "Nearly 70% of Republican primary voters and 73% of Democratic primary voters said they either support or strongly support the proposal, according to a new INSIDER poll." To be sure: "SurveyMonkey Audience doesn't try to weight its sample based on race or income. This survey had a total 1,127 respondents, a margin of error plus or minus 3.12 percentage points with a 95% confidence level." • So, not the greatest survey. But those are enormous margins. I don't get why ACO and Sanders are going against the finance industry, though. I mean, they're Democrats.
Realignment and Legitmacy
"Democrats: Trump's GOP Is a Threat to Democracy — So We Better Play Nice" [New York Magazine]. "Joe Biden says that Donald Trump represents an unprecedented threat to our republic's bedrock values — and that, if Trump wins a second term, congressional Republicans will allow their standard-bearer to "forever and fundamentally alter the character of this nation," not least by destroying 'our very democracy.' Which is why, in the 2020 frontrunner's opinion, Democrats must neither give up on bipartisanship, nor forfeit their faith in the fundamental decency of congressional Republicans." • "Our" very what democracy?

Looks like the Australian version of Ranked Choice Voting. Entertaining:

I'm here for it https://t.co/r5ig76qQSo

— ?Joshua 4 Congress (@Joshua4Congress) May 15, 2019

(Still massive resistance to RCV by Maine's fetid political class).

On Georgia and Alabama's abortion bans:

There is no state in the country where support for banning abortion reaches even 25 percent. (Data for Progress analysis of the 2016 Cooperative Congressional Election Studies) pic.twitter.com/lrOxU0eNaz

— Data for Progress (@DataProgress) May 15, 2019

I have yet to see an account that makes sense of these brutal defeats.

"Socialism: A short primer" [E.J. Dionne, Jr. and William A. Galston, Brookings Institution]. "In 2018, the Public Religion Research Institute offered respondents two definitions of socialism. One described it as 'a system of government that provides citizens with health insurance, retirement support, and access to free higher education.' The other characterized it as 'a system where the government controls key parts of the economy, such as utilities, transportation and communications industries.'… As one might expect, young adults, for whom Cold War memories are dim to non-existent, were strongly inclined to define socialism as social democracy rather than public ownership of key industries." • But that's very loaded framing. Suppose the second description were "A system key parts of the economy, such as utilities, transportation and communications industries, are under democratic control. I bet that would poll a lot better. Especially since elites are doing such a horrid job of capital allocation, probably far worse than crowd-sourcing the decisions on social media would be, let alone a fully functional system of deliberative democracy.

"A Conversation With Stacey Abrams" [Council on Foreign Relations]. Remember that Abrams was a CFR member long before she failed upward onto Neera Tanden's board. The whole transcript is well worth a read, but this passage stood out for me:

[ABRAMS:] The only solution will be to actually engage in trade policy and a trade engagement that is not based on, you know, sort of brinksmanship, which is what we've seen play out for the last few years. When you think about our immigration position, we are going to have to restore, number one, the humanity of our refugee policy, because that is our obligation and that is who we are as Americans, but we also have to anticipate the fact that for my state, for example, and for many states, our agricultural—our agricultural sector for Georgia is the number-one industry, and that is true for a number of states. When you cut off those who are exporting our goods, you are hurting our farmers at home. They cannot afford it. And we are undermining our national security by undermining our economic security.

And so our only solution will be, again, to finally have .

Oh.
Stats Watch
Retail Sales, April 2019: [Econoday]. "The second quarter gets off to a stumbling start pulled down by… a headline decline in an April retail sales report where the core details show unexpected weakness" [Econoday]. "The big surprise is a 1.3 percent drop at electronics & appliance stores that follows a 4.3 percent tumble in March."
Industrial Production, April 2019: "Like retail sales earlier this morning, the headline decline for April industrial production is not masking strength underneath" [Econoday]. "However tight the US labor market may be, capacity does not appear to be tight in the industrial sector as capacity utilization fell… This report doesn't breakdown production of goods aimed for the domestic market and those for the foreign market but it will nevertheless offer a baseline for the overall effects of increased US-China tariffs. Going into those tariffs, the manufacturing sector, which first began to slow late last year, appeared to be flat at best."
Empire State Manufacturing Survey, May 2019: "The very first indications on the possible effects of US-China tariff hikes on US manufacturing shows no negative effects at all. The Empire State index shot higher" [Econoday]. "This report samples about 200 manufacturers each month. How many fill out the questions is unknown which is always a problem with diffusion reports. In any case, today's report is a positive especially if confirmed by similar optimism in tomorrow's Philadelphia Fed report."
MBA Mortgage Applications, week of May 10, 2019: "Mortgage rates are low but purchase applications are contained" [Econoday]. "Yet the year-on-year rate, against a very soft comparison during the fizzle of last year's Spring sales push, is promising."
Manufacturing: "Boeing Turns to Texas to Store 737 Max Jets as Grounding Lingers" [Bloomberg], "Boeing Co. has started storing 737 Max jets at a vast Texas maintenance base as the planemaker continues to churn out the single-aisle aircraft while waiting for regulators to lift a global grounding. Planespotter Chris Edwards picked up the radar track of the first factory-fresh Max to be parked outside the Seattle area as it headed to San Antonio on Tuesday from a paint shop in California. Boeing spokesman Doug Alder confirmed his account." • Ha. I wondered a week or so ago if amateur spotters would pick stuff like this up; and they did.
Manufacturing: "Boeing Hasn't Turned Over 737 Max Records to House Investigators" [Bloomberg]. "Boeing Co. has failed to turn over any records to House investigators about the flawed safety feature on the 737 Max implicated in two fatal crashes, a committee chairman said Wednesday as lawmakers grilled U.S. aviation regulators on the jetliner. Transportation and Infrastructure Committee Chairman Peter DeFazio, an Oregon Democrat, said during a hearing that he hoped the aircraft manufacturer begins complying with requests for data on the plane's design soon." • Yes, I would say so. Here is Boeing's response:
Asked for comment on DeFazio's statement regarding records, Boeing spokesman Charles Bickers said, "Boeing continues to support the ongoing accident investigations and is committed to working closely with Members of Congress, their staff and relevant officials. Safety is our top priority when we design, build, deliver and maintain Boeing aircraft."
What a steaming load. If they're "committed to working closely" with Congress, then where the [family blog] are the documents?
Manufacturing: "After two crashes, Boeing needs new leadership — and big changes" [Boston Globe]. "The bungles leading up to the two crashes should cost Dennis Muilenburg, Boeing's all-too-powerful president, CEO, and board chairman, his job. Boeing is no ordinary private company; it has a responsibility to ensure the safety of the flying public…. In addition to the federal criminal probe, the FAA's inspector general is reviewing the process by which the agency certified the 737 MAX as safe, and congressional committees are investigating. It's hard to know where the criminal inquiry will go, but both DOJ and Congress should demand that Boeing's governance be restructured so that the president and CEO doesn't also chair the board of directors. That board also needs an airplane-safety committee with the expertise and authority to ask tough questions. The FAA should resist pressure to certify the 737 Max safe until Canada and the European Union also agree."
Manufacturing: "FAA Expects Boeing to Submit 737 MAX Fix Soon for Approval" [New York Times]. "Acting FAA chief Dan Elwell said the agency will only allow the plane to resume flights when it is 'absolutely safe to do so… It's important we get this right,' Elwell said," • And be seen to get it right.
Tech: "I'n Mad as Hell about Square's Shady Automatic Emails" [Wired]. "First came the receipt. Then the expressions of gratitude, offers of deals. 'Thanks for your visit!' one email screamed. 'Get FREE FRIES!!' another offered. I do not want your free fries, food truck. What I want is to be left alone. The emails keep coming because I paid for my grilled cheese with a credit card using the food truck's Square credit card machine. Even though I never agreed to be put on this restaurant's email list for all eternity, by virtue of swiping my card in that specific Square card reader, I apparently signed up to be hounded, spammed, and annoyed for the rest of my life…. [O]nce you give your email to any Square vendor, you are defaulted into receiving automated receipts and promotions from every participating Square vendor you visit." • That's bad. Then again, SquareSpace can probably change the contract unilaterally any time they want, so…
The Biosphere
"'Wood wide web'—the underground network of microbes that connects trees—mapped for first time" [Science]. "Trees, from the mighty redwoods to slender dogwoods, would be nothing without their microbial sidekicks. Millions of species of fungi and bacteria swap nutrients between soil and the roots of trees, forming a vast, interconnected web of organisms throughout the woods. Now, for the first time, scientists have mapped this "wood wide web" on a global scale, using a database of more than 28,000 tree species living in more than 70 countries…. Trees, from the mighty redwoods to slender dogwoods, would be nothing without their microbial sidekicks. Millions of species of fungi and bacteria swap nutrients between soil and the roots of trees, forming a vast, interconnected web of organisms throughout the woods. Now, for the first time, scientists have mapped this "wood wide web" on a global scale, using a database of more than 28,000 tree species living in more than 70 countries." • Fantastic stuff, and an illustration of how little we really know.
"Put equity first in climate adaptation" [Nature]. "Adaptation must meet the needs of the poorest directly, putting them at the centre of decision-making with funding. The case for equitable adaptation is clear: it is a moral duty, and it improves economic productivity, social cohesion, health and peace." And also: "Global supply chains spread the impacts of unusual weather in one place to people far away. For example, food riots erupted across 14 African countries when drought slashed wheat yields in Australia, the United States, Russia and the Ukraine in 2007–08, doubling the prices of some commodities." • Just wait 'til the Old River Control Structure fails…
"Crystal meth crisis on Saskatchewan First Nation traced to 2015 wildfire evacuation" [CBC]. "Clifford Bird [health director at Montreal Lake First Nation in Saskatchewan] traces the crystal methamphetamine crisis on the Montreal Lake Cree Nation in Saskatchewan back to the wildfire evacuation in the summer of 2015…. The entire community of 1,200 was evacuated for six weeks that summer, as fires raged across the north. The people went to emergency centres in Prince Albert, Saskatoon and Regina. Bird says that 60 per cent of the on-reserve population is under the age of 20. 'Everyone gets evacuated, and during that time they're introduced to crystal meth, and within six months of returning we counted 110 crystal meth addicts,' he said." • Rather like a demonic version of stacking functions in permaculture.
Our Famously Free Press
"What Happened With Supermicro?" [Hackaday]. "Back in October 2018, a bombshell rocked the tech industry when Bloomberg reported that some motherboards made by Supermicro had malicious components on them that were used to spy or interfere with the operation of the board, and that these motherboards were found on servers used by Amazon and Apple… Immediately after the news was reported, everybody tried to get their hands on images or physical servers that were compromised in an effort to verify the claims, and nobody has succeeded in finding anything independently… In the immediate period after the publication they stood by their article and the research they did. However, they have not published any more information to back up their claim, nor have they published a retraction. If anything, Bloomberg has doubled down… The two authors of the reports, Jordan Robertson and Michael Riley, haven't published anything for Bloomberg since. Maybe they're working on their next piece, or getting to the bottom of this one." • Ouch. If you followed the Supermicro story, this is a good follow-up — and not quite so one-sided as I made it sound.
Game of Thrones
"Game of Thrones, 'The Bells'" [Los Angeles Review of Books]. A very appealing thesis for Mr. Counter-Suggestible: "Daenerys is not the 'mad queen.' She is certainly not in a great place at the moment, but not only does she have a history of murdering her enemies with a gruesome calmness — as she did last night — I want to propose that her current problem is not a lack of rationality. Her problem, if it is a problem, is that she thinks killing her enemies is fine, and she allows herself to decide who her enemies are, and she's decided that people we like (and, also, generalized innocent people) are her enemies… And she wins. She has an effectively unkillable dragon and her army is victorious; while Jon and Tyrion and Sansa and Arya were out there doing literally nothing, she ran the board. No one loves her, but is anyone going to f*ck with her? Is anyone really going to fuck with her? After that?"
Class Warfare
"Facebook to Raise Pay for Thousands of Contract Workers, Including Content Moderators" [Bloomberg]. "The world's largest social-media company said Monday that the current $15-an-hour minimum wage it requires for U.S. workers is no longer enough for those who live in expensive areas like the San Francisco Bay Area, where Facebook's headquarters is located. It has tens of thousands of contractors globally, from bus drivers to content moderators who review and remove disturbing and violent photos and videos that show up on the company's services…. Facebook is raising its minimum wage for contract workers to $20 an hour in the Bay Area, New York City and Washington, and $18 an hour in Seattle. Content moderators will get more. Those in San Francisco, New York and D.C. will now make at least $22 per hour. Seattle-based moderators will receive a minimum of $20 an hour. In other "metro areas" where content moderators live, like Phoenix, the minimum will be $18 an hour, the company said."
"Managed Obsolescence: Homelessness in America's Gilded Cities" [American Affairs Journal]. A long and excellent report from the Democrat's one-party state. If the rest of the country follows where California leads, look out. I picked out this quote: "It's not obvious that many people in LA feel good about Skid Row, but there is clearly a cohort of activists and public officials who have become practiced over decades at how to agonize over its squalor without changing anything. It's not necessary to accept all the ideological priors or historical details in General Jeff's account of Skid Row to see that he captures something essential: this place did not form itself. Jeff [, sometimes billed as the mayor of Skid Row,] puts it this way: "There was never a point in time where thousands of homeless people had some secret summit that no one knew about and said, 'We're going to go take over the eastern part of downtown Los Angeles and claim it as our own.' Skid Row was created not by homeless people."
"Contra Vance" [The Baffler]. "[L]ooking back at where he came from, [J.D. Vance, in Hillbilly Elegy,] sees mostly a collection of morally flawed and weak characters… From my perspective as a Deep Southerner, the only way to remedy this scapegoating effect is to reject outright the current way the nation talks about and depicts regional poverty. This process has already started in the broader South, where diverse voices have fought for their own space and have been recognized in critical conversations about the region. Though it would be nearly impossible to quantify, I doubt that any engaged thinker still believes the South is or ever was a white monoculture…. The stronger thread in the responses to Vance, though, concerns the blame cycle non-Appalachians use as a method that alleviates their own guilt. It feels good to have a scapegoat—even better when the scapegoat's ethnic and cultural history is different from your own."
News of the Wired
SF really is predictive. Look, a VR helmet:
The Isolator, an anti-distraction helmet invented in 1925 by science fiction pioneer Hugo Gernsback, editor of 'Science and Invention' magazine, member of The American Physical Society, and coiner of the term 'scientifiction' (Amazing Stories, 1926) pic.twitter.com/IITYO5Q2SV

— Federico Italiano (@FedeItaliano76) May 15, 2019
Added bonus: No facial recogntiion!
* * *
Readers, feel free to contact me at lambert [UNDERSCORE] strether [DOT] corrente [AT] yahoo [DOT] com, with (a) links, and even better (b) sources I should curate regularly, (c) how to send me a check if you are allergic to PayPal, and (d) to find out how to send me images of plants. Vegetables are fine! Fungi are deemed to be honorary plants! If you want your handle to appear as a credit, please place it at the start of your mail in parentheses: (thus). Otherwise, I will anonymize by using your initials. See the previous Water Cooler (with plant)
here
. Today's plant (ChiGal):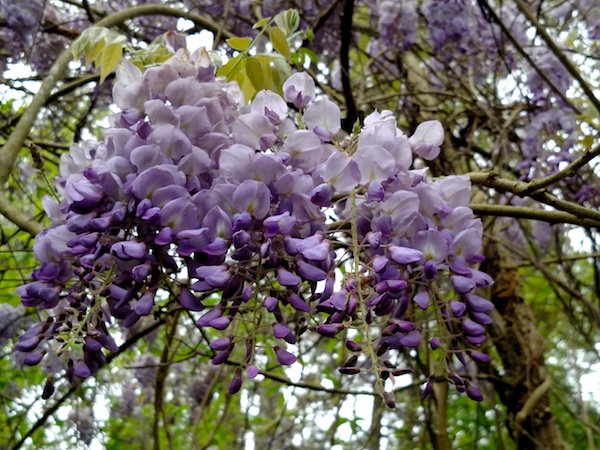 ChiGal writes: "SPRING." Indeed!
* * *
Readers
: Water Cooler is a standalone entity
not
covered by the annual NC fundraiser. So do feel free to make a contribution today or any day. Here is why:
Regular positive feedback both makes me feel good and lets me know I'm on the right track with coverage
. When I get no donations for five or ten days I get worried. More tangibly, a constant trickle of small donations helps me with expenses, and I factor in that trickle when setting fundraising goals. So if you see something you especially appreciate, do feel free to click this donate button:
Here is the screen that will appear, which I have helpfully annotated.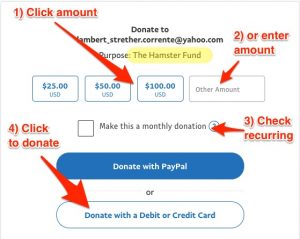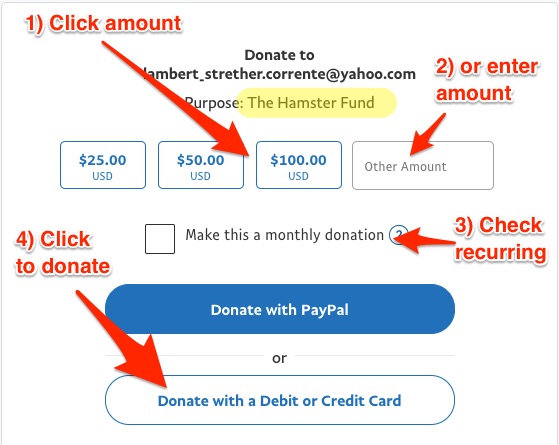 If you hate PayPal, you can email me at lambert [UNDERSCORE] strether [DOT] corrente [AT] yahoo [DOT] com, and I will give you directions on how to send a check. Thank you!