In the last few days, the press has published more accounts on the 737 Max and broader issues on Boeing's safety culture, or more accurately, the increasing lack thereof.
Although all stories paint a broadly similar picture, that of a company that was relentlessly profit-oriented to the detriment of safety and adequate disclosure to regulators and customers, the most damning is a detailed piece at the Seattle Times, Engineers say Boeing pushed to limit safety testing in race to certify planes, including 737 MAX . I strongly urge you to read it full.
The article gives an incriminating account of how Boeing got the FAA to delegate more and more certification authority to the airline, and then pressured and abused employees who refused to back down on safety issues. On Monday, the Post and Courier reported about the South Carolina plant that produced 787s found with tools rattling inside that Boeing SC lets mechanics inspect their own work, leading to repeated mistakes, workers say. Oops! Another report at Reuters described how Boeing weakened another safety check, that of pilot input.
A new piece in the Wall Street Journal described how Boeing knew of 737 Max software problems a full year before it told the FAA, and how it also gave inconsistent accounts to important customers.
Boeing Undermines Safety
Based on how the FAA greatly weakened supervision in 2004, it's a testament to the airline industy's deeply internalized safety culture that Boeing-like results didn't occur till recently. And by "Boeing-like results," I mean corners-cutting opposed by the very personnel who were tasked with safety oversight. As the Seattle Times described, the problems extended beyond the 737 Max MCAS software shortcomings; indeed, none of the incidents in the story relate to it.
In 2004, the FAA changed its system for front-line supervision of airline certification from having the FAA select airline certification employees who reported directly to the FAA to having airline employees responsible for FAA certification report to airline management and have their reports filtered through them (the FAA attempted to maintain that the certification employees could provide their recommendations directly to the agency, but the Seattle Times obtained policy manuals that stated otherwise).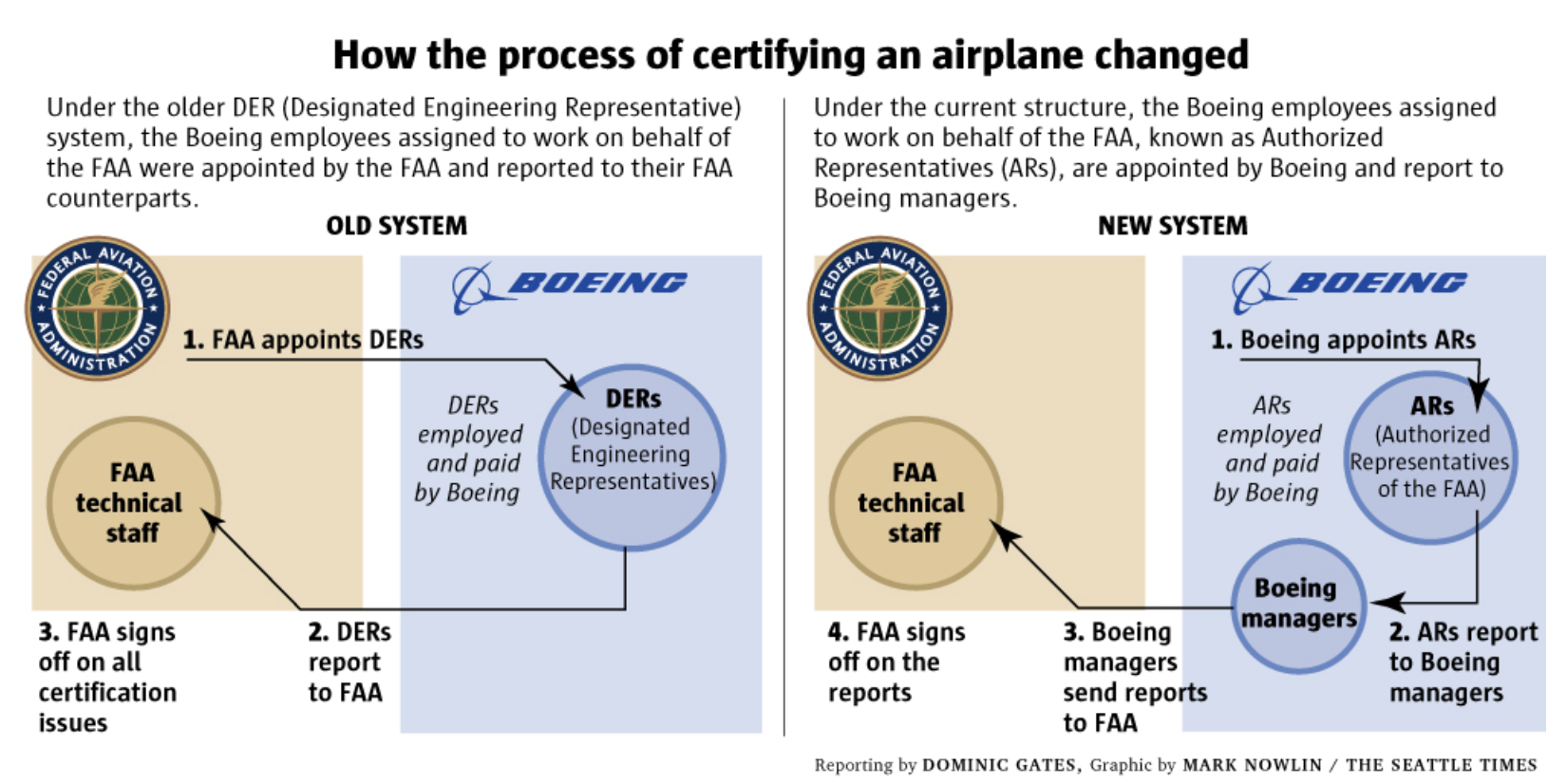 Some readers might see the old "Designated Employee Representative" or DER system as pretty dodgy too, as in why wasn't the FAA doings all the work? As the article explains, people who stay at the FAA for more than a very few years get out of date on current airline technology. The old DER system reportedly worked well. Despite the obvious potential for abuse, the Authorized Representatives (ARs) were treated with respect at manufactures…except for Boeing.
The Seattle Times article describes how a Boeing AR was thrown off his job duties after refusing to back down on the need for more testing of fire-suppression equipment for the LEAP engines on the 737 Max even after other ARs confirmed his call. From the story:
"The ARs have nobody supporting them. Nobody has their backs," said one former Authorized Representative who worked on the 737 MAX and who provided details of the engineer's removal from the program. "The system is absolutely broken."

FAA-designated oversight engineers are supposed to enjoy protection from management pressure. Removing one who proves a stickler for safety regulations will inevitably produce a chilling effect on others who see the consequences of being too rigid about safety concerns, said John Goglia, former member of the National Transportation Safety Board (NTSB).

"It negates the whole system," said Goglia. "The FAA should have come down on that really hard." …

While a few former employees involved in certifications said they handled the pressure as a regular part of the job, others described the work environment as hostile, focused on achieving FAA approval within schedule and cost targets.
And this wan't the only incident. The Seattle Times found five other areas where Boeing muscling ARs in addition to the one above. Industry consultant Mike Levenson, who certified airline repairs for Boeing. Out of roughly 500 he reviewed, he refused to certify three. The first two objections led to him being called in by a supervisor for a chat. Then:
On the third occasion, in June 2013, a proposed repair clearly did not meet all FAA requirements, he said. After he declined to approve it, Levenson said, his manager "told me to go back and find compliance or my contract would not be extended."
Mike Levenson, who has worked as an FAA representative at several companies and served in an AR role at Boeing for five years until 2013.
He said that while there's always a pressure on FAA representatives in an aviation world full of deadlines and cost considerations, most industry managers are able to find a balance to ensure the ARs have independence. He said he didn't find that to be the case at Boeing.
Levenson worked on certifying aircraft repairs at Boeing and said he certified more than 500 in his time there, though he did not work on the MAX. On three occasions, he declined to certify repairs. The first two times, Levenson said, he got called into a supervisor's office.
On the third occasion, in June 2013, a proposed repair clearly did not meet all FAA requirements, he said. After he declined to approve it, Levenson said, his manager "told me to go back and find compliance or my contract would not be extended."

Levenson agreed to do additional work and consulted with other colleagues but still couldn't certify the repair's compliance.

"When I reported this to my manager, I was told this was unacceptable and was summarily dismissed the following day," Levenson said.
The Seattle Times had learned about the removal of the engineer who had raised red flags about the LEAP engines via a 2017 report filed by three unions representing Boeing technical employees. Again from the story:
….the incident was listed among a long series of problematic decisions made under the current system of delegating FAA certification and oversight to Boeing….

Four additional concerns specific to the 737 MAX were listed in the 2017 report. All were related to certification of legacy systems inherited from the earliest 737 models that were found by FAA technical staff to be noncompliant with the latest safety regulations.

These involved a lack of redundancy in the rudder cables; a too-high surface temperature allowed in the fuel tank; insufficient fireproofing around the plane's auxiliary power unit in the tail; and using high-power wiring to connect to a switch inside the fuel tank.

All these issues were flagged by safety engineers working at the FAA as requiring fixes before the MAX could be certified.

The MAX won certification anyway after managers on the Boeing side of certification insisted that these were non-issues and managers on the FAA side agreed to let it move ahead with these shortcomings unaddressed.
And if that isn't troubling enough:
"The (older) DER approach worked extremely effectively," [John] Cox [chief executive of Safety Operating Systems and formerly the top safety official for the Air Line Pilots Association] said. "If engineers are working on behalf of the FAA, they should have a direct technical liaison with the FAA."….

Yet before the MAX crashes, the FAA was heading in exactly the opposite direction: toward more delegation of oversight, with FAA participation reduced to a bare minimum.

A 2012 report to the FAA by a committee co-chaired by a Boeing representative and the FAA's top aviation safety official, Ali Bahrami, recommended increased delegation of oversight to industry, working toward a "future state" beyond ODA with another deliberately obscure bureaucratic name: Certified Design Organization, or CDO.

If Boeing were to achieve CDO status, its employees could certify their own designs. Employees doing the certification work would not be designees technically working on behalf of the FAA, just Boeing engineers working for Boeing.

This would be true self-certification, but has not yet been implemented.
But actually, aAt the South Carolina 787 Dreamliner factory, 90% of the aircraft were self-inspected.
Now technically, this probably would not be considered "self-certification" since the self-inspection is taking place on a mature airplane design. As the Post and Courier tell us:
Some of the mistakes are serious safety hazards, like debris being left in the sensors that measure air speed while a plane is in flight. More common problems, workers say, range from surplus rags and bolts left in planes to loose cabin seats and unsecured galley equipment.

Workers say many of those production problems can be traced to the relatively new self-inspection program now spearheaded by Boeing Vice President Ernesto Gonzalez-Beltran, a former automobile executive with no previous aviation manufacturing experience.

The lean manufacturing approach Gonzalez-Beltran is working to incorporate at Boeing drew similar complaints and a lawsuit at a California auto plant he once helped manage.

"I'm always finding cases where jobs are signed off and the parts aren't installed," said a Boeing worker, who asked not to be named for fear of reprisal. "It happens a lot."…

One worker said planes have been moved out of final assembly with cut tires, cooling fluids that haven't been serviced, gears that haven't been tested and hydraulics that aren't fully functional.

"They are rolling them out on the day scheduled no matter the condition," an employee said. "The schedule on paper drives everything here now."
Even though Boeing has succeeded in reducing the time in final assembly considerably at this plant, the average number of days from final assembly to first flight has increased by even more days, so it's not clear that all of this corners-cutting is leaving Boeing net ahead. The story describes at length how managers press workers not to submit reports of quality problems, and when they do, they are often ignored or cancelled.
And Boeing plans to slash the number of inspectors at this and other plants:
Boeing plans to eliminate 451 inspectors at West Coast plants this year and a similar number in 2020. About 100 inspection jobs are on the line in North Charleston.
Recall how, last week, the Wall Street Journal described a Boeing 737 Max safety shortcut, that of limiting pilot input:
Boeing Co. limited the role of its own pilots in the final stages of developing the 737 MAX flight-control system implicated in two fatal crashes, departing from a longstanding practice of seeking their detailed input, people familiar with the matter said.

As a result, Boeing test pilots and senior pilots involved in the MAX's development didn't receive detailed briefings about how fast or steeply the automated system known as MCAS could push down a plane's nose, these people said. Nor were they informed that the system relied on a single sensor—rather than two—to verify the accuracy of incoming data about the angle of a plane's nose, they added.
Boeing Plays Cover Up
We described early in the 737 Max fiasco how Boeing was breaking the well-known rules of crisis management by doubling down on its claim that nothing serious was amiss. As we wrote:
Boeing is breaking the rules of crisis management and making what may well prove to be a bad "bet the company" wager….

Boeing is taking steps that look designed to be adequate, when given the damage done to the 737 Max and its brand generally, this isn't adequate. No one has any reason to give Boeing the benefit of the doubt. The scale of this failure is so large that it's called the adequacy of FAA certifications into question. Until this fiasco, aviation regulators deferred to the judgment of regulator in the country where the manufacturer was headquartered. But with China embarrassing the FAA by (correctly) being the first to ground the 737 Max, foreign regulators will make their own checks of Boeing's 737 Max fixes….and that practice may continue with other US-origin planes unless Boeing and the FAA both look to have learned a big lesson. So far, Boeing's behavior says not.
It's now clear that Boeing has been in minimal disclosure mode on the 737 Max for some time. ,The Wall Street Journal this Sunday described how Boeing couldn't be bothered to be truthful with its customers or the FAA:
Boeing Co. didn't share information about a problem with a cockpit safety alert for about a year before the issue drew attention with the October crash of a 737 MAX jet in Indonesia, and then gave some airlines and pilots partial and inconsistent explanations, according to industry and government officials.

It was only after a second MAX accident in Ethiopia nearly five months later, these officials said, that Boeing became more forthcoming with airlines about the problem. And the company didn't publicly disclose the software error behind the problem for another six weeks, in the interim leaving the flying public and, according to a Federal Aviation Administration spokesman, the agency's acting chief unaware.
The Journal restrained itself, waiting till close to the end of the article that the acting head of the FAA, Daniel Elwell, didn't know that Boeing had been shipping 737 Maxes with inoperative angle of attack disagree alerts prior to reading it about it in the Journal.
The New York Times and ABC (Australia) also investigated how Boeing misinformed Southwest. Lambert graciously added footnotes to ABC's account:
In manuals[1] that Boeing gave to Southwest Airlines — the biggest operator of both the MAX and 737s in general — the warning light was depicted as a standard feature just as it is on older 737s, according to Southwest spokeswoman Brandy King.

After the Lion Air crash, Ms King said, Boeing notified Southwest that it had discovered[2] the lights did not work without the optional angle-of-attack indicators, so Southwest began adding the optional feature too.

That allowed the airline to activate the sensor-disagree warning lights on its 34 MAX jets earlier this year, she said.

Ms King described both features as "supplemental" and "advisory" to other information provided to pilots during flights.

The indicator was designed to tell pilots when sensors that measure the pitch of the plane's nose appeared to conflict, a sign that the sensor information is unreliable.

Boeing told airlines that the warning light was standard equipment on all MAX jets.

Boeing engineers quickly learned[3], however, that the warning light only worked if airlines also bought an optional gauge that told pilots how the plane's nose was aimed in relation to the onrushing air.

Boeing said the problem stemmed from software delivered to the company.[4]
Needless to say, some customers are not very happy:
Dubai's top aviation official slams Boeing for its handling of the 737 Max grounding https://t.co/VkmVKzKCEQ

— Bloomberg (@business) May 4, 2019
And it is hard to see how Boeing recovers its reputations with coverage like this. Watch the opening segment of this 60 Minutes Australia show, which starts with a 737 pilot narrating what happened in the Lion Air crash in a 737 simulator:
Shorter: Boeing is in a very deep hole and just keeps digging.
____
[1] There has already been discussion about documention and manuals being out of synch (a constant danger in the tech doc world) but if they are out of synch due to Boeing self-certification that's an issue
https://www.nakedcapitalism.com/2019/03/boeing-crapfication-737-max-play-by-play-regulatoru-capture-and-when-will-ceo-muilenburg-become-the-sacrificial-victim.html
[2], [3] If this is true, then the product versioning theory shared by Lambert and some readers is not true
[4] It had appeared that Boeing outsourced the MCAS software to Rosemount, but apparently they only built the AoA sensor and the software was outsourced to Collins. This is from April 5:
https://www.washingtonpost.com/business/economy/boeings-737-max-design-contains-fingerprints-of-hundreds-of-suppliers/2019/04/05/44f22024-57ab-11e9-8ef3-fbd41a2ce4d5_story.html