Wandering horse: Strolling mare causes stir in Frankfurt Associated Press (Robert R)
11 ocean-friendly companies like Patagonia and Adidas that are removing plastic from our seas and transforming it into cool new products Business Insider (David L)
Organisms That Breathe Arsenic Discovered In the Pacific Ocean New Atlas
Found this, thought it was pretty good for people who don't realise what's going on r/collapse (NP). Important.
Rapid permafrost thaw unrecognized threat to landscape, global warming researcher warns Science Daily (guurst)
U.S. doctors use medical records to fight measles outbreak Reuters (EM)
Data Isn't 'Truth' Forbes (Kevin W). Important.
German parents may face fine for refusing measles vaccination Guardian (resilc)
Mechanics, chemistry and biomedical research join forces for noninvasive tissue therapy PhyOrg (Chuck L)
Why a safe and effective dengue vaccine is proving elusive Scroll (J-LS)
Aging baby boomers are about to push Alzheimer's disease rates sky high USA (resilc)
China?
Hands off the Arctic: US Secretary of State Mike Pompeo warns China & Russia away from the north RT (Kevin W)
North Korea
Kim Jong Un's Weapon Test May Have Included Ballistic Missile Bloomberg (resilc)
Brexit
Tory MPs 'will move to oust Theresa May this week' if she agrees Brexit deal with Labour Telegraph
EU elections to be NEW Brexit referendum in WARNING to Tories say experts Express
Senior Labour strategist warns against a shift to Remain after the local elections Guardian
Angry Grenfell Tower survivors and grieving families claim public inquiry 'failed' them and showed 'a total lack of respect' for the 72 people killed Daily Mail
Madrid court allows exiled Catalans to run in EU election Politico
Venezuela
Pompeo won't promise to consult Congress about potential military intervention in Venezuela SFGate

Anti-War Voices Warn of CIA Provocation to Kill Guaidó, Blame Maduro MintPress (furzy)
Syraqistan
The U.S. Is Pressing Iran To Breach The Nuclear Deal Moon of Alabama (Kevin W)

Turkey says it will not bow to U.S. sanctions over S-400 deal Reuters (resilc)
Big Brother is Watching You Watch
Refunds For 300 Million Phone Users Sought In Lawsuits Over Location-Data Sales ars technica

Microsoft offers software tools to secure elections Associated Press. Kevin W: "Microsoft security for Voting? (Insert joke here)"

Facebook Contractors Categorize Your Private Posts To Train AI Engadget
Trump Transition
How US and Foreign Intel Agencies Interfered in a US Election Consortiumnews (UserFriendly)
2020
Pundits Rewrite History To Defend Biden's Record Of Dog-Whistle Politics Shadowproof (UserFriendly)

2021 Could Be a Nightmare For Liberals, Even If Trump Loses New York Magazine (resilc)

We must demand of candidates: how real is your commitment to fixing democracy? Lawrence Lessig, Guardian. Resilc: "Never a story on "fixing" the endless wars and a trillion $ a year on the military empire."
Hedge fund firms accused of cheating public sue Kentucky pension agency over fraud suit Lexington Herald-Ledger (j3). This is sure to be thrown out, since the Kentucky Retirement System isn't party to the suit and even declined a request to join the plaintiffs (although the filing gave air kisses to it). As one attorney noted: "Dragging a non-party into
court is a real stretch, but this move is clearly aimed at chilling other funds from supporting similar litigation in different states."
The Ruthless, Secretive, and Sometimes Seedy World of Hedge Fund Private Investigators Institutional Investor (Paul R)
Short positions on Lyft cast shadow over Uber IPO Financial Times (David L). Musk has been shameless in making shit up to squeeze Tesla shorts. With so much at stake in the Uber IPO, one can expect move adept measures to achieve similar results.
Class Warfare
Why the 'one percent' in the US is worried Al Jazeera

Putting A Face To Surprise Bills: Among Specialists, Plastic Surgeons Most Often Out-Of-Network Kaiser Health News
Antidote du jour. Bob: "According to the former couch owners, it just wanders over from next door to sit in the sun."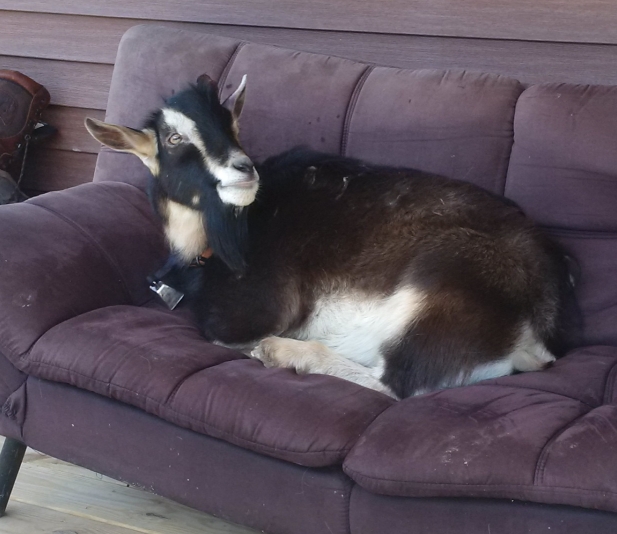 And a bonus from guurst:
Ummm, Karen, some help here pleaseeeeeeeee…… pic.twitter.com/TJyhGilSoo

— Mr. Meowgi (@Mr_Meowwwgi) May 2, 2019
See yesterday's Links and Antidote du Jour here