By Jerri-Lynn Scofield, who has worked as a securities lawyer and a derivatives trader. She is currently writing a book about textile artisans.
Farmers' use of glyphosate is surging throughout the midwestern United States.
Glyphosate is a key ingredient in Roundup, the controversial herbicide that is the subject of more than 13,000 pending lawsuits against Bayer. The first three of these to reach a verdict resulted in judgments against the company. (For further background and details, see my two previous posts this litigation, EPA Says Glyphosate Is Safe, But Lawsuits Loom and Bayer's Woes Mount, and Second Roundup Decision: Jury Finds Weedkiller a "Substantial Cause" of Plantiff's Cancer.)
As the Midwest Center for Investigative Reporting revealed in this May 26 article, Controversial pesticide use sees dramatic increase across the Midwest:
Nationwide, the use of glyphosate on crops increased from 13.9 million pounds in 1992 to 287 million pounds in 2016, according to estimates by the U.S. Geological Survey.

A review of the agency's data by the Midwest Center for Investigative Reporting shows that farmers across the Midwest used an estimated 188.7 million pounds of glyphosate in 2016 – nearly 40 times more than in 1992 when they used a total of 4.6 million pounds.  The data for the year 2016 is the latest available.

Farmers in those 12 states – including Illinois, Indiana, Iowa and Nebraska – grow most of the country's soybean and corn crops. Glyphosate is now the primary way farmers manage weeds that would otherwise reduce the amount of grain they can produce. The Midwest accounts for 65 percent of the nation's use of glyphosate for crops, according to the Center's analysis.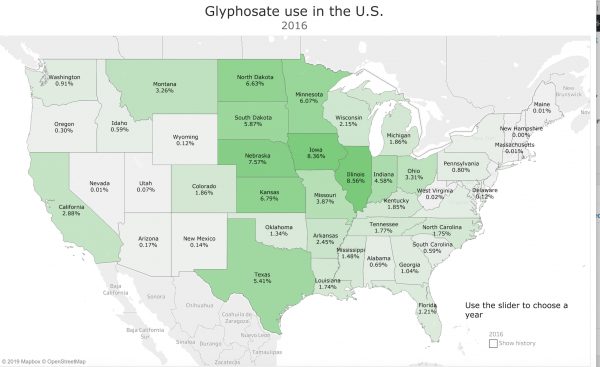 Source: Midwest Center for Investigative Reporting, Controversial pesticide use sees dramatic increase across the Midwest.
Jerri-Lynn here. I encourage readers to click on the complete version of the map I've reproduced above, which includes a cool slider function that allows you to see just how the use of glyphosate has changed over time. I was not able to figure out how to import that chart and retain that function, so please click on this Glyphosate use in the US map link instead.
Monsanto first introduced glyphosate in 1974. Bayer in August 2018 acquired Monsanto, including its Roundup legal liabilities.
The Midwest Center article discusses how since the introduction of genetically modified cotton, corn, and soybean seeds that could withstand the weed killer, its use has skyrocketed – despite its environmental and health consequences:
"I think it did become too much of a good thing. I think growers locked on to the simplicity, and the effectiveness of using glyphosate as your primary, or in many cases your only means of weed control," [Sarah Ward, associate professor of plant genetics at Colorado State University] said.

When the patent for glyphosate expired in 2000, it opened the door for generic production, and usage increased even more.

By 2007, the University of Nebraska's Institute of Agriculture and Natural Resources noted at least 40 generic glyphosate-based herbicides, including offerings by DowDupont (now Corteva Agriscience) and Syngenta.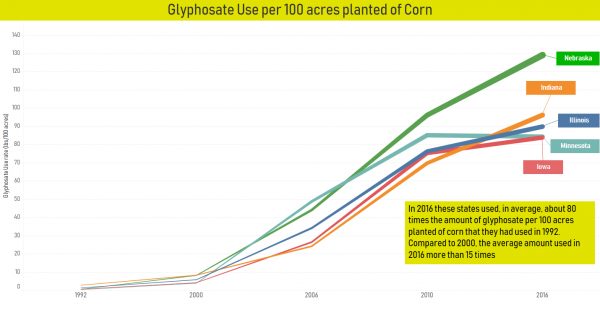 Ramiro Ferrando. Source: U.S. Geological Survey
Source: Midwest Center for Investigative Reporting,  Controversial pesticide use sees dramatic increase across the Midwest.
The use of glyphosate is growing, and the US market is expected to reach $10 billion by 2021, according to the Midwest Center:
In 2017, Monsanto reported net sales of $3.7 billion in its agricultural productivity division, which includes glyphosate, up $213 million from 2016, according to its annual report.

Market researchers predict the glyphosate market to grow to $8.5 billion to $10 billion annually by 2021 up from $5 billion now.

"The increase in agricultural productivity reflects increased volume of Roundup and other glyphosate-based herbicides globally," Monsanto said in the report.

Market researchers predict sales of glyphosate will be between $8.5 billion and $10 billion by 2021.
I note that the Midwest Centre's relies on the latest numbers available in its reporting. The US Geological Survey numbers run only until 2016, and the mentions Monsanto's 2017 increase in sales in the relevant division to suggest that glyphosate sales have remained strong.
With more recent numbers unavailable, there is at least possibility that the widespread reporting of these jury verdicts might be causing some formers to reconsider their practices (see this NPR report, Safe Or Scary? The Shifting Reputation Of Glyphosate, AKA Roundup). At the moment, however, we must await further numbers to see if the litigation has led to any fall off in sales.
Status of Lawsuits
Meanwhile, Bayer has not been faring well in court. Earlier this month, Bayer lost its third Roundup lawsuit since it acquired Monsanto in August 2018  – against no wins – resulting in a $2 billion damage award in Pillod v. Monsanto, as reported by Successful Farming in BAYER LOSES THIRD GLYPHOSATE LAWSUIT; PLAINTIFFS AWARDED MORE THAN $2 BILLION IN DAMAGES. In the first case, the jury awarded $289 million in damages, and in the second, $80 million.)
Now, the first thing I should say here is that $2 billion punitive damages award will be reduced. Over the last two plus decades, the United States Supreme Court has held that there are constitutional limits on punitive damages – and that generally, they should be limited to a single digit multiplier of compensatory damages (see The Roundup lawsuits: what is going on? and State Farm Mut. Automobile Ins. Co. v. Campbell (2003), which I note was a 6-3 ruling, including Justice Stephen Breyer). I note that the punitive damages awarded in the other two actions may be reduced as well; see The Roundup lawsuits link for an extended discussion.
Bayer shows no sign of backing away from its position that glyphosate is safe – and does not cause cancer – and released the following statement just after the Pillod verdict, according to Successful Farming. I include it in full for interested readers  – and have highlighted key sections for those who prefer to focus on the highlights:
"Bayer is disappointed with the jury's decision and will appeal the verdict in this case, which conflicts directly with the U.S. Environmental Protection Agency's interim registration review decision released just last month, the consensus among leading health regulators worldwide that glyphosate-based products can be used safely and that glyphosate is not carcinogenic, and the 40 years of extensive scientific research on which their favorable conclusions are based.

"We have great sympathy for Mr. and Mrs. Pilliod, but the evidence in this case was clear that both have long histories of illnesses known to be substantial risk factors for non-Hodgkin's lymphoma (NHL), most NHL has no known cause, and there is not reliable scientific evidence to conclude that glyphosate-based herbicides were the 'but for' cause of their illnesses as the jury was required to find in this case.

"The contrast between today's verdict and EPA's conclusion that there are 'no risks to public health from the current registered uses of glyphosate' could not be more stark. EPA's conclusion is based on a database of more than 800 studies on glyphosate and Bayer's glyphosate-based herbicides that relate to human and mammalian health, and its 2017 cancer risk assessment also examined numerous studies in the open literature. In contrast, plaintiffs in this case presented the jury with cherry-picked findings from a tiny fraction of the volume of studies available, and that failed to adjust for exposure to other pesticides, did not have statistically significant results, had very small exposed populations and/or are at odds with the full body of science. Plaintiffs also relied heavily on IARC's assessment of glyphosate from 2015. But as EPA noted, EPA's cancer assessment was 'more robust' and 'more transparent' than IARC's review, which considered only a subset of published studies included in EPA's evaluation. IARC's opinion remains an outlier among international health regulators and scientific bodies.

"The verdict in this trial has no impact on future cases and trials, as each one has its own factual and legal circumstances. Also, this litigation will take some time before it concludes as no case has been subject to appellate review where key legal rulings in the trials will be assessed. The company will continue to evaluate and refine its legal strategies as it moves through the next phase of this litigation, which will be marked by a greater focus on post-trial motions and appellate review and trials scheduled in different venues.

"Glyphosate-based Roundup products have been used safely and successfully for over four decades worldwide and are a valuable tool to help farmers deliver crops to markets and practice sustainable farming by reducing soil tillage, soil erosion and carbon emissions. Regulatory authorities around the world consider glyphosate-based herbicides safe when used as directed. There is an extensive body of research on glyphosate and Bayer's glyphosate-based herbicides, including more than 800 rigorous studies submitted to EPA, European and other regulators in connection with the registration process, that confirms that these products are safe when used as directed. In addition, the largest and most recent epidemiologic study – the 2018 independent National Cancer Institute-supported long-term study that followed over 50,000 pesticide applicators for more than 20 years and was published after the IARC monograph – found no association between glyphosate-based herbicides and cancer. Additionally, EPA's 2017 post-IARC cancer risk assessment examined more than 100 studies the agency considered relevant and concluded that glyphosate is 'not likely to be carcinogenic to humans,' its most favorable rating, while the agency's April 2019 interim registration review decision on glyphosate also reaffirmed that 'there are no risks to public health when glyphosate is used in accordance with its current label and that glyphosate is not a carcinogen.' " [Jerri-Lynn here: emphasis added]
Translated into plain English: the company is relying on the business-friendly US courts – especially federal appellate courts and the United States Supreme Court – to reverse these verdicts. Not just slice the damages awards. Reverse the verdicts and declare, game over.
How will this be achieved?
Reuters reports that the company is betting on a 'silver bullet' defense to upend these three  (and any subsequent) pro-plaintiff jury verdicts, as reported in Bayer bets on 'silver bullet' defense in Roundup litigation; experts see hurdles:
Bayer AG plans to argue that a $2 billion jury award and thousands of U.S. lawsuits claiming its glyphosate-based weed killer Roundup causes cancer should be tossed because a U.S. regulatory agency [e.g., the Environmental Protection Agency EPA)] said the herbicide is not a public health risk.
On April 30, the EPA reiterated its previous position that glyphosate isn't carcinogenic.  The product liability claims are decided based on state law – whether or not the case is tried in federal court. As Reuters reports:
Under the legal doctrine of preemption, state law claims are barred if they conflict with federal law.

"We have very strong arguments that the claims here are preempted … and the recent EPA registration decision is an important aspect of that defense," William Hoffman, one of Bayer's lawyers, said during a call with reporters on Wednesday. Hoffman said the argument applied to all U.S. Roundup lawsuits.

Preemption is generally regarded as a "silver bullet defense" because it stops claims across the board, said Adam Zimmerman, a law professor at Loyola Law School in Los Angeles.

But Zimmerman and three other legal experts agreed that Bayer faces a big hurdle convincing appeals courts that the EPA determination on glyphosate shields it from state law claims.

They cited a 2005 U.S. Supreme Court ruling that the EPA's approval of a product does not necessarily bar state law claims. The ruling, Bates v Dow Agrosciences, gives broad leeway to juries to decide if such claims should proceed, they said.

Judges in the three Roundup cases that have gone to trial against Monsanto all rejected the company's preemption argument, citing this ruling.

"In light of the Bates decision, it's going to be an uphill battle for the company to win on preemption on appeal," Zimmerman said.
Supremes Step In and to Sing Bayer's Tune?
The outlook for Bayer improves significantly, however, if the United States Supreme Court elects to hear the case. The Court only grants certiorari to 70 or so cases a year, but there's probably a majority of the current Justices that would vote to consider this case. The only question here is not if but when.
According to Reuters:
Lars Noah, a law professor at the University of Florida, said Bayer's chances of success would increase significantly if the Supreme Court takes up the Roundup appeals.

…

Since 2005, the high court has decided at least three preemption cases in favor of companies, none of which involved the EPA.

…

Bayer in a statement on Thursday said it does not believe the 2005 Bates ruling posed a barrier for the appellate courts due to other Supreme Court rulings since then.
Noah agreed that the Court has more recently signaled its appetite to limit lawsuits that contradict opinions by experts at regulatory agencies.

"The Bates decision by now sticks out like a sore thumb," Noah said. "Bayer has more than enough ammunition in recent Supreme Court cases to show the trial court judges got it wrong."
The Bottom Line
So, here's where we stand. Farmers continue to increase their use of glyphosate – a trend that shows no sign of abating. The EPA has doubled down and said this herbicide is not a carcinogen.
Bayer has lost three significant jury verdicts – including a $2 billion punitive damages verdict – and more than 13,000 cases remain pending. The company shows no sign of abandoning its aggressive litigation position and instead appears to be betting that appellate courts – and eventually, the United States Supreme Court – will find legal grounds to overturn previous pro-plaintiff decisions.
Will this strategy succeeded? Too soon to tell, and I'm really not sure.
But I will say: I wouldn't take the other side of Bayer's bet.