US Department of Energy is now referring to fossil fuels as "freedom gas" Ars Technica
The Church of England's Mission to Change Investment Der Spiegel
Climate Proposals Fail at Exxon, Chevron Shareholder Meetings Climate Liability News
A Strange Blight London Review of Books. Review of Library of American edition of Silent Spring, a book I first read in either the seventh or eighth grade, on the recommendation of my science teacher.
Extreme weather is pummeling the Midwest, and farmers are in deep trouble WaPo
To save the African elephant, focus must turn to poverty and corruption The Conversation
Prisoner's Dilemma shows how exploitation is a basic property of human society MIT Technology Review
New York City's War on Bikes Is Dangerous for Workers and the Environment Motherboard
Indiana salmon hatchery to raise nation's first genetically modified animal cleared for human consumption Chicago Tribune
Class Warfare
Death from overwork being studied in Hong Kong Asia Times
Mark Zuckerberg Will Be Served a Summons If He Sets Foot In Canada Motherboard
2020
Mike Gravel Should Be on the 2020 Debate Stage Jacobin

Silver Bulletpoints: Who's In Danger Of Missing The Third Debate? FiveThirtyEight. Nate Silver.
How Football Leaks Is Exposing Corruption in European Soccer New Yorker. Some light reading before this w/e's Champion's League Final –  Tottenham v. Liverpool, an all-England affair, to be played in Madrid.
Our college sports system is broken. Do we have the guts to fix it? Boston Globe. This longread is from earlier this month,  but is still well worth your time.
Heath Care
U.S. Measles Outbreaks Hit Highest Level in More Than 25 Years WSJ
Waste Watch
Malaysia orders tonnes of imported waste to be returned BBC

Here's an incredibly simple solution to plastic packaging waste TreeHugger. The problem is going to require much more than one simple remedy, but I think this would be a start. Readers?
Skin Bleaching Is Poisoning Women — But Business Is Booming Refinery 29.
737 MAX
United CEO says he's not sure travelers will want to fly a Boeing 737 Max — even after a fix CNBC
Julian Assange
The final punishment of Julian Assange reminds journalists their job is to uncover what the state keeps hidden. Independent. Robert Fisk.

Julian Assange Fails to Appear in London Court Citing Serious Health Problems Gizmodo
Huawei
Malaysia's Mahathir backs Huawei, snubbing US blacklist of Chinese telecoms giant SCMP
China?
China's saber-rattling on rare-earths trade has US officials looking for options Ars Technica

US Universities And Retirees Are Funding The Technology Behind China's Surveillance State Buzz Feed
Big Brother IS Watching You Watch
What happens on your iPhone doesn't quite stay on your iPhone Business Insider
Brexit
Theresa May was a bad PM – but her resignation will do nothing to arrest Britain's long-term decline Independent. Patrick Cockburn.
Russiagate
The intelligence community needs a house-cleaning Matt Taibbi. Substack.
Jakarta riots reveal Indonesia's deep divisions on religion and politics The Conversation
Syraqistan
Saudi king blasts Iran for 'naked aggression' in the Gulf Al Jazeera
India
Jet Airways crisis benefits IndiGo, SpiceJet and Vistara; intensifies three-way battle between airlines First Post

Yes, India's Economy Is Growing, but Can You Trust the Data? NYT Grey Lady finally picks up on a story that the Indian press has hammered since the beginning of the year.

Union Cabinet 2019: These men and women will run India for the next 5 years Narendra Modi was sworn in for his second term as India's prime minister yesterday.
Trump Transition
Antidote du Jour (JN). Jerri-Lynn here. One of my favorite North American birds. I've seen it twice, once in Florida, and once perched in an evergreen tree next to a ski run in Whistler/Blackcomb, BC. The range map for this species is unusual. Thanks, JN, for sending along this photo: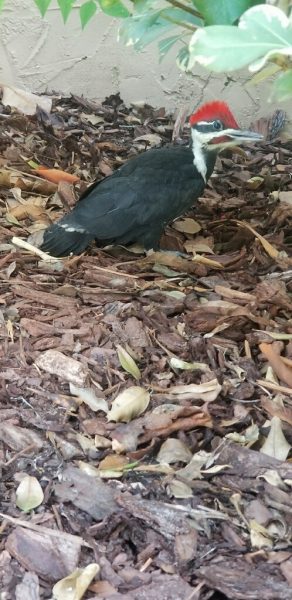 See yesterday's Links and Antidote du Jour here.