Yves here. We've gone into holiday mode, so you are getting three posts plus Links and Water Cooler today. I had planned to write something but my yesterday got derailed :-(
Hope those of you in countries with long weekends ahead enjoy the break!
A new artificial photosynthesis breakthrough uses gold to turn CO2 into liquid fuel Business Insider
Another Use for Cannabis Elemental (Glenn F)
Pretty hurts: are chemicals in beauty products making us ill? Guardian (J-LS)
China?
Trump says Huawei could be part of trade deal BBC. Gaslighting.

Trump Wields a More Powerful Weapon Than Tariffs for Trade War Bloomberg
India
Election Results: How PM Modi Led BJP's Giant Swoop Across India – 10 Points NDTV

The Guardian view on Narendra Modi's landslide: bad for India's soul
Guardian

It's Unreasonable to Blame Mamata Banerjee for BJP's Gains in West Bengal The Wire (J-LS)
U.S. and South Korea Gear Up for Burden-Sharing Talks Atlantic. Resilc: "Does this mean Samsung will be sanctioned?"
Indonesia riots: police draw Islamic-State links to deadly Jakarta protests that killed seven South China Morning Post
Brexit
A new prime minister intent on no deal Brexit can't be stopped by MPs Institute for Government (guurst)

This prime minister was destroyed by Brexit. And the next one will be too. Ian Dunt

Hat tip guurst: "And don't forget to read the comments":

Just as UK wasted valuable months after making the Article 50 notification having a needless general election, UK will waste crucial time leading up to the 31 October Brexit date having a Tory leadership context.

Nothing useful will be done

This is all so depressingly stupid.

— David Allen Green (@davidallengreen) May 23, 2019

1/ This is obviously awful, but I'm not sure everyone realizes why.

She asks: "Why is everyone focused on the EU, why not the rest of the world?"

I think she thinks a WORLD Trade Organisation Brexit makes exporting to the rest of the WORLD easier.

In 2019.

Fuck. https://t.co/pT6YCCIMmg

— Dmitry Grozoubinski (@DmitryOpines) May 21, 2019

Brexitannia: The Faces and Voices of Brexit Zero Anthropology (UserFriendly)

European elections 2019: EU citizens turned away from UK polls BBC
New Cold War
Victoria Nuland, US midwife to Maidan-2014, denied visa to Russia RT (Chuck L)
Syraqistan
This Is Pure Authoritarian Audacity Charles Pierce, Esquire (resilc)
Assange Prosecution
The Julian Assange Espionage Act Charges Target Press Freedom Wired (Chuck L)

Prosecutors Attack Journalism In Superseding Indictment Against Assange Shadowproof (UserFriendly)
Big Brother is Watching You Watch
US Air Force probes targeted malware attack, blames… er, the US Navy? What? The Register (Chuck L)

An entire US city is being held hostage by cybercriminals who are asking for $100,000 worth of bitcoin Business Insider (David L)

Google shut out Baltimore officials using Gmail after ransomware attack The Verge (David L)
Imperial Collapse Watch
The US military was allegedly duped into buying $20 million in Chinese counterfeits Quartz (resilc)
Trump Transition
Big Tech: "If the USA enforces antitrust laws against us, it means China will win!" BoingBoing
McConnell campaign raises $70K through 'Cocaine Mitch' T-shirt sales: report The Hill (UserFriendly)
Green New Deal
Green New Deal: why labor unions are divided over it Vox (UserFriendly)
2020
Fake News
It's Getting Way Too Easy to Create Fake Videos of People's Faces Motherboard (resilc)
Broker Sales Practices to Face Limits Wall Street Journal. A deliberately weak alternative to the fiduciary rule.
Guillotine Watch
Give Me Your Bored, Your Rich, Your Coddled Asses Sardonicky (UserFriendly)

Courting the Ultrarich With Chateaus and Chefs New York Times (J-LS)
Class Warfare
Almost 40% of Americans Would Struggle to Cover a $400 Emergency Bloomberg (resilc)

Why Urbanists Are Arguing About Housing Supply CityLab (UserFriendly)

The Office Rookies Who Ask for the World Wall Street Journal

Sara Nelson: "People Are Ready to Fight" Jacobin (UserFriendly). Head of the flight attendants' union.

Our analysis found that @WCCUSD has $978 less in funding for each traditional public school student it serves because of rapid charter school expansion. #HowMuchChartersCost https://t.co/zsATNAOCsZ pic.twitter.com/Cfq73E9KBf

— In the Public Interest (@PubInterest) May 23, 2019
Antidote du jour. Karl M: "Olympic Peninsula chipmunk, enjoying the tasty remains of an apple slice."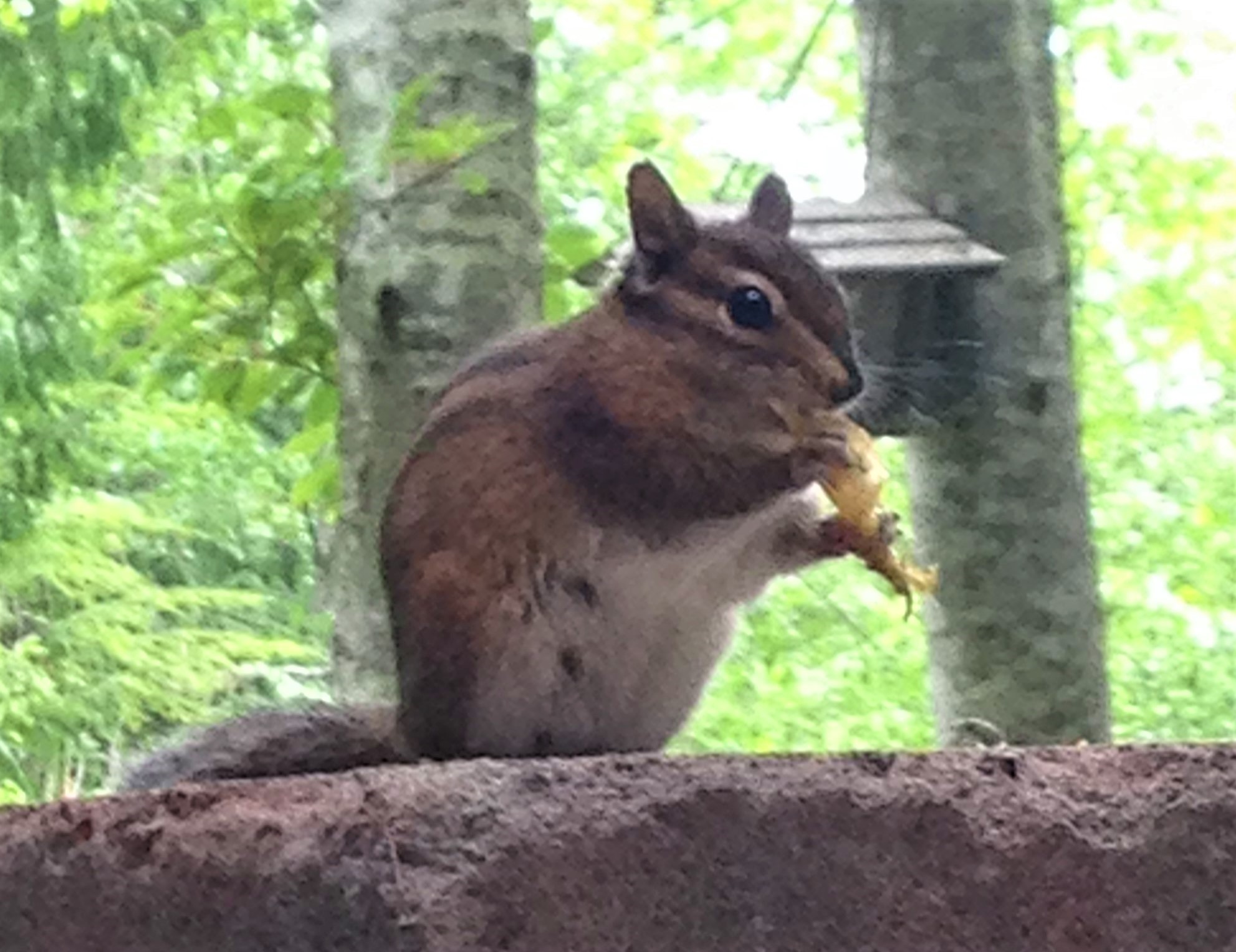 And a bonus (guurst)
These gorillas try to wait out the rain before making a run for it. Sometimes animal kingdom is just like us. pic.twitter.com/4VAogugur0

— Adam Best (@adamcbest) May 11, 2019
See yesterday's Links and Antidote du Jour here.