For the Midwest, Epic Flooding Is the Face of Climate Change Wired
After Standing Rock, protesting pipelines can get you a decade in prison and $100K in fines Grist
Doing Justice by Preet Bharara FT. The deck: "An eloquent lesson that the law is only as good as those who lead it." Erm, if men were angels, no government would be necessary….
Taking Stock of Venture Capital The American Conservative
How IOS Group Supersized the Shell Company Game OCCRP
Channeling the Ivy League Helped a Maori Tribe Earn $1.3 Billion Bloomberg. Reparations in New Zealand.
It's the Phone, Stupid: Mobiles and Murder NEBR
Mike Pence: West Point grads should expect to see combat Military Times
Memorial Day
Yes, My Fellow Soldiers Died in Vain The American Conservative

We didn't want to invite John Walker Lindh to our Memorial Day party, but his potato salad is so damn delicious Duffel Blog
Brexit
Tory bosses DEMAND contenders face public grilling if they want Theresa May's job Express. May's problem wasn't that she was "wooden," but that she faced real and irreconcilable contradictions (or, more precisely, contradictions no other individual, faction, or party in Britian's political class has come close to being able to reconcile). Maggie Thatcher was no Miss Congeniality, after all.

European Election 2019: UK results in maps and charts BBC

Brexit: much effort for little result EU Referendum
Pro-EU parties hold ground across the continent FT
EU election: Surge for Greens and euroskeptics, losses for centrist blocs Deutsche Welle
European election's winners and losers Politico
India
How Hinduism Became a Political Weapon in India The Atlantic

The Modi Mystery Foreign Policy
North Korea
Trump breaks with Abe, says not bothered by NK missile tests AP
China?
China's industrial profits fall in first 4 months XInhua

Trade war inspires black humour on Chinese social media FT. China's techies seem confident.

Gone tomorrow Reuters. "Baoshang Bank, linked to missing billionaire Xiao Jianhua, has been brought under state control. Despite threats, Beijing remains wary of allowing even disgraced local lenders to fail." That seems like a spectacular banking story, even by American standards.

In inland Chinese province, property bubble haunts dreams of prosperity Reuters

This map shows a trillion-dollar reason why China is oppressing more than a million Muslims Business Insider

The Standoff At Sandy Cay In The South China Sea – Analysis Eurasia Review

China's Aging Migrant Workers Are Facing a Return to Poverty Sixth Tone

Generation Amnesia: why China's youth don't talk about Tiananmen South China Morning Post
Trump Transition
Trump becomes first foreign leader to meet Japan's new emperor Japan Times

1 big thing: Trump's tweets lose potency Axios. Interesting, however, to see how disciplined Trump is on his messaging. He's like Sanders in that regard, although of course their respective styles are very different.

Bipartisan disaster relief package held up by lone GOP House member over border security USA Today

FBI Sued Over Files on Dead Hacker Who Turned In Chelsea Manning Gizmodo

As federal AI spending nears $1B, 2nd wave of agencies consider use cases Federal News Radio.
Impeachment
The Case to Impeach Trump for Bigotry The New Yorker

It's Hard to Take Impeachment Seriously Now Bloomberg

Impeach Trump? Most 2020 Democrats tiptoe past the question AP
What Rod Rosenstein Knew When He Helped Trump Fire Comey Murray Waas, NYRB
Our Famously Free Press
"The Times Has Become a Book-Deal Factory": With a Flood of Star Reporters Thinking of Book Leave, Management Delivers a "Wrist Slap" Vanity Fair (Furzy Mouse).
Imperial Collapse Watch
What's Great Power Competition? No One Really Knows Defense One. Know your enemy and know yourself?
Venezuela: Representatives of Maduro and Guaido to meet in Norway Deutsche Welle. Not sure what the solution space could be, here, given that Guaido has already tried one failed coup,
Guillotine Watch
The Wealth Detective Who Finds the Hidden Money of the Super Rich Bloomberg
Measles erases the immune system's memory ScienceNews
Class Warfare
Federal Reserve Board issues Report on the Economic Well-Being of U.S. Households Board of Governors of the Federal Reserve System

U.S. Is a Rich Country With Symptoms of a Developing Nation Noah Smith, Bloomberg. From February, still germane. I think Smith means "syndromes," though, not "symptoms."

As More Millennials Rent, More Startups Want to Lend to Them Mansion Global (WSJ repost).
Elon Musk Says 'Hyperloop' Tunnel Is Now Just a Normal Car Tunnel Because 'This Is Simple and Just Works' Jalopnik and It's A Car In A Tiny Tunnel And It Takes An Elevator To Get There Eschaton. What if — just hear me out — there were a way to power cars through tunnels, and the cars could carry fifty or maybe even one or two hundred people at the same time?
SpaceX's Starlink satellites spark fights between astronomy, spaceflight fans Teslarati (of all places). "As more levelheaded spaceflight fans and astronomers thankfully point out, we need to wait weeks – if not months or even years – to actually understand the potential impact [Low Earth Orbit (LEO)] megaconstellations might have on science and society." Translation: As usual, the crooks in Silicon Valley dump their product in a public space — the entire night sky, in this case — cash in, and expect others to bear the costs of coping with the "externalities" (see Uber, AirBnB, and of course the criminal enterprise that is Facebook). The tell here is that that Musk didn't consult with astronomers when developing the business concept or the technology, any more than he consulted with experts on the ground in the Thai cave rescue before publicizing his half-baked mini-submarine concept. Ka-ching. And then of course there's the radio spectrum:
And these will be emitting in Ka and Ku band by design – frequencies used by radio astronomers like me. There will never be a radio quiet zone for research ever again since these will always be in the Sky day or night. @TheNRAO

— Chelsea Sharon (@cesharon) May 26, 2019
Antidote du jour (via):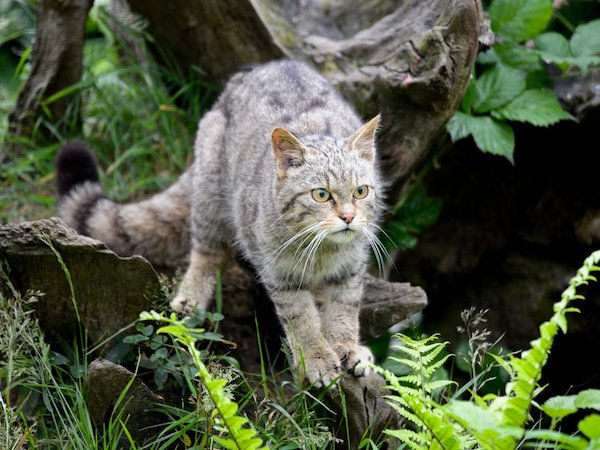 Reintroducing the wildcat to England as part of re-wilding.
Bonus Antidote:
I love owls???

by@kuuowl IG pic.twitter.com/qKiErpiEOI

— Snezana? (@BgSnezana) May 26, 2019
See yesterday's Links and Antidote du Jour here.