The butterfly effect: what one species' miraculous comeback can teach us Guardian (David L)
More fishing vessels chasing fewer fish, new study finds PhysOrg (Lance N). Quelle surprise :-(
Stunning Satirical Sand Sculpture Wins Texas Competition Geek (David L)
Wow, What Is That?' Navy Pilots Report Unexplained Flying Objects New York Times and Navy Pilots Are Seeing UFOs on an Almost-Daily Basis: Report New York Magazine (David L)
NASA Will Carry Your Name On a Chip To Mars The Verge
Under the dome: Fears Pacific nuclear 'coffin' is leaking PhysOrg (Chuck L)
What If We Could Reuse The Packaging on Consumer Products? AdAge
This Crafty Robot Can Write in Languages It's Never Seen Before Wired (Robert M)
Man dies on plane after ingesting 246 cocaine bags BBC
WHO Officially Classifies 'Gaming Disorder' As An Illness CNET
The Atomic Soldiers: U.S. Veterans, Used as Guinea Pigs, Break the Silence Atlantic (David L, UserFriendly).
World's Rivers 'Awash With Dangerous Levels of Antibiotics' Guardian
China?
Japan To Limit Foreign Ownership of Firms in Its IT, Telecom Sectors Reuters
India
Indian PM Narendra Modi's Reelection Spells More Frustration For US Tech Giants TechCrunch
EU Elections
Filling Europe's top jobs just got trickier RTE. PlutoniumKun: "The Euro elections just complicated nominations for Europes top posts. It looks like the Socialists and Greens are trying to pull the centre of gravity leftward."

France and Germany clash over future EU leadership Financial Times

EU election: AfD surge in eastern Germany sets up clash of cultures DW
Brexit
Corbyn backs referendum on Brexit deal after voter exodus Guardian (furzy). The headline-writers get a gold star. It's frustrating to seem pols and the press refer to "second referendum" which when the EU and virtually all mentions in the UK prior to 2019 meant a redo of the 2016 referendum with a better question, now too often means a "confirmatory referendum" and I can't imagine the EU being willing to indulge that due to how much time and uncertainty it would entail.
New Cold War
Democracy vs. The Putin-Nazis Off-Guardian
Syraqistan
Yes, My Fellow Soldiers Died in Vain American Conservative (resilc)

Pakistani clerics declare fatwa against 'sinful' dollar buying Financial Times (furzy)

How Jimmy Carter Laid the Groundwork for Trump to Go to War With Iran Washington Monthly (resilc)
Big Brother is Watching You Watch
Trump Transition
Lindsey Graham proposes invading Venezuela Vox (resilc)
2020
Nevada emerges as wild card in 2020 Democratic race The Hill

At Homecoming Rally in Montpelier, Bernie Sanders Thanks Vermont Off Message (resilc)
The Worst 2020 Election Interference Will Be Perfectly Legal Caitlin Johnstone (UserFriendly)
The Mass Media Is Poisoning Us With Hate Chris Hedges, TruthDig (RR)
Bank bailouts propped up the financial system. But we should never repeat them. Shiela Bair, Washington Post
Guillotine Watch
Why the Global Billionaire Population Is Declining Barron's. UserFriendly: "The real reason Trump is allowed to have his trade war is because his tax cut made north america the only region to increase how many billionaires it has while making less of them elsewhere."

Robert Rubin, Who Made a Fortune on the Housing Bubble, and Wanted the Fed to Raise Interest Rates When the Unemployment Rate Was Over 6.0 Percent, Is Concerned About the Social Determinants of Health Dean Baker
Class Warfare
Some Americans Have Fled The Country To Escape Student Loan Debt CNBC
Antidote du jour. Lozza262:
Hi, a stray cat came into my house in United Arab Emirates 6 weeks back and decided to have her kittens in my bedroom. Now they're about 6 weeks old and super cute. I believe this is an Arabian Mau cat as most of the strays (and there are a lot in the UAE) are local Arabians.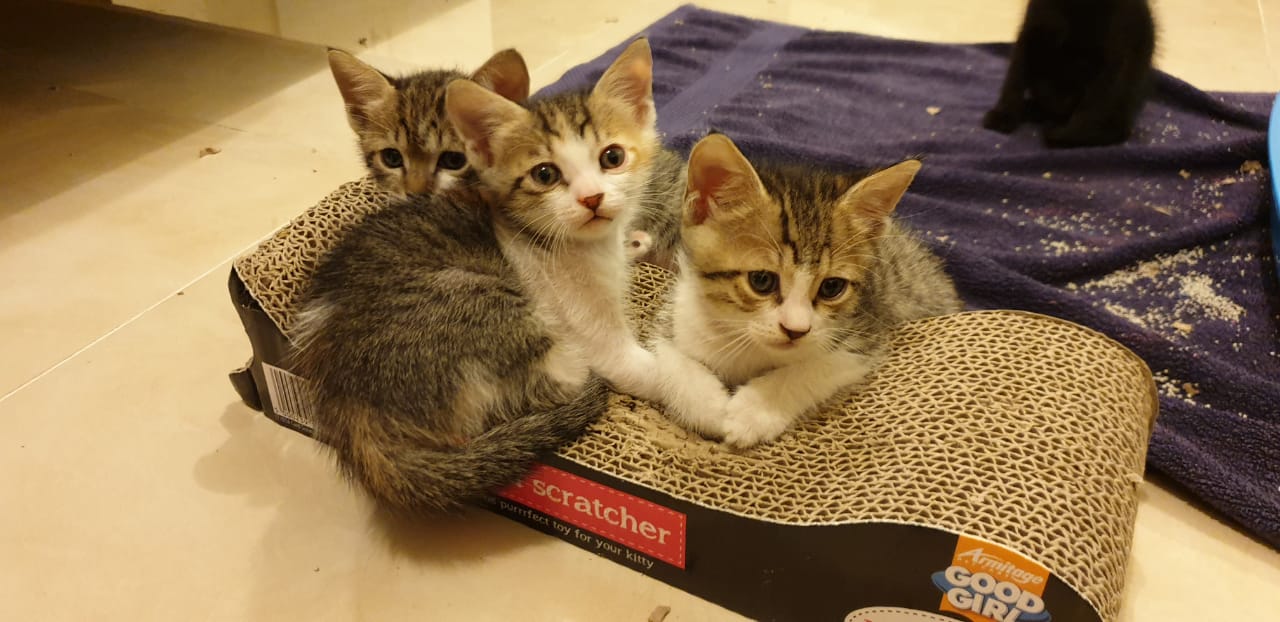 And a bonus (martha r):
Family of harmless black bears? pic.twitter.com/3NXjm9RVxr

— NativeAmericanSoul (@Nativeesoul) April 29, 2019
See yesterday's Links and Antidote du Jour here.