SpaceX's Starlink has a new foe: Astronomers Axios
High radiation levels found in giant clams near U.S. nuclear dump in Marshall Islands Los Angeles Times
Historic Flooding on the Arkansas River in Oklahoma and Arkansas Weather Underground
World Happiness Report 2019 (PDF) John F. Helliwell, Richard Layard and Jeffrey D. Sachs
Brexit
Brexit: John Bercow says MPs will get a say over no deal BBC

Jean-Claude Juncker again rules out Brexit renegotiation Politico
Conservative leadership hopefuls set to take part in TV debates on BBC and Sky News Independent
"Yellow Vest" Facebook group with 350,000 members frozen on European election day WSWS (JBird4049).
French Senate says Notre-Dame must be restored exactly how it was The Local. I don't think the Senate has the last word, though.
How SYRIZA lost and New Democracy won MacroPolis
China?
'We don't have a life here': family of 'Snowden refugees' torn apart as Canada considers asylum request South China Morning Post
Philippine Supreme Court removes Duterte 'enemy' judge Reuters (PD: "This I think hasn't been treated as a high profile story in the world media, but my friends in the 'pines say this is essentially the start of a Duterte dictatorship — the Supreme Court was the last honest bulwark against absolute presidential power. Now it's been neutralised.")
Bello: Philippines in 'brave new world' of politics under Duterte The Rappler
Venezuela
New Cold War
Tainted Russian oil threatens to pollute politics of gas FT

Putin's Arctic Plans Are a Climate Change Bet Bloomberg

Major Russian Cities Need 100 Years to Reach Moscow's Development Level, Study Says Moscow Times
RussiaGate
Reflections on the President's Delegation of Declassification Authority to the Attorney General Lawfare. Surely Madison would approve?

British ex-spy will not talk to U.S. prosecutor examining Trump probe origins: source Reuters. Lol.

Russiagate and the Dry Rot in American Journalism Counterpunch
Impeachment
Amash gets standing ovation at first town hall after calling for Trump's impeachment The Hill
Trump Transition
Democrats in Disarray
Democratic hopes for climate policy may come down to this one weird Senate trick Vox. So wait for the aliens, then?

How Bernie Sanders Accidentally Built a Radical Movement The Intercept. La carrière est ouverte aux talents. Must read!
Health Care
Drug Makers' Opioid Liability Tied to Untested Legal Theory Bloomberg

Ending HIV And Eliminating Hepatitis C: Unlikely Without Resolving America's Opioid Epidemic Health Affairs

Lessons from Scott County — Progress or Paralysis on Harm Reduction? NEJM

Healthcare executives call for Stark law reform Modern Health. "The anti-kickback statute is meant to curb Medicare and Medicaid spending by prohibiting financial compensation for referrals. But it has impeded new payment models by limiting incentives used to reward progress." Oh. "Progress."
Big Brother Is Watching You Watch
While you're sleeping, your iPhone stays busy — snooping on you WaPo
Imperial Collapse Watch
America Adrift Center for American Progress. "When asked what the phrase 'maintaining the liberal international order' indicated to them, all but one of the participants in our focus groups drew a blank. Voters across educational lines simply did not understand what any of these phrases and ideas meant or implied." Sounds like a funding pitch. Neera had better get the UAE on the blower.

Opinion: Once again, my sh*thead husband will be deployed for the birth of our child Duffel Blog
Class Warfare
Westside private school gave diplomas to nonstudents for a fee. Then came the college admissions scandal Los Angeles Times. These stories keep happening. I'm not sure that the professional classes have focused on the idea that credentials cannot be seen to have been obtained by corrupt means if they are to be of value and their bearers are to have authority (absent a Third World situation where credentials are a result of open clientelism, of course).
Facebook plans to launch 'GlobalCoin' currency in 2020 BBC. Bill Black: "The best way to rob a bank is to own one."
Antidote du jour (Carey):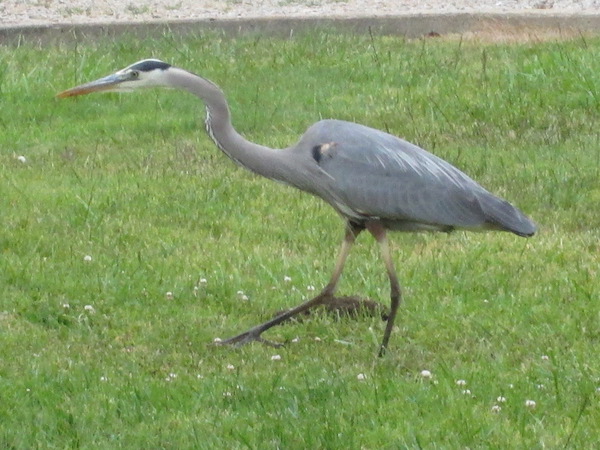 Carey writes from Los Osos, CA: "Heron in my side yard yesterday afternoon. I went outside to see better, and he/she let me hang out for twenty or so minutes. I love how they move so slowly, and they're such graceful fliers, too!"
See yesterday's Links and Antidote du Jour here.