Animals will 'downsize' over the next century, new study says. Here's why. NBC
From guurst:
An old beer bottle in Monks Wood NNR, used as an anvil to smash open countless snails by countless Song Thrushes. The bottle may have been used by the birds for more than half a century, it's embossed 'Huntingdon Breweries Ltd', who ceased production in 1954. @NE_WestAnglia pic.twitter.com/O7iWcEByyX

— Richard Broughton (@woodlandbirder) May 17, 2019
College Students Aren't Checking Out Books Atlantic (resilc)
Nuke Retirements Could Lead To 4 Billion Metric Tons of Extra CO2 Emissions, Says IEA ars technica
Long-term anticholinergic use and the aging brain Alzheimers & Dementia. I have doubts about this study, particularly since correlation is not causation and the sample size was not great (285 which fell into three buckets). Even though the article claims the researchers screened for co-mordidity, at least as far as I got (past the abstract), they don't say what precisely they looked for. Could underlying sleep problems be a contributor? Or difficult behavior (which could have been part of the Alzheimers process) which lead caregivers to med the patient up so they slept well and didn't need minding at night? Having said that, it's not hard to see that medications like this are problematic.
Banned bread: why does the US allow additives that Europe says are unsafe? Guardian
China?
Trump's feud with Huawei and China could lead to the balkanization of tech MIT Technology Review (resilc)

Food Delivery Apps Are Drowning China In Plastic New York Times
U.S.-EU Trade Talks Stumble, Threatening New Trade War Front Bloomberg
Brexit
Michel Barnier tells the next British Prime Minister that May's deal is the 'only option' for an orderly Brexit Politico. Confirming Juncker's remarks.

Tory leadership candidates say they'll refuse to talk to Nigel Farage on Brexit despite his massive Euro-election win The Sun

If Conservatives face general election in next six months 'we would be wiped out', Jeremy Hunt tells @Peston #Peston https://t.co/lCAuAnr8uo pic.twitter.com/ymzIVAiRCV

— ITV News (@itvnews) May 29, 2019
Syraqistan
Big Brother is Watching You Watch
Women's Fertility App Is Secretly Funded by Anti-Abortion Activists, Says Report Daily Beast (resilc)

Is China's social credit system coming to Australia? PhysOrg (Robert M)

Matthew C points out with the next two links that social credit scores are already here. But as William Gibson would say, not equally distributed:

Meet the Security Company Building an International Database of Banned Bar Patrons OneZero

The Platform Challenge: Balancing Safety, Privacy and Freedom Alex Stamos, DataEDGE 2019 (David L)

VR and AR Eye-Tracking Technology Will Usher in a Privacy Dystopia Vice (resilc)

Assange Is Reportedly Gravely Ill, And Hardly Anyone's Talking About It Medium (furzy)
Trump Transition
McConnell: I'll Fill a Potential Supreme Court Vacancy During 2020 DailyBeast
Justice Thomas: Supreme Court Needs to Confront Abortion Being Used as a 'Tool of Eugenic Manipulation' Epoch Times (David L). Hoo boy.
What was President Obama's worst High Crime? Fabius Maximus (resilc). Screechy but the substance is grist for thought.
Shocking video captures the moment a man sets himself on fire and calmly strolls around a lawn outside the White House – while police frantically try to douse the flames engulfing his body Daily Mail
2020
So actually, @BernieSanders is one of the least wealthy 2020 candidates. And yet @Politico photoshopped a money tree behind him with a headline about him supposedly hoarding a secret fortune & also tweeted that he's cheap.

Now do you get why people thought it was antisemitic? https://t.co/tb3VGsa0Gi

— David Sirota (@davidsirota) May 29, 2019

Bernie Sanders backs 2 policies to dramatically shift corporate power to U.S. workers https://t.co/J8riRA3bOI

— The Washington Post (@washingtonpost) May 28, 2019
Green New Deal
Stop Underestimating the Green New Deal American Conservative
As planting window closes, Minn. farmers face tough choices MPR. Chuck L: "Probably applicable to states throughout the Upper Midwest."
Flooding continues on Edgemere Drive Rochester First. Martha r:
From upstate NY, drone footage, with scary sound, of current flooding of Lake Ontario. Higher level than the bad flooding there in 2017.

This phenomenon is not life-threatening and may not get much attention, but represents an important early manifestation of climate change now having serious, heavy impact in a large region of the USA, the Great Lakes region. From 3/21: Great Lakes are rapidly warming, likely to trigger more flooding and extreme weather CBC
Louisiana Sends 'Heartbeat Bill' to Governor's Desk Wall Street Journal
Fake News
Pelosi: Facebook were 'willing enablers of the Russian interference' CNBC
Amazon Is Poised to Unleash Long-Feared Purge of Small Suppliers Bloomberg
Short Sellers Are Ripping Uber Apart SafeHaven. While this story has interesting detail, the framing is frustrating. The act of shorting a stock does not lower it; in fact, some analysts regard a large short position as a bullish sign, since the short sellers will at some point have to buy shares to close out their positions.
The way short sellers hurt a stock price (in the eyes of those who think stock prices should always go up, regardless of whether the company is a garbage barge) is by presenting negative information about a company's prospects.
Pimco estimates that a credit downturn with cumulative default rates of 15% would generate about $150 billion of losses in CLO equity (*maybe* reaching to BB) https://t.co/43yM25gm8H

— Tracy Alloway (@tracyalloway) May 30, 2019
Note this is bad but not even close to crisis level losses. There were ~40% losses on subprime and Alt-A deals (market size hard to estimate but say $2 trillion), so $800 billion. Then you had CDS creating synthetic losses on the BBB tranches that were 4-6X real economy exposures (note the $800 billion was not all BBB tranches). Then you also had CLO losses back then too (they went to about 80 cents on the dollar, but the losses were not well reported at all). Plus the US economy is bigger now too.
Class Warfare
Antidote du jour. Frank:
These two [readers get one] pictures were taken just outside my door in Windham, VT on April 3, 2019. I believe that the bird is a Black-capped Chickadee with a condition called Leucism. The bird is not an albino, but does not produce melanin properly.

At our feeder just now we are having lots of Black caps, some Junco's, an occasional Nuthatch, and one Tufted Tit-mouse. The other birds do not seem to ostracize White-Cap as we call him/her. Do we have bird experts that can weigh in on this.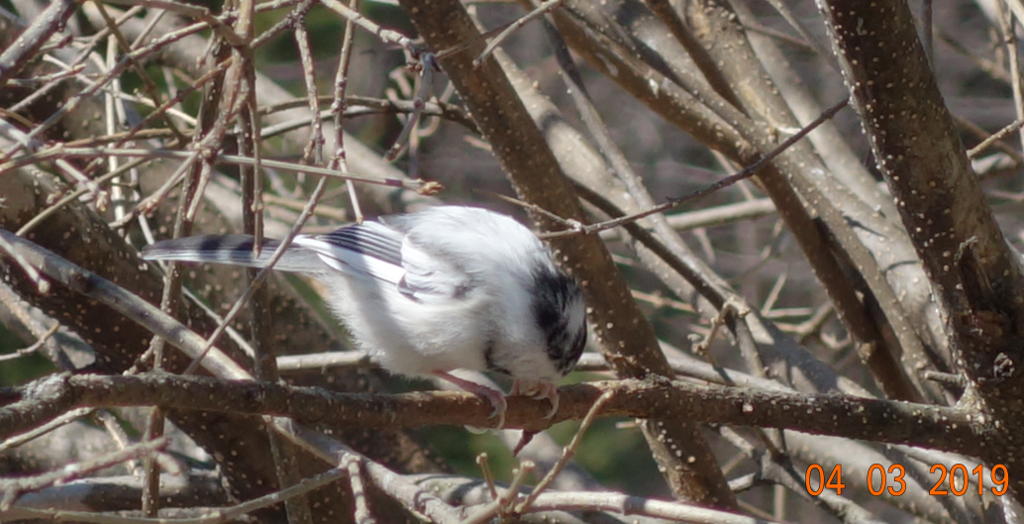 And a bonus (guurst):
Behold, The Otter Tree! …wait, what!?

Credit: Jeff Tan pic.twitter.com/jkJ0HYAkfk

— In Otter News (@Otter_News) May 19, 2019
See yesterday's Links and Antidote du Jour here.