By John Siman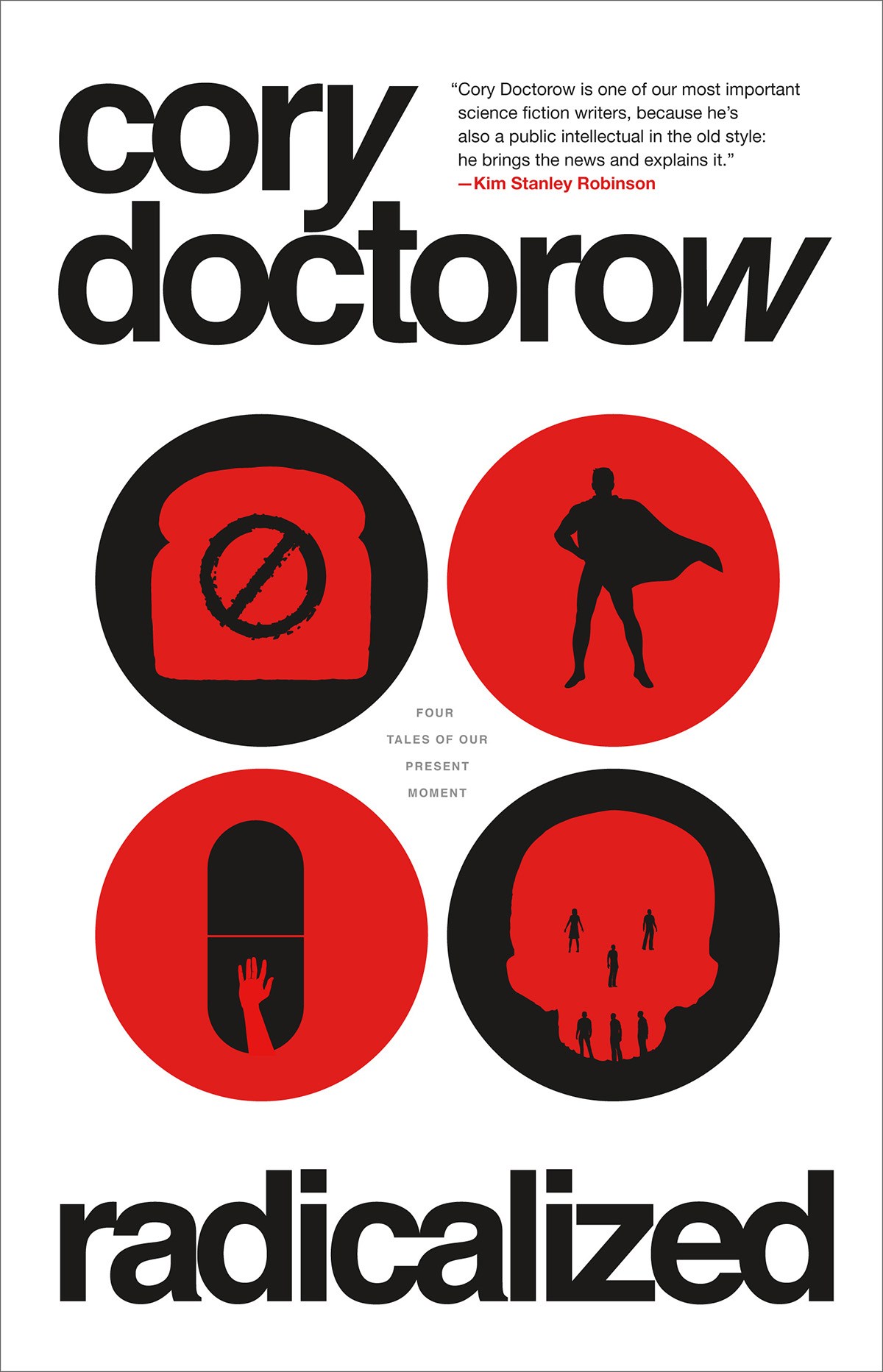 On the back cover of this collection of four tales— intricately-imagined novellas, really, of about sixty to a hundred pages each — one reads a second subtitle: Radicalized: Dystopia is now. For Doctorow is not warning us about extra bad things that could very likely happen in the near future — about really scary things that might be well-nigh inevitable! — but is rather elucidating worst-case-scenarios into which the USA has already been immersed.
And the proof of the devil's active existence in the Neoliberal USA is in the details, which Doctorow gets right in a way that is enrapturing in its precision: Here is the alluring beauty that arises from staring squarely at and studying what is most abhorrent.
 The reigning devil is, of course, the Neoliberal dispensation by which the USA has been consumed for going on four decades now, in whose workshop the country has been purposefully divided into an oligarchy consisting of the billionaires and their Creative Class, hipsterocratic lieutenants on the one hand, and the lumpen deplorables and the immigrants of ambiguous documentation and the vestigial middle class and the poor of many colors on the other.
 And Doctorow sees all this — or at least describes it — better than just about anybody.
In his first tale, "Unauthorized Bread," Doctorow relates the anti-corporate adventures of a plucky, upward-aspiring Libyan immigrant named Salima, who, after having spent five years of humiliation in a camp for asylum-seekers in Arizona (after her parents had drowned at sea while trying to escape to Greece) and then several months in a shelter near Boston, is accepted into an income-indexed (i.e. subsidized) apartment in a brand-new state-of-the-art high-rise called Dorchester Towers. Salima is ecstatic.
But when Salima shows up in the lobby — the non-market-rent side of the lobby, that is — to move into her apartment on the thirty-fifth floor, she begins to discover with what intricate contempt her new living arrangements have been crafted: For each of the elevators in Dorchester Towers, Janus-like, has two sets of doors, one set that opens for the residents who pay market-rent, and an opposite set that seems not to open at all. Salima tries to appeal to the security guard:
     "The elevators don't work," Salima reminded him. "We waited and waited — "
     "The elevators work. They just give priority to the market-rent side. You'll get an elevator when none of these folks need one."
Salima grasped the system and its logic in an instant. The only reason she'd been able to rent in this building was that the developer had to promise that they'd make some low-income housing available in exchange for permission to build fifty stories instead of the thirty that the other buildings in the neighborhood rose to. There was a lot of this sort of thing, and she knew that there were rules about the low-income units, what the landlords had to provide and what she was forbidden from doing. But now she saw an important truth: even the pettiest amenity would be spitefully denied to the subsidy apartments unless the landlord was forced by law to provide it [italics mine, p. 31].
So here Doctorow shows us a screengrab of one of the most brutal aspects of Neoliberalism's heart of darkness: the will to humiliate, the will to impose the very shittiest of conditions on whomever it can. Free marketsis a euphemism for fuck you.
  In this tale, however, our Salima, heartwarmingly and rather heroically prevails against an array of market-based enemies which include the grasping digital tentacles of hedge-fund-driven kitchen appliances, the impending danger of jail-time for jailbreaking such appliances under Section 1201 of the Digital Millennium Copyright Act of 1998, and, finally, the tightening high-tech noose of a posse of predatory landlords. So hooray for brave Salima, the resourceful Libyan immigrant! Doctorow, we must be careful to note, even as he guides us through various circles of Neoliberal hell, realms which are in some ways, precisely because of their familiarity to us, worse than Orwellian, worse than Kafkaesque, is nevertheless not counseling us to abandon all hope as we enter therein, but just the opposite: For Doctorow envisions the possibility of victory in the brutal struggle against evil.
Thus we come to the tale "Radicalized," from which the book takes its title. "Radicalized" does indeed give us a hopeful, even a happy ending, but only in the most gruesome way possible. Its hero is a thirty-six-year-old white guy named Joe who works for a Fortune100 company in what David Graeber would describe as a high-paying bullshit job:
People he'd started with left to work for experimental divisions with self-driving forklift companies, or diving into cloud-based self-serve platforms for ecommerce dropshippers, or all that other stuff that helped people get their Squatty Pottys and strobing LED USB chargers delivered to their doors with five nines of reliability (p. 201).
And Joe performs his Graeberian bullshit job with an enterprising and Sisyphean enthusiasm (after all, il faut imaginer Sisyphe heureux), until one fateful day he goes "through a door that led out of his life as it was and into a new, worse life. It was a door that only swung one way and once you went through it, you could never go back" (pp. 184-185).
Joe's wife has got a metastasizing, stage-four breast cancer, and Joe's top-tier, $1,500-month insurance policy won't cover the treatment. Joe just about goes insane with rage. So Joe joins an on-line forum: Its members are other husbands and dads whose wives and kids have been denied coverage for other treatable cancers. Other husbands and dads who are going insane with rage. The forum is called Fuck Cancer Right in Its Fucking Face: — Fuckriff. In it Joe gets radicalized, and getting radicalized means — getting violent. Getting radicalized means — becoming an enemy combatant. Getting radicalized means — becoming a terrorist.
 Or does it?
Through his laptop Joe watches, mouth agape, as, one after another, certain of his Fuckriff forum buddies metamorphosize ineluctably, Ionescoely, into suicide-bombers. First, LisasDad1990 blows up the South Carolina Headquarters of BlueCross/BlueShield. The second bomber, a charming former frat president, takes out a Tennessee Republican state senator. The third, DeathEater, phones Joe early in the morning on the day of his action:
"If you work for a health insurance company [DeathEater tells Joe], or their lobbyists, or a senator or congressman who votes against health care for everyone, I want you to be afraid. Scared to leave home. Too scared to sleep. I want you lying awake at night, feeling a rush of fear every time you hear a creak. I want you to have a concealed carry permit, a shotgun by the bed, and still find yourself wondering every morning whether today's going to be the day. If you can't take that, quit your job. Tell your boss you didn't sign up to be blown to pieces by some grief-crazed suicide bomber. Eventually, those insurance executives and lobbyists and politicians will have to move on to Plan B. Which is health care for everyone…" (p. 212).
After DeathEater hangs up on him, Joe starts to dial 911 — but doesn't. Later that day DeathEater blows himself up at a health insurance conference at a Sheraton in Clearwater, Florida. "The death toll," Doctorow writes, "was spectacular" (p. 214).
 Joe himself does not metamorphosize into a suicide-bomber, but perhaps this is only because his wife's cancer goes into spontaneous remission. To his, to the doctor's — to everyone's — utter amazement, by some utterly flukey miracle, her health returns. So Joe does not become a bomber, but neither does he ever provide law enforcement with any information about the national "epidemic of nice, respectable white dudes blowing shit up" (p. 223). "Joe didn't want to kill anyone," Doctorow writes, "but deep inside, he knew that there were plenty of people who warranted killing" (p. 222).
So it's really just a matter of time — excruciating time but logical, methodically-marching-forward natural time nevertheless — until Joe is shot, arrested, beaten, jailed, kept in solitary confinement. Joe sees all this coming, dreads it, suffers privately, but keeps his mouth shut.
While he's handcuffed to a hospital bed, an FBI agent offers Joe a deal: no criminal charges if Joe will go undercover on the Fuckriff forum to help the Bureau identify the next wave of metamorphoses of dads into bombers. Joe refuses. "Joe decided," Doctorow writes,"that he'd go to jail for a hundred years before he betrayed Fuckriff and all who sailed in her" (p. 240). This act seems to be both nauseating and heroic. Joe accordingly will be vindicated. Medicare-for-All will become the law of the land. "Who says violence doesn't solve anything?" his cancer-free wife asks him through the prison Plexi glass at the conclusion of the tale (p. 244). And these fictional details are almost too much for me to process in my real life.
 I received my copy of Radicalized in the mail on the last Saturday in March and devoured it over the weekend. Then I had a wonderfully engaging two-hour-long phone conversation with Cory Doctorow that Monday.
 I spent the whole month of April and the first part of May returning to the dark question, first posed by DeathEater in the story and then repeated by Joe's wife, a question I had never wanted to consider except in the most theoretical context: Who says violence doesn't solve anything?
 I told just about anyone who would listen how moved and how troubled I was by the story and the harrowing question that arose from it. One of my neighbors sympathetically told me about a 2002 Denzel Washington movie (Doctorow says he is unfamiliar with it) in which a loving, middle-class dad — named not Joe, but John Q.— is driven to extremes and takes a hospital emergency room hostage after insurance refuses to cover the heart-transplant that his young son needs to survive. Charismatic Robert Duvall and Ray Liotta also star in the movie. So this is Hollywood fantasy, excitement and violence and wish-fulfillment all wrapped up into one awesome entertainment package. Doctorow is doing something fundamentally different: He is not inventing fantastical wish-fulfillment but rather is analyzing looming nightmare-fulfillment. He is showing us that we already inhabit a dystopia, and I for one confess that I am not fully ready to consider such harsh reality in all of its bedeviling implications. Though I need to be, as, I guess, we all do now.