By Lambert Strether of Corrente.
Patient readers, this Water Cooler may end up a little light because I was finishing up my second post on Midwest flooding. I'll flesh out the the politics section in a few minutes. –lambert UPDATE All done.
Politics
"But what is government itself, but the greatest of all reflections on human nature?" –James Madison, Federalist 51
"They had one weapon left and both knew it: treachery." –Frank Herbert, Dune
"2020 Democratic Presidential Nomination" [RealClearPolitics] (average of five polls). As of June 6: Biden up 33.6% ( 33.5%) and Sanders up 17%(16.7%) stabilize. Warren down 7.8% (8.2%), Buttigieg climbing, others Brownian motion. Of course, it's absurd to track minute fluctuations at this point.
* * *
2020
Biden (D)(1): "Joe Biden will probably lose Iowa" [Bleeding Heartland]. "Ronald Reagan sought the nomination in 1976 and was arguably the natural GOP nominee. Walter Mondale had been Jimmy Carter's vice president. George Bush held that position in the Reagan administration. Bob Dole was a former nominee for VP. Gore was a two-term VP. Every one of those candidates was over 40 in Iowa at this point. Biden is at least 16 points behind them. As I noted in March, only one of the last four front runners in Iowa who were under 30 percent early on went on to win the caucuses. After all of the national publicity he has received since his announcement, the two-term vice president in Barack Obama's administration cannot break 25 percent." • Ouch.

Biden (D)(2): I can't even:

Happy #BestFriendsDay to my friend, @BarackObama. pic.twitter.com/JTd1t7NtyL

— Joe Biden (@JoeBiden) June 9, 2019

Gravel (D)(1):

I chat with @MikeGravel who has said that Henry Kissinger, Dick Cheney and John Bolton should be sent to the ICC at the Hague. pic.twitter.com/LvkrdGTTPb

— Camila (@camilateleSUR) June 9, 2019

He's not wrong, is he?

Trump (R)(1): "Why Trump may have an unexpected weakness with rural voters in 2020" [McClatchy]. "The Democratic analytics firm Catalist recently published a review of the 2018 midterm elections using data gleaned from voter files, a state-by-state report that offers the most detailed look yet at turnout in last year's races. The findings were startling: When comparing the 2016 presidential election to 2018 House races, the biggest increase of support for Democrats came not in the suburbs (which received the most attention) but in rural areas. According to the analysis, Democrats recovered slightly more than half the vote in rural areas that they lost between 2012 and 2016, a net gain of about six percentage points in the region. By comparison, Democratic gains in suburban areas were roughly a point or two lower." • Interesting. Also: "Crucially, in data Catalist provided to McClatchy, , a dynamic present in other parts of the country as well, the analysis found. The party's vote share increased by five points, from 30 percent to 35 percent, among rural voters who voted in both elections, gains that were concentrated among [gasp] ." • So all the essentialists moaning and pearl-clutching by liberals that rural voters were essentially racist and should never be appealed to was just wrong. I'm shocked. And all the "Blue Wave" propaganda drowned it out.

Trump (R)(2): "I Helped Obama Win in 2012. Now Trump Is Using the Same Playbook." [Ben LaBolt, The Atlantic]. "Presidents who have recently won reelection seeded their victories not in the final sprint before Election Day, but by executing a two-year campaign to exploit a contentious primary on the other side, reconnect with their base of supporters, and define the election as a choice, not a referendum. I served as the national press secretary on President Barack Obama's 2012 reelection campaign, when we used that strategy to great effect. Now I'm watching President Trump executing the same strategy that powered Obama to reelection, while the Democratic organizations that could answer him have left an open playing field in the battleground states where the election will be decided…. Simultaneously, Trump has begun to hold rallies in battleground states across the country, dipping into media markets where he can fire up his base, such as Panama City, Florida, and battleground markets, such as Green Bay, Wisconsin. Many of these visits lead to localized polling bumps that last for weeks…. Meanwhile, neither the Democratic National Committee nor any of the major Democratic super PACs are live with any notable broadcast or digital-advertising budget in battleground states targeted toward general-election swing voters. The 23 Democratic presidential campaigns are naturally focused on proximate targets, such as winning early states and meeting the DNC's fundraising thresholds… If Democrats don't act now, the Trump campaign will define the general election on its own terms, before we can even choose our nominee."

Warren (D)(1):

Understated factor in Elizabeth Warrens poll improvements is she has over 200 staff in first four states while Bernie Sanders has less staff in New Hampshire than John Delaney.

The "distributed organizing," volunteer-driven model doesn't have a lot of victories under it's belt.

— Zaid Jilani (@ZaidJilani) June 9, 2019

The comments on this thread are very good, too.

Warren (D)(2): "Warren's nonstop ideas reshape the Democratic presidential race — and give her new momentum" [WaPo]. "At multicandidate forums — most recently, one by the California Democratic Party — Warren is regularly earning the loudest cheers. Her 'I have a plan for that' slogan has become a recognizable meme, featured on the campaign's popular T-shirt." • However, as Helmuth von Moltke the Elder said: "No plan survives contact with the enemy." Or as Mike Tyson is paraphrased as saying: "Everybody has a plan until they get punched in the mouth." So, the tactical question is: Who will be the one to punch Warren in the mouth? (In Iowa 2004, Dick Gephardt punched Howard Dean in the mouth, but John Kerry was the one who benefited.) And the strategic question is: "Who is Warren's enemy?" Who has prevented her plans from coming to fruition already? Another way of saying that would be: "What is Warren's theory of change?" I'm not sure Warren has an answer to either question. Sanders' answer to each is clear: The billionaires are the enemy, and "not me, us" is the theory of change. Agree or disagree, at least Sanders is clear.

Warren (D)(3): All Warren had to do was check in with the Cherokees:

Small request: b4 asking Native ppl on twitter to rehash why Warren's false claims to Cherokee identity is offensive for the 100th time, maybe read what we've already written on the topic.

Oh look! We put together a syllabus, to make it easy for you!!!https://t.co/CpF7GRxk7G

— Rebecca Nagle (@rebeccanagle) May 31, 2019

Williamson (D)(1):

The DNC should be helping all the candidates to get our word out to the voters, not just its handpicked choices. We shouldn't have to fight our way in. Yang and I got into the debates; now let's help Gravel. https://t.co/Gbp66McRZn

— Marianne Williamson (@marwilliamson) June 8, 2019

Good for her!

IA: "Iowa Democrats 2019 19-presidential candidate Hall of Fame: sights and sounds" [Des Moines Register]. It was a chaotic scene at the DoubleTree Hilton Hotel and Convention Center in downtown Cedar Rapids on Sunday, as 19 presidential candidates converged for the state's largest caucus event so far this cycle. Many of the campaigns and their supporters arrived early in the morning to line the street to the hotel, chanting and hoisting signs." • And then there was this:

Bernie pulling the most epic troll job of any candidate ever with taking an entire picket line of striking McDonald's workers right down the middle of the street where all other 2020 candidates are set up on the sidewalk.

THIS IS AWESOME! #Bernie2020 #FeelTheBern https://t.co/IwgCBRCAZF

— Leftward Swing ?? (@LeftwardSwing) June 9, 2019

And not to pile on, but:

I feel like Kamala Harris supporters drowning out McDonald's workers demonstrating with Bernie for a higher minimum wage is symbolic of something, but I can't put my finger on what https://t.co/GivLMR5eu1

— Show Your Work (@showusyourwork) June 9, 2019

"An early look at the Biden and Sanders coalitions" [Carl Beijer]. From a CNN poll, with chart:

1. Age is still the most important dividing line. As it was in 2016, age remains the most significant divide in the Democratic primaries. This is the only demographic where Sanders has an actual lead: he beats Biden among voters under 50 by 2 points, and among voters until 45 by 7 points. Biden, however, holds enormous advantages among olds: he has a 35 point lead among voters over 45, and a 45 point lead among voters over 65.

2. Centrists like Biden; liberals like Bernie. Biden has a remarkable 25 point lead over Sanders among moderates and conservatives; among liberals, Sanders is only down one point. On a probably related note, Biden also has an 18 point lead among self-identified Democrats, but that lead shrinks down to just 4 points among Independents (which presumably includes leftists who do not identify as Democrats).

3. The more money you make, the more you like Biden. Biden has a 19 point lead among voters who make more $50,000 a year or more, but that lead shrinks to just 8 points among people who make less.

Throwing the Democrats into buckets:

??CLASS OF 2020??

?JOCKS
Biden
Harris
Gabbard
Gillibrand

?NERDS
Sanders
Warren
Inslee
Yang

?PREPS
Buttigieg
Delaney
Ryan
Swalwell

?DORKS
Booker
Castro
Bennet

?GEEKS
Hickenlooper
Klobuchar

✌HIPPIES
Williamson

?PUNKS
Gravel

?EMOS
O'Rourke

— ?IPM ?????? (@IPM_HQ) June 9, 2019

Where's the goth? Is there no goth?
2018 Post Mortem
"The Untapped Power of Rural Voters" [LaTosha Brown, New York Times]. "From 2012 to 2016, Democrats lost 11 percentage points in rural areas overall. But those same rural areas trended in a Democratic direction from 2016 to 2018 and ended up about six points more Democratic. There's room for growth in rural America for Democrats…. In rural areas, small investments can create stunning victories. In a 2016 my organization spent about $2,000 on basic needs like food for volunteers and vans to take people to the polls for a race in Americus, Ga. As a result, we helped win back a seat in the state legislature for Democrats. The district was 66 percent African-American, and entirely winnable, but it had been ignored for years. There are easy wins like this all around the country."
RussiaGate
"Hillary Clinton's Russia collusion IOU: The answers she owes America" [John Solomon, The Hill]. • In essence, a foreshadowing of the case that Barr and Trum will be making for the coming election cycle, and worth a read for that. This is a good request: "Please identify each person in your campaign who was involved with, or aware of, hiring Fusion GPS, Glenn Simpson and Christopher Steele."
Impeachment
IA: "Iowa Poll: Likely Democratic caucus participants split on Donald Trump impeachment question" [Des Moines Register]. MoE: ±4.7%. Sample: 600. "Forty-eight percent of Iowa voters who plan to attend the caucuses in person say Congress should continue to investigate the president, but should not move ahead with formal impeachment proceedings… 'My reasoning is: I don't want it to fail,' said Iowa Poll participant Dorothy Oliver of Urbandale." • Lol, Democrat voters don't trust the party leadership not to screw it up. With good reason.
Realignment and Legitimacy
"'Axios on HBO' poll: 55% of women prefer socialism" [Axios]. MoE and sample: Not stated. "A Harris poll for "Axios on HBO" finds that socialism is gaining popularity: 4 in 10 Americans say they would prefer living in a socialist country over a capitalist one…. 55% of women between 18 and 54 would prefer to live in a socialist country than a capitalist country." • If the Clinton campaign debacle, and the latest abortion rights debacle, hasn't convinced you of the bankruptcy of bourgeois feminism, perhaps this will do it.

Democrat control over ballot acces; quite a story. Thread:

I want to tell you a little story about local Democratic politics in deep blue New York. This is my friend and client, @KatBrezler. She is a lifelong Democrat, a proud union member, community and grassroots activist. By day, she's a public school teacher in the Bronx. pic.twitter.com/OKVtHmWxWB

— Leo Glickman (@LeoGlickman1) June 8, 2019

"A Moment of Silence: The case for keeping new organizers offline." [The South Lawn]. "New organizers (regardless of age) should be advised to stay away from social media organizing until they have fully grasped the concept of winning and losing a campaign. If they want to Instagram their lunch (which is likely volunteer pizza or stale donuts) –that's fine — but they should not be organizing around hashtags, online petitions, or Twitter storms because even successful social media organizing can give organizers a false sense of winning…. At the risk of sounding like a "brocialist" or "brogressive," I think this bears repeating. Organizing is about winning. If your community does not win its demand, the campaign lost." • Sanders campaign, listen up!
Stats Watch
JOLTS, April 2019: "April job openings [were] higher-than-expected [but] down 25,000 from March" [Econoday].
Shipping: "Slumping coal exports threaten rail and ocean shipping demand" [Freight Waves]. "In the first four months of this year, long-haul exports to the top four Asian destinations totaled 10.8 million tons, down 2.5 million tons or 19 percent, whereas shorter-haul exports to the top 13 Atlantic Basin and Mediterranean destinations (in Europe, South America and North Africa) totaled 16.5 million tons, down 570,512 tons or 3 percent. The much steeper drop to Asia was driven by volume declines to India, South Korea, and China (which instituted a retaliatory tariff on U.S. coal last year), partially offset by a jump in volume to Japan." • Flooding is also a factor, apparently, since coal travels to the ports both by rail and barge.
Shipping: "Port Report: Los Angeles bakes in box slowdown for upcoming budget" [Freight Waves]. "The Port of Los Angeles expects cargo volumes to dip in the coming fiscal year due to the fall-off from last year's front loading of containers and the potential impact of new tariffs…. The Port of Los Angeles expects cargo volumes to dip in the coming fiscal year due to the fall-off from last year's front loading of containers and the potential impact of new tariffs."
Gentlemen Prefer Bonds: "All bark but no bite? What does the yield curve tell us about growth?" (charts) [Bank Underground]. "The slope of the yield curve has decreased in the US and the UK over the last few years… This development is attracting significant attention, because the yield curve slope (i.e. the difference between longer term government bond yields and shorter term government bond yields) is a popular business cycle indicator, and a fall of longer term yields below shorter term yields (i.e. an 'inversion' of the yield curve) has historically been considered as a powerful signal of recessions, particularly in the US… In sum, since the 90s, the slope of the yield curve has indeed become less efficient in predicting GDP growth over time in both the US and the UK. More recently however the yield curve slope appears to have regained some of its predictive power, as policy rate expectations are again positively and significantly associated with future GDP growth while the term premia has stopped obscuring their signal. This suggests that while the warning sign from the yield curve slope should be taken with caution, it should not be discarded completely." • Oh.
The Bezzle: "The Future Ain't What It Used To Be!" [Elon Musk Today]. "49 days since Elon Musk said there will be a million fully autonomous Tesla robotaxis in a year." • And so forth and so on.
Rapture Index: Closes unchanged [Rapture Ready]. Record High, October 10, 2016: 189. Current: 180. Remember that bringing on the rapture is a good thing.
MMT
"The economic virtuous circle at the centre of MMT" [Morning Star]. Jonathan Reynolds, Labour's shadow economic secretary to the Treasury, does not accept MMT. But: "Claims that MMT would precipitate capital flight and a currency crisis leading to 'the UK facing conditions even worse than the austerity inflicted by the Conservatives and Lib Dems since 2010' are fanciful, scaremongering hyperbole. Japan gives the lie to such apocalyptic proclamations with its public debt-to-GDP ratio standing at around 250 per cent, together with its decades long substantial deficits. Yet Japan has maintained interest rates and bond yields at around zero, and in some cases bond yields have gone negative, without creating the kind of economic cataclysm the MMT critics predict. The truth is that like Japan, the Bank of England would always be able to control yields in the bond markets. As for a currency crisis, it is of course possible that speculators could dump the pound to create difficulties for a radical Labour goverment. But that is just as likely to happen with or without the fiscal credibility rule because, as Jonathan makes clear in his article: 'nobody should be in any doubt that Labour is opposed to austerity.'"
The Biosphere
"Your Bowl of Rice Is Hurting the Climate Too" [Bloomberg]. "Global rice farming, it turns out, could have the same detrimental effect on global warming in the short term as 1,200 average-sized coal power plants, according to the New York-based Environmental Defense Fund advocacy group. That means the grain is just as damaging over the long term as annual carbon dioxide emissions from fossil fuels in Germany, Italy, Spain and the U.K. combined…. As the sheer size of the staple food's carbon footprint becomes clearer to scientists, companies including the maker of Uncle Ben's rice and Olam International Ltd., the world's second-biggest rice supplier, are starting to source more of the grain from farms that aren't flooded, a widespread cultivation technique that releases methane gas into the atmosphere."
"As Hurricane Season Begins, 'Green' Flood Control Finds Support in Texas" [City Lab]. "'Engineering companies want to do the most expensive thing they can do,' complained Susan Chadwick, executive director of Save Buffalo Bayou, a local advocacy group. Her group argues that chopping down trees and vegetation reduces the land's stability and potential to absorb water and capture pollution; adds to repair and maintenance costs; and has a negative impact on residents' wellbeing. The detention project feels like a compromise between natural and artificial flood-control techniques. 'After Harvey, they needed to bring some stuff off the shelf and show they are ready to do something,' Chadwick said. She is skeptical that a city that used concrete to conquer swamps, marshes, and prairies can learn to restore green spaces—or just leave them alone."
Health Care
"California lawmakers agree to health benefits for immigrants" [San Francisco Chronicle (JS)]. "The agreement means low-income adults between the ages of 19 and 25 living in California illegally would be eligible for California's Medicaid program, the joint state and federal health insurance program for the poor and disabled." • Which is rational policy from the standpoint of public health. But: "But to pay for part of it, the state will begin taxing people who don't have health insurance. It's a revival of the individual mandate penalty that had been law nationwide under former President Barack Obama's health care law until Republicans in Congress eliminated it as part of the 2017 overhaul to the tax code." • Cool, cool. A direct transfer from citizens to non-citizens. (If, IIRC, the ObamaCare individual mandate was surprisingly ineffective, that would make the revival of the penalty even more of a fig leaf, since the penalty was never fit for purpose.)
Guillotine Watch
"I gave the University of Alabama $26.5 million. They gave it back when I spoke out about abortion." [WaPo]. "My love for Alabama is exactly why I was so horrified to watch its lawmakers trample over the Constitution last month. The ban on abortion they passed wasn't just an attack against women, it was an affront to the rule of law itself… I expected that speaking out would have consequences, but I never could have imagined the response from the University of Alabama, which on Friday said it would be returning my gift and removing my name from the law school." • Lol. Culverhouse lied like a rug.
"Culverhouse, UA feud was about ego, power and money, not Alabama's abortion law" [AL.com]. "The university has now released email exchanges between Culverhouse and university officials showing the dispute as something else entirely — a bitter, personal feud between the University and one of the institution's biggest donors. Those emails show Culverhouse trying to influence hiring decisions, admissions and scholarships — and threatening to take his money out of the school when he didn't get his way." Here is one of the emails:
The Alabama Law School story doubless would have played differently if Culverhouse, in his initial public statement, had admitted he demanded (in writing!) return of $10m b/c he wanted to dictate a hiring decision at the school.https://t.co/oIfBPS9gau pic.twitter.com/aBO91YG04h

— KC Johnson (@kcjohnson9) June 10, 2019
One can only wonder if there's some institutional factor at WaPo that would lead them to grant a demi-billionaire instant deference and credibility. Will WaPo retract Culverhouse's Op-Ed?
Class Warfare
"Food emergency" [Oklahoma Gazette]. "Nationwide, dollar stores now outnumber Walmart and McDonald's locations combined, with the number of locations reaching 30,000 in 2018, according to Institute for Local Self-Reliance (ILSR). Dollar stores have also surpassed Whole Foods in feeding Americans… ILSR reports that a Dollar General's arrival typically cuts a small town's supermarket sales by about 30 percent. Additionally, dollar stores are not necessarily less expensive; they simply offer more single-serving quantities, many of which actually cost more per ounce. 'Our research suggests that they often target African American neighborhoods,' reads the report. 'Their strategy of saturating these neighborhoods with multiple outlets can make it nearly impossible for new grocers and other businesses to take root and grow.'" • Single servings would be the food-store equivalent of selling loosies.
"Tommy Douglas, Canada's Great Prairie Socialist, Wasn't Always So Beloved" [Jacobin]. "Douglas's consecrated status has come at a cost, with his avowedly socialist politics either stripped away or cast aside altogether. It is a testament to his legacy that one reason for this is the continued popularity of Canada's health care system: now such an integral part of the country's political consensus that even most conservatives have abandoned dreams of its outright abolition. Nevertheless, few these days remember Douglas for who he really was: a populist radical who spent his life as an outspoken critic and adversary of capitalism. So depoliticized has Douglas become that a cabinet minister in Ontario Premier Doug Ford's hard-right government recently evoked him in a farcical effort to justify austerity." • Rather like what's been done to the legacy of MLK.
"Fighting for Her Life" [New York Review of Books]. "[L]ike her fellow radical authors, [Andrea] Dworkin also put forward a vision of what a nonsexist society might look like. For her, it was a world without gender polarity. There's plenty of evidence, she argues, suggesting that male and female are not two cleanly separate and opposed categories: the existence of intersex people, essential similarities in male and female genitals, and variation among men and among women in gender expression. 'The words 'male' and 'female,' 'man' and 'woman," she writes, 'are used only because as yet there are no others.'" • Hmm.
News of the Wired
For the urban planners among us (via DK):
This is sort of a crazy chart from @OregonDEQ that can be summed up as "detached housing seems to be bad for the environment by every metric we could think of" https://t.co/22LW7QGstq pic.twitter.com/gqf3XlmcaH

— Michael Andersen (@andersem) June 4, 2019
"The Human Body As A Tube Map" [Londonist]. • Just went I think the London Tube Map meme is played out.
The perils of international tourism:
This woman has had enough of tourists and throws rocks at them pic.twitter.com/cG6wjmdbMl

— Daily Mail Online (@MailOnline) September 19, 2017
* * *
Readers, feel free to contact me at lambert [UNDERSCORE] strether [DOT] corrente [AT] yahoo [DOT] com, with (a) links, and even better (b) sources I should curate regularly, (c) how to send me a check if you are allergic to PayPal, and (d) to find out how to send me images of plants. Vegetables are fine! Fungi are deemed to be honorary plants! If you want your handle to appear as a credit, please place it at the start of your mail in parentheses: (thus). Otherwise, I will anonymize by using your initials. See the previous Water Cooler (with plant) here. Today's plant (ML):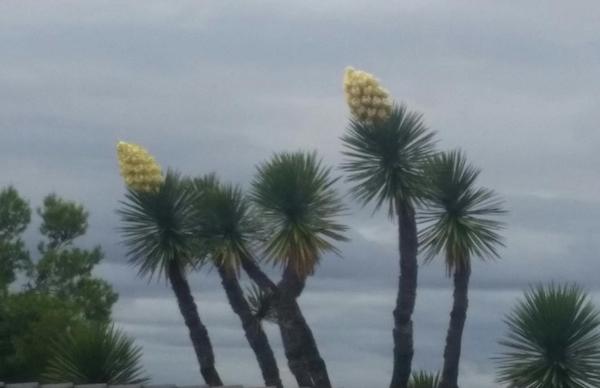 ML writes: "Very old (####) palm in my hood. Keep up the good work!!" Not sure what "(####)" means, but I thought if I left it in, I might find out!
* * *
Readers: Water Cooler is a standalone entity not covered by the annual NC fundraiser. So do feel free to make a contribution today or any day. Here is why: Regular positive feedback both makes me feel good and lets me know I'm on the right track with coverage. When I get no donations for five or ten days I get worried. More tangibly, a constant trickle of small donations helps me with expenses, and I factor in that trickle when setting fundraising goals. So if you see something you especially appreciate, do feel free to click this donate button:
Here is the screen that will appear, which I have helpfully annotated.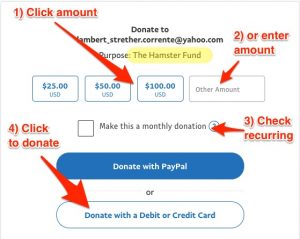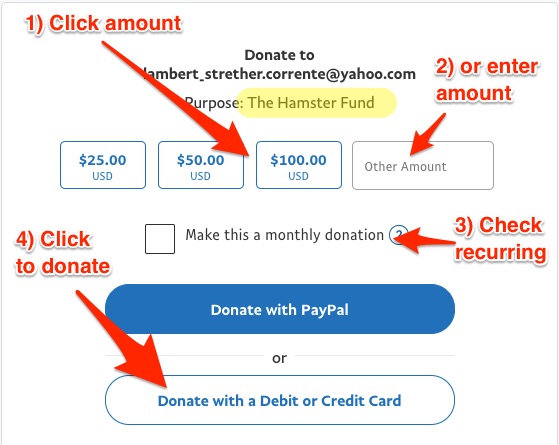 If you hate PayPal, you can email me at lambert [UNDERSCORE] strether [DOT] corrente [AT] yahoo [DOT] com, and I will give you directions on how to send a check. Thank you!