By Lambert Strether of Corrente.
Politics
"But what is government itself, but the greatest of all reflections on human nature?" –James Madison, Federalist 51
"They had one weapon left and both knew it: treachery." –Frank Herbert, Dune
"2020 Democratic Presidential Nomination" [RealClearPolitics] (average of five polls). As of June 6: Biden down 33.5% ( 34.9%) and Sanders down 16.7% (16.9%) stabilize. Warren up 8.2% (7.4%), others Brownian motion. Of course, it's absurd to track minute fluctuations at this point.
* * *
2020
Biden (D)(1): "How Biden's Campaign Confronted Him on Abortion" [The Atlantic]. "For 2016 Clinton campaign alumni, this Biden episode felt familiar. Clinton came out against the Trans Pacific Partnership, a trade deal she helped negotiate while serving as secretary of state—a switch in positions, as it happens, that she made in part because of worries that Biden was going to enter that year's primary and sap her union support. "Hillary coming out against TPP—after having championed it for years as a necessary counterbalance to China for years—was a microcosm of our fatal flaws," an aide who worked on the Clinton campaign told me, comparing the candidacies. "I actually think the perception of inauthenticity poses a similarly existential threat to Biden, albeit from the opposite direction: for Hillary, it reinforced the most detrimental narratives about her, whereas for Biden, it undermines his core appeal as the deeply principled straight-talker." The Clinton aide added: "Hillary and Biden suffer from the same contradictory impulses—you can give an impassioned defense of your record or you can convince people you've legitimately evolved on an issue, but it's pretty hard to do them simultaneously.'" • The article credits the change to Symone Sanders and Alyssa Milano…

Harris (D)(1): "'Everyone is used to relatives that are doofuses': Kamala's sister breaks tradition" [Politico]. "Since launching her White House bid, no figure in Kamala Harris' orbit has loomed so large [as her sister Maya]. A regular presence on the trail, Maya has been involved in virtually every facet of the race, from soliciting donors and recruiting the most diverse staff of any Democratic hopeful, to helping draft policy and talking up early state politicos…. Aside from standing in for Kamala at fundraisers, Maya can be seen at campaign stops posing for pictures with selfie seekers who recognize her from social media and her time as an MSNBC talking head — a gig she landed after advising Hillary Clinton's 2016 presidential campaign." • Quite a resumé….

O'Rourke (D)(1): "Democrat O'Rourke unveils voting rights plan to get 35 million more to the polls" [Reuters]. "Democratic presidential candidate Beto O'Rourke issued an ambitious plan on Wednesday to revamp the U.S. voting system by cracking down on voter suppression and getting an additional 35 million people to the ballot box by the 2024 elections. O'Rourke, a former congressman from Texas, a state with tough voter ID laws that critics say disproportionately affect the ability of minorities to vote, said his proposal would also allow the registration of an additional 50 million U.S. voters." • No mention of cost, but I assume it's trivial by the side of campaign spending. But O'Rourke also wants term limits. No! Avert! We tried them in Maine, and all they do is ensure that the only legislature-adjacent people with institutional memory are the lobbyists!

Trump (R)(1): "Trump Bets on More Black Support in 2020. (He Might Need It.)" [RealClearPolitics]. "Trump managed 8% black support in 2016. And despite the GOP's unpromising history, his campaign manager thinks the president can more than quadruple that number next year…. Trump managed 8% black support in 2016. And despite the GOP's unpromising history, his campaign manager thinks the president can more than quadruple that number next year…. "At the end of the day, Democrats know this is the one voter base they cannot afford to have fractionalized," [Ken Blackwell, a former Republican mayor of Cincinnati and Ohio secretary of state,] told RCP. 'We know they have to get a 93%-7% split, but a win for us, a technical knockout for us, would be something like 88%-12%.'" • Blackwell is a thoroughly bad man, but he's right on this. And oddly, criminal justice reform didn't happen on Obama's watch.

Trump (R)(2):

Trump net approval (approval minus disapproval) in key states:

JAN 2017
• Penn: +10
• Ohio: +7
• Michigan: +14
• Wisconsin: +6
• Florida: +22
• Ariz: +19

MAY 2019
• Penn: -7
• Ohio: -4
• Michigan: -12
• Wisconsin: -13
• Florida: 0
• Ariz: -6https://t.co/jnpdLTWHyq

— Frank Luntz (@FrankLuntz) June 6, 2019

Only one poll, but this is Luntz…

Trump (R)(3): "Are Voter Opinions on Trump as Stable as They Seem?" [Amy Walter, Cook Political Report]. "[The Democracy Fund Voter Study Group] found that while opinions of the president have been very consistent since 2016, 'Obama-Trump voters have had a significant change in their view of President Trump over the last two years. In the 2016 VOTER Survey, more than 8 in 10 (85 percent) Obama-Trump voters held a 'favorable' view of the president — 19 percentage points higher than in 2019 (66 percent).' In other words, while Obama-Trump voters still overwhelmingly approve of the president, that support is a lot softer than it was back in 2016. They did not find any significant movement among any other group of voters (like those who supported Romney in 2016 and Trump in 2016, or those who voted Romney 2012 and Clinton in 2016). And, while these Obama-Trump voters remain supportive of the president, 'even small movement among these voters — who represented 5 percent of voters in 2016,' writes the authors of the report, 'may prove significant heading into the 2020 presidential election.'"

"Young voters have Buttigieg and Beto. So why do they prefer old socialists?" [Elizabeth Bruenig, WaPo]. "Older politicians have more opportunities to build track records, and those might be more important to the young than to voters of other ideologies and age brackets. Why? Strong left-leaning track records — shared by Sanders as well as Gravel — offer two major benefits. First, they bespeak a certain authenticity. When Sanders showed it was possible to rake in young votes with staunchly left policies, plenty of center-oriented Democrats began to show interest in things such as Medicare-for-all. Roast young lefties for naivete if you must, but they seem to realize that a fight such as universal health care is going to require somebody truly invested in the idea, who's willing to take enormous flak over it and suffer a few defeats without giving up. In short, endurance counts. Johnnies-come-lately inspire much less confidence on that front…. But aside from authentic commitment, candidates with long track records suggest they have developed a personal politics with a deeper historical scope — they don't think the problems in American life began when Trump was elected. Nor do they believe that, before that moment, America was already great. If your belief is that what's rotten in American politics stems from capitalism itself, then those sudden explanations of what went wrong don't make sense. The explanations that ring true go back decades…." •
Impeachment
"Democrats Learned the Wrong Lesson From Clinton's Impeachment" [Ronald Brownstein, The Atlantic]. "Matthew Dowd, a senior strategist for Bush's 2000 campaign, told me that Democrats today 'are learning the wrong lessons' from Clinton's impeachment by neglecting to consider how it shaped both election cycles, especially the presidential race. In January 2001, almost exactly two years after House Republicans defied public opinion to impeach Clinton, the GOP controlled the White House, the House, and initially the Senate. (Within months, the Republican Jim Jeffords of Vermont would switch parties, shifting control to the Democrats.) 'Having gone through all that,' Dowd said, 'I think the Democrats are way too skittish on impeachment.'" • "Skittish" is nice…

"The Political Costs of Not Impeaching Trump" [GQ]. "I don't know how else to say this: getting impeached is bad. It is not something you want to happen to you, especially if you're president. You do not want to go down as one of only four presidents in history to be impeached. This is a bad thing. Only Democrats, bless our hearts, could convince ourselves that it is good for a president to be impeached." • It is true that scandal is one of Lichtman's keys. It is also true that in 2018 and subsequently, the Democrat leadership bet the farm on winning over suburban Republicans.
Identity Politics
Peak idpol (1):

At NSA, talented individuals of all backgrounds, contribute to something bigger than themselves: national security. #PrideMonth pic.twitter.com/7Vippgti4m

— NSA/CSS (@NSAGov) June 5, 2019

Peak idpol (2):

No, I'm not making this up. I wish I were. pic.twitter.com/DpfNu9vmka

— Helen Dale (@_HelenDale) June 6, 2019

"America's White Saviors" [Tablet]. "A sea change has taken place in American political life. The force driving this change is the digital era style of moral politics known as 'wokeness,' a phenomenon that has become pervasive in recent years and yet remains elusive as even experts struggle to give it a clear definition and accurately measure its impact…. Over the past decade, the baseline attitudes expressed by white liberals on racial and social justice questions have become radically more liberal. In one especially telling example of the broader trend, white liberals recently became the only demographic group in America to display a pro-outgroup bias—meaning that among all the different groups surveyed white liberals were the only one that expressed a preference for other racial and ethnic communities above their own. As woke ideology has accelerated, a growing faction of white liberals have pulled away from the average opinions held by the rest of the coalition of Democratic voters—including minority groups in the party." And:

The woke elite act like white saviors who must lead the rest of the country, including the racial minorities whose interests they claim to represent, to a vision of justice the less enlightened groups would not choose for themselves.

Consider, for instance, that black and Asian Democrats and liberals are significantly more supportive of restrictive immigration policies and less positive toward racial/ethnic diversity than their white counterparts. Black and Hispanic Democrats and liberals are more sympathetic toward Israel than the Palestinians (likely due in part to the fact that they tend to be more religious). They are also more likely to part ways when it comes to contemporary social and gender-identity issues, including views of the #MeToo movement. In all, though they do converge on some issues, . And as woke liberals play a leading role in party politics, the Democrats, who are increasingly defined by their embrace of diversity and progressive stances on issues of racial justice, appear to do so, at least partly at the direction of a small white elite.

Whatever "allies" might mean. Identity politics groupings aren't sovereigns, after all.

"Listening at the Great Awokening" [Areo]. "Colleges and universities across the English-speaking world are caught up in the enthusiasm of a Great Awokening. Its dogmas are structural violence, systemic racism, racial stress, white privilege, white fragility, implicit bias and microaggressions. From the University of Missouri to Evergreen State College to Sarah Lawrence College and beyond, faculty and students are ablaze with the fire of social justice." • And never, ever class of economics.

"'I Can No Longer Continue to Live Here'" [Jill Filopovic, Politico]. • Remarkably, Filopovic manages to write an entire article on violence against women in Honduras, without mentioning the role of the United States, or how [x] woman Secretary of State Hillary Clinton militarized our policy there. Quite an achievement!
Realignment and Legitimacy
"Koch network floats backing Democrats in revamp of influence operation" [Politico]. "The Koch network is shaking up how it tries to influence Washington heading into 2020, starting with plans to spend money to reelect lawmakers from either party who back its issues and are facing primary challenges….. Some — but definitely not all — of the group's policy plans may intrigue Democrats. For instance, one of the Koch network's top priorities is extending protection to Dreamers; its stance on that issue has sometimes been met with pushback from its own donors." • I seem to recall a good deal of liberal Democrat pearlclutching and yammering when Sanders said "open borders" was a Koch Brothers proposal. But he was right, wasn't he?

"The New Deal Worked" [Living New Deal]. " Today, many skeptics similarly view the Green New Deal initiative as hopelessly pie-in-the-sky. Nonetheless, the experience of the New Deal proves that big government programs can reap big rewards, if done right." • With lots of data.
Stats Watch
Employment Situation, May 2019: "Move up the rate-cut plans is the theme of the May employment report which shows declining growth in the labor market and topping pressure for wages" [Econoday]. "The unemployment rate remains very low, unchanged at a lower-than-expected 3.6 percent with the pool of available workers low and holding steady at 10.9 million. Subdued wage gains won't help to pull up the participation rate which is also unchanged at 62.8 percent… For the Federal Reserve, open talk of a near-term rate cut is likely to pick up force at the mid-month FOMC. Against a backdrop of soft inflation, stalling employment growth at a time of trade risks and also Brexit risks point to the need, at least for the doves, for policy insurance."
Wholesale Trade, April 2019: "Wholesale inventories shot…. higher in April which will be a plus for second-quarter GDP yet may raise questions of near-term overhang" [Econoday]. "Sudden economic slowing, as suggested by this morning's employment report, may be pointing to another heavy wholesale build in May as well."
Commodities: "The 24-Million Barrel Question: Where Is All That Missing U.S. Oil?" [Bloomberg]. "U.S. Energy Information Administration data Wednesday showed a crude supply adjustment factor — the difference between reported stockpiles and those implied by production, refinery demand, imports and exports — of more than 800,000 barrels a day. While that doesn't seem like that much, it's added up to more than 24 million barrels over the past four weeks, and potentially hundreds of millions of dollars in trading opportunities….. 'We go through each component of what's reported to us,' [Robert Merriam, director of the office of petroleum and biofuels statistics at the EIA] said. 'There's something more systematic going on that our surveys aren't capturing. We have some theories on what that may be and we're trying to look into it.'" • Hmm.
Banking: "$17B gone: The biggest-ever advisory team exit and the bank that lost it" [American Banker]. "Nearly 50 members of [First Republic Bank's] wealth management division have left, following the five top advisers on their team. Those $17 billion in client assets are expected to evaporate with them. If it were classed as a breakaway, which typically refers to brokers who bust out of their wirehouse firms, it would be the largest in history…. With so many top advisers gone, can First Republic maintain growth in its wealth management division? If the first three months of this year are any indication, it would seem so. In that time, it has added $14 billion in assets in management."
Banking: "Where is dead Bridgeport banker's yacht?" [Chicago Sun-Times]. "The 46-foot yacht, usually moored at Chicago's Burnham Harbor, goes by the name Expelliarmus — a word Harry Potter exclaims when he wields his magic wand. But, like magic, the pleasure craft with two bedrooms and two bathrooms seems to have disappeared — the latest mystery to emerge as federal agents investigate the failure of Bridgeport's clout-heavy Washington Federal Bank for Savings 18 months ago, the hanging death of bank president John F. Gembara and millions of dollars in loans he gave his friend Robert Kowalski, a Chicago lawyer now charged with bankruptcy fraud." • Seems a little frothy…
Retail: "Here's how many stores need to close across the US before the retail apocalypse ends, according to analysts" [Business Insider]. "Auto parts: 60; clothing: 20,700; consumer electronics: 9,800; grocery: 7,310; home furnishings: 8,400; home improvement: 620; office supplies: 1,930; sporting goods: 5,900. • That's a lot of stores, a lot of malls, and a lot of downtowns (if any such still exist).
The Bezzle: "Facebook will reportedly announce cryptocurrency this month, allowing employees to take it as salary" [CNBC]. "Facebook will announce its cryptocurrency later this month, and will allow employees working on the project to take their salary in the form of the new currency, according to a report." • Oh, look: scrip.
The Bezzle: "Behavioral advertising: The mirage built by Google" [Digital Content Next]. "The comprehensive study was conducted over nearly five years by Veronica Marotta, Vibhanshu Abhishek and led by Alessandro Acquisti, who is globally recognized for his work studying behavioral economics and the impact of privacy on digital society. The bottom-line: Acquisti's team found that behavioral advertising, as measured and delivered based on third party cookies, increased publisher revenues by a mere 4%. If you're nodding your head unsurprised by this statistic, then you're likely in the 67% of publishers surveyed recently by Digiday who answered that behavioral advertising doesn't help their business. But make no mistake, the findings are profound as to how they inform the future of digital advertising. They will also have a strong influence on the next steps in US privacy legislation. Put simply, . And for the first time ever, there is empirical research to dismiss long-touted industry arguments that privacy rules will kill the golden goose that pays for free content…. Put another way. Google is the largest buyer, seller, and transaction vehicle for digital ads that leverage personal data. And Google has by far the most personal data. At this point, it should hardly be a question whether this is a rigged market." • Readers, please note that as matters stand today, we need our digital advertising; no ads, no NC. And we don't use Google as a transaction vehicle.
Tech: "Amazon's Home Surveillance Company Is Putting Suspected Petty Thieves in its Advertisements" [Vice]. "Amazon's home surveillance company Ring is using video captured by its doorbell cameras in Facebook advertisements that ask users to identify and call the cops on a woman whom local police say is a suspected thief. In the video, the woman's face is clearly visible and there is no obvious criminal activity taking place." • Who needs the Stasi when we've got Facebook and Amazon?
Manufaturing: "The Car Industry Is Under Siege" [New York Times]. "The major auto companies will spend well over $400 billion during the next five years developing electric cars equipped with technology that automates much of the task of driving, according to AlixPartners, a consulting firm. They must retool factories, retrain workers, reorganize their supplier networks and rethink the whole idea of car ownership." • And it's not clear that consumers will eat the robot car dogfood, especially when they're not really "self-driving" anyhow (and use pedestrians and other drivers as unrenumerated debuggers).
The Biosphere
"Ladybug swarm detected by weather radar over Southern California" [NBC (Furzy Mouse)]. "When National Weather Service radar picked up a giant blob moving swiftly over southwestern San Bernardino County, east of Los Angeles, around 8 p.m., forecasters at the agency's San Diego office called spotters on the ground, who told them it was an enormous swarm of ladybugs… [T]he ladybug 'bloom' appeared to be 80 miles by 80 miles, flying at 5,000 to 9,000 feet…. 'This is actually something you'll see pretty often,' Ari Sarsalari, a meteorologist for The Weather Channel, said last month when radar captured a huge swarm of bugs over southern Illinois, southern Indiana and western Kentucky." • It is?!
"Social group signatures in hummingbird displays provide evidence of co-occurrence of vocal and visual learning" [Proceedings of the Royal Society B]. "Vocal learning, in which animals modify their vocalizations based on social experience, has evolved in several lineages of mammals and birds, including humans. Despite much attention, the question of how this key cognitive trait has evolved remains unanswered…. We tested for geographical variation consistent with learning of visual displays in long-billed hermits (Phaethornis longirostris), a lek-mating hummingbird that, like humans, has both learned vocalizations and elaborate visual displays. We found lek-level signatures in both vocal parameters and visual display features, including display element proportions, sequence syntax and fine-scale parameters of elements. This variation was not associated with genetic differentiation between leks. In the absence of genetic differences, geographical variation in vocal signals at small scales is most parsimoniously attributed to learning, suggesting a significant role of social learning in visual display ontogeny." • Neat!
Water
"Human Consumption of Microplastics" (PDF) [Kieran D. Cox, Garth A. Covernton, Hailey L. Davies, John F. Dower, Francis Juanes, and Sarah E. Dudas, Environmental Science and Technology]. "Evaluating approximately 15% of Americans' caloric intake, we estimate that annual microplastics consumption ranges from 39000 to 52000 particles depending on age and sex. These estimates increase to 74000 and 121000 when inhalation is considered. Additionally, individuals who meet their recommended water intake through only bottled sources may be ingesting an additional 90000 microplastics annually, compared to 4000 microplastics for those who consume only tap water. These estimates are subject to large amounts of variation; however, given methodological and data limitations, these values are likely underestimates." • Yikes.
"Towing an Iceberg: One Captain's Plan to Bring Drinking Water to 4 Million People" [Bloomberg]. "[Marine-salvage master Nicholas Sloane] is working on a solution [to Cape Town's water supply problem] that might sound absurd. Making use of his unusual skill set, he plans to harness and tow an enormous Antarctic iceberg to South Africa and convert it into municipal water. 'To make it economically feasible, the iceberg will have to be big,' Sloane says. Ideally, it would measure about 1,000 meters (3,281 feet) long, 500 meters wide, and 250 meters deep, and weigh 125 million tons. 'That would supply about 20% of Cape Town's water needs for a year.'" • Wouldn't be simpler and cheaper to wait for the ice sheets to melt?
"Carnival Cruise is being fined millions (again) for massive pollution cover-up" [Grist]. "Carnival Corporation, the world's largest cruise line and owner of ten cruise subbrands, was slapped with a $20 million fine earlier this week after it was caught dumping pollutants into the ocean, again. 'You not only work for employees and shareholders. You are a steward of the environment,' U.S. District Judge Patricia Seitz told Carnival CEO Arnold Donald. 'The environment needs to be a core value, and I hope and pray it becomes your daily anthem.'" • Lol, "core values." A judge says this.
The 420
"Oregon Has So Much Extra Weed it Could Take Years to Smoke it All" [Time (Furzy Mouse)]. "Oregon has one of the highest such imbalances among the 10 states that have legalized recreational marijuana since 2012, in part because it had a big head start in the weed business. With its moist climate and rich soil, Oregon has a long history of pot growing. When it became legal, many outlaw growers went legitimate, and others jumped into the business, too. They are now all cultivating weed in a multitude of fields, greenhouses and converted factories, with 1,123 active producer licenses issued by the OLLC over the past three years." • Why not just legalize it at the Federal level?
Guillotine Watch
"Measles cases hit 1,001 as anti-vaxxers hold another rally of disinformation" [Ars Technica]. "Prominent anti-vaccine advocates and conspiracy theorists held another rally of misinformation in New York Tuesday as the national tally of measles cases ticked passed 1,000…. The rally—the second of its kind in New York in recent weeks—is part of a pattern of anti-vaccine groups targeting vulnerable communities that are grappling with outbreaks. Like the previous rally, Tuesday's event featured Rabbi Hillel Handler and Del Bigtree, both prominent anti-vaccine provocateurs known for fear mongering and spreading myths about lifesaving immunizations."
Class Warfare
"A striking, joyful portrait of America's greatest divide" [The Week]. Review of Chris Arnade's new book, Dignity: "[T]he most fundamental division in American life is not partisan or geographic or, except incidentally, racial or religious. The real gap is between what Arnade calls "front-row" and "back-row" America, that is, between the sort of people who accepted the sinister logic of credentialism and took their places in our globalized meritocracy and those who, for any number of reasons, remained behind. Many members of the former group are, like Arnade himself, committed liberals and progressives, who believe that by supporting the right political candidates and donating money to the appropriate causes they will improve the lot of the former. They despair of the violence, addiction, and exploitation visited upon back-row America, assuming they are aware of them. But they do not, on the whole, question the division, which they accept as a natural consequence of their education." • My copy is coming soon….
"Too much money (and too few places to invest it)" [Axios]. "A truly bizarre trend is having an impact on the economy — wealthy people and corporations have so much money they literally don't know what to do with it." And:
How we got here:

The Fed's quantitative easing program pushed the cost of borrowing money to next to nothing for nearly a decade, allowing companies to splurge on debt for mergers and acquisitions and to boost revenue.
At the same time, globalization allowed them to reduce labor costs, meaning that gains effectively were returned as profit and used by public companies to boost stock prices.
"Class of 2019" [Economic Policy Institute]. "The members of the high school Class of 2019 who enter the labor market right after graduating have better job prospects than young people who graduated from high school into the aftermath of the recession, a result of the steady (if slow) progression of the economic recovery. However, compared with those who graduated into the strong 2000 labor market, the Class of 2019 still faces real economic challenges, as demonstrated by elevated levels of underemployment as well as low wages and worsened wage gaps for black workers." • That's not a bug.
"Getting poorer while working harder: The 'cliff effect'" [Boston Business Journal]. "Because so many American jobs don't earn enough to pay for food, housing and other basic needs, many low-wage workers rely on public benefits that are only available to people in need, such as housing vouchers and Medicaid, to pay their bills. Earning a little more money may not automatically increase their standard of living if it boosts their income to the point where they lose access to some or all of those benefits. That's because the value of those lost benefits may outweigh their income gains. I have researched this dynamic, which experts often call the "cliff effect," for years to learn why workers weren't succeeding at retaining their jobs following job training programs. Chief among the one step forward, two steps back problems the cliff effect causes: Low-paid workers can become reluctant to earn more money due to a fear that they will get worse off instead of better." • That's not a bug, either. Complex eligibility requirements are much beloved by liberal Democrats.
"Sex, lies, and surveillance: Something's wrong with the war on sex trafficking" [Violet Blue, Engadget]. "According to a new paper from Fordham Law School, FOSTA's conflation of sex work with trafficking makes it "A Hostile Law with a Human Cost." It states: 'Within one month of FOSTA's enactment, thirteen sex workers were reported missing, and two were dead from suicide. Sex workers operating independently faced a tremendous and immediate uptick in unwanted solicitation from individuals offering or demanding to traffic them. Numerous others were raped, assaulted, and rendered homeless or unable to feed their children. These egregious acts of violence and economic devastation are directly attributable to FOSTA's enactment.'… Turns out, anti-trafficking organizations are a lucrative growth market riddled with charlatans who've fooled companies as big as Google for years, and gotten away with it. ll three — IJM, Polaris Project, and Not For Sale — were utterly taken apart for using invented facts and falsified data in Truthout's 2015 Special Report: Money and Lies in Anti-Human Trafficking NGOs. Truthout wrote, 'in the world of anti-trafficking organizations, money and lies are deeply – perhaps inextricably – tied. The false claims, forwarded as fact, are big. So is the money that's spent and received in the service of those claims – more than half a billion dollars in recent years. That we know of.'" • Grifters gotta grift. And half a billion dollars is real money, even today.
News of the Wired
Bright lights, big strip mall:
If this is culture, I prefer being a barbarian pic.twitter.com/0CACE5Lyf8

— Battle Beagle (@HarmlessYardDog) June 5, 2019
I dunno. Tokyo's Ginza is pretty neat. If the signage was in an exotic (to Americans) script?
* * *
Readers, feel free to contact me at lambert [UNDERSCORE] strether [DOT] corrente [AT] yahoo [DOT] com, with (a) links, and even better (b) sources I should curate regularly, (c) how to send me a check if you are allergic to PayPal, and (d) to find out how to send me images of plants. Vegetables are fine! Fungi are deemed to be honorary plants! If you want your handle to appear as a credit, please place it at the start of your mail in parentheses: (thus). Otherwise, I will anonymize by using your initials. See the previous Water Cooler (with plant) here.
Friday Mystery Plant (eurekasprings):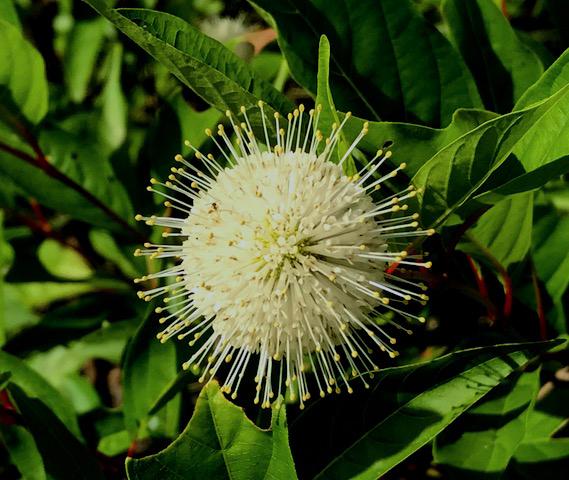 Description: "Wild deep woods mid summer mystery flower. Ozark mountains." So, readers, what is it?
Eurekasprings kindly sent in a number of mystery plants. If you have any mystery plants, feel free to send them along to the address below, with description including location, and I'll put them up. Please put "Mystery Plant" in the subject line.
And in other welcome news, the cat has returned to its summer residence under the church parish house porch next door: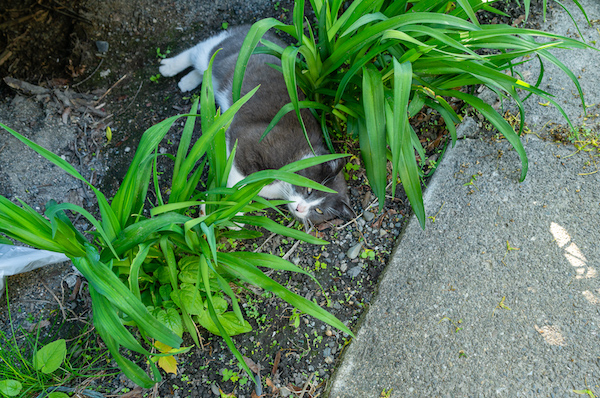 * * *
Readers: Water Cooler is a standalone entity not covered by the annual NC fundraiser. So do feel free to make a contribution today or any day. Here is why: Regular positive feedback both makes me feel good and lets me know I'm on the right track with coverage. When I get no donations for five or ten days I get worried. More tangibly, a constant trickle of small donations helps me with expenses, and I factor in that trickle when setting fundraising goals. So if you see something you especially appreciate, do feel free to click this donate button:
Here is the screen that will appear, which I have helpfully annotated.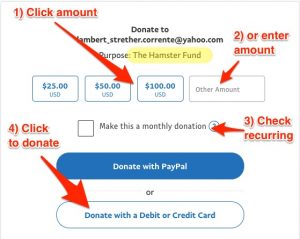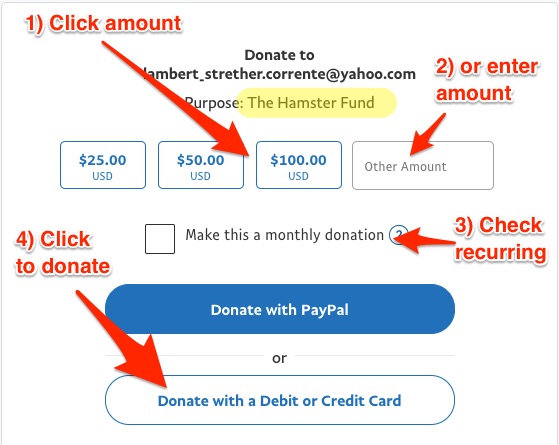 If you hate PayPal, you can email me at lambert [UNDERSCORE] strether [DOT] corrente [AT] yahoo [DOT] com, and I will give you directions on how to send a check. Thank you!